Top 10: New Cars For First Time Drivers
19th Aug 2019
So you've worked exceptionally hard, took lots of lessons, studied the road safety books and finally managed to pass your test. But now what? You need a car! Here is our list of the best new cars for new drivers. All have low insurance, inexpensive running costs and a tiny turning circle, making them perfect for those who have just passed.
1. Ford Ka 1.2 Zetec
The Ford Ka has been around since 1996, and in its latest form since 2009. It's Ford's smallest car, and is a solid choice for first time buyers, with low running costs and a low insurance group of just 3. It's actually fairly nippy too, and boasts the fastest 0-60mph time of all the cars on this list (don't tell your parents!).
There are several different trim levels to choose from, including Studio, Studio Connect, Edge, Zetec, Titanium, Metal and Grand Prix III.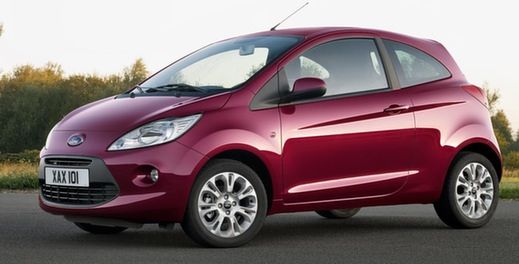 2. Vauxhall Corsa 1.2 Limited Edition
The Vauxhall Corsa has been a favourite of new drivers for many, many years now, and the latest one is better than ever. It's available in a range of engine sizes and trim levels, so there's a Corsa to suit every budget. It also comes with a 5-star NCAP safety rating for adult occupant safety, so if an accident does happen, you know you're as safe as possible in your Corsa.
It's a good all-rounder, with a useful 285-litre boot, 51mpg combined and sporty handling, especially in the Limited Edition form we've got here. But there's also Corsa Sting, Expression, S, Excite, Design, SE, SXi and SRi versions and all come with a spacious interior, a comfortable driving position and compact dimensions that make it easy to manoeuvre through the city.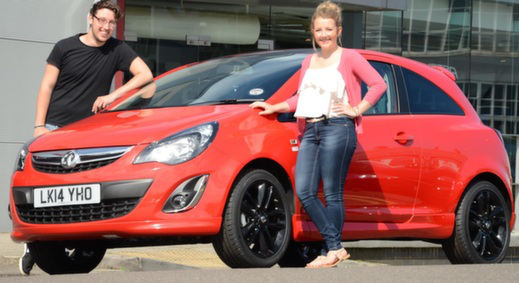 3. Citroen C1 1.0 VTi Feel
Citroen C1 The Citroen C1 is all new for 2014, and comes with all sorts of features never previously seen on city cars in the UK market. Things like the 7-Inch touchscreen with optional reversing camera, are new additions for cars in this sector. That same touchscreen also features mirror screen technology, allowing you to mirror your iOS, Windows, Android or RIM phone screen onto the touchscreen on the dashboard, meaning you can control all the phone's functions safely and easily from the touchscreen mounted on the dashboard.
The C1 has been launched with 3 different trim levels, Touch, Feel and Flair. You can also specify the car with an 'Airscape' roll-back roof.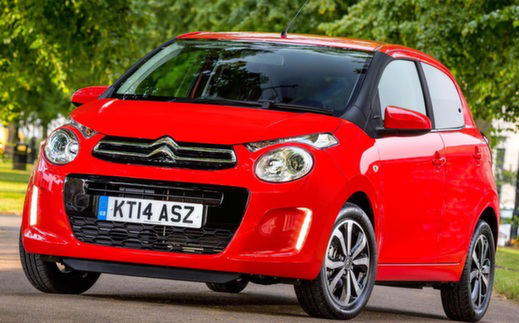 4. Renault Clio 1.2 Dynamique MediaNav
Until the new Twingo arrives, the new Clio is your best bet for a First Car if you want a Renault. And you will, too, when you see the new Clio, as it's a very good looking car. Available as a 5-door only, the Clio is a comfortable, versatile and sporty model, with plenty of personalisation options that allow you to tailor the car to your exact requirements.
The Clio Dynamique MediaNav is the only car in this list that comes with satellite navigation as standard, so if you're always getting lost, this could be the car for you.
The new Renault Clio also comes with a 5-star Euro NCAP safety rating for total peace of mind.

5. Dacia Sandero 1.2 Ambiance
Dacia Sandero By far the cheapest car in this list, the Dacia Sandero might not be an obvious choice but it's certainly a valid one. It's one of the most spacious superminis you can buy, and features the largest boot here at 320 litres - it's almost as big as Volkswagen Golf! It's also the slowest car here, but hey, you've just passed your test, you're not going to be racing around are you? The difference is only marginal anyhow.
Topgear.com gave the Sandero a 7/10 - so that should banish any fears that the car is not worthy of at least a test drive - they even proclaimed it to be 'a bargain of the highest order'. Auto Express called it 'hugely likeable' and 'good value', while Autocar praised it as a 'practical, sensible purchase'. The mid-specification Ambiance model is flanked by the very basic Access, and the more top of the range Laureate.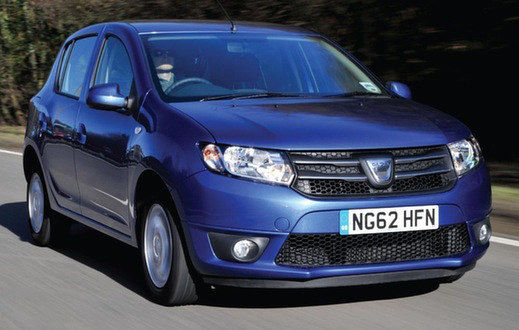 6. Peugeot 108 1.0 Active
Peugeot 108 The sister car to Citroen's C1, and features all of the show stopping technology in that car, with a different look. Where the C1 is cheeky, the Peugeot is a little bit more grown-up - until you get to the personalisation options that is. And there's lots of opportunities to customise too, with several different options for the interior, roof, mirrors and trim pieces all around the exterior of the car.
The new 108 takes the ingredients from the successful recipe that cooked up the 107, and makes them better. It has a larger 196 litre boot (the 107 had 139 litres of boot space), more technology and much more refinement. It has four trim levels; Access, Active, Allure and Feline.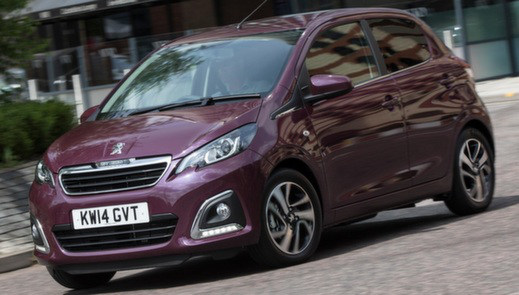 7. Nissan Micra 1.2 Acenta
Nissan Micra The Micra has been a staple in the Nissan range since 1982, and it's a model that has stood the test of time, thanks to an excellent reliability record, being easy to drive, and maintaining its compact dimensions since its lifetime. The latest Micra features interior and safety technology never before seen on a Micra, so it's the best one Nissan has ever made.
It's excellent value for money, and features plenty of standard kit whichever trim level you choose. The Acenta model we've featured here is joined by the cheaper Visia and the top-spec Tekna models in the range.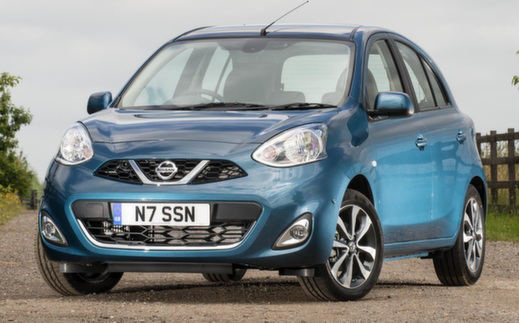 8. Kia Picanto 1.0 1
Kia Picanto The latest generation Picanto has been around since 2011, and immediately scores extra points over and above the other cars here for its ground-breaking 7-year warranty package, which no other manufacturer offers in the UK. It's a more mature car than the previous Picanto, and offers fantastic ride and handling with inexpensive running costs.
It offers a useful 200-litre boot, as well as 67mpg on the combined cycle, and CO2 emissions under the magic 100 g/km barrier, meaning free road tax. It features one of the tightest turning-circles here, so it's very manoeuvrable in the city, and easy to park, too. Journalists like the Picanto, but owners love it.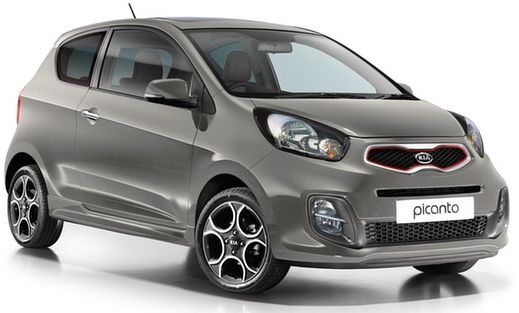 9. Hyundai i10 1.0 SE
The Hyundai i10 comes with a great 5-year, unlimited mileage warranty - such is the confidence they have in the quality and reliability of their cars. It's not just the warranty that gets top marks, though. The car itself scored 5-star test ratings from Auto Express, What Car and Car Buyer, while top gear gave it 8/10 too. It was also named WhatCar? Best City Car 2014 at the WhatCar? Awards.
It's the smallest car Hyundai make, so it's easy to park, cheap to run and will always prove reliable and durable, whatever the situation. Auto Express lavished praise upon the i10s comfortable ride, sharp handling and impressive amounts of interior space. The i10 also scores extra points for its insurance group rating of 1 - the lowest possible insurance group.
10. SEAT Mii 1.0 S [AC]
The Seat Mii is SEAT's first ever forage into the City Car market, and it has been a massively successful one so far. It has all the elements of the perfect city car, low fuel consumption (62mpg), low insurance (group 1), space for 5 people and a decent size boot (238 litres).
Another bonus is the 5-star Euro NCAP safety rating, which is unusual for a car of this size. It's achieved this score thanks to a mix of active and passive safety features, including electronic stability control, side and thorax airbags, and ISOFIX seat mounting points.
The car was developed in conjunction with VWs own city car, the UP!, so excellent build quality is guaranteed. That car was also named 2012 WhatCar? Car of the year, and this model is just as good, thanks to its shared underpinnings.