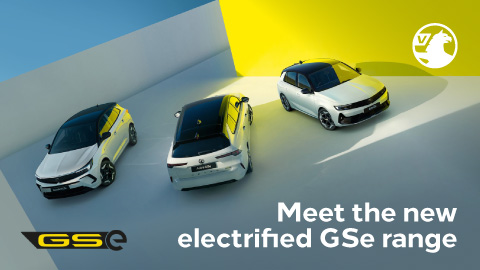 The Grand Sport Electric sub-brand range offers both athletic looks and high performance.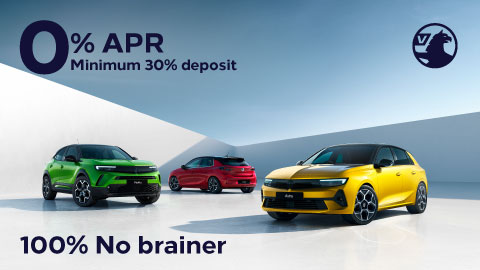 With a minimum 30% deposit, take advantage of 0% APR Representative, which is available across the new car range, including electric.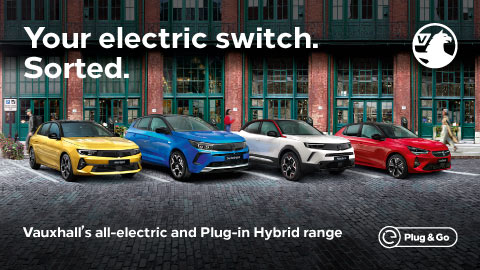 Start living with electric with the Plug & Go offer. Offering you peace of mind and hassle free electric driving. We've got you covered.
Introducing the Vauxhall Astra
Blazing a new trail for the ever-popular Vauxhall Astra nameplate, the latest generation of the brand's family hatchback impresses in a number of different ways.
Not only is the Astra sporting revolutionary exterior styling, it's also packing an interior unlike any Vauxhall hatchback before it, along with a number of useful gadgets and gismos.
On top of all this, there's plug-in hybrid and all-electric powertrains available for the Astra. This is in addition to the more familiar – but no less excellent – petrol and diesel engines that you can select.
Design is where the Astra will appeal to the hearts of buyers, and practicality is where the heads will be convinced. The dramatically-styled exterior is set off initially by Vauxhall's new 'Vizor' front grille, which is complemented by muscular rear haunches and a taut stance.
Having grown lengthways by 4mm and 51mm over the previous generation, the Astra also gains a 13mm longer wheelbase too, meaning extra room on the inside. The boot is more than decent at 422 litres in capacity; providing plenty of room for a pushchair or two and the weekly shop.
Vauxhall proudly boast that the AGR ergonomic seats fitted to the Astra are 'the best that the compact class has to offer', meaning that good posture and a relaxed, comfortable driving experience are guaranteed.
There's also the sporty GSe sub-brand Astra model for those looking for something even sharper. Featuring bold, stand-out styling both inside and out, as well as a range of eye-catching design features, the Astra and Astra Sports Tourer GSe models turn heads with their bespoke aesthetics.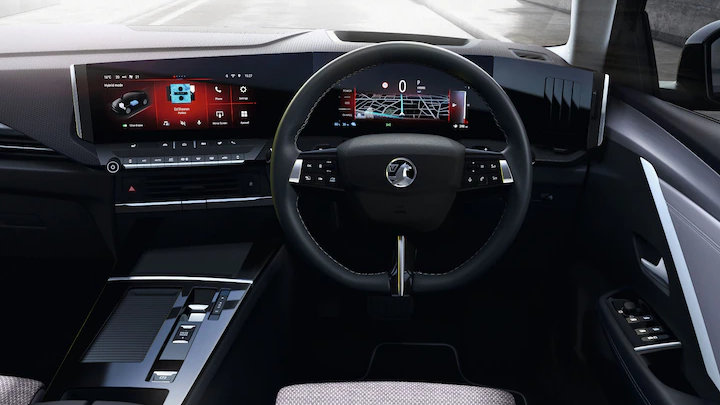 Technology is another area where the Astra has taken a massive step up. Climb inside the cabin and you're greeted by Vauxhall's Pure Panel fully digital cockpit, which was first seen in the Mokka.
This system comprises of two integrated 10-inch displays, one of which contains the infotainment and sat nav functionality, with the other presenting you with essential driver information such as your speed, rev counter and trip computer.
Safety is at the heart of everything Vauxhall do, and that means standard equipment levels are extremely high on the Astra. Available features include:
Adaptive cruise control
Intelli-drive (performs semi-automatic lane changes)
Long-range blind spot detection
Intelli-Lux Pixel headlights
Active lane positioning (keeps you in the middle of your lane automatically)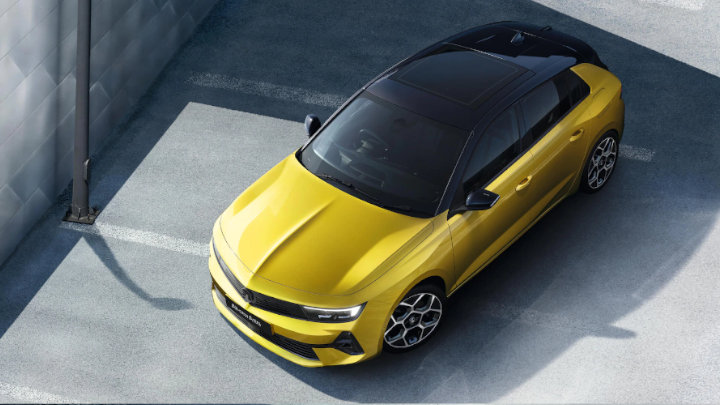 From launch, there will be petrol, diesel and plug-in hybrid variants of the Astra. An all-electric powertrain will also be launched in 2023. We've highlighted the available drivetrains below:
Petrol / Plug-in Hybrid (PHEV)
1.2-litre producing 110bhp (up to 52.3mpg and between 123 to 125g/km CO2

)

1.2-litre producing 130bhp (up to 52.3mpg and between 122 to 127g/km CO2)
1.6-litre plug-in hybrid producing 180bhp (up to 256.8mpg and between 24 to 31g/km CO2)
1.6-litre plug-in hybrid producing 225bhp (up to 256.8mpg and between 24 to 31g/km CO2)
Diesel
1.5-litre producing 130bhp (up to 64.3mpg and between 113 to 121g/km CO2)
Electric
156bhp electric motor producing 199lb ft torque, paired with a 54kWh battery, reaching a top speed of 105mph and electric range of 258 miles
It's worth noting that the regular petrol and diesel engines come as standard with a 6-speed manual gearbox. However, the diesel engine and 130bhp petrol variant are available with an 8-speed automatic transmission, which is standard on the hybrids.
To give the Astra range an even wider appeal, the new Sports Tourer estate features additional touches such as smarter loading, thanks to the advanced Intelli-Space system.
The new model sports innovative space, enhanced by lots of helpful attributes, including lashing-eyes, two-level flat load-floor, and clever underfloor storage lockers. The boot of the Astra Sports Tourer provides 40/20/40 split-folding rear seat-backs with easy-fold function, holding up to 608 litres of storage space with the rear seats upright, and up to 1,634 litres when folded.
Step inside to find the new and improved digitally-detoxed Pure Panel that streamlines driver information. The Ergonomic Active Front Seats allow for a relaxing drive with the luxury ventilation and massage function.
Enjoy the welcome touch of space, technology, and premium comfort, thanks to new state-of-the-art connectivity.
An all-electric powertrain for the Astra Sports Tourer is launching in 2023, making it the first fully electric estate model to be produced by Vauxhall.
The new Astra GSe (Grand Sport Electric) models really stand out from the crowd and are the perfect mix of electric power and performance-focused design.
Both the Astra GSe and Astra Sports Tourer GSe have improved performance compared to the plug-in hybrid powertrain from the conventional models. They're both powered by a 178bhp 1.6-litre 4-cylinder petrol engine, mated to an 81.2kW electric motor, providing a combined power output of 222bhp. A 12.4kWh battery also provides the Astra GSe models with 40 miles of electric only range, and the Astra Sports Tourer GSe with 39 miles of electric only range.
Upgrades to the suspension and steering, including added Frequency Selective Damping (FSD) technology, help to offer improved and sharper handling. Coupled with this, the 18-inch 'Commodore' wheels provide a more prominent stance on the road. All of this combined gives the GSe models a much more performance-focused, sportier feel on the road.
The design of the GSe models is just as fun with Alcantara trimmed performance front seats, GSe-specific leather steering wheel, black roof, and black Griffin logos, giving a unique look to this range.
Intelli-Drive technology is also a key safety feature, providing Forward Collision Alert, Drowsiness Detection, Traffic Sign Assistant, and Active Emergency Braking with Pedestrian Detection.
Design
Key features:
Multimedia system - 10" colour touchscreen
10" digital instrument cluster
AppleCar Play & Android Auto
16" alloy wheels
Keyless Start
Single zone climate control with pollen filter
Electrically operated front and rear windows
Speed sign recognition
2 USB Connections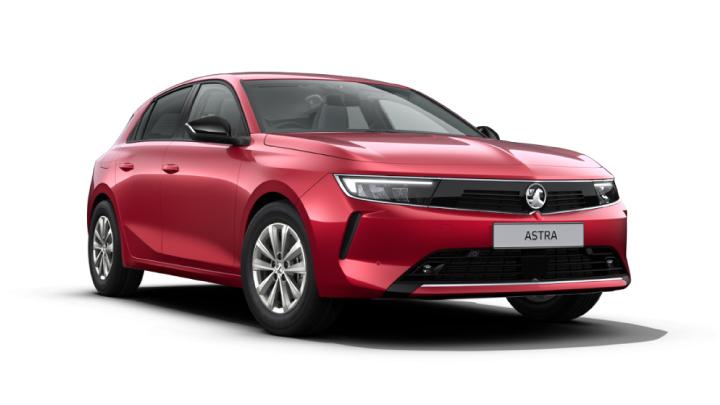 GS
Key features:
Multimedia system - 10" colour touchscreen
10" digital instrument cluster
AppleCar Play & Android Auto
17" alloy wheels
Keyless Entry & Start
Heated Seats & Steering wheel, Driver AGR
IFront & rear parking sensors and Intelli-Vision
Traffic sign recognition
Active cruise control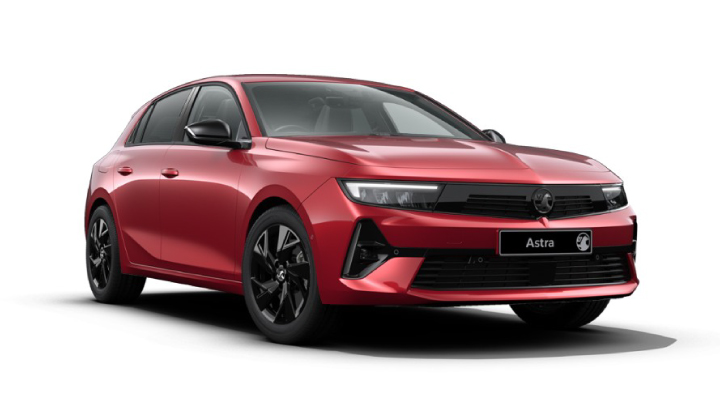 Ultimate
Key features:
Multimedia system - 10" colour touchscreen
10" digital instrument cluster
AppleCar Play & Android Auto
18" diamond cut alloy wheels
Panoramic Sunroof
Intelli-Drive 1.0 & Intelli-Drive 2.012
IntelliLux Pixel Headlights
Heated windscreen
Alcantara suede seats, AGR front seats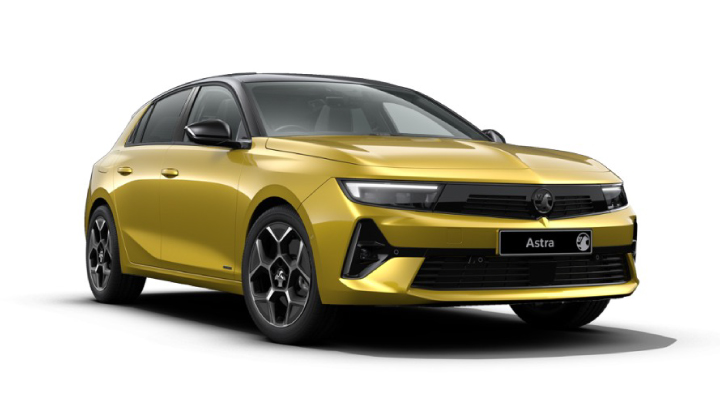 Test drive the Vauxhall Astra
The Astra is a huge leap forward for Vauxhall. Its design, technology and powertrains have all moved the game on considerably in the family hatchback segment, while the practicality and comfort traits of old remain firmly in place.
To test drive the Astra, or to simply find out more, please contact your nearest Evans Halshaw Vauxhall dealership.