MOT Test
MOTs are a legal requirement in the UK. Currently, vehicles aged three years or over must be tested each year. With nationwide approved VOSA MOT stations, testing over 1,000,000 cars each year - there really is no better place to go to for your MOT.
All work is carried out by our fully MOT trained vehicle technicians, using the latest workshop technology, tools and vehicle diagnostics equipment. Our team are ready to give you accurate and honest advice to help you get your car or van through its MOT test as smoothly as possible.
You can even book your MOT online! Simply select from our network of dealers and choose a date and time that's convenient for you.
Call
0333 323 7155
now to find out more about Evans Halshaw MOT Tests or book online.
MOT Extensions Due to COVID-19
If your car or van's MOT certificate was due to expire between 30 March 2020 and 31 July 2020 an automatic six month extension will be issued 7 days prior to the test being due. The same applies to cars needing their first MOT during these dates.
If your vehicle's MOT is due on or after 1 August 2020, your MOT certificate will not be extended. You must arrange an MOT test as you normally would.
It is advised that you book well in advance, as we will be busy during these periods.
Please see the government website for further guidance.
MOT Preparation tips
The overall condition, age and mileage are all varying factors that may impact the chances of an MOT 'pass'. However here are some simple tips to prepare your car before the MOT test:


Check your washer fluid and wipers are working
Check your windscreen for damage - remember many insurance companies allow windscreen replacement without impacting your policy
Check the horn is working
Check all lights, indicators and hazards are working
Check your tyre inflation levels are correct
Check your tyre condition for damage and tread - the minimum is 1.6mm
Check the condition of seat belts and ensure they engage properly
Other points to consider before the test:
Make sure the boot is not full - the MOT tester may need to look into the boot to examine the rear suspension mounting.
Make sure there is no bodywork damage that has left exposed, jagged edges as this can result in MOT failure. You can book an appointment at any Evans Halshaw Accident Repair centre to organise a bodywork inspection.
Hands On Help 'How to' Guides
MOT FAQs
When do I need an MOT?
You can renew your MOT up to 1 month before it expires and it won't affect your annual expiry date.
Why do I need an MOT?
If your car is 3 years old and over then by law it's required to have passed an annual MOT test no more than 12 months ago. Without an MOT certificate you won't be able to tax your car and your insurance might not be valid. Passing an MOT also ensures minimum safety and environmental standards are met.

Where can I get an MOT?
You can get an MOT at any approved VOSA MOT Centres. Evans Halshaw have 120 test centres spread across the UK

How long does the average MOT take?
On average an MOT takes around 40-45 minutes but this can vary as it depends on the type of vehicle being worked on.

What does MOT stand for and is it an MOT Test or just an MOT?
MOT stands for Ministry of Transport, so it's actually an MOT Test not just an MOT.
Evans Halshaw Experience
Communication
We'll provide you with complimentary MOT and service reminders, contacting you as soon as they're due so it's one less thing to remember.
Transparency
At Evans Halshaw we perform a complimentary Vehicle Health Check at every visit, if your technician discovers an issue, they will show you exactly what they have identified by sending a video to you, so you can see exactly what needs doing without having to just take our word for it.

Value
If you do need something repaired to pass your MOT we'll never be beaten on price. If you find the same service or repair for less within 5 days, we will pay you the difference. Take a look at our Price Guarantee for more details. No work will ever be carried out without your approval.

For more about the Evans Halshaw Experience click the button below.
The Evans Halshaw Experience
Evans Halshaw Aftercare Price Promise
At Evans Halshaw It's important that we deliver all of our customers a quality aftercare service for the best possible value. To ensure that this happens we've introduced a Price Promise in order to provide peace of mind when it comes to choosing a dealership for quality aftercare requirements. If you can find the same service or repair at a competitor business within a 5 mile radius outside the Evans Halshaw Group for less, within 5 days of the date of your service invoice, we will pay the difference in price. Terms apply.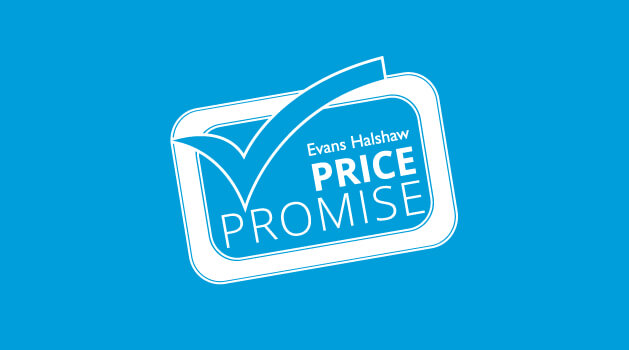 Calls to 0333 numbers cost the same as calling a landline; even when you are using a mobile. Calls are also included in FREE minutes with landline and mobile contracts.