What is a plug-in hybrid electric vehicle (PHEV)?
A plug-in hybrid electric vehicle (PHEV) is powered by a combination of an electric motor and either a petrol or diesel internal combustion engine (ICE). They have the ability to drive in pure electric mode for a range of roughly 20 to 50 miles, producing zero tailpipe emissions.
Once the all-electric range is depleted the PHEV works in the same way as a full hybrid, utilising an intelligent hybrid system, with the ICE kicking in as and when required.
To charge the battery and regain the electric range, PHEVs need plugging-in to a domestic socket or a dedicated charging station.
Should I buy a plug-in hybrid electric vehicle?
Shorter, urban journeys
Powered by the electric motor and the battery, driving in all-electric mode produces zero tailpipe emissions as the ICE isn't running.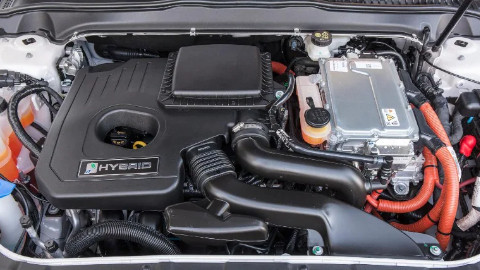 Longer Distance Driving
At higher speeds the intelligent hybrid system allows switching between the two power sources; the electric motor and the ICE.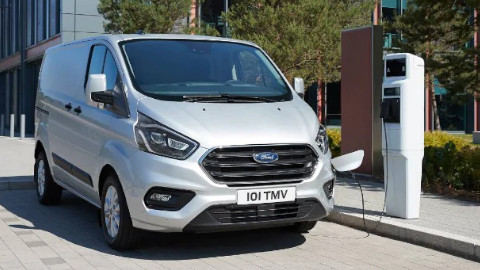 Charging
PHEVs need to be plugged-in using a 3-pin socket, a wallbox or public charging stations to charge the battery to full capacity.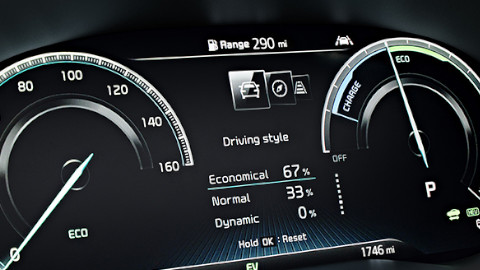 Advantages of a PHEV
Delivering benefits such as cost-savings, less emissions, lower fuel consumption and you can still rely on the ICE for longer journeys.
How do plug-in hybrid cars and vans work?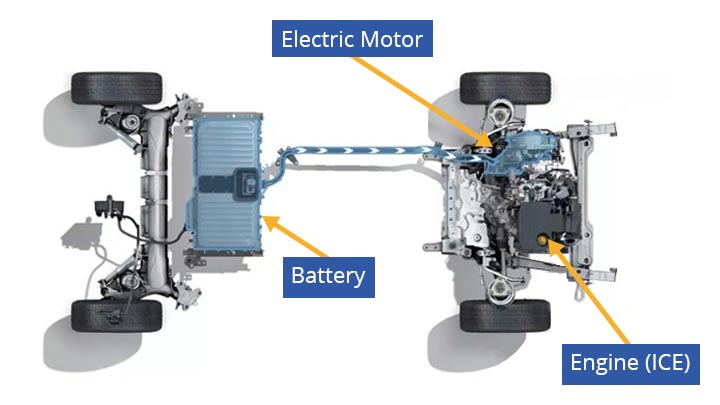 A key differentiator between a PHEV and HEV is the size of the battery. Plug-in hybrids have a larger battery, allowing an extended all-electric range compared to a full hybrid.
Short, urban journeys can be completed in pure electric mode and once the vehicle's speed increases or the battery is depleted, the ICE will automatically kick in to assist, whilst also recharging the battery through regenerative braking.
During deceleration, the electric motor acts as a generator and captures energy that would normally be lost when braking to charge the battery.
PHEVs, like battery electric vehicles (BEVs), need plugging in to charge the battery to its full capacity. Charging times vary depending on the vehicle and the size of the battery.
What are the different types of electric vehicles?
Plug-in hybrid electric vehicle FAQs
How do I charge a plug-in hybrid vehicle?
Charging a plug-in hybrid vehicle is simple and can be completed at home, work or at a public charging station.
What's the difference between plug-in hybrid and hybrid?
What are the benefits of a plug-in hybrid?
Lower CO2

emissions

Improved fuel economy
More cost-effective to run (charging is cheaper than refuelling)
Better for the environment
Low or zero road tax (VED)
Avoid paying charges for London's Congestion Charge or London's Ultra Low Emissions Zone
The engine provides back-up to the battery so no 'range anxiety'
Do plug-in hybrids make good company cars?
PHEVs tend to be an affordable company car due to them having lower rates of benefit in kind (BIK) tax than petrol and diesel alternatives
Can you get a plug-in hybrid with a manual transmission?
How far can plug-in hybrids travel in all-electric mode?
Different PHEV models have different all-electric ranges but you can expect a range of about 20 to 50 miles.
Can you get all-wheel or four-wheel drive plug-in hybrid vehicles?
Are Government grants available?
Yes, the Government provide a maximum grant of up to £2,500 when buying a brand-new plug-in car that costs less than £35,000.
Find your perfect plug-in hybrid vehicle
Come 2030 the Government has imposed a ban on selling cars which run purely on petrol or diesel. Providing an all-electric range that is considered a 'substantial distance' means plug-in hybrids can continue to be sold, which has resulted in many manufacturers adding more PHEVs to their existing range.
Now you've discovered the benefits of a plug-in hybrid vehicle and understand how they work, you've decided a PHEV is the right vehicle is for you.
Whether you're looking for a new car, used car, new van or used van; we have plenty of choice from manufacturers such as Ford, Hyundai, Kia, Nissan, Renault and many more.