Introducing the DS hybrid and electric range
DS Automobiles utilises some of the best French manufacturing techniques in the creation of their vehicles; it's why their entire model line-up has received consistent praise in the automotive world.
Sticking to their mantra of combining French flair with the latest technology, DS Automobiles are now introducing their E-TENSE range of hybrid and electric vehicles.
The luxury and imposing silhouettes remain, but DS have focussed on increasing driver enjoyment and reducing the carbon footprint of their models with their fully electric and plug-in hybrid options.
What are the different types of electric vehicles?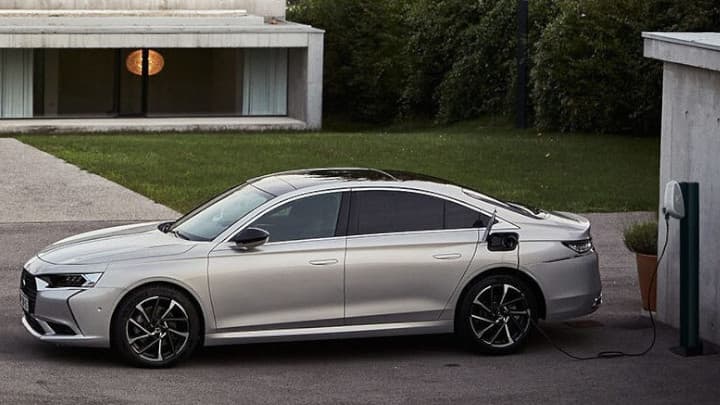 Currently in the DS plug-in hybrid (PHEV) range, you can choose between the powerful and economical DS 7 CROSSBACK E-TENSE, a large and luxurious SUV; or the DS 9 E-TENSE, which is an elegant and sophisticated premium saloon.
Available as either a front-wheel or four-wheel drive (4WD) version, the DS 7 CROSSBACK E-TENSE is powered by a combination of a petrol engine and one or two electric motors, depending on model chosen. You can travel up to 36 miles in pure electric mode, with the 4x4 version, and enjoy the 296bhp total power output.
Two powertrains are also on offer with the DS 9 E-TENSE; choose between either a 222bhp version or a 355bhp model, with 4WD. Up to 34 miles can be driven in 100 percent electric mode.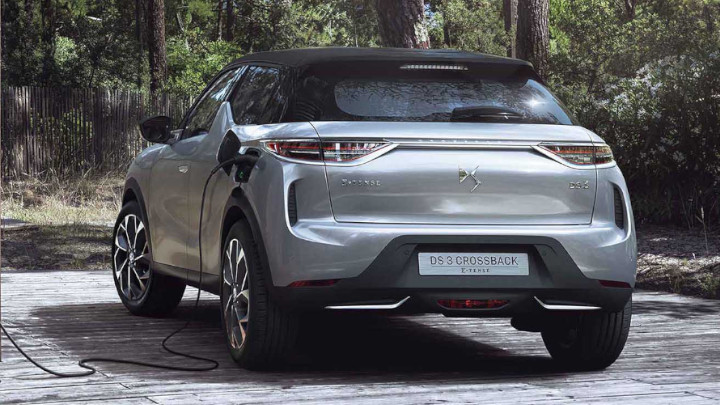 If you're ready to say goodbye to the conventional internal combustion engine (ICE) and are ready to switch to a 100 percent electric vehicle, there is the DS 3 CROSSBACK E-TENSE.
An impressive all-electric range, a serene and luxurious driving experience as well as fast-charging capability, the electric version of this stylish compact SUV is an extremely desirable vehicle.
You can travel for up to 206 miles before needing to recharge and charging can be completed at home, work or at a public charging station. In just 30 minutes the battery can be charged up to 80 percent capacity.
Explore the Range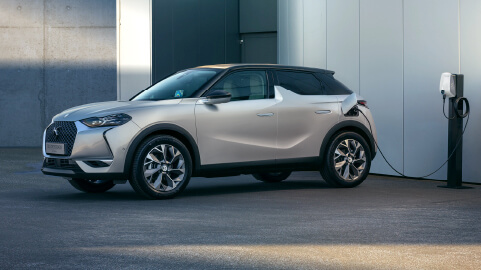 Travel up to 206 miles on a full charge in the DS 3 CROSSBACK E-TENSE, a fully electric premium compact SUV.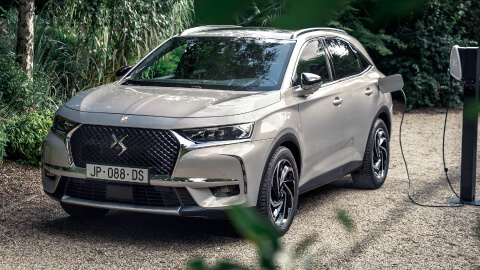 The DS 7 CROSSBACK E-TENSE is a plug-in hybrid vehicle with increased performance and significantly reduced tailpipe emissions.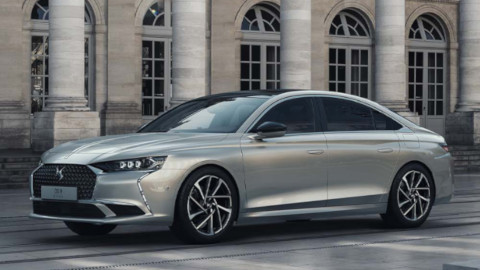 Adding plug-in hybrid technology to the elegant premium saloon, the DS 9 E-TENSE is efficient and powerful.
Future Models
Due to arrive in November 2021, the DS 4 E-TENSE is a plug-in hybrid offering an all-electric range of over 30 miles.
Find your perfect new hybrid or electric DS
Each model in the DS range is now available as either a fully electric or plug-in hybrid vehicle, meaning there's sure to be a DS car to suit any type of driving.
Whether you're looking for a saloon, compact SUV or large SUV; you're sure to be impressed with the premium and stylish vehicles on offer from DS. There's even the DS 4 E-TENSE arriving in November 2021 for those who are looking for a plug-in hybrid hatchback or coupé SUV.
If you would like to experience any of these cars for yourself, please arrange a test drive at your nearest Evans Halshaw DS Salon.