Top 5: Used Fast Estate Cars
13th Jan 2022
Practical, fast and affordable
There's something fundamentally right about fast estate cars. With their ability to take the kids to school, help you complete a tip run, and provide you with driving thrills whilst doing so, a fast estate car is essential for those who want entertainment and practicality in one package.
The rising number of family SUVs over the past decade has translated to less choice for those wanting an estate with a turn of pace. However, there are still some great models for you to choose from, as we've highlighted below.
Skoda Octavia vRS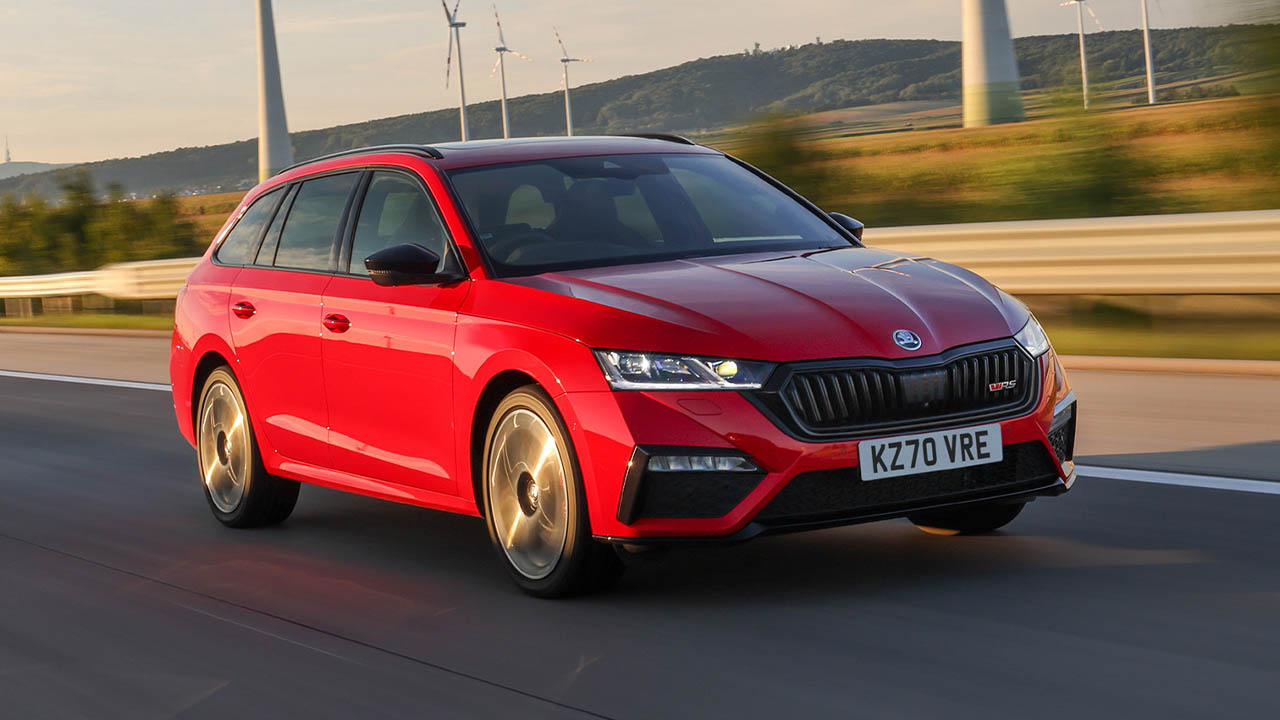 Kicking off this list is the Skoda Octavia vRS, which we believe is one of the most underrated cars that you can buy.
The reason for that is simple: the competition. Typically, motorists will go for the likes of a fast Audi or BMW, meaning Skoda rarely get mentioned in the same conversation.
With the choice between a 242bhp petrol and a 197bhp diesel available, the Octavia vRS certainly isn't short on real-world performance. Go for a model with the brand's exquisite DSG automatic gearbox and 0 to 62mph will take less than 7.2 seconds.
Boasting 640 litres of space, the Octavia vRS' boot is a leader in its class and offers a huge amount of flexibility. Even if you opt for the plug-in hybrid (PHEV) variant, you'll still benefit from 490 litres of capacity.
Search Used Skoda Octavia vRS
Ford Focus ST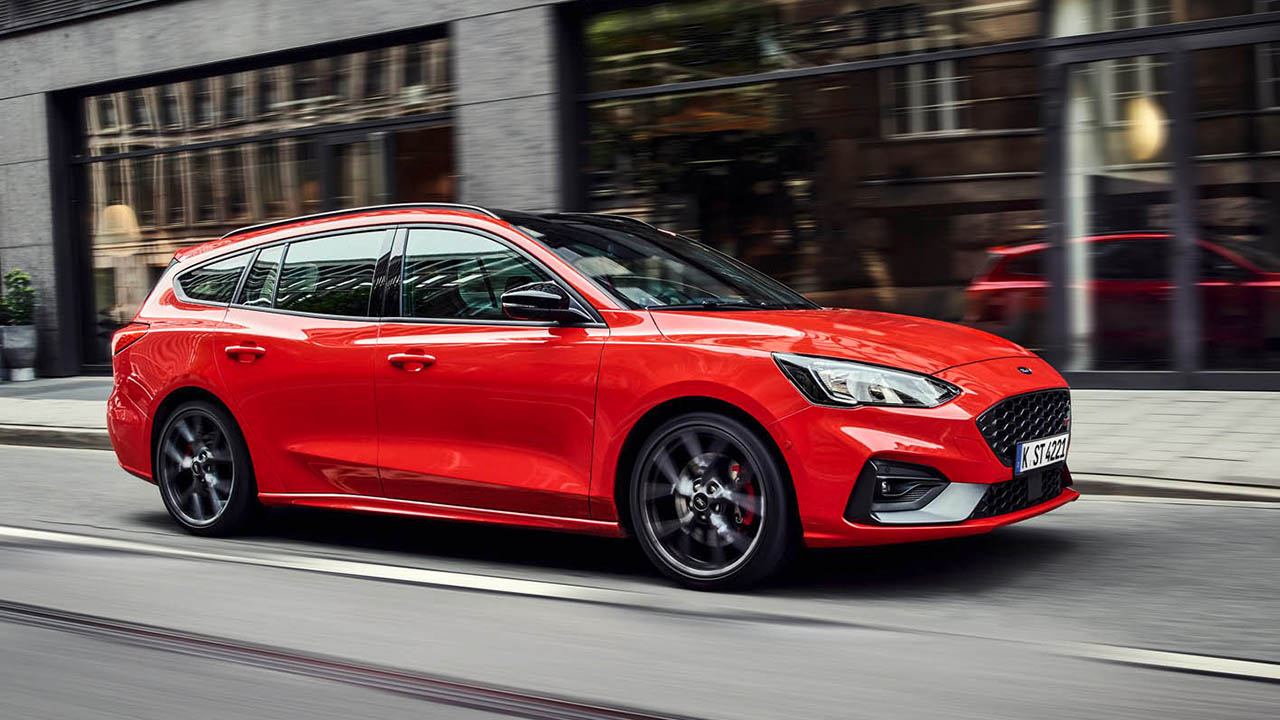 Few cars can claim to offer the same level of performance and affordability as you get with the Ford Focus ST Estate. Although it offers more space inside than its hatchback sibling, it's just as good to drive and is only 35kg heavier; remarkable given the size difference.
Living beneath the bonnet is a charismatic 2.3-litre EcoBoost petrol engine that develops 276bhp. This may not be as much power as some contemporary rivals, but it'll still achieve 0 to 62mph in 5.8 seconds, which is not to be sniffed at. Despite the performance, over 30mpg is obtainable on a daily basis.
Ideal for families, the Focus ST Estate can lug around 608 litres of stuff, whether that be the food shop or outdoor leisure equipment. Fold the rear seats down and there's a mammoth 1,653 litres waiting to be utilised.
Search Used Ford Focus ST
MINI Clubman Cooper S
It may not have the same allure as the MINI 3-door Hatch, but the Clubman makes a compelling choice for those who need the extra practicality.
Typical of a MINI, the Clubman offers a fine driving experience, with sharp steering being accompanied by strong brakes and an engaging chassis. Opt for the Cooper S variant and you'll get a 2.0-litre turbocharged petrol engine that produces 192bhp, which allows this car to accomplish the 0 to 62mph dash in 7.2 seconds.
Courtesy of the split-opening doors, gaining access to the 360-litre boot is convenient and straightforward. The cargo area may not be as big as other rivals mentioned in this list, but the rear seats can be folded down to reveal 1,250 litres of capacity; hardly inadequate.
With a quirky appearance that pays homage to the brand's history, the Clubman Cooper S stands out from the crowd, so it's worth considering if that matters to you.
Search Used MINI Clubman Cooper S
BMW 3 Series Touring
Up until 2021, BMW had never made (or planned on making) an M3 Touring, which is naturally a shame. Thankfully, the brand offers a range of cracking engines in the regular 3 Series Touring. In case you wondered, Touring is what BMW call an estate.
If you don't do many miles a year, then take a look at the 330i, which gets a turbocharged 2.0-litre petrol engine that produces 258bhp and will achieve 0 to 62mph in 6.0 seconds.
Alternatively, if your annual mileage is high, then you could consider the 330d, as it gets a 3.0-litre diesel engine that develops 286bhp. It'll do the 0 to 62mph sprint in 5.5 seconds, yet can still return north of 50mpg.
With a large amount of head and legroom for passengers having been accompanied by a 500-litre boot, the 3 Series Touring offers practicality as well as strong performance.
Search Used BMW 3 Series Touring
Volkswagen Golf R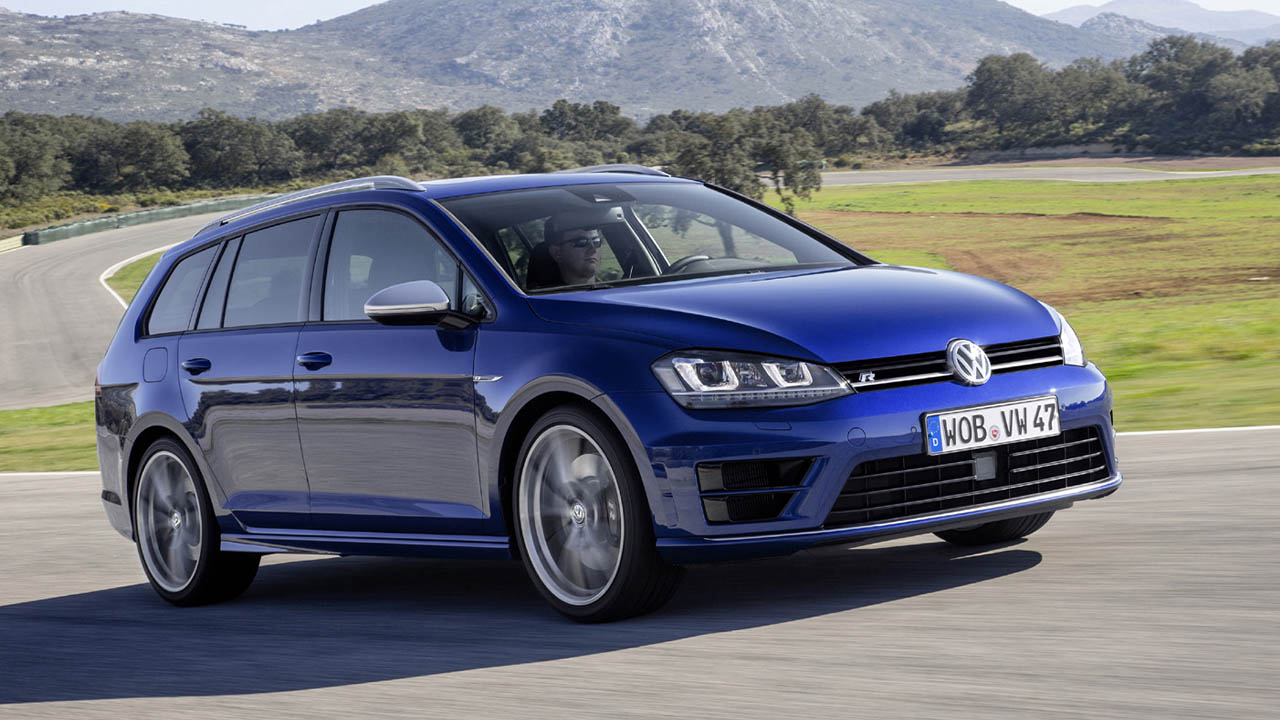 A car that requires no introduction, the Volkswagen Golf has been a consistent best-seller in the UK ever since the original was released in the 1970s.
Throughout the years the Golf has become an even better all-round package, offering a premium finish and affordable running costs. A mainstay within the Golf range are the performance models, with the GTI having become a firm favourite among motorists.
However, in 2010 Volkswagen launched a model called the Golf R, which offered stronger performance than the GTI. The MK7 Golf R (pictured) comes with a turbocharged 2.0-litre engine and produces between 296 and 306bhp (model year dependent).
Combined with the Haldex all-wheel drive system, this family estate takes between 4.8 and 5.1 seconds to achieve 0 to 62mph.
When you consider that the Golf R has a 605-litre boot and can comfortably transport the family over long distances without worry, it's easy to recommend one if you're in the market for a fast estate car.
Search Used Volkswagen Golf R
Find your next car through Evans Halshaw
Evidently, there are some great fast estate cars for you to choose from despite their fall in popularity. The models above are proof that you can enjoy practicality and performance in an affordable package. Now you simply have to find the right one for you, which you can do by browsing through our range of used cars.
For more car buying advice, or general motoring tips, keep an eye on our blog section, which is frequently updated with fresh content.