We British citizens love a hot hatchback. And with the UK being one of the largest markets for manufacturers to tap into, there have been some crackers to choose from over the years.

The best thing about the humble hot hatch selling so well is that there is a large number of them available on the second hand market. So, what is the best hot hatch you can buy when you set a reasonable budget of £10,000?

Using our own formula below we have managed to determine which hot hatches provide the best blend of performance, practicality and running costs. You can't argue with science after all.

Top Speed (MPH) + Power (BHP) + Combined Economy (MPG) + Boot Capacity (Litres) ÷ 0.62 mph Time (Secs) = Hot Hatch Score (HHS)
10. Suzuki Swift Sport
You would be forgiven for thinking this isn't a hot hatchback compared to some of the more powerful examples we have on this list. However, weighing in at a measly 1045kg and producing 136bhp from a zesty 1.6-litre engine, this little Suzuki is guaranteed to produce all the thrills you're looking for.

he perky engine isn't even the Swift's best feature; the chassis is incredibly well-sorted, meaning the Suzuki will leave a massive grin on your face through the twisty stuff. Packed with standard features such as keyless entry, cruise control and climate control, the little Swift is a great car to live with too.

With examples available from as low as £4,500 for a 2013 reg, you can see why these little cars represent such great value for money.
| | | | |
| --- | --- | --- | --- |
| Power | 136 bhp | Boot Capacity | 211 litres |
| Top Speed | 121 mph | 0-62mph | 8.7 secs |
| Economy | 44.1 mpg | EH Hot Hatch Score | 58.9 |
Used Suzuki Swift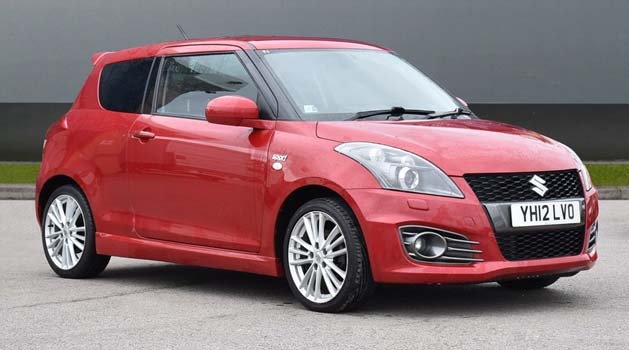 9. Ford Fiesta ST
There's a reason the Fiesta ST has won numerous awards in the motoring industry. The 1.6-litre turbocharged engine produces 180bhp from the bottom of the rev-range right to the redline, making for an insanely fun driving experience. All this performance on tap, yet the little Fiesta can return 47mpg.

Although the engine is particularly good, the ST was celebrated for its fantastic handling abilities. Both stable and agile, the Fiesta was revered for the way it could attack corners. There's no need to worry about sliding out the seat through the corners thanks to the sublime Recaro seats that come as standard. With a variety of Fiestas available under 10k, it would almost be criminal not to consider one.
| | | | |
| --- | --- | --- | --- |
| Power | 180 bhp | Boot Capacity | 290 litres |
| Top Speed | 139 mph | 0-62mph | 6.9 secs |
| Economy | 47.9 mpg | EH Hot Hatch Score | 95.2 |
Used Ford Fiesta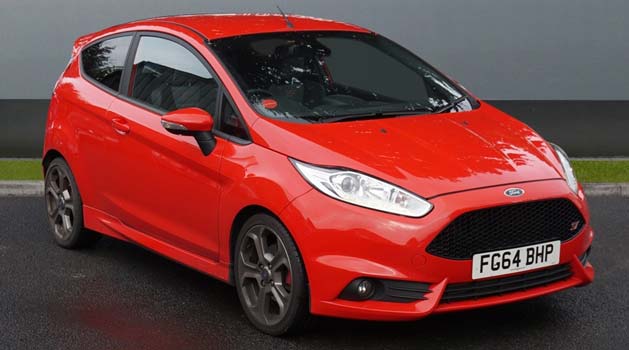 8. Peugeot 208 GTI
A direct rival to the previously mentioned Ford Fiesta ST, the 208 GTI features a similar 1.6-litre turbocharged engine and great suspension set-up. However, Peugeot extracted more power from their powerplant. And although you won't notice any difference on the road, it's always nice to have the bragging rights at the pub.

The Peugeot has received numerous compliments from owners for the beautifully crafted interior. The ergonomic set-up, excellent driving position and stunning dashboard make the 208 a great place to spend time. Depreciation has been very similar to the Fiesta ST, meaning it all comes down to personal preference after a test drive.
| | | | |
| --- | --- | --- | --- |
| Power | 200 bph | Boot Capacity | 285 litres |
| Top Speed | 143 mph | 0-62 mph | 6.8 secs |
| Economy | 47.9 mpg | EH Hot Hatch Score | 99.4 |
Used Peugeot 208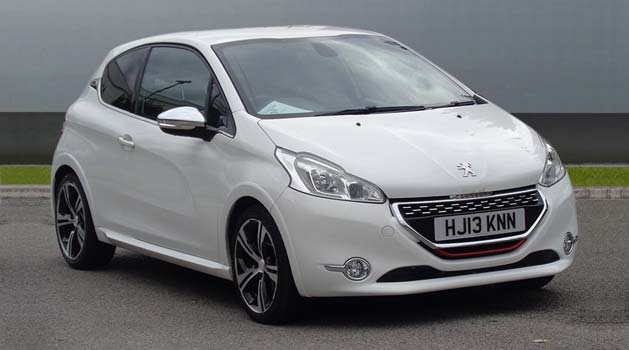 7. Mini Cooper S John Cooper Works
Everyone loves a MINI, it's why BMW have sold over three million of them since their reintroduction in 2001. The MINI Cooper has bags of character, and thanks to a low-slung driving position and go-kart inspired chassis, these cars are a fun and engaging daily driver.

The Cooper S improves on every aspect of the standard Cooper, with sharper handling and more speed. Spend the majority of the budget and you get a John Cooper Works Cooper S, with even more power and even sharper handling. This version of the MINI is the one to have. JCW cars even come with a host of exterior modifications that make the car stand out from the rest in true style. It's hard to find a car with a chassis this good for the budget, making this plucky motor a worthy consideration.
| | | | |
| --- | --- | --- | --- |
| Power | 211 bph | Boot Capacity | 280 litres |
| Top Speed | 148 mph | 0-62 mph | 6.8 secs |
| Economy | 42.8 mpg | EH Hot Hatch Score | 104.1 |
Used MINI Cooper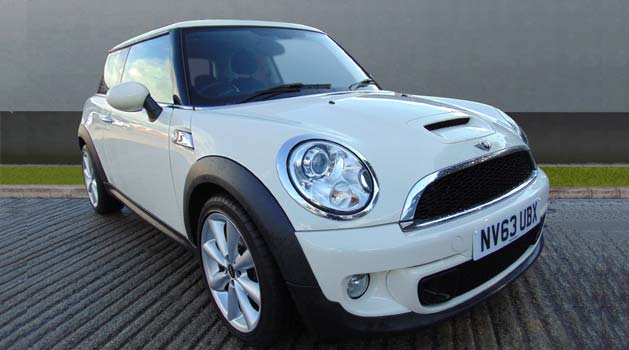 6. Volkswagen Golf GTI
Not that the Golf GTI needs an introduction, but it's going to get one anyway. Many saw the MK1 GTI that was released back in the 1970s as the spiritual god-father that led to the hot hatch becoming one of the most popular cars to own in Britain.

Despite the changes in technology and regulations imposed on manufacturers, the Golf still remains one of the best hot hatches on the market. A MK6 falls nicely within budget and will bag you a low mileage car with the glorious 207bhp 2.0-litre turbocharged engine. For the money you get those distinctive Monza wheels, while the interior will feature some gorgeous tartan seats. Hot hatch royalty for a reasonable price, count us in!
| | | | |
| --- | --- | --- | --- |
| Power | 207 bhp | Boot Capacity | 350 litres |
| Top Speed | 149 mph | 0-62 mph | 6.9 secs |
| Economy | 38.7 mpg | EH Hot Hatch Score | 107.9 |
Used Volkswagen Golf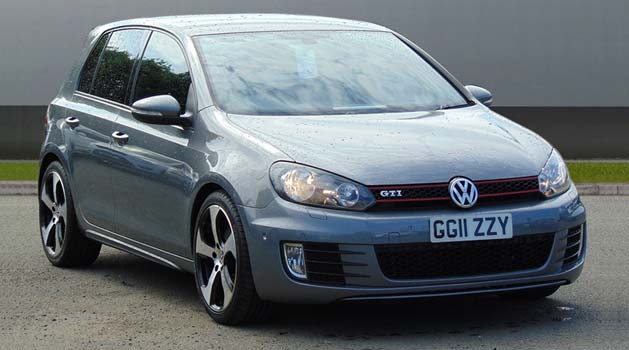 5. Ford Focus ST
You may have heard of the term "Fast Ford" before. There's a reason for that, over the decades there have been dozens of them, all unique and all brilliant in their own way. The Focus ST has been revelation since it was introduced in 2002, the excellent driving dynamics are complemented by fantastic practicality to create a great all-round car.

A MK3 Focus ST falls within budget. The 2.0-litre turbocharged engine is quite potent with 247bhp, which helps to launch this car to 62mph in just 6.5 seconds. A large boot and spacious interior make this Focus perfect for daily duties. And at prices this cheap, a serious automotive bargain.
| | | | |
| --- | --- | --- | --- |
| Power | 247 bhp | Boot Capacity | 316 litres |
| Top Speed | 154 mph | 0-62mph | 6.5 secs |
| Economy | 39.2 mpg | EH Hot Hatch Score | 116.3 |
Used Ford Focus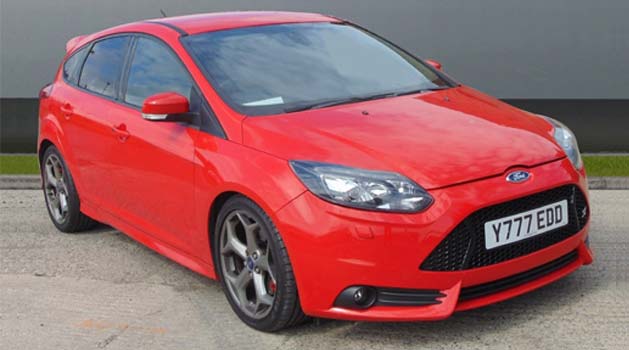 4. Vauxhall Astra VXR
A sporty Vauxhall has always been a staple part of the diet for the avid hot hatch enthusiast. Similar to the Focus ST, the Astra VXR offers plenty of performance for thrill-seekers, yet has plenty of space for the family. This particular model comes with a 2.0-litre engine that has been turbocharged for good measure. The 237bhp on tap helps to launch this car to 62mph in just 6.2 seconds.

They certainly look good too, the sporty but subtle body kit is complemented by large wheels and a centrally placed exhaust. In a VXR, you're always guaranteed to turn heads. There are plenty to choose from on the second-hand market, meaning you don't have to compromise on colour or spec.
| | | | |
| --- | --- | --- | --- |
| Power | 237 bhp | Boot Capacity | 312 litres |
| Top Speed | 152 mph | 0-62 mph | 6.2 secs |
| Economy | 30.7 mpg | EH Hot Hatch Score | 118 |
Used Vauxhall Astra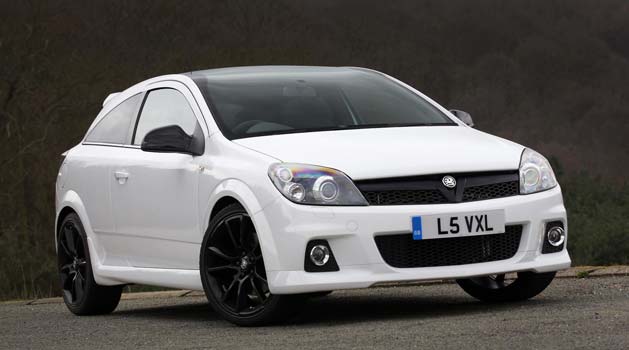 3. Audi S3
The issue with hot hatchbacks in general is that they are a little bit flamboyant, which is great for those who want something that turns heads. However, Audi very kindly provided an alternative for those who want something more subtle.

To the untrained eye, many won't notice the differences Audi made for the S3, but a 2.0-litre turbocharged engine produces a very tasty 261bhp and is distributed to all four wheels by Audi's legendary Quattro system. 0-62mph takes only 5.7 seconds and you'll be topping out at 155mph; make no mistake then, this S3 has a bigger bite than the looks would suggest.

Premium quality materials feature throughout the S3, it is an Audi after all. Because these cars are so accessible, you won't have any problem finding a good one, and your local Evans Halshaw retailer can take care of all your servicing requirements.
| | | | |
| --- | --- | --- | --- |
| Power | 261 bhp | Boot Capacity | 281 litres |
| Top Speed | 155 mph | 0-62 mph | 5.7 secs |
| Economy | 33.2 mpg | EH Hot Hatch Score | 128.1 |
Used Audi S3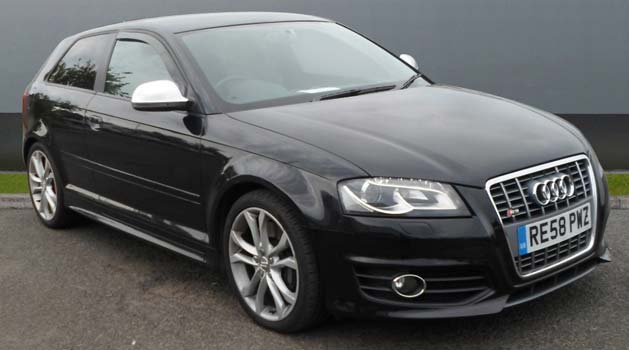 2. Renault Megane RS 250
The French are quite savvy when it comes to building a hot hatch. Both the Clio and Megane have been incredibly popular since their initial release in the 1990s and early 2000s respectively. With every generation that passes they just seem to get even better, and the Megane RenaultSport 250 is no different.

The sublime chassis is packaged together with a punchy 2.0-litre turbocharged engine that produces 250bhp, helping to launch this car to 62mph in just 6.1 seconds. Large Brembo brakes on the front-axle provide all the stopping power you'll ever need, and the optional Limited Slip Differential (LSD) ensures corners are consumed with ease.

A spacious interior and large boot make this Megane the perfect hot hatch for the family man who really values the driving experience. It's hard to believe you can buy a car of this pedigree for under £10,000. Make the most of it while you can.
| | | | |
| --- | --- | --- | --- |
| Power | 250 bhp | Boot Capacity | 344 litres |
| Top Speed | 156 mph | 0-62 mph | 6.1 secs |
| Economy | 33.2 mpg | EH Hot Hatch Score | 128.4 |
Used Renault Megane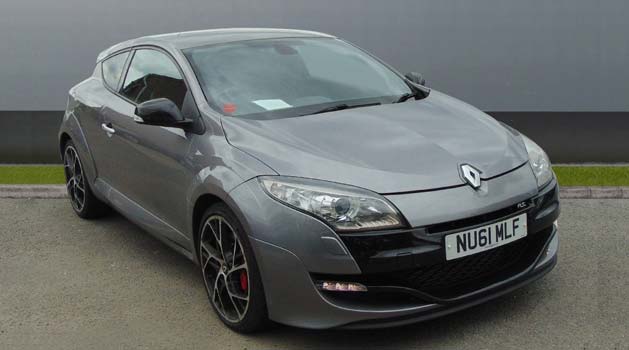 1. Honda Civic Type R
When Honda introduced the original Civic Type R back in the 1990s, they instantly became a hit thanks to their high-revving engine and slick gearbox. Fast forward to the example here and the recipe has only evolved, the 2.0-litre VTEC engine producing 201bhp revs rapidly to over 8000rpm. Because there is no turbo to help you down the road, you really have to work the engine and gearbox to access the power available, with a notable step up in power at 5,400rpm.

The Civic is often celebrated by enthusiasts for its sharp turn-in and accurate steering response, which is essential for making the most of that peach of an engine. A classy and well-made interior puts the focus on the driver with all the modern touches you'd expect from a hot hatch. And with the biggest boot on this list, it's also one of the most practical.

A Championship White Civic Type R is accessible within this budget, and comes with an LSD as standard, a few cosmetic changes and the hallmark white paintjob. Residuals will remain strong on this edition so depreciation won't be as heavy as the other models on this list.
| | | | |
| --- | --- | --- | --- |
| Power | 201 bhp | Boot Capacity | 485 litres |
| Top Speed | 146 mph | 0-62 mph | 6.6 secs |
| Economy | 31.4 mpg | EH Hot Hatch Score | 130.2 |
Used Honda Civic