Best Used Hot Hatchbacks Under £20,000
12th Mar 2020
By Nathan Dale
The humble hot hatchback, or hot hatch as it's more commonly known as. Since the introduction of hot hatchbacks in the '70s, manufacturers have continued to offer enhanced performance versions of their best-selling hatchbacks. Cars such as the Mk1 VW Golf GTI and Peugeot 205 GTI ensured the working class could have high performance thrills in a compact, affordable and fun package.
It's no wonder the hot hatch popularity has never slowed. Thanks to keeping hatchback practicality, there's something heroic about such a car with pumped up looks, a high-powered engine and various other performance enhancements.
Today there is a superb array of cars available for less than £20,000, all featuring character, style, speed and practicality. We cannot see the want for hot hatches slowing any time soon. Out of our cars below, which one would you go for?
Ford Fiesta ST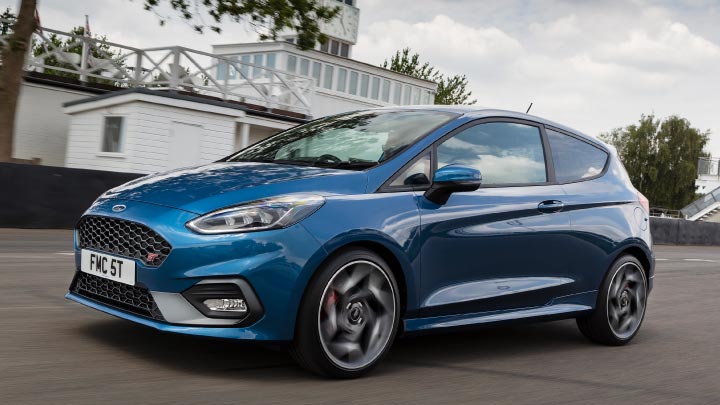 Fast Fords are loved by multiple generations, and when humble hatchback cars that feature a blue oval get given a number of performance enhancements and more recently an ST badge, they make for a popular hot hatchback, which are then loved by many.
And for good reason too, as in this case the Fiesta ST already has a solid foundation. After all, the Fiesta has been the UK's best-selling car, year after year, so it was always going to be a winner adding more power, sportier looks, bigger wheels and of course that Fast Ford heritage.
Superb steering feel, fine dynamics, a great soundtrack whilst still being as usable a Fiesta ensure the Fiesta ST is one of the best hot hatches on sale for less than £20,000.
Volkswagen Golf R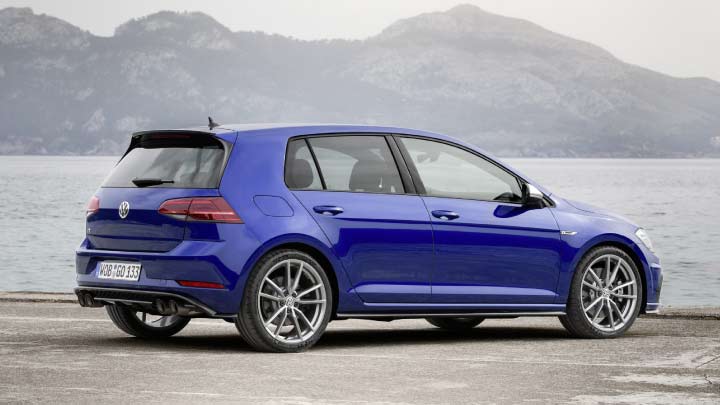 There's no denying that the VW Golf is a textbook hatchback. But what happens when you take the humble Golf and give it circa 300bhp and all-wheel drive? You get the Golf R, one of the hottest hatchbacks available.
Coming just under or just over 300bhp, depending on model year and if the car is post or pre-WLTP emissions ruling. No matter which you opt for, you are guaranteed one of the fastest hatchbacks on the road, completing the 0-62mph time in just over 5 seconds, or just under with the DSG gearbox.
What's more, thanks to all-wheel drive, you can deploy all the performance in the wet or dry with complete control. Being a Golf, the R is also well-built, practical, loaded with tech and can blend in with regular traffic as it's rather unassuming, until you spot the quad exhaust tailpipes that is.
Honda Civic Type R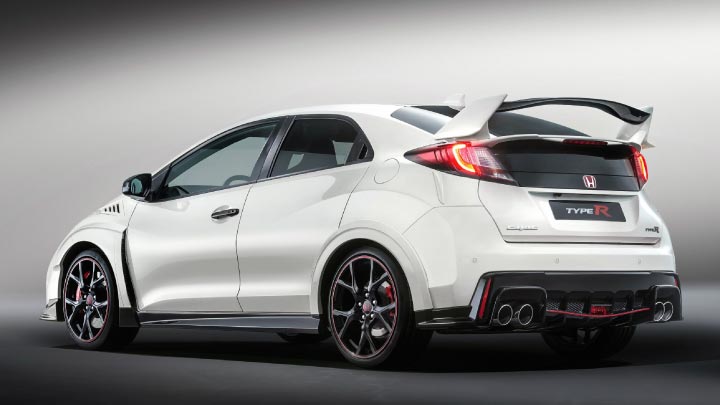 After four years away, Honda delighted Type R fans by launching the FK2 Civic Type R in 2015. In typical Type R fashion it wasn't subtle. A much more aggressive body, bigger wheels, large rear spoiler and quad exhaust tips ensured the Type R was no shrinking violet.
But is the Type R all show and no go? With 305bhp it has the power to match its stand-out looks, completing 0-62mph in just 5.5 seconds. This is thanks to a characterful VTEC 2.0-litre engine, that will rev until 7000RPM and teamed with a slick gearbox, it's a superb car to drive.
The Type R is also practical with a big boot, 5 doors and a slick chassis. As hot hatchbacks go, being a Honda, the Type R has a reliable nature too.
BMW M140i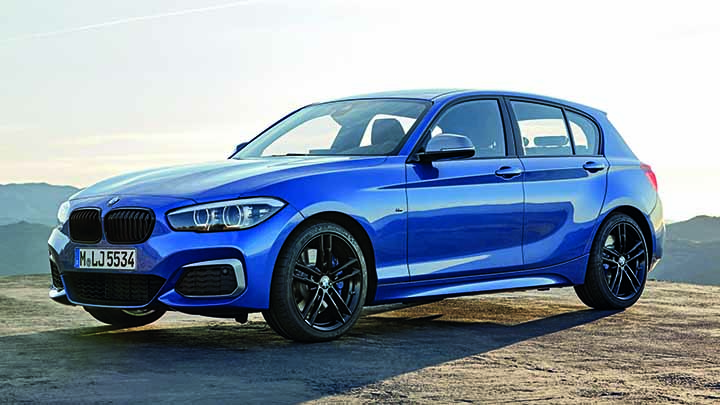 The BMW M140i is the most powerful 1 Series ever produced, coming with a turbocharged 6-cylinder 335bhp engine, good for 0-62mph in an ultra-impressive 4.6 seconds, when selecting the eight-speed automatic gearbox. You can have a manual too.
M stands for M Performance, and instead of being a full on BMW M car, it is like an M car, only turned down in terms of performance. Sometimes they are referred to as an M-lite by enthusiasts.
The M140i is still very much a drivers car, with driver-focused rear-wheel drive and is available in 3 or 5-door configuration. The car is also well built, practical and are quite understated, making it somewhat of a 'Q' car.
Volkswagen Golf GTI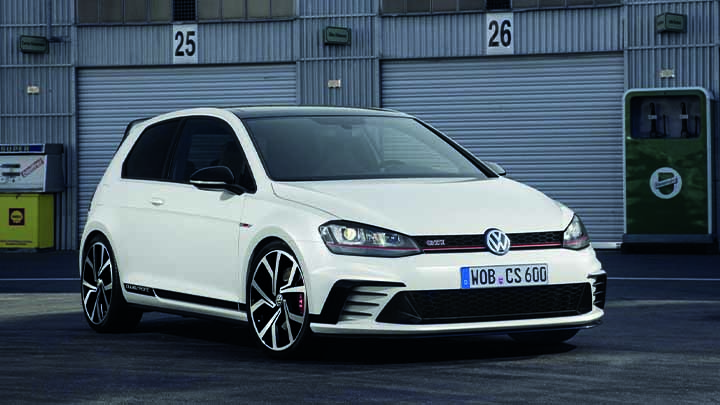 Arguably the greatest name when it comes to hot hatchbacks, the Golf GTI has been the king generation after generation. This is due to the car's superb driving experience.
Although not the range-topping Golf (that goes to the Golf R) the Golf GTI is iconic, cementing previous generations as the hot hatch to beat. The iconic tartan seats, red trim in the front grille and superb, sports focused driving experience mean the GTI is impeccable to drive, without going over the top.
The most recent Golf GTI (the mark 7/7.5) may not be as fast as the rapid Golf R, but the total package is considered by many to be even more appealing. Special editions like the Clubsport, Clubsport S and TCR enhance the appeal further, although these are of course more expensive.
Renault Megane Renaultsport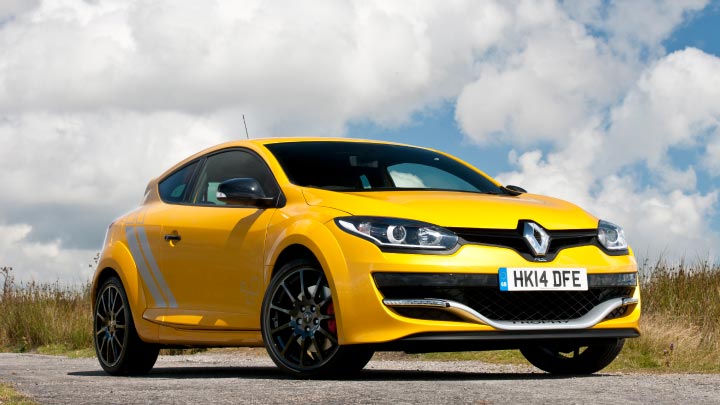 The Renault Megane. An all round decent hatchback, but when Renaultsport get involved, it turns the Megane into one of the finest hot hatchbacks available.
With 265 or 275bhp depending on which version you opt for, coming from a 2-litre 4-cylinder turbo engine, powered by the front wheels, this pocket rocket can hit 62mph in just 6 seconds. In relation to other cars in our list, that may seem like the Megane is slightly down on power, but it's likely that on a race track the mighty Megane will make up for it in the corners.
It is not uncommon to see Megane RS models as a popular tool on track days, and amidst Porsche and BMW M cars at the legendary Touristfarten days at the infamous Nurburgring Nordschleife. That says a lot about this particular hot hatchback.
Ford Focus ST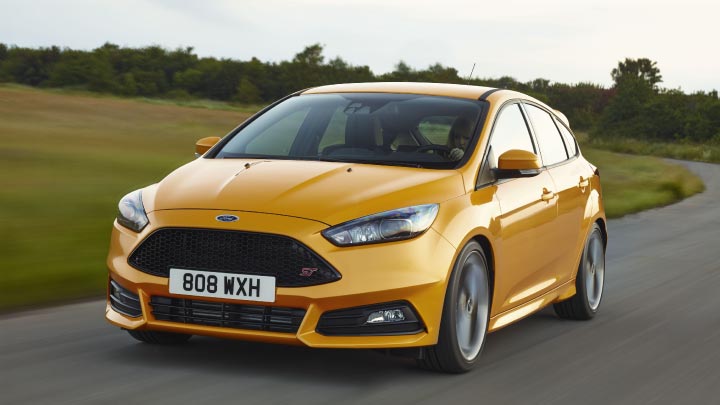 Our second Ford ST model, this time in the shape of the Focus. Just like its smaller sibling mentioned at the start of this blog, the Focus ST is a fine hot hatchback for similar reasons to the Fiesta.
Essentially, if you require more space from your hatchback, and a Fiesta won't cut it, then this is where the Focus comes into play. Just like the Fiesta, the Focus is a great everyday hatchback, and when turned into a Fast Ford with the ST badge, it makes for an attractive all-round package.
Handling is superb, and interior quality is solid, and being a Ford lots of safety kit is included. There's also a choice between diesel and petrol engines, which is rare for a hot hatch.
SEAT Leon Cupra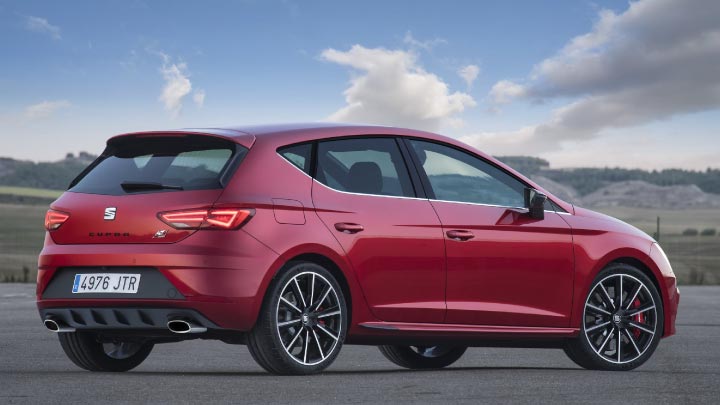 Adding a little bit of Spanish flair to our mix of hot hatchbacks, albeit with some Germanic input for good measure. That's because VW own SEAT and therefore cars are very similar to their German siblings.
This is only a positive, as the SEAT Leon Cupra features solid build quality, mature attractive looks, whilst still maintaining the Spanish flair. With many versions featuring circa 300bhp, the flair in the driving experience is a plenty.
As hot hatchbacks go, the Leon Cupra is rather grown-up too, and appeals to those who want a subtle, yet powerful hot hatch. Five-door practicality comes as standard, along with a big boot and decent interior material choice.
MINI JCW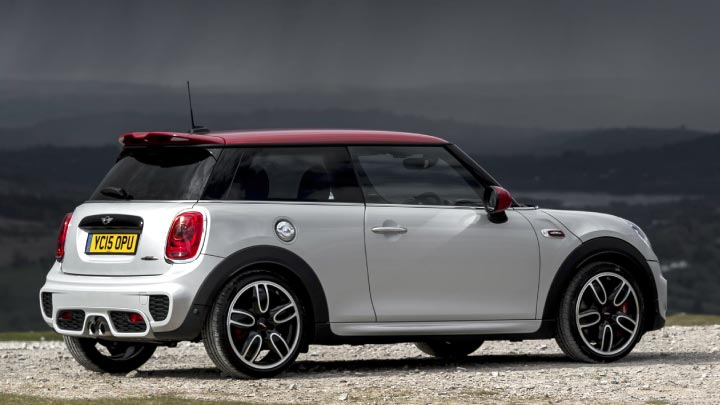 It would of been a crime to leave out the modern MINI. After BMW relaunched the brand back in 2001, the MINI has been famed for its iconic go-kart like handling - a trait many sports cars can be jealous of.
The JCW is the range-topping performance version of the MINI and features sharp styling, lowered suspension and bigger alloy wheels. A striking red stripe is also used on the grille, along with subtle JCW motifs that emphasise the car's identity.
Inside, plush materials, retro dials and unique style ensure you still know you're behind the wheel of an iconic MINI. The JCW comes equipped with 228bhp from a 2.0-litre petrol engine, good for 62mph in just 6.3 seconds. A proper little pocket rocket.
Audi S3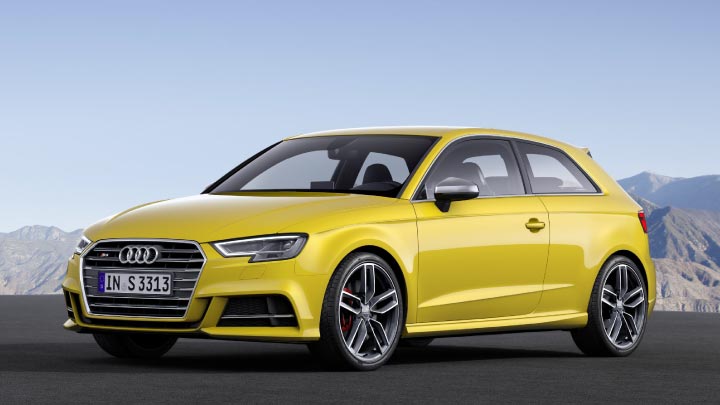 The fastest hot hatchback in our list. Using a 2-litre 5 cylinder turbo engine, the S3 comes equipped with 306bhp and Quattro all-wheel drive for a 0-62mph time in just 4.5 seconds - with the auto transmission option, a manual is also available and a tad slower to 62mph.
This means this practical, well-built, ultra-fast hatchback can scare and embarrass sports cars costing significantly significantly more money. Due to the car's all-wheel drive setup, performance is accessible no matter what the situation, which is important in the UK with our stereotypically grim weather.
Quad exhaust pipes alert the masses that this is the range-topping A3 has some serious power lurking under its subtle yet smart exterior. Essentially the S3 is rather like a more exclusive Golf R, but both cars will have you grinning with delight from ear to ear.
In Summary...
Our list demonstrates that multiple manufacturers, just like us, love a hot hatchback.
The sheer rate of evolution means that cars like the BMW M140i, Audi S3 and Volkswagen Golf R have pushed the game on so much in terms of performance, meaning that if a sports car simply won't cut it, you can still get sports car speed with the added bonus of comfort and practicality.
The list also proves power isn't everything, with most of these cars offering a fun driving experience that you can take full advantage of time after time.