Top 10: Best Used Hot Hatchbacks Under £20,000 in 2023
02nd Jan 2023
By Edward Cook
Best used hot hatches
The sporty hatchback, more commonly known as a 'hot hatch', has been a popular hit amongst drivers since its introduction in the 1970s. Cars such as the Peugeot 205 GTi and Volkswagen Golf GTI paved the way for the hot hatch, ensuring high performance thrills could be had in a compact, affordable, and fun package.
Nowadays, car manufacturers continue to offer enhanced versions of their everyday family hatchbacks, providing drivers with the thrills of a performance car while maintaining the practicality of their more tame siblings. With often aggressive looks, sharp road dynamics, and joyful exhaust note, the continued popularity of the hot hatch comes as no surprise.
The best part is you're able to get your hands on a superb array of hot hatches for less than £20,000, all featuring character, speed, style, and practicality, and we've selected ten of the best:
Ford Fiesta ST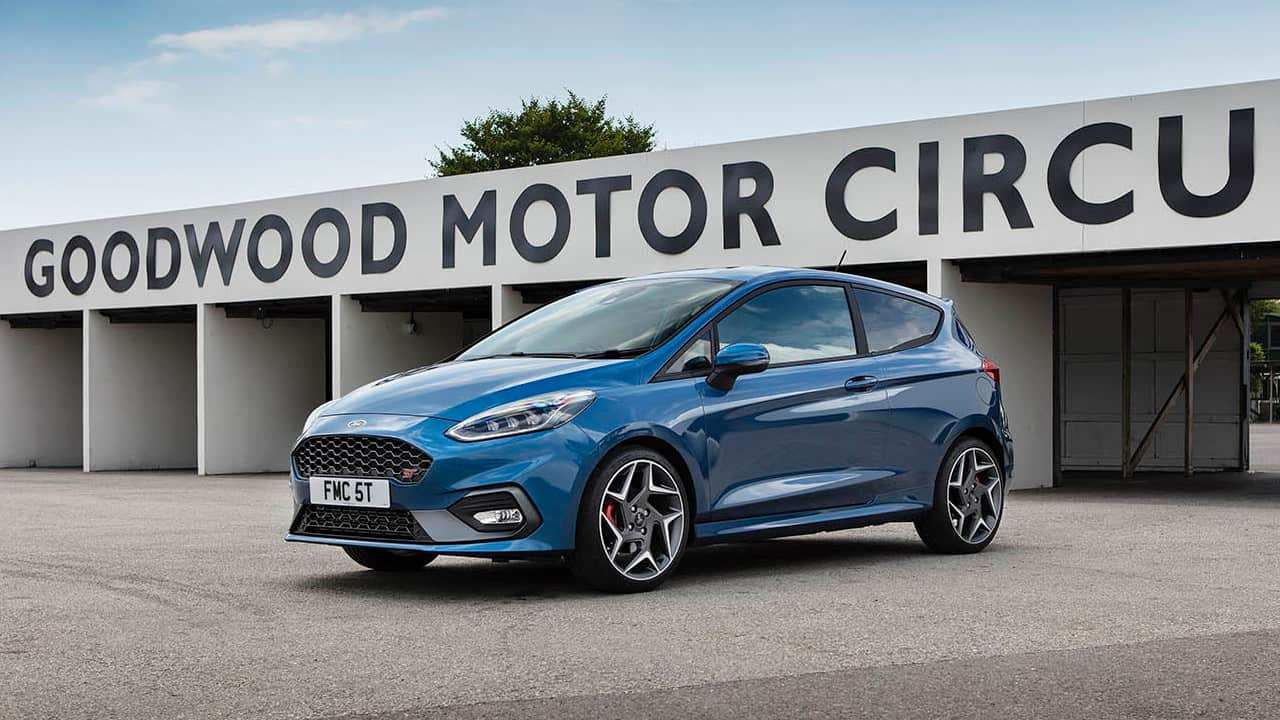 Fast Fords are loved by multiple generations, so when Ford announced the humble Fiesta would be getting the Ford Performance treatment, plenty of ears perked up. After all, the Fiesta has been one of the UK's best-selling cars year-after-year, so it's no shock to see its sportier counterpart feature on this list.
The Fiesta ST comes with a wide variety of performance and styling enhancements which include a sleeker bodykit, ST embellishments throughout, a more powerful EcoBoost powertrain, and even the option of a limited slip differential.
Superb steering, fine dynamics, and a great soundtrack ensure the Fiesta ST is one of the best hot hatches for under £20,000, and due to its popularity, there are plenty of great examples to choose from.
Search Used Ford Fiesta ST
Volkswagen Golf R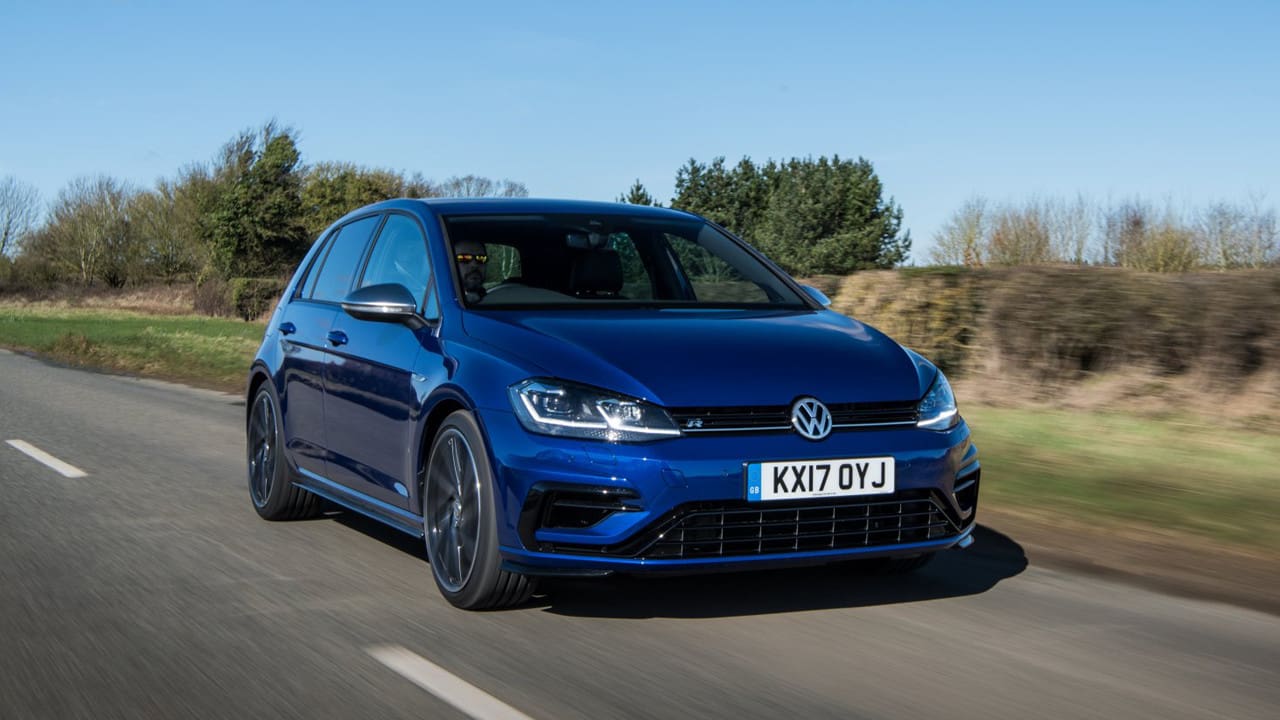 The Volkswagen Golf is a textbook hatchback, ticking plenty of boxes with its comfortable ride and fantastic all-round capabilities. But what happens when you take the popular Golf and give it around 300bhp and all-wheel drive? Well, that's exactly what Volkswagen sought to find out, resulting in the introduction of the impressive Golf R.
Coming with approximately 300bhp dependent upon model year, the Golf R is one of the most complete hot hatchbacks available, offering a great level of practicality and space, as well as a 0 to 62mph time of just 4.9 seconds when paired with the slick automatic DSG gearbox.
Furthermore, thanks to the all-wheel drive system, you're able to deploy the performance of the Golf R in a variety of conditions. At first glance, it can blend in with regular traffic, but take a deeper look, and you'll notice a range of fiery hot hatch features such as the quad exhaust tips.
Search Used Volkswagen Golf R
Honda Civic Type R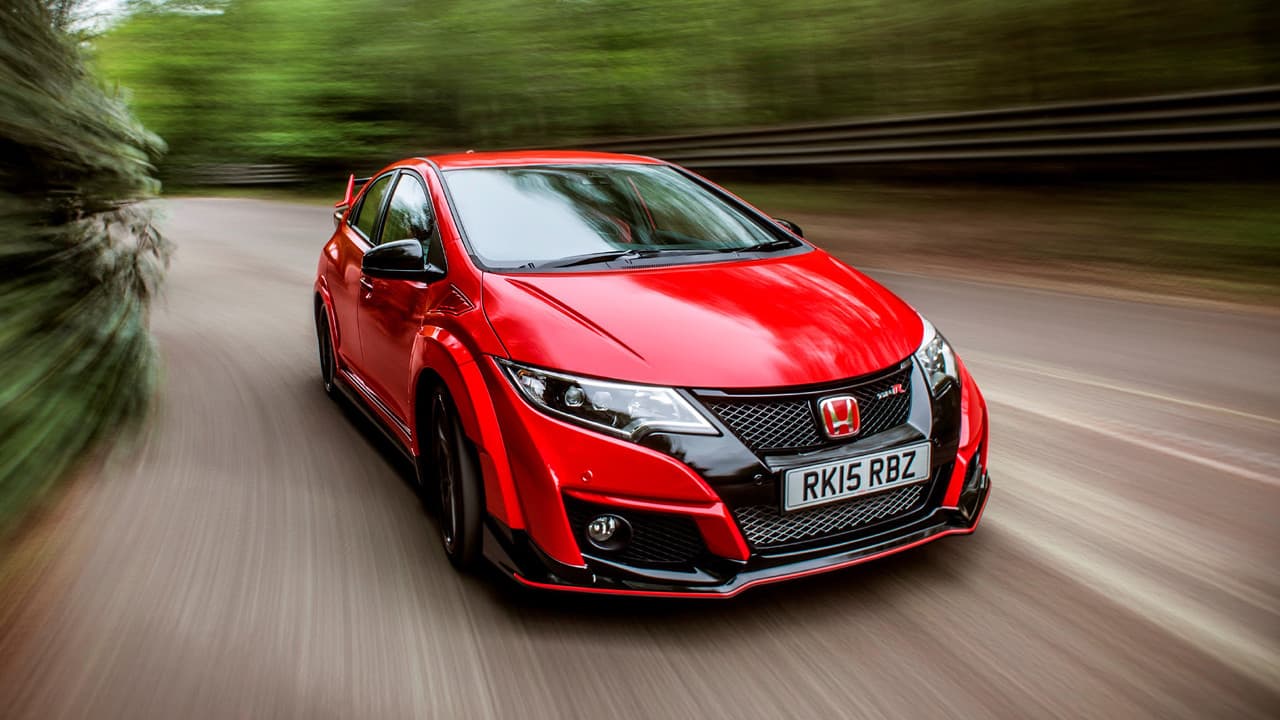 To the delight of many Type R fans around the world, Honda re-introduced the Type R moniker by launching the FK2 Civic Type R in 2015. And, in typical Type R fashion, it wasn't subtle. Uber aggressive body styling, bigger wheels, a large rear spoiler, and quad exhaust tips ensured the Type R was no shrinking violet.
But is the Type R all show and no go? With 305bhp, it has the power to match its stand-out looks, completing 0 to 62mph in just 5.5 seconds. This is thanks to a characterful VTEC 2.0-litre engine that will rev until 7000RPM and, when teamed with its slick gearbox, it's a superb car to drive.
Based on the popular Civic hatchback, the Type R is also practical with a big boot, 5 doors, and a slick chassis. Being a Honda, you can bank on reliability too, making the Civic Type R a great all-round package.
Search Used Honda Civic Type R
BMW 1 Series M140i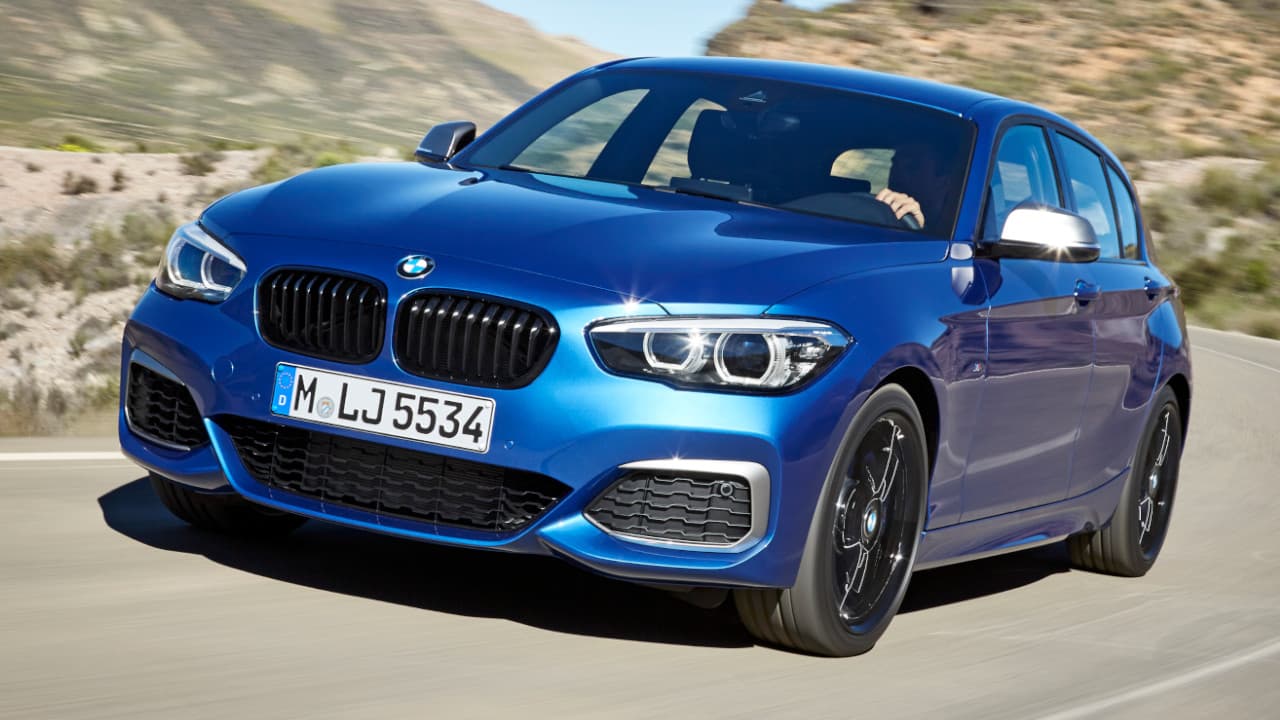 As the most powerful BMW 1 Series ever produced, the M140i comes with a turbocharged 6-cylinder 335bhp engine that's good for 0 to 62mph in an ultra-impressive 4.6 seconds when paired with the fast-shifting 8-speed automatic gearbox.
Better yet, it's rear-wheel drive, so it offers a unique driving experience that defies the hot hatch norm. It's available in both 3-door and 5-door guises, giving you the option that suits your lifestyle.
In its standard form, the M140i doesn't look like a car that packs this much of a punch, but there's an aero pack that's available on some models to spruce things up a bit.
BMW's M Performance range includes some of the highest-performing models out there, and while the M140i is described as an 'M-lite' by some enthusiasts, it's still a great addition to both the M Performance fleet and the hot hatch segment.
Search Used BMW 1 Series M140i
Volkswagen Golf GTI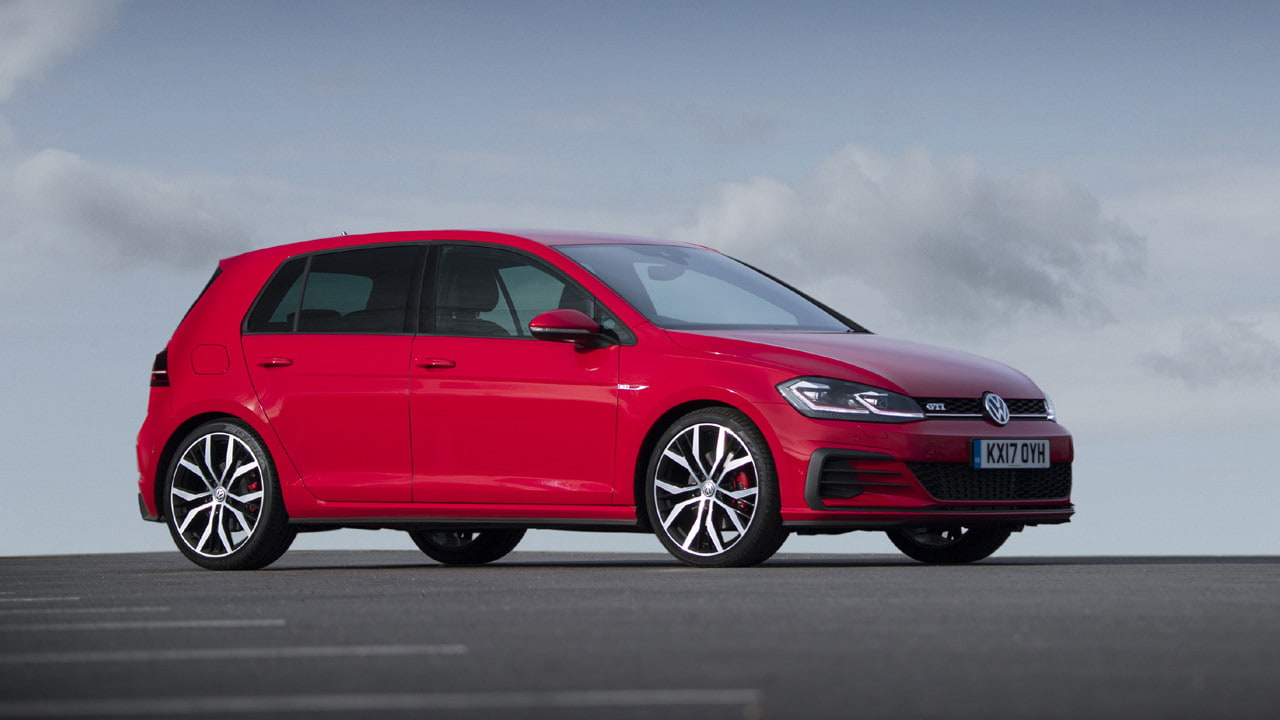 The Volkswagen Golf GTI is one of the first cars that comes to mind when you think of a hot hatch, and it's been a king in this segment for generations. Although not quite as quick as the range-topping Golf R mentioned earlier, the Golf GTI's superb driving experience cements its place as one of the best hot hatches for under £20,000.
For the most part, the Golf GTI is fairly subtle when compared to the likes of the batmobile-esque Civic Type R, but it does come with a variety of features that make it stand out from the crowd. The iconic tartan seats, large alloy wheels, GTI badging, and a red stripe across the front grille give the GTI a sporty touch without going over the top.
The Golf GTI is a compelling all-round package and is a popular choice for many. It offers brilliant levels of versatility, a premium build quality, and plenty of advanced tech. Special editions such as the Clubsport, Clubsport S, and TCR enhance appeal even further, but you may struggle to find a special edition for less than £20,000.
Search Used Volkswagen Golf GTI
Renault Megane RenaultSport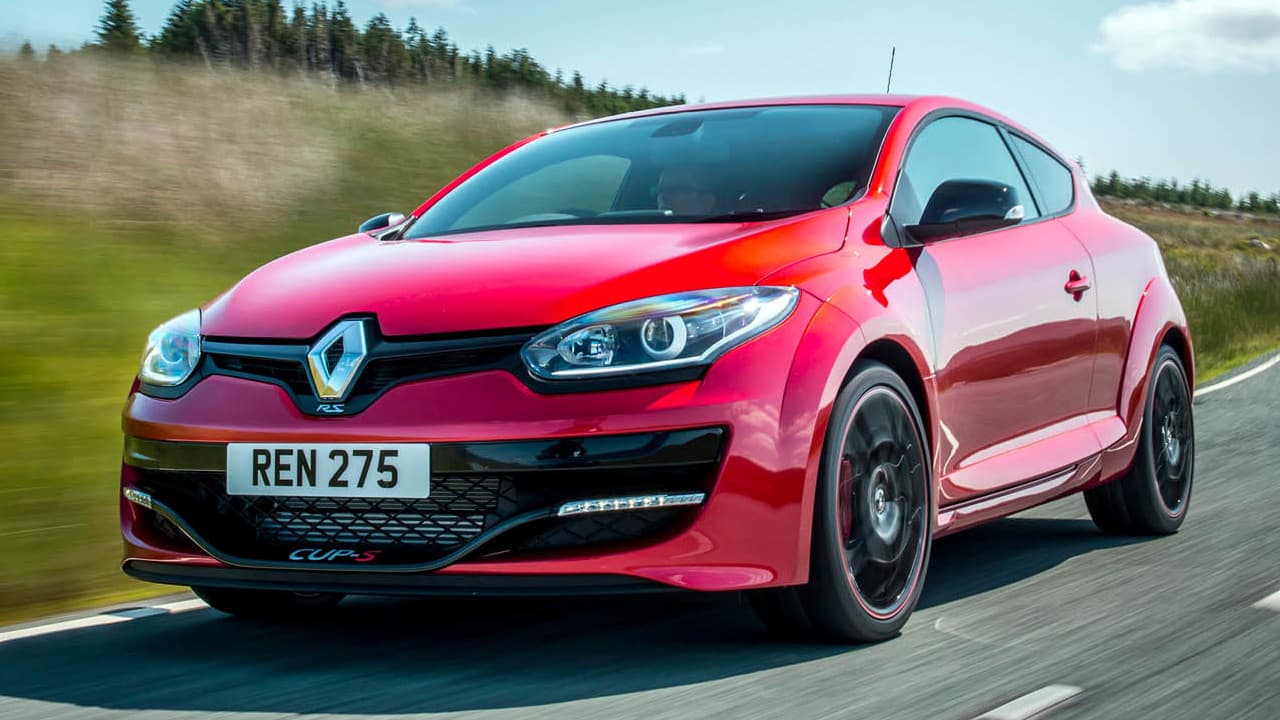 The standard Renault Megane is a brilliant all-round hatchback as it is, but when RenaultSport (RS) put their stamp on it, the Megane turned into one of the finest hot hatches available.
The Megane RS comes with a 2.0-litre, 4-cylinder turbocharged powertrain that produces either 265bhp or 275bhp, dependent upon which model you choose. Driving the front wheels, the Megane RS can accelerate from 0 to 62mph in as little as 6.0 seconds, earning its status as a proper 'pocket rocket'.
It's a common sight on track days thanks to its cornering abilities and overall fun factor, and it certainly looks the part too, coming with large alloy wheels and a plethora of sporty touches to catch the eye of onlookers.
Search Used Renault Megane RS
Ford Focus ST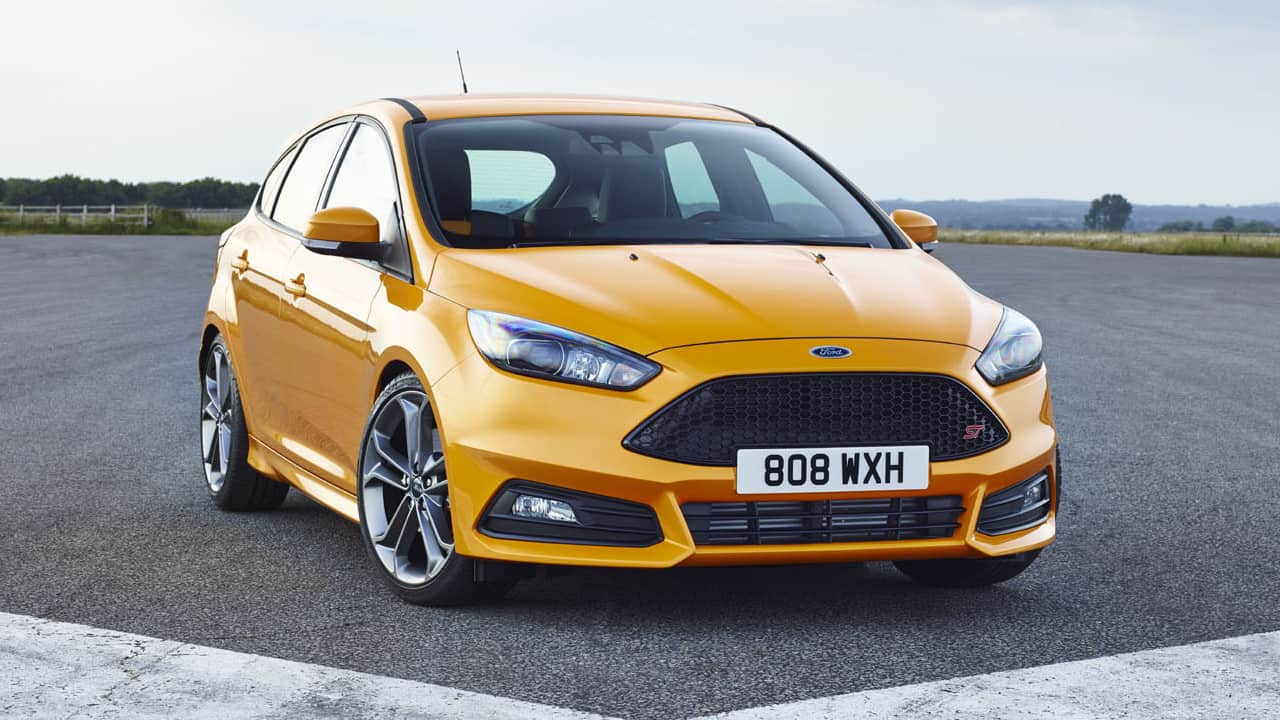 Super-hot hatches such as the Focus RS often steal the headlines due to their desirability, but they're significantly more expensive. The Focus ST perfectly fills the void between a standard Focus model and the top-of-the-range Focus RS, offering enhanced performance for a more affordable price tag.
The MK3 Ford Focus ST was produced between 2013 and 2018, and offered sharp looks, an impressive powertrain, and plenty of driver aids to make things easier when out and about. When you fancy driving in a more spirited manner, the Focus ST fills you with confidence, with superb handling and supportive sports seats.
You'll also have the choice between petrol or diesel, which is quite rare for a hot hatch, or if you need something even more practical, the Focus ST is also available as an estate, too.
Search Used Ford Focus ST
SEAT Leon Cupra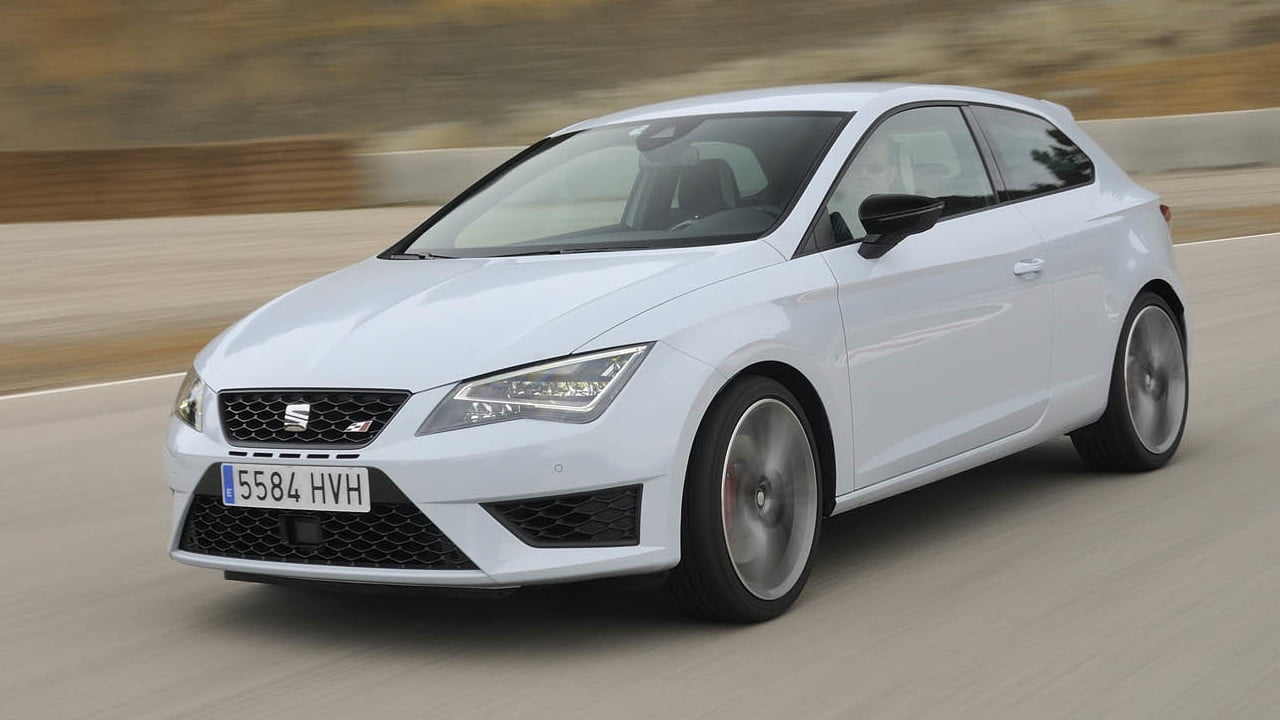 Before Cupra broke away from the SEAT brand in 2020, it often put its stamp on many of the Spanish manufacturer's cars, but the best-known example of this is definitely the SEAT Leon Cupra.
Based on the standard Leon platform, the Leon Cupra offers heightened performance, mature yet attractive looks, and plenty of Spanish flair. Its lightweight nature and front-wheel drive setup allows the least powerful SEAT Leon Cupra to sprint from 0 to 62mph in less than 6.0 seconds, while there are more powerful (and more expensive) variants that will do it in less than 5.0 seconds.
If you're after a hot hatch that's both grown-up and a barrel of joy to drive, then the Leon Cupra is a great option. 5-door practicality comes as standard, along with a big boot and a well-built interior.
Search Used SEAT Leon Cupra
MINI Hatch John Cooper Works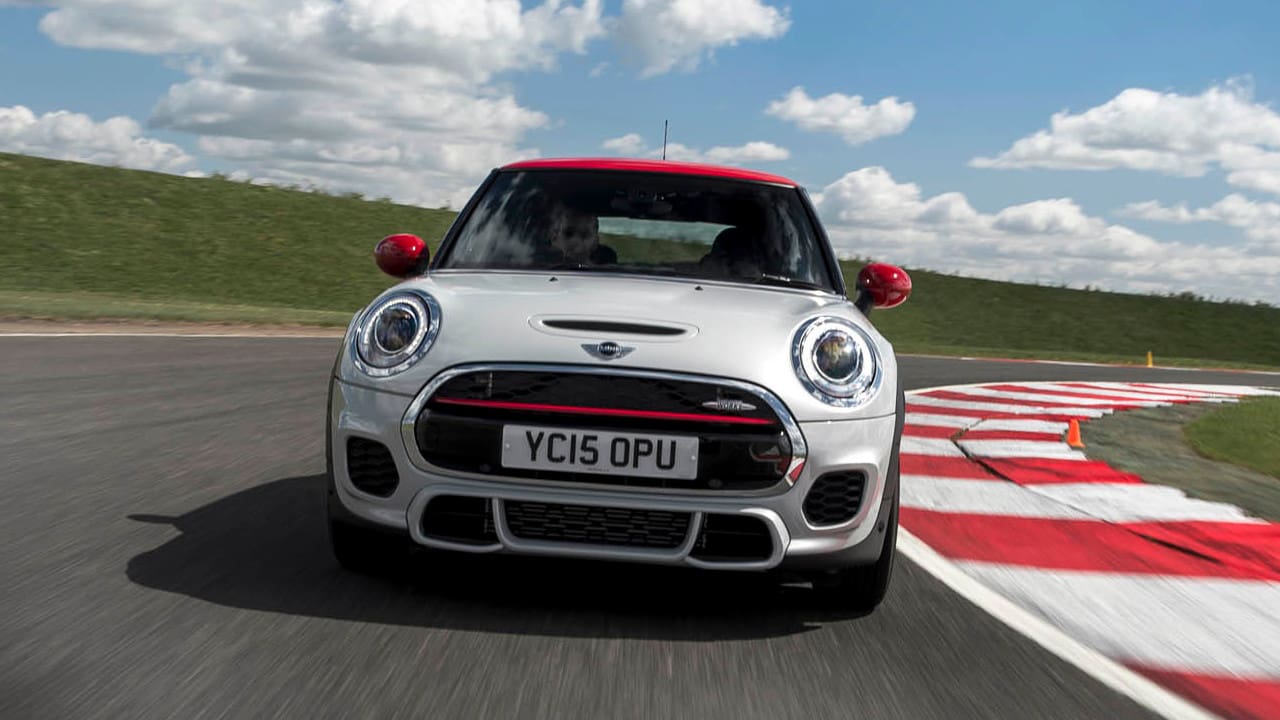 Hot hatches are built to be dynamic and are fantastic fun to drive on British B roads, but the MINI Hatch John Cooper Works (JCW) is one of the masters when it comes to driver enjoyment. The standard MINI hatch has become known for its go-kart like handling, but when paired with a 228bhp-producing powertrain, the JCW variant enters a new realm of thrills.
Featuring sharper styling, larger alloy wheels, dual exhaust tips, JCW motifs, and a distinctive red stripe across the front grille, it's easy to tell a JCW apart from its tamer family members.
While performance is impressive, running costs aren't excessive, making the JCW a hot hatch that won't break the bank. Its compact dimensions mean it's not quite as practical as others on this list, but very few will be able to put as big a smile on your face as the MINI JCW.
Search Used MINI Hatch JCW
Audi S3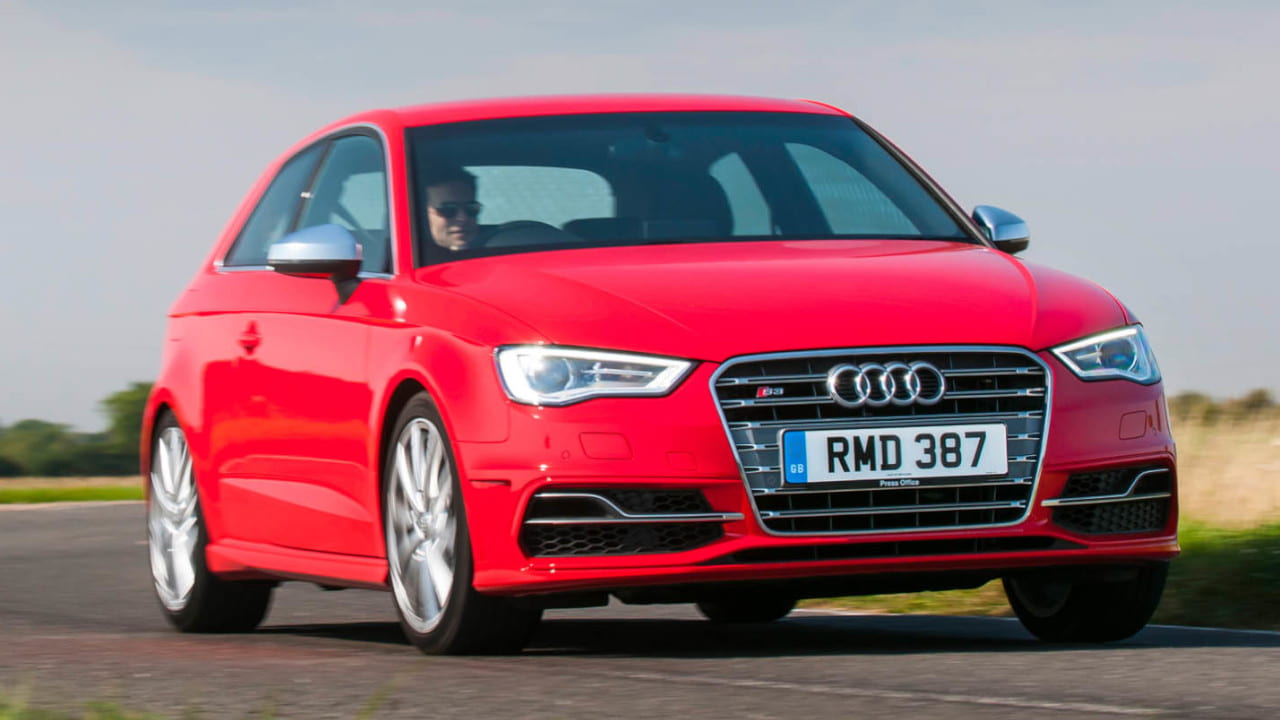 The Audi S3's 2.0-litre, 5-cylinder turbocharged engines produces a whopping 306bhp, and confirms its place as the fastest hot hatch on this list. 0 to 62mph takes just 4.5 seconds in automatic variants (manual takes a tad longer), with the all-wheel drive Quattro system working seamlessly to provide maximum grip.
Based on the same underpinnings as the A3 hatchback, the S3 is practical, well-built, and ultra-fast, ticking most of the boxes required from a hot hatch. Features such as the quad exhaust tips alert the masses that this fairly subtle-looking car has some serious power lurking underneath the bonnet.
In typical Audi fashion, the S3 comes loaded with plenty of advanced tech and is one of the smartest hot hatches you'll find. The interior is a particular highlight, featuring comfortable, supportive seating and plenty of space throughout.
Search Used Audi S3
Find your hot hatch with Evans Halshaw
Hot hatches are some of the most practical performance cars out there, offering supercar-threatening performance at a fraction of the price. Due to their popularity, there are plenty of options from some of the world's biggest automotive manufacturers, and we have plenty on offer in our used car collection.
Our friendly associates at your nearest Evans Halshaw dealership will be able to help you find the perfect used hot hatchback. Alternatively, our buying guide blog section is home to a wide range of articles that can help you narrow down your options.