Guide to: Ford Focus RS Specs, Options & Packs
02nd Dec 2021
By Edward Cook
Hot Hatch Legend
The Ford Focus RS is a hot hatch legend, especially here in the UK. Its exceptional power, fantastic handling, and unmistakable styling cues set it apart from every other hot hatchback on sale. As part of the Ford Performance range, the Focus RS is one of the most popular fast Fords out there and does justice to the 'RS' marque that has adorned many performance Fords of the past.
First launched in 2002, the Focus RS has endured three different generations sporting various updates and enhancements to ensure it competes with the very best sports and performance cars. Various packs, options and special limited editions can be found on more recent models, but older generations are collectors' items that are becoming increasingly sought after year-on-year.
If you're on the look out for a Ford Performance vehicle, you'll probably want to know the finer details of each model to ensure you purchase one that's right for you. Below, we explain the various options, packs and specifications that you'll find when searching for a Focus RS.
Mk1 Focus RS (2002-2003)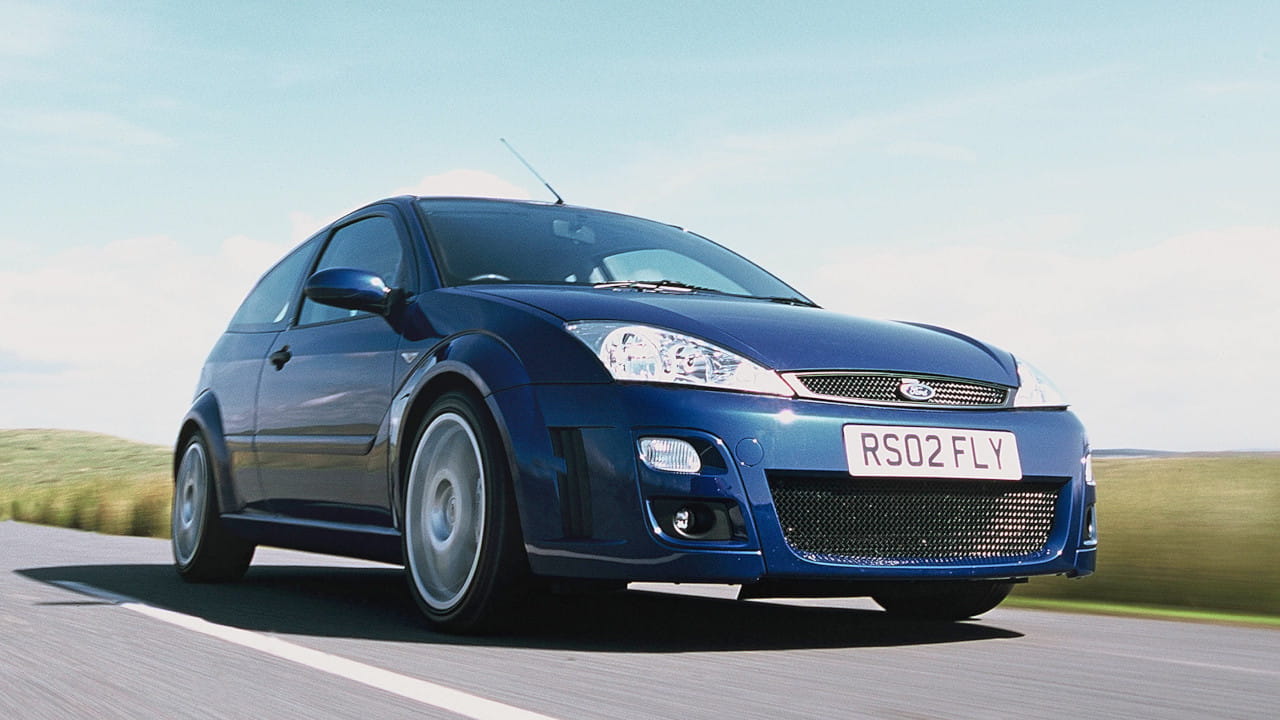 The front-wheel drive Mk1 began the Focus RS dynasty and was the first car to be badged with the Rallye Sport (RS) branding following its reintroduction after time away. With only 4501 examples built, the Mk1 is now a rare sight on British roads.
Producing 212bhp, 229lb ft of torque and a top speed of 143mph, the 2.0-litre petrol engine provided with the Mk1 offered plenty of thrills. Weighing around 1280kg, it was seriously quick and could go from 0 to 62mph in as little as 5.6 seconds, which is fast in today's hot hatch market, never mind in 2002.
Compared to other Focus RS' the Mk1 had fairly reserved styling, but it did come with World Rally Championship styling cues and an iconic Imperial Blue paint code to set it apart from the standard Focus. In terms of options and packs, there are none. All Mk1 Focus RS' should be exactly the same, unless modified by previous owners, of course.
Mk2 Focus RS (2009-2011)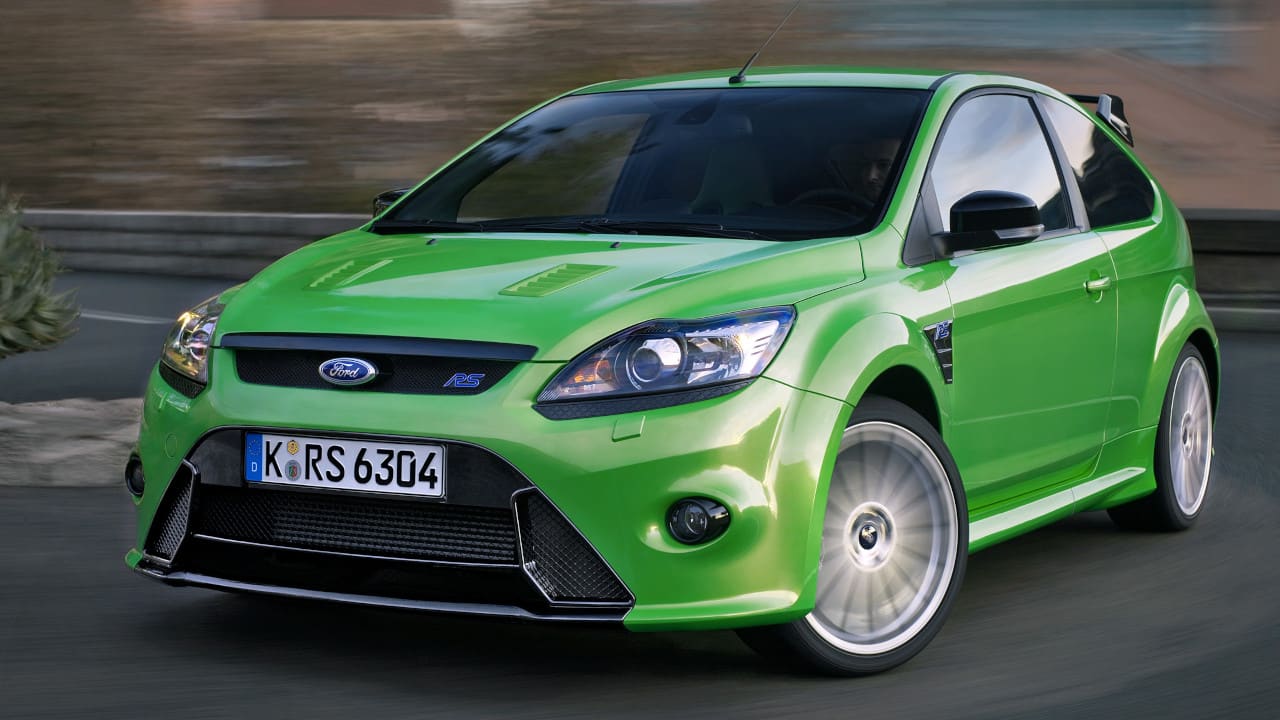 Fans of the RS nameplate were forced to endure a six-year wait for the second generation of the Focus RS. Announced in 2007 and released to the public in 2009, the Mk2 Focus RS caught the eyes of many thanks to aggressive exterior styling and an eye-catching Ultimate Green paint.
The massive 2.5-litre turbocharged engine provided 300bhp and 325 lb ft of torque to the front wheels, propelling the car from 0 to 62mph in 5.7 seconds. With a top speed of 163mph, there's no wonder Ford decided to use the Mk2 as the foundations for their WRC version of the car, which went on to win various events within the championship.
A huge rear wing, 19-inch alloy wheels and a throaty exhaust note are just a few of the reasons why the Mk2 gained a lot of admirers. Values have always remained strong throughout the years, with low-mileage examples now well beyond its original selling price.
Mk2 Packs and Options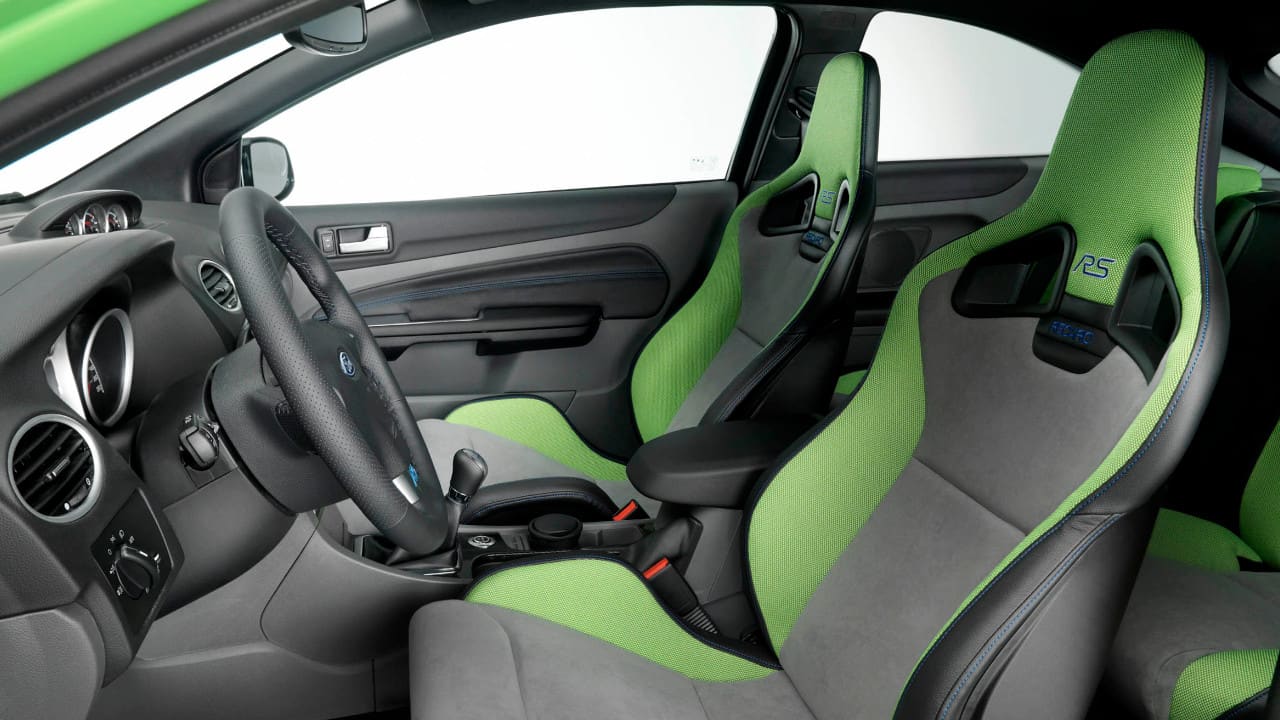 With the Mk2, Ford offered more additional extras than with the Mk1, meaning there are a few bits of desirable kit to look out for on the used market.
Lux Pack 1 - This was a popular option when the car was new, and includes dual-zone air conditioning, a tyre-pressure monitoring system, keyless start, rear parking sensors, and auto lights/wipers.
Lux Pack 2 - Lux Pack 2 included everything from Lux Pack 1, with the addition of a DVD sat nav system that boasted a 7-inch touchscreen, as well as a rear-view camera.
Options - From new, owners could add other bits of kit to suit their needs and preferences. The most sought after include upgraded part-leather racing seats and a Bluetooth hands free system. In terms of paint, Frozen White came as standard, but Performance Blue and Ultimate Green could be specified.
mountune Packages - Supported by Ford, these packages are provided by mountune and rapidly grew in popularity with the Mk2. MP350 kits provide an increase of 45bhp and 15 lb ft of torque. Evans Halshaw FordStores are still able to supply and fit this kit to your Mk2 Focus RS.
Mk2 Special Editions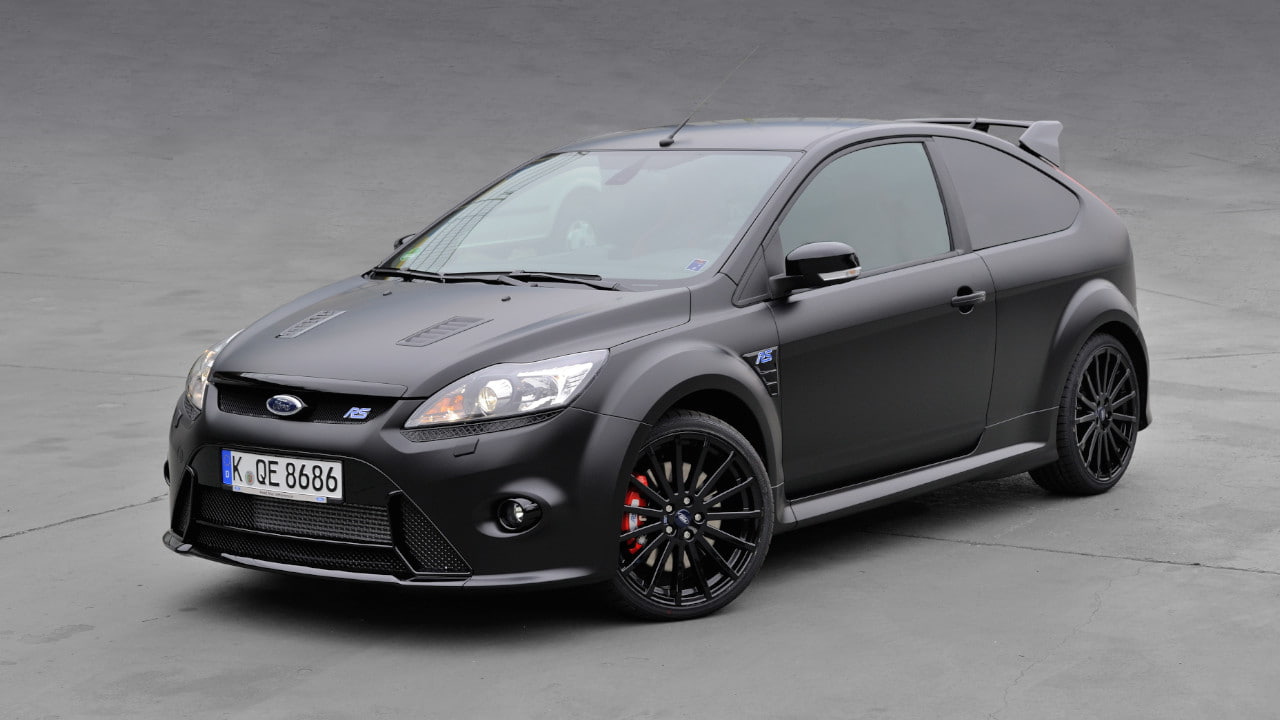 The only special edition Mk2 Focus RS officially sold in the UK was the RS500, of which 500 limited edition numbered examples were produced. Coming exclusively in a matte black paint job, these special editions will be instantly recognisable when spotted.
It had a 15% power increase over the standard Mk2 Focus RS, courtesy of a larger air filter and intercooler, wider exhaust downpipe, and an uprated fuel pump. The engine's software was unique too, calibrated to work more effectively with the upgraded parts.
Overall power output was rated at 345bhp and torque at 340ft lb, reducing the 0-60mph time to just 5.2 seconds. RS500 models are hugely sought after and used examples command huge premiums over the standard Mk2 Focus RS.
Ford Focus Mk3 (2015-2018)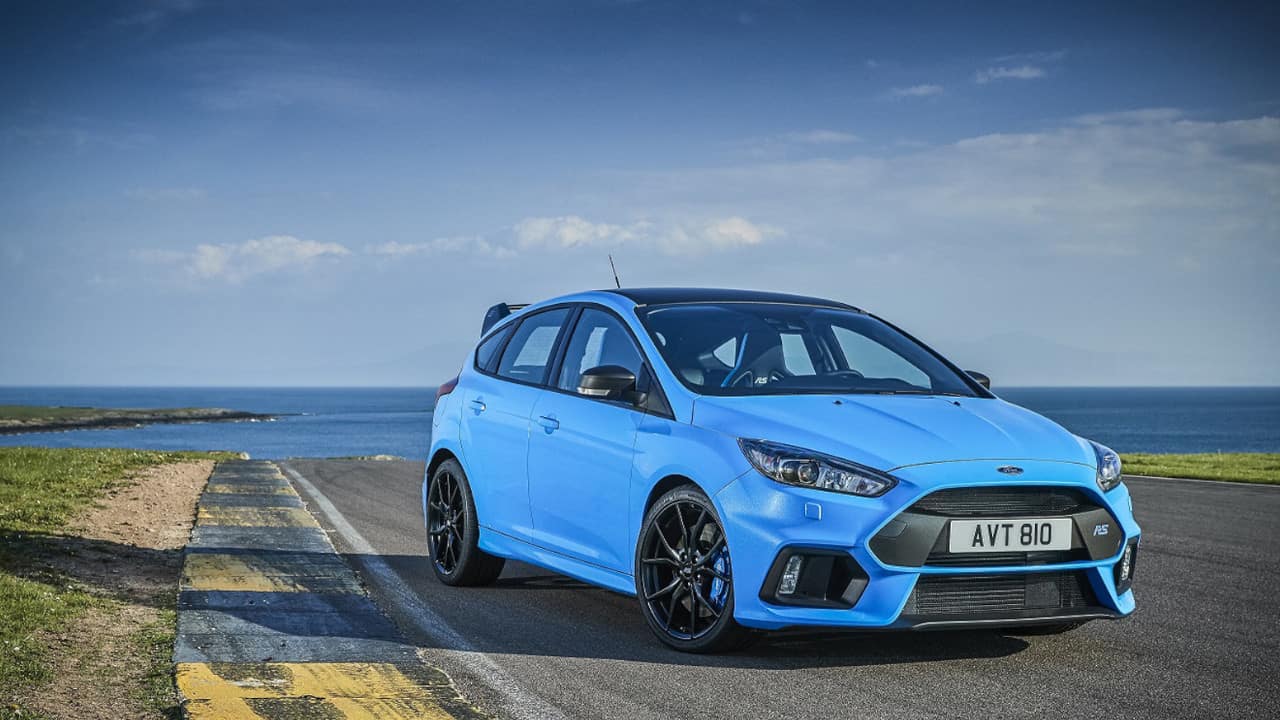 Another four years went by before Ford reintroduced the Focus RS to market, but the wait was definitely worth it. Brought to market in 2015, the Mk3 was hotly anticipated and delivered performance upgrades that were beyond expectations as well as outlandish styling and a hilariously fun 'drift mode'.
It differs from the Mk1 and Mk2 dramatically in terms of its outright power delivering 345bhp and 325lb ft of torque from the 2.3-litre EcoBoost Turbo powertrain. Four-wheel drive was introduced for the first time too, allowing the car to go from 0 to 62mph in 4.7 seconds and reach a top speed of 165mph.
The influence of the Mk2 was clear to see in terms of style, a large rear wing and an aggressive front end returned with the Mk3 to give a striking road presence. Production ended in 2018, but this was enough time for it to make its mark on the world of motorsports, most notably in the World Rallycross Championship (WRX) and as the star of Ken Block's wild Gymkhana stunt movies.
Mk3 Packs and Options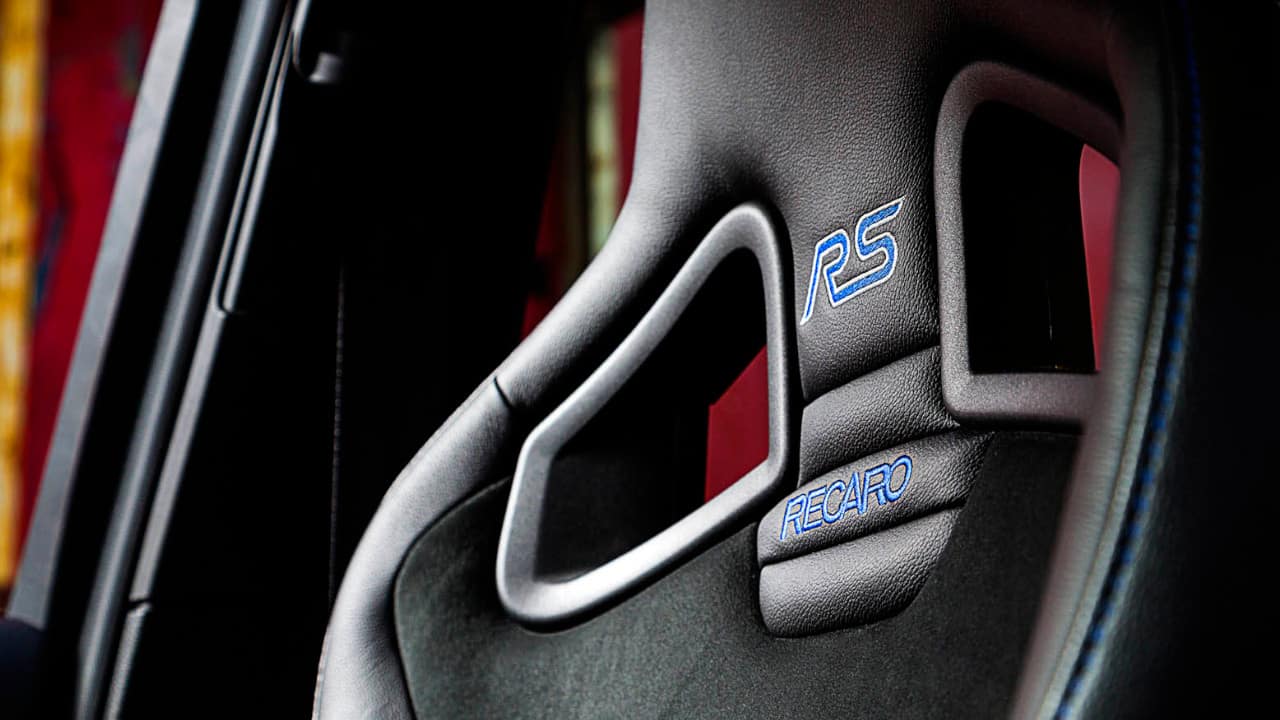 The Mk3 offered much more in terms of additional extras than either of its predecessors. Various packs and options could be specified to ensure your Focus RS was right for you.
Packs
Luxury Pack - This included electric folding mirrors, cruise control, keyless entry and rear privacy glass.
Satellite Navigation - Also comes with Ford's SYNC2 infotainment system as well as a rear-view camera and an uprated speaker system.
Winter Pack - For maximum comfort, the Winter Pack came with heated front seats and a heated steering wheel (which could be specified on its own). Cars with Recaro shell seats cannot be had with heated front seats.
Protection Pack - Four rubber floor mats and a boot liner for enhanced protection.
Bike Pack - The Bike Pack allows you to transport your bike without having to sling it in the boot thanks to a Thule 298 bike carrier and roof base.
Options
Plenty of options were on offer, including Recaro shell seats, an electric tilt/slide sunroof, active city stop, rear parking sensors and front/rear door edge protectors.
In terms of visual enhancements, you could choose from Frozen White, Shadow Black, Magnetic Grey and Nitrous Blue when it comes to paint, as well as specifying features such as 19-inch black forged alloy wheels and blue Brembo brake callipers.
Mk3 Special Editions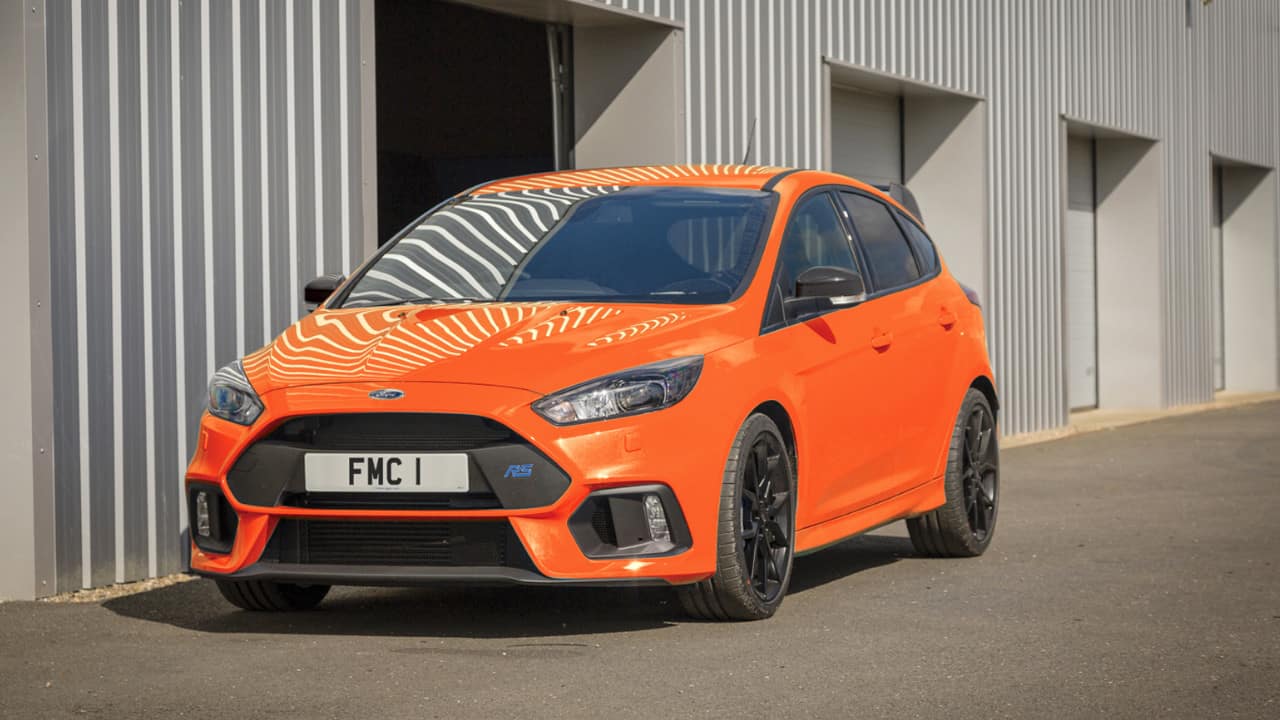 Three special edition versions were released to the UK market that are now the ultimate collector's RS. The 'RS Edition' is the 'tamest' of the three and added a Quaife limited-slip diff and came with a heap of the optional equipment that you'll find on on a base RS (such as active city stop, rear parking sensors and blue Brembo brakes) as standard.
As Ford brought the Mk3 to an end, they decided it was time for few end-of-life editions to celebrate its success, The 'Red Edition' receives the same treatment as the 'RS Edition' with the only major difference being that it came with a unique Race Red paint scheme.
If you're after a proper unicorn, the 'Heritage Edition' is the ultimate homage to the Mk3's life. With only 50 examples being made, the Heritage Edition came with a FPM375 mountune kit that increased power to 370bhp and 376lb ft of torque. A bespoke Deep Orange paint was also provided to ensure Heritage Editions stood out from the crowd.
mountune Kits
You'll be able to find standard examples that have been fitted with the FPM375 mountune kit. This kit provides features such as a high-performance air filter and an upgraded air re-circulation valve, as well as high-performance silicone hoses with revised engine ECU software tuning.
The result is a 25bhp power and 30lb ft torque increase, enough to drop the 0 to 62mph time to just 4.5 seconds. Evans Halshaw FordStores are able to find and fit the package to your Mk3 without affecting the status of any outstanding warranty.
Find a Focus RS with Evans Halshaw
Ford kickstarted the Focus RS' life with the wonderful Mk1, a car that is now sought after by collectors thanks to its WRC-inspired styling and impressive performance figures.
Following on from the Mk1's success, the Mk2 came with wild aesthetics and was the foundations for a highly-successful WRC-winning car. The Mk3 took the RS nameplate to a new level and provided a lot of joy thanks to 'drift mode' and aggressive looks.
Each generation of the Focus RS has its own distinct character, making them fantastic cars in their own right. When searching for a used Ford, the various packs, options and special editions can cause confusion. Our friendly associates at your nearest Evans Halshaw Ford dealership will be able to explain what each mean in more detail and help you find your perfect Focus RS.