The birth of Renault Sport
Renault isn't the first name that springs to mind when thinking of performance-focused cars for the road. However, the French manufacturer has a long and successful history within motorsports, including Formula 1 and the World Rally Championship (WRC).
Their involvement has lead to numerous road-going hot hatchbacks throughout the years, providing everyday excitement for plenty of thrill seekers around the globe. It all began in 1976 when the Alpine and Gordini Tuning branches merged to form the motorsport division of Renault, titled Renault Sport.
With Alpine focusing on the chassis and Gordini tackling the engine, this merger not only led to a number of world championships across a variety of motorsport disciplines but also the birth of an illustrious history of performance hatchbacks including iconic vehicles such as the Renault Clio V6.
1976
Renault 5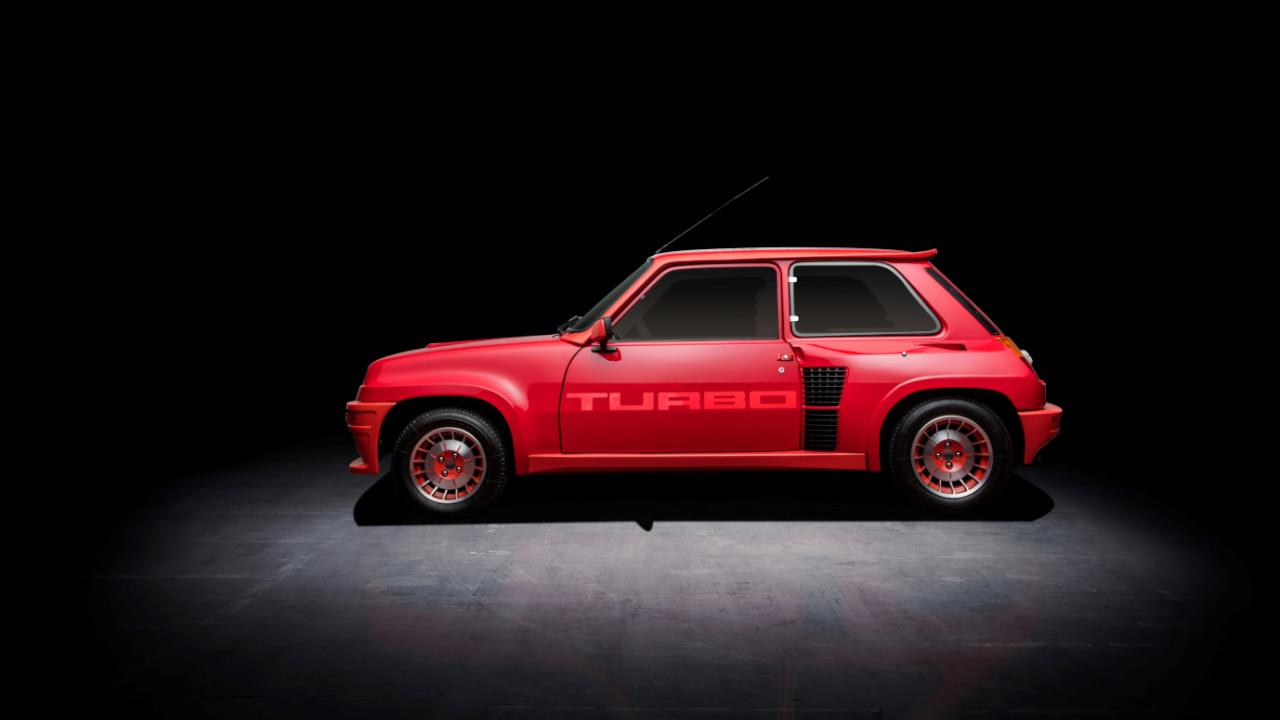 In 1976 the Renault 5 Alpine was released, making it one of the first 'hot hatches' available on the UK market. It even came before the popular Volkswagen Golf GTI, which is often credited with being the godfather of the hot hatch world.
With a 0 to 62mph time of 9.7 seconds, Renault had left a lot to be desired. Various upgraded versions were released, such as the Renault 5 Gordini Turbo, but it's the Renault 5 Turbo and Turbo 2 of the 1980s that cemented the 5's place in hot hatch history.
Renault didn't hold back, making the 5 Turbo one of the most ludicrous homologation specials ever seen. The engine was repositioned from a front to mid-engine setup and the power was provided via the rear wheels instead of the front.
It went on to win four rallies and the hearts of many rally fans around the world. The best examples of the Renault 5 can fetch over £100,000 at auction, making it a highly sought after collector's item nowadays.
1993
Clio Williams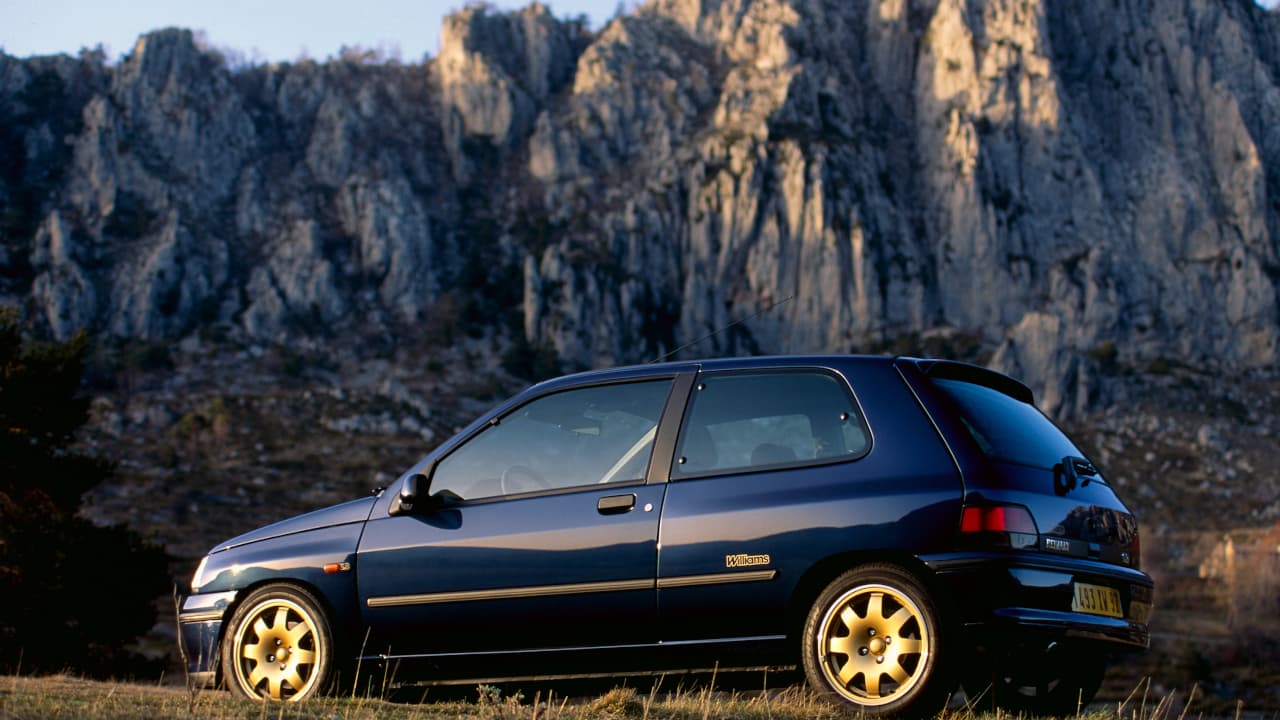 The booming interest in motorsports in the 1980s, and the success of the Renault 5 Turbo, saw the French manufacturer take a second crack at the hot hatch market in 1993 with the Clio Williams. Its 2.0-litre engine took the car from 0 to 62mph in a fairly impressive 7.8 seconds, enough for it to go toe-to-toe with its arch nemesis - the Peugeot 205 GTi.
The Clio Williams was another homologation special, as Renault wanted to go rallying once more. It came dressed with aesthetic links to its Williams Formula 1 connections and agile handling thanks to the weight-saving removal of features such as ABS and a stereo system, weighing 981kg in total.
Renault had only planned to build 2,500 examples to abide by the homologation requirements, but ended up making 3,800 examples initially, all numbered via a plaque on the dashboard. These were so popular that Renault ended up releasing the Williams 2 and 3 making over 12,000 Clio Williams in total. The best examples can sell for over £20,000 at auction.
1998
Clio II Renault Sport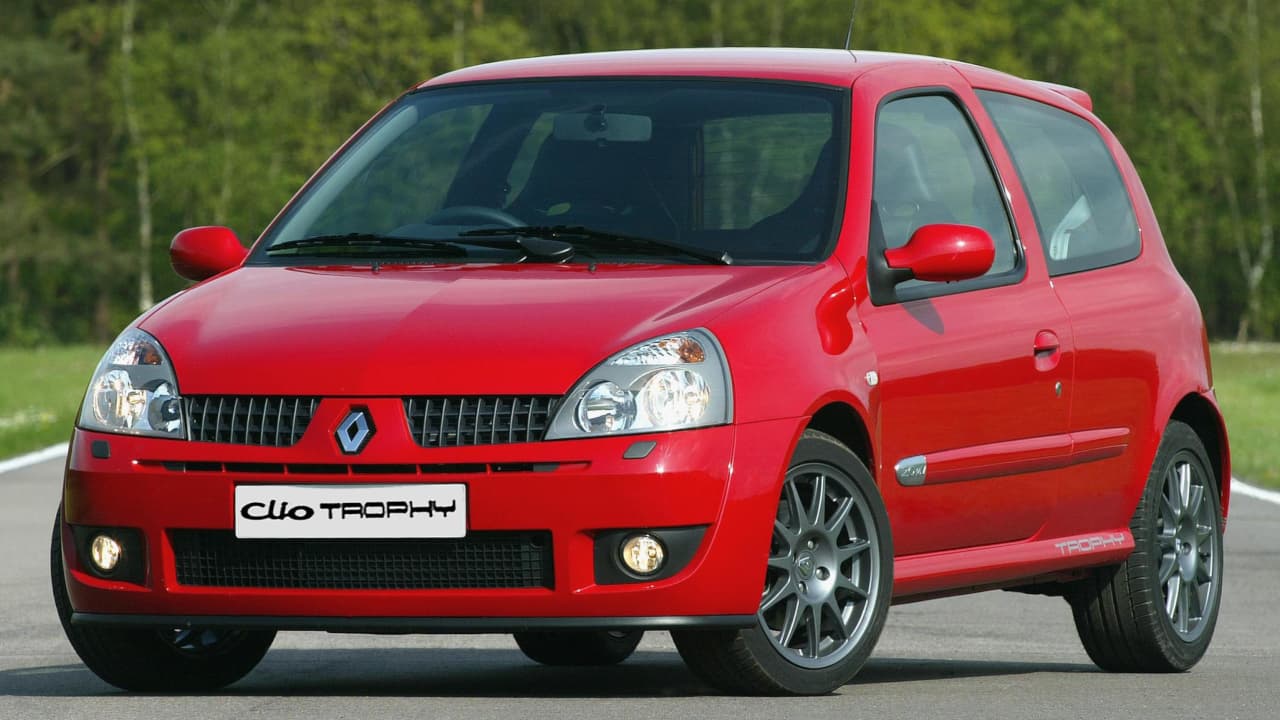 Towards the end of the 1990s, Renault released the first officially branded Renault Sport vehicle, the Clio II RS. There were a number of variants released throughout its lifespan, but it began with a pre-facelift 172bhp 2.0-litre 16v motor, capable of going from 0 to 62mph in a mere 7.0 seconds.
At the turn of the millennium, facelift versions began to emerge with various upgrades. In 2002 Renault stripped the Clio II back, leaving a ready-to-race rocket called the Clio 172 Cup. A higher powered form of both the RS and Cup followed, increasing the power to 182bhp.
The Clio II RS became known for its lightweight and responsive handling, creating a hilariously fun driving experience. After seven years of production it signed off with a special 182 Trophy edition, with only 500 being built. Nowadays, prices can vary if you want to get your hands on a Clio II RS. Examples can be found for as little as £2,500 but well looked after cars ask for over £10,000.
2001
Clio V6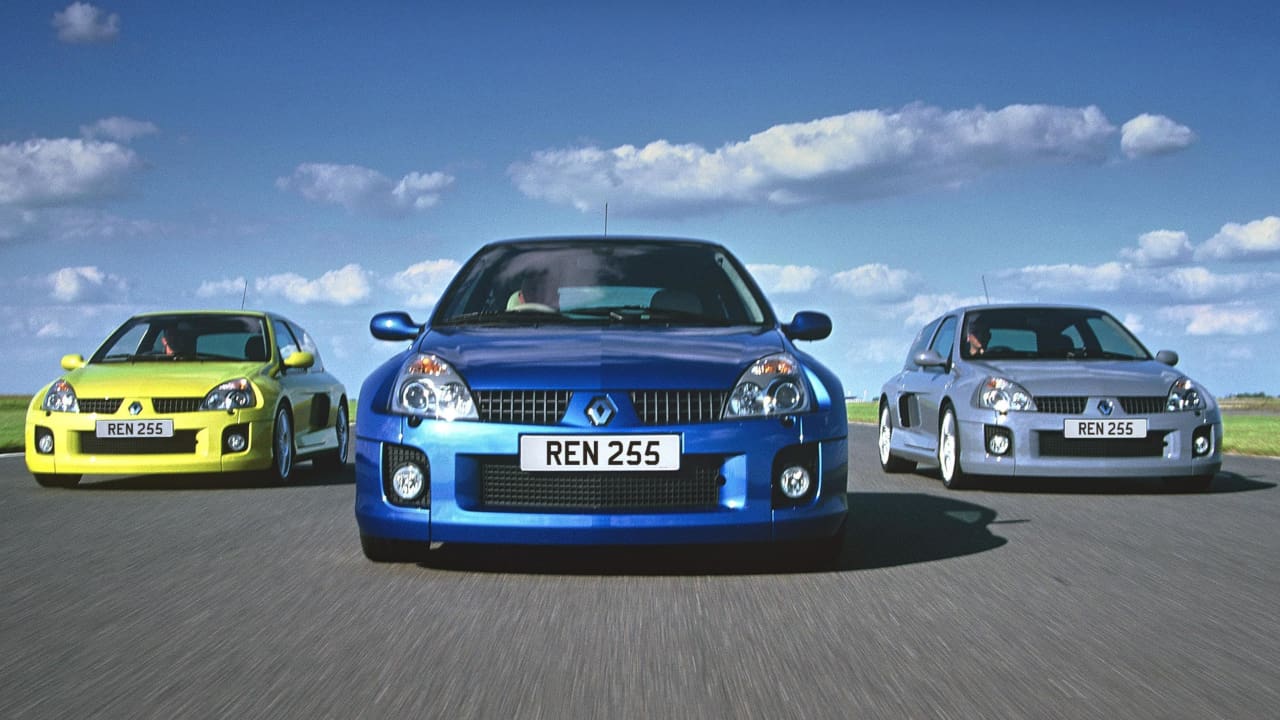 Now for something completely bonkers... Somebody at the Renault Sport headquarters came up with the idea to rip out the rear seats and mount a 227bhp 3.0-litre V6 engine into the back of a second generation Clio. It's just as crazy as what you're thinking.
Whilst the Clio V6 has a number of caveats such as being significantly overweight, extremely challenging to drive and hilariously impractical, it's still one of the most iconic French vehicles to have been produced thanks to its Finnish-made wide-body kit. Updated versions were released, increasing power output even further to 252bhp.
Although the Clio V6 was rapid in a straight line, being able to go from 0 to 62mph in as little as 5.9 seconds, it didn't quite feature the responsive handling we have come to expect from a hot hatch. Nonetheless, it's still a truly historic vehicle with its current value being symbolic of this. £20,000 is where prices start, but low-mileage investments can go for over £50,000.
2004
Megane II Renault Sport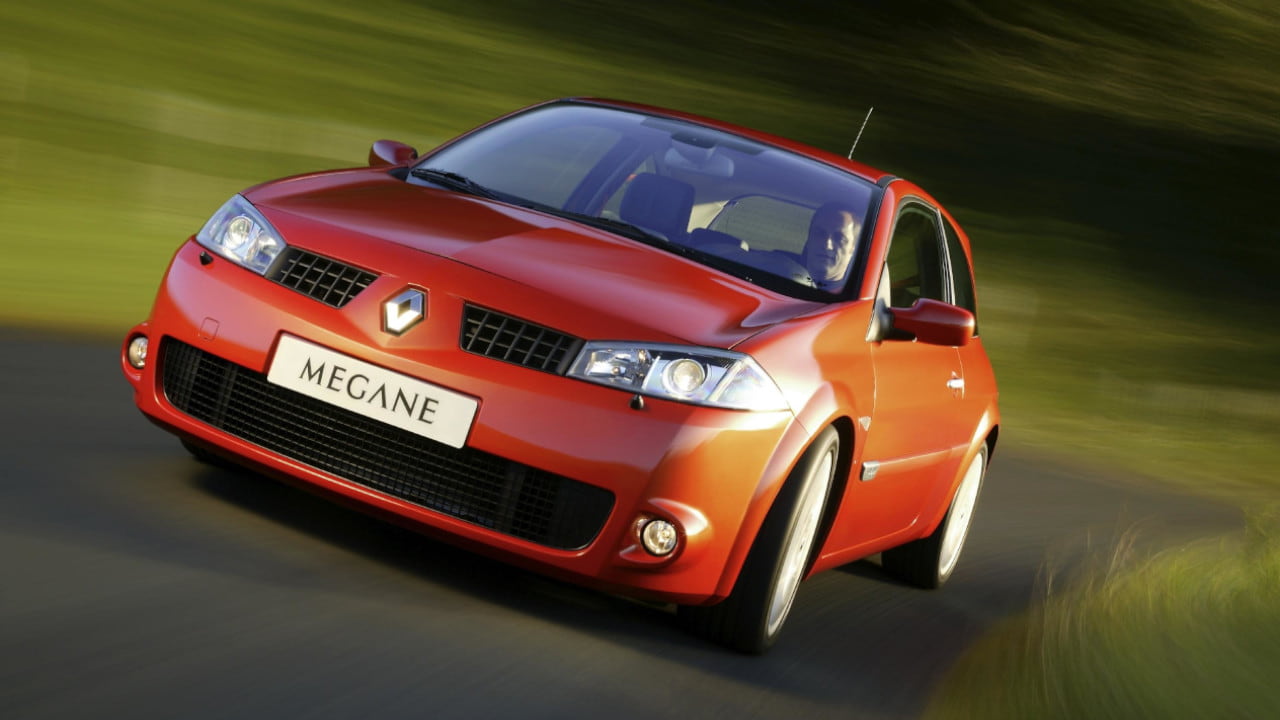 In 2004, Renault decided to expand its sports division and give the popular family hatchback Megane the Renault Sport treatment. However, the Megane II RS was available as a 3 or 5-door and possessed a turbocharger to give it an extra bit of oomph, compared to the preceding Clio RS' naturally aspirated engines.
Multiple variations of the Megane II RS were released, including a lighter 'Cup' which provided the renowned Cup chassis and a diesel model which covered longer distances more comfortably. The Megane II RS also saw the reintroduction of Formula 1 links through the R26.R, a lightweight racer for the road. Only 230 R26.Rs made it onto UK soil making them a true collector's piece.
Prices for the Megane II RS start at around £2,500 for high mileage examples. The most expensive versions such as the R26.R can cost as much as £30,000, which is more than what they cost when new.
2006
Clio III Renault Sport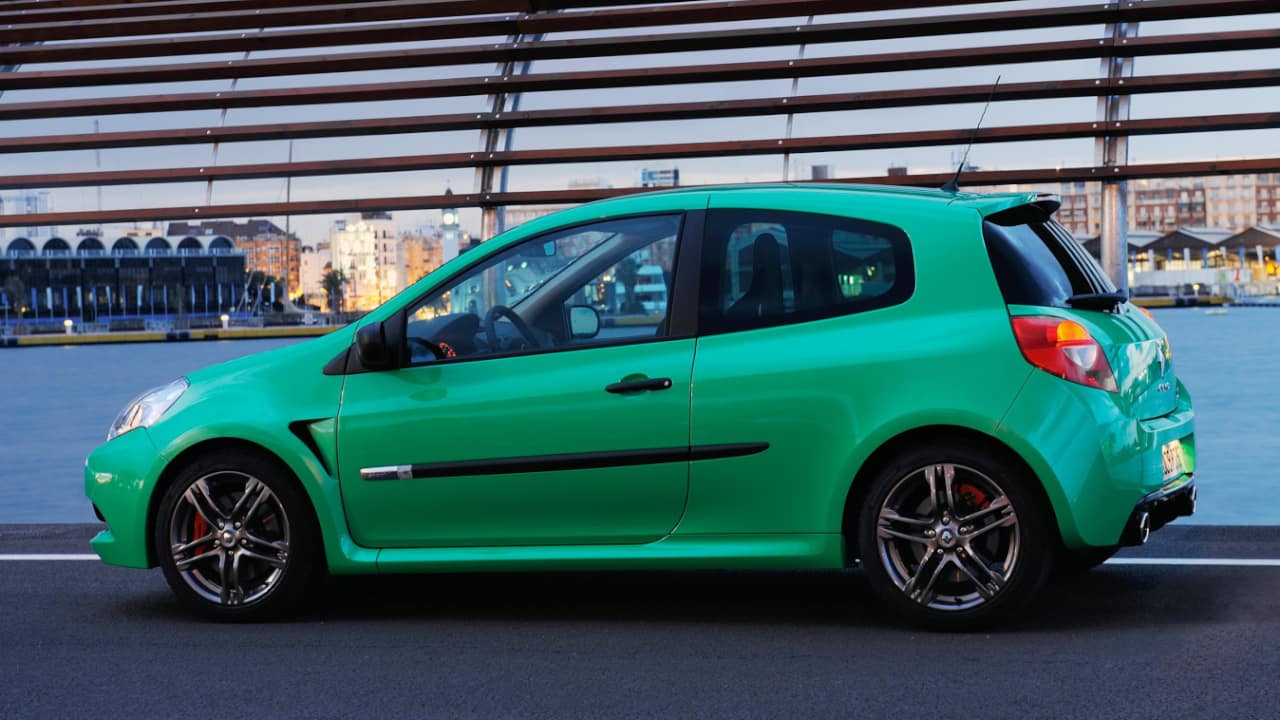 The booming interest and love for hot hatchbacks in the UK lead to the release of a new Renault Clio RS in 2006. This generation was a new kettle of fish for the French automotive manufacturer, being heavier and larger than all preceding Clios.
The usual naturally aspirated engine returned, this time as a 4-cylinder 2.0-litre motor, with the most powerful variation being capable of producing up to 197bhp. Renault also used their Formula 1 expertise and put it to work with the Clio III RS, giving it clever bits of kit such as a rear diffuser and brake-cooling side vents.
Over its life span it won numerous awards for best hot hatch of the year and was released in a variety of limited-run editions including the Silverstone GP and Australia GP editions to commemorate the historic race events. You can get your hands on a Clio III RS for as little as £4,000, but the special editions can be had for around £9,000 which is a bargain for a limited-run car.
2008
Twingo Renault Sport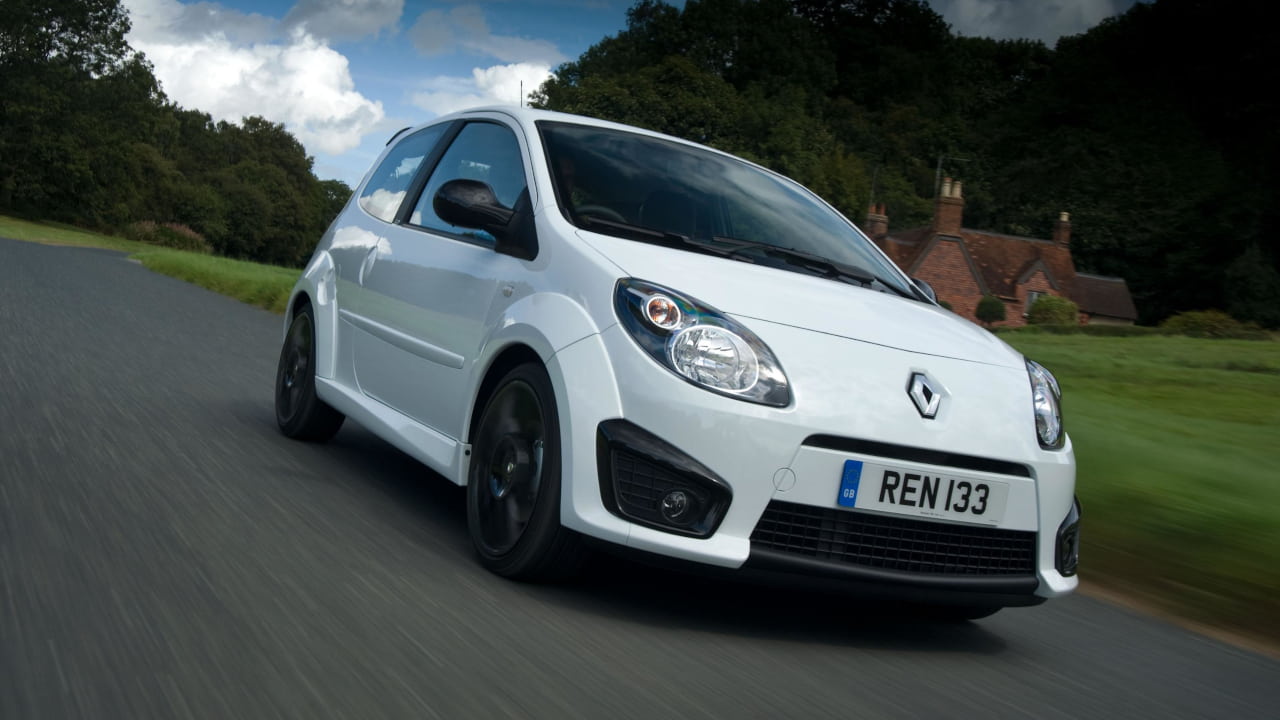 Renault Sport decided to expand again, this time giving the playful Twingo city car the RS formula. The Twingo RS came to market in 2008 and became the baby of the RS fleet. But by no means did this make it tepid compared to the previously mentioned hot hatches.
Smaller and lighter, the Twingo RS reminded us of the old-school hot hatches, such as the Renault 5 Turbo, that were nimble and great fun to drive. If you wanted even more out of the Twingo RS, the Cup chassis could be had as an optional extra, or the special Cup edition which trimmed even more weight and provided 10 percent stiffer suspension dampening.
Unfortunately, in 2013, the Twingo was facelifted which meant an end to the RS, bar a few limited-run editions such as the Red Bull Racing version which came in its new form. The good news is that used Twingo RS prices start at £2,500 making it an ideal first hot hatch for young thrill seekers.
2010
Megane III Renault Sport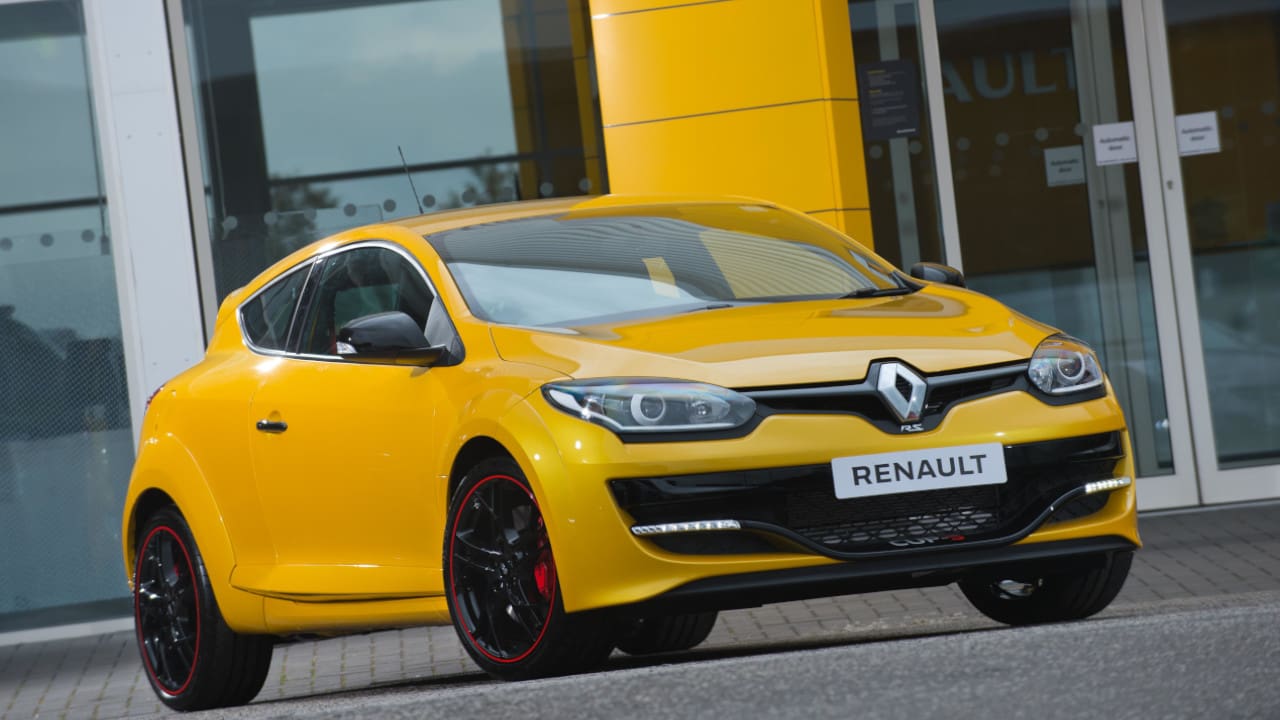 The Megane III RS came to market in 2010 in a new curvaceously striking form. Loaded with a 2.0-litre twin scroll turbo F4Rt engine (come on, we're all grown ups here), it possessed 247bhp in its standard form and was capable of reaching 62mph in 5.9 seconds.
However, the difference with this generation of the Megane RS is that it's much more refined than its ancestors, including better sound-proofing and a more comfortable ride, which was welcomed with open arms by many who drove it on a daily basis.
This didn't last long. Cup and Trophy versions of the Megane III RS were released with more power and better performance. When the SEAT Leon MK3 Cupra broke the Megane RS' Nürburgring track record, Renault decided enough was enough and released the RS 275 Trophy-R to claim back its title. 'Normal' versions of the Megane III RS can now be bought for under £10,000, with the rarer versions asking for over £30,000.
2012
Clio IV Renault Sport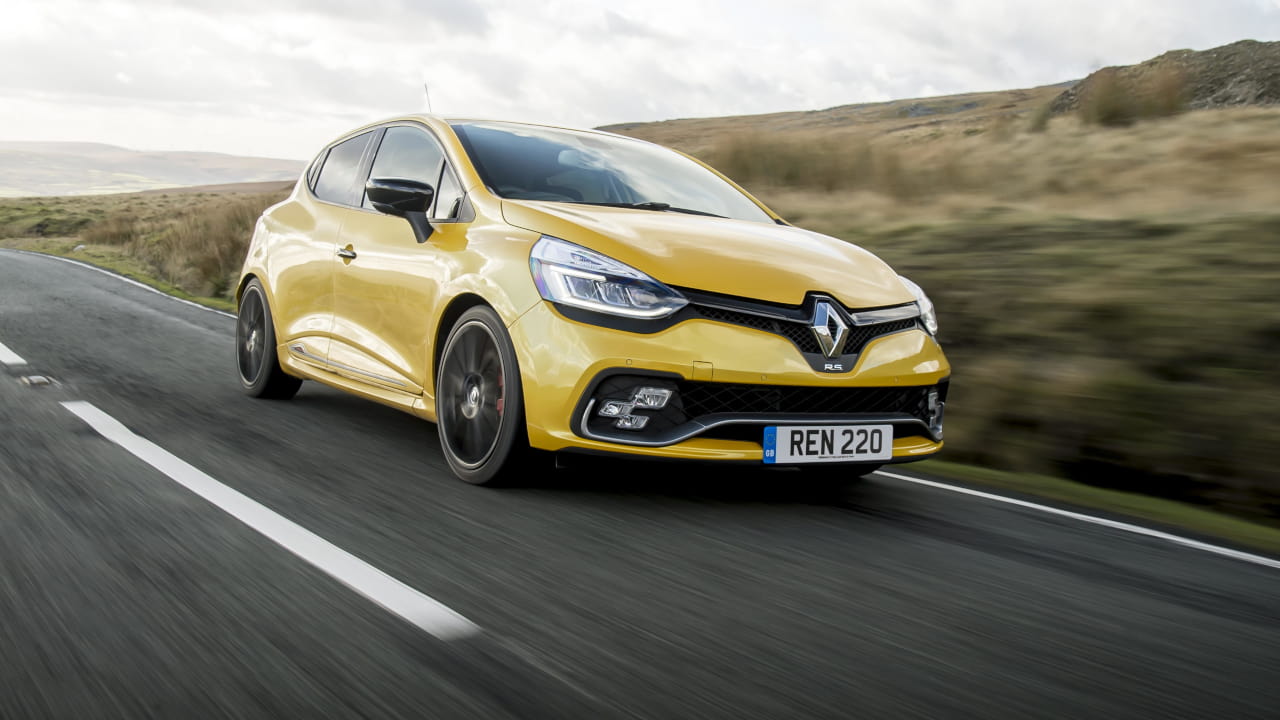 2012 saw the introduction of yet another sporty little Clio. The Clio IV RS possesses as much va-va-voom as its predecessors thanks to its 1.6-litre turbocharged engine (the first turbo to be used in a Clio RS), pushing the car from 0 to 62mph in 6.7 seconds.
It comes with a mandatory six-speed automatic gearbox which can take away some of the joy of driving a hot hatch, but it does mean gear shifts are quicker and maximum focus can be kept on the road or track.
A Trophy version was again released possessing more power, and an ultra-rare R.S. 18 edition was also manufactured, paying homage to Renault's Formula 1 racing car, with only 15 being released to the UK. For an R.S. 18, you'll need at least £20,000 but standard Clio IV RS' are easier to find and a decent example can be had for around £12,000.
2017
Megane IV Renault Sport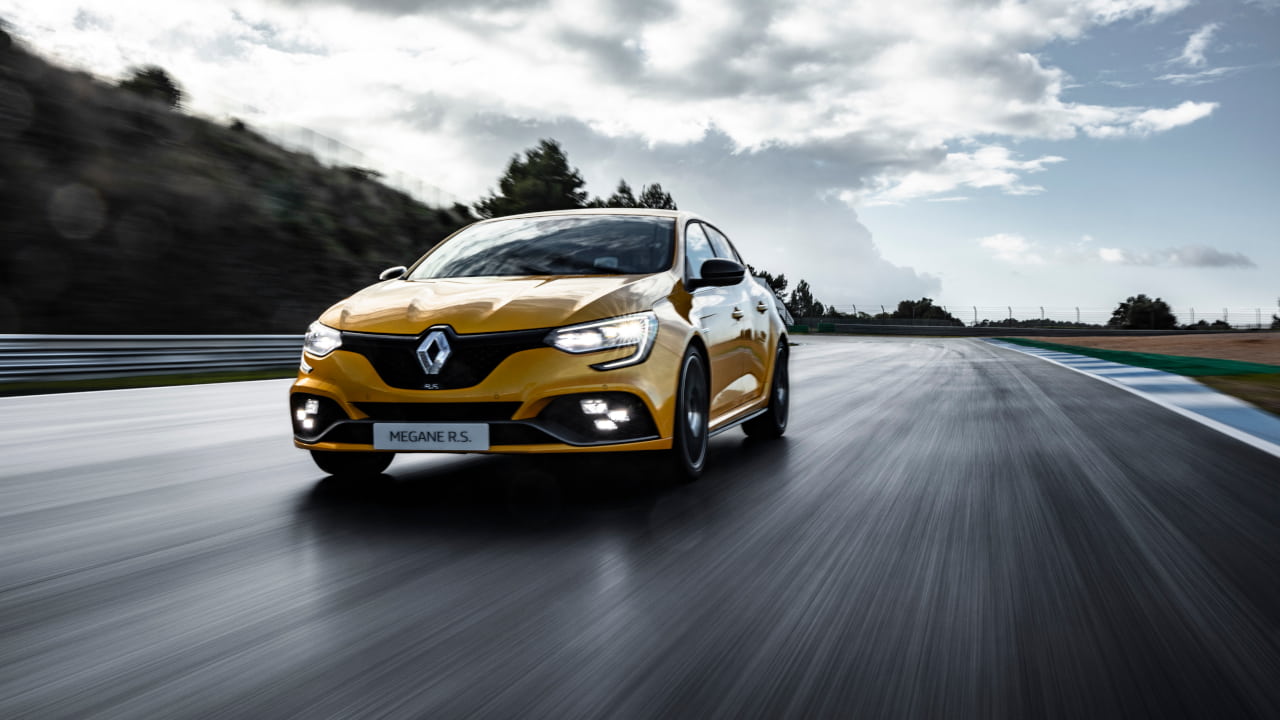 In 2017 the most powerful Megane RS to-date was released, providing a whopping 276bhp in its lowest form or 297bhp if opting for the 300 Trophy version. It's also strikingly beautiful thanks to its futuristic styling, but links to previous generations can still be found around the vehicle.
With the Megane IV RS, Renault pride themselves on providing maximum performance at no cost to comfort, meaning it's one of the most comfortable hot hatches they've produced. Speaking of performance, it can go from 0 to 62mph in as little as 5.7 seconds and handles well thanks to Renault's four-wheel turning system: '4-Control'.
This generation of the Megane RS can still be bought from new, with prices starting at £33,585. Used examples can also be found for a little less. If you fancy something really special, a R.S. Trophy-R edition can also be bought new or used for upwards of £40,000.
Oh, and Nico Hulkenberg, who was a Renault F1 team driver at the time, helped design this version of the Megane RS. He knows a fast car when he sees one.
Find your next car with Evans Halshaw
Who knew Renault had such an illustrious list of performance hatchbacks for the road? Each model and variant has its own character and offers its owner a unique driving experience.
If the world of Renault and their sports division has caught your eye then contact your local Evans Halshaw Renault dealership where our friendly associates will happily help you find your dream car. We have a range of new and used Renaults ready to put a wide grin on your face.
If you'd like to read more, our blog section has a variety of interesting articles on the histories of other makes and models, along with handy buying guides to aid your understanding of car ownership.