Introducing the Renault Megane R.S.
Introduced in 2004, the original Renault Megane R.S. became an instant hit with driving enthusiasts, who enjoyed its potent performance and beautifully balanced chassis.
Then, in 2010, the French giants introduced the second generation R.S., which boasted even more performance alongside a unique chassis design that helped the driver deploy the power of the 2.0-litre turbocharged engine with conviction.
A brand new engine, which coupled with the new underpinnings to do one thing: boost your adrenaline, was introduced in the new Megane R.S. launched in 2018.
The latest generation Megane R.S. builds on the success of its predecessors, receiving subtle yet sophisticated updates to the refined exterior design and upgrades to the interior's materials and technology.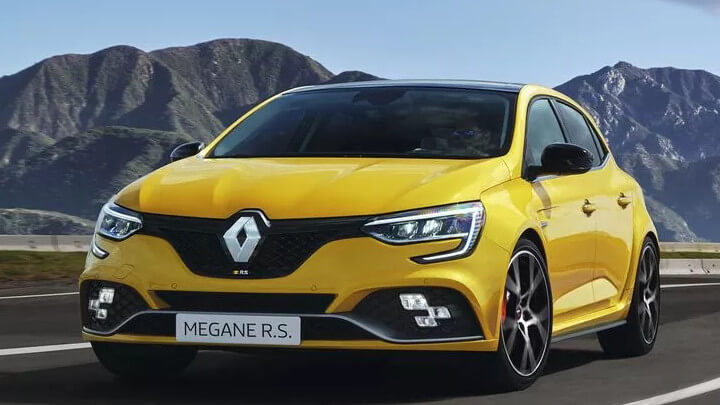 Motorsport runs through the genes of the Megane R.S., which is reflected in the potent 1.8-litre four-cylinder engine that Renault have engineered.
Paired with a twin-scroll turbocharger, for instant pick-up when you accelerate, the track-focussed models can deliver 296bhp and have 420Nm of torque on offer. As a result, 0-62 mph is dispatched in under 6 seconds and a top speed of 162mph is achievable in the R.S. Trophy specification. A quick-shifting EDC automatic transmission features Multi-Change Down and Launch Control, which can be selected in Sport and Race modes via the MultiSense drive mode selector.
Driving enthusiasts who want an engaging, racing inspired experience will be pleased to hear the R.S.Trophy models feature the Cup chassis that brings stiffer springs, dampers and anti-roll bars plus a limited slip differential.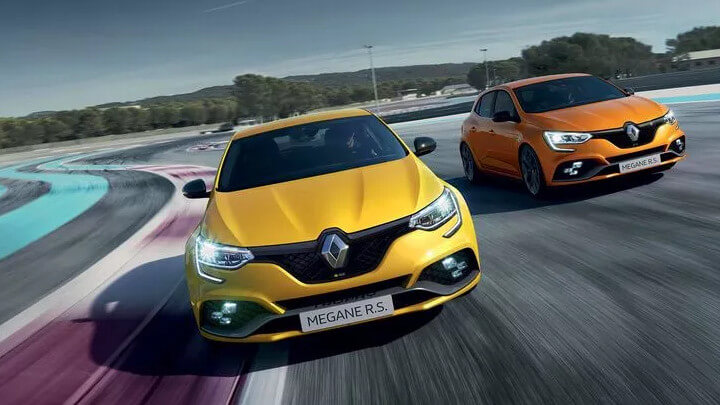 The Megane R.S. has been widely recognised by a number of reputable publications as the hot hatchback that sets the benchmark for handling.
Renault have introduced a system called '4Control', which gives the fast Megane the ability to steer using all four wheels. As a result, you have better agility at lower speeds and crisper turn-in when you start gathering momentum.
Opt for the Trophy and you get notably stiffer suspension and the inclusion of a limited-slip differential. Combined, these mechanical changes gift the driver mind-bending levels of grip in both tight and sweeping corners.
Sitting underneath the lightweight wheels are a set of stoppers from one of the world leaders in braking technology: Brembo. These brakes combine with the 355mm discs up front to provide confidence-inspiring stopping power.
Technology and Drive Modes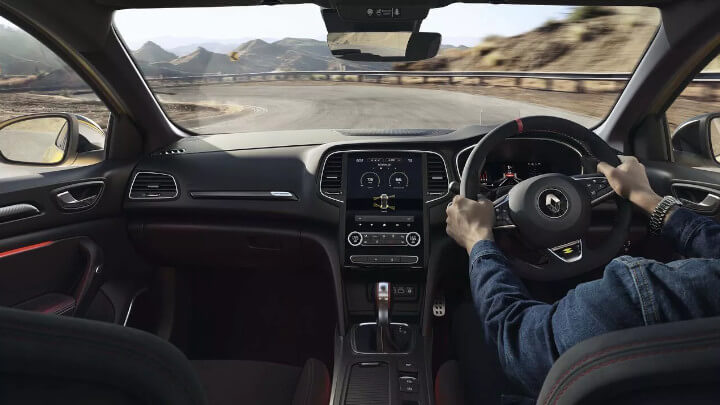 A great deal of attention has been paid to maximising the performance on tap, while simultaneously enhancing the experience for the driver.
The 4Control system mentioned above is certainly impressive. However, Renault have also installed hydraulic bump stops in the shock absorbers, which maximise the tyre's contact with the road by minimising the effects of rebound.
Renault give you the option to change the driving mode via the 'Multi-Sense' button. Select between Comfort and Normal for everyday driving, or choose the more aggressive Sport or Race modes if you want some additional spice in your life. 'Perso' allows you to mix-and-match and is ideal for setting the car up to suit your driving style.
The Multi-Sense button also influences the sound of exhaust by adjusting a valve in line with the mode you have selected. Quiet or rowdy, you decide.
R.S. 300
Key features:
18" Estoril Gun Metal Grey alloy wheels
Renault MULTI-SENSE (choice of 5 driving modes including Race mode)
Sport chassis with 4 hydraulic compression stops
4CONTROL system with 4-wheel steering for increased safety
Pure Vision Full LED front headlights with integrated C-Shape indication
Cruise control with speed limiter
R.S. sports seats with integrated headrests
7" TFT meter with colour matrix with Renault Sport custom display
Premium BOSE Audio System with 9-Speakers
Launch Control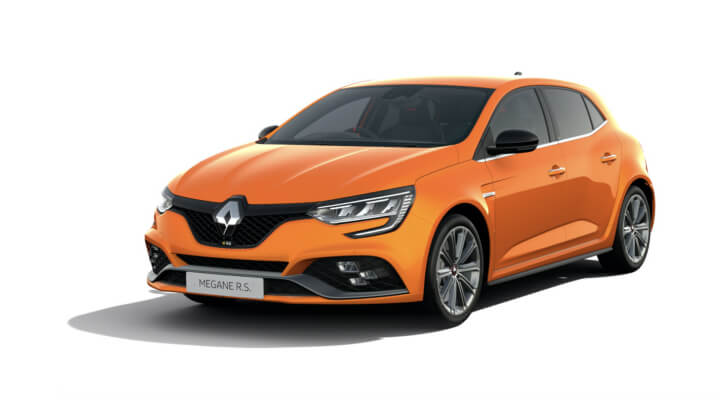 R.S. Trophy
Key features in addition to the R.S. 300:
19" Jerez diamond cut alloy wheels
Cup Chassis with 4 hydraulic compression stops including Torsen limited slip differential, red brake calipers, custom springs/shock absorbers and Brembo brakes©
R.S. Leather and Alcantara™ steering wheel with R.S. badging
Bi-Material brakes
Lightweight battery
Heated front seats (only available with Alcantara™ upholstery)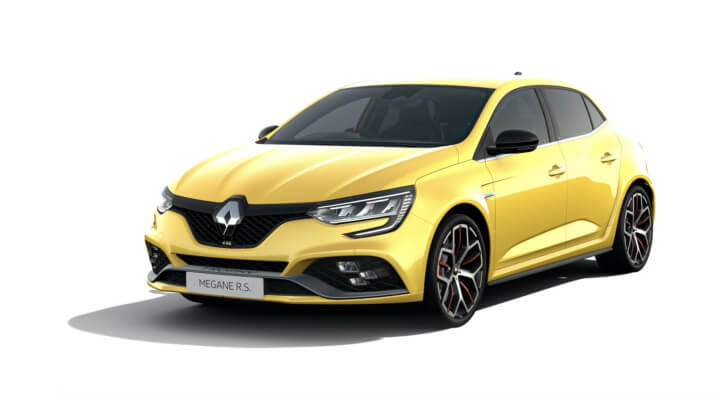 Experience the Renault Megane R.S.
Inspired by rallying and their Formula One racing team, Renault's Megane R.S. is an exceptional hot hatchback in every guise. The engine combines old-fashioned fun with modern technology for a memorable experience, while the chassis continues to impress with its agility.
All-in-all, we would highly recommend a test drive in you're in the market for a new hot hatchback, which you can do at your nearest Evans Halshaw Renault retailer.