Introducing the Ford Fiesta ST
Fast Fords have an iconic legacy. The humble Ford Fiesta ST is part of this legacy, after first appearing back in 2004. The ST took the success of past fast Fords and presented it in a modern, compact, affordable, and popular hatchback body - with added performance and flair.
The first Fiesta ST hot hatch was born, carrying on the hot hatchback popularity which started in the late eighties. Fast forward to today and the current Fiesta ST is as popular as ever, sporting enhanced performance, clever practicality and pin-sharp style, all wrapped up in a compact and much-loved hot hatchback package.
Discover more about what makes the current Ford Fiesta ST such a bona fide performance hero below.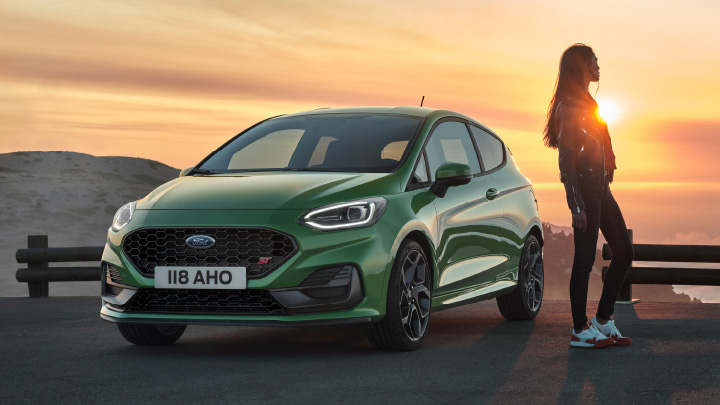 The beauty about a hot hatchback is its no-nonsense nature. And with that firmly in mind the Fiesta ST has its own 'one size fits all' approach, with one perfectly chosen engine, fuel and transmission choice.
Power comes from a 3-cylinder, 1.5-litre EcoBoost petrol engine that produces just under 200bhp and 235lb ft of torque. This means 0 to 62mph is dealt with in just 6.5 seconds, which is achieved with the help of an engaging 6-speed manual gearbox and launch control.
And despite all the punchy performance and the characterful driving experience, the Fiesta ST can still achieve over 40mpg. It is a humble Ford Fiesta after all.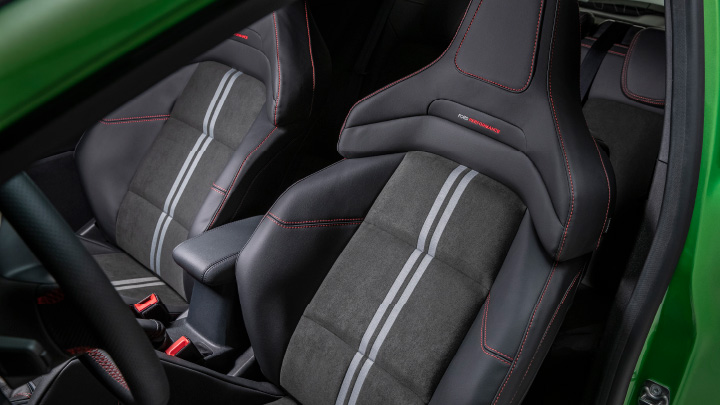 A hot hatch has to provide a fun and engaging driving experience, luckily with the playful Fiesta ST, this has all been taken care of properly.
A Quaife limited-slip differential keeps the handling and chassis neat and tidy, and gives the ST a pointy front-end for a crisp turn in. The chassis is stiff, but not so much so that it ruins the ride. It merely indicates the ST's sporty nature and excitement.
Keeping you glued to the road, each Fiesta ST leaves the factory on super-sticky Michelin Pilot Super Sport tyres, giving this little hot hatch superb levels of grip. Interestingly, these tyres are usually reserved for much more powerful and expensive cars, showing just how well regarded the ST is.
Placing you at the centre of the experience are the Ford Performance front seats, which offer excellent comfort and support.
Technology and Drive Modes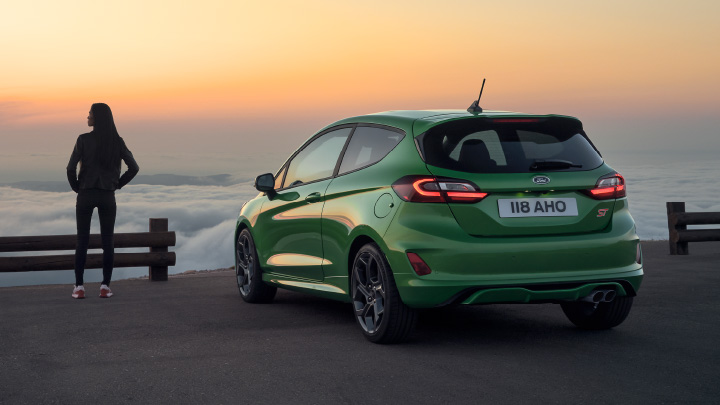 The Fiesta ST features a plethora of tech, including a central 8.0-inch touchscreen. The infotainment system features Ford SYNC 3 satellite navigation, allowing owners to speak commands for an easier and more convenient driving experience. Apple CarPlay and Android Auto are also a standard feature on the Fiesta ST.
Taking centre stage behind the steering wheel is the 12.3-inch digital instrument cluster, which offers a crisp view of the dials. It allows you to quickly switch between key features, such as the performance gauges and launch control prompt.
It wouldn't be a modern performance car without some interchangeable driving modes for good measure, too. Drivers can enjoy the ST's multiple characters thanks to the choice of Normal, Sport and Track mode, meaning you can tailor each drive to suit your mood and preference.
Another great feature is the ability to utilise the FordPass smartphone app, which brings a number of benefits to make life easier.
ST-3
Key features:
18" 5-spoke alloys, with Magnetite finish
Matrix LED headlights with signature LED daytime running lights and integrated sequential indicator
Unique ST suspension
Ford Performance Partial Sensico® front seats with grey and silver detailing
12.3" Full Digital Cluster
Performance Pack with Quaife Limited Slip Differential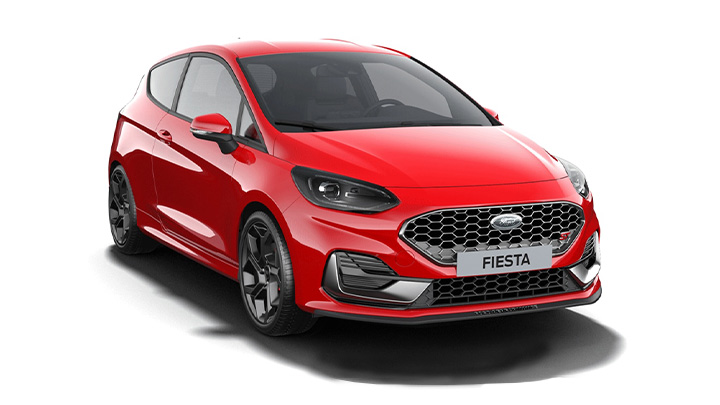 Test drive the Ford Fiesta ST
Creating a sporty version of the UK's best-selling car was always going to be a positive move. It's a formula that has worked for many generations. Give a small car more power, sporty looks and cool features - and it takes off, and it has done with the Fiesta ST - quite literally.
What's more, with the car being from Ford, you get the legacy and heritage of a fast ford, meaning character, style and performance are all guaranteed. The icing on the cake, is it also has a superb affordability aspect.
Want to find out more, or book a test drive? Contact your local Evans Halshaw Ford retailer today.