Top 10: Most Popular Crossover Vehicles for 2016
03rd Feb 2016
The Crossover market is still relatively new, having started in 2007 with the Nissan Qashqai. Argued to be the world's first crossover, the Qashqai has the aesthetic values of a family car - the practical interior, comfortable drive and low running cost - blended with some key SUV characteristics such as a raised ride height and option of four-wheel drive, to give you extra grip.
A big hit in the UK - other manufacturers started to engineer their own Crossover concepts making it sometimes problematic to choose the best Crossover to suit your needs. From the latest website statistics, we've created a list of the top 10 Crossovers by popularity.
10. Vauxhall Antara - 19123 Visits
Well equipped, practical and comfortable, the Vauxhall Antara is a true definition of Crossover. Even the lowest spec model comes with air conditioning, heated front seats and tinted rear windows.
The comfortable ride is supported by automatic self-levelling rear suspension, descent and traction control, and safety is guaranteed with six airbags and an array of in-car technology including hill-start assist. Available in two- or four-wheel drive, the Antara is also great for off-roading.
View Vauxhall Antara Offers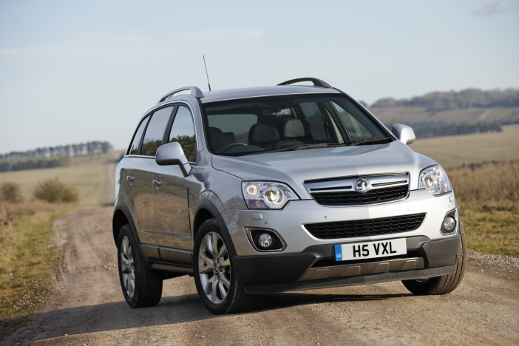 9. Dacia Duster - 20747 Visits
Functional, practical and great value for money, the Dacia Duster had to make the list of the most searched for crossovers. It can easily handle off-road terrain without breaking a sweat, but is so dynamic, it's very comfortable on urban roads.
Plenty of space for five passengers, it's available in four trim levels from the entry level Access model with electric front windows and height-adjustable steering as standard. The special edition Laureate Prime benefits from alloy wheels, satellite navigation and cruise control. The large interior also boasts 408-litres of boot space on the four wheel drive, or 475-litres on the two wheel drive.
View Dacia Duster Offers
8. Ford EcoSport - 21420 Visits
Compact and well-equipped, the Ford EcoSport SUV is a fantastic choice of Crossover. The high driving height and ground clearance means you have great visibility, and with the 1.0-litre Ecoboost petrol, you'll also have a brilliant fuel economy.
Due to small width, driving couldn't be easier, feeling more like a Fiesta to handle than a large SUV.
View Ford EcoSport Offers
7. Peugeot 3008 - 29322 Visits
Packed with technology and with dynamic driving capabilities, the Peugeot 3008 is fun and comfortable. Even the standard specification on this model includes alloy wheels, rear parking aid and Bluetooth connectivity.
Economy is fantastic as well, as it has features the International Engine of 2015 under the bonnet.
View Peugeot 3008 Offers
6. Renault Captur - 32641 Visits
Family-friendly and set on a great driving platform - combining a comfortable driving position with a responsive drive, the Renault Captur is a fantastic newer example of a crossover. There is plenty to choose from, as this car features four trim levels and a range of petrol and diesel engines, meaning you can have the perfect car to suit your needs.
The stylish looks and practical interior features, combined with the many personalisation options, the Captur is great for your next driving adventure.
View Renault Captur Offers
5. Hyundai ix35 - 35607 Visits
This smart, compact crossover rivals many of the popular crossover models, through the many features and also by creating one of the UK's first commercially available hydrogen fuel cell vehicles - the ix35 FCEV.
The ix35 has raised suspension, space for five and a well-fitted interior, which is backed up by an excellent five-year warranty. As well, there are five trim levels to choose from, starting at the base model S, moving up to the flagship Premium Panorama model.
View Hyundai ix35 Offers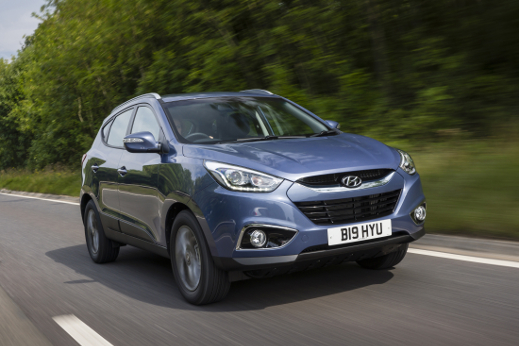 4. Kia Sportage - 51752 Visits
Delivering style and performance for modern lifestyles, the Kia Sportage offers a fantastic driving experience on an SUV platform. As the safest car in its class - featuring a 5-star NCAP rating - the Kia Sportage is the perfect family car for you.
Backed by Kia's pioneering 7-year warranty, you'll always have peace-of-mind with this car. It also boasts a huge boot capacity, with 564-litres available with the rear seats in place.
View Kia Sportage Offers
3. Vauxhall Mokka - 69330 Visits
The distinctive and unique styling of the Vauxhall Mokka stands out in the growing crossover market, and the exterior and interior design cues shows how premium this vehicle is. With a 5-star rating and a 96% rating for adult occupant protection during crash testing, you're sure to be safe in the Mokka.
Even the base model Mokka has traction control, descent control and hill start assist as standard. Cabin technology is also covered, as the standard Mokka features a digital radio, Bluetooth connectivity and electronic climate control.
View Vauxhall Mokka Offers
2. Nissan Juke - 82511 Visits
This bold crossover really does turn heads due to its unique design. The latest revision makes the Juke sportier and smarter, giving you performance on a high platform. The Juke is also customisable, to nearly every detail, to make the car unique to you.
The entry-level trim boasts alloy wheels, air-conditioning and electric windows and you can upgrade to the flagship Tekna model which features heated leather seat and automatic lights and wipers.
View Nissan Juke Offers
1. Nissan Qashqai - 122304 Visits
According to most reports - the first and still the most popular, it's hardly surprising that the Nissan Qashqai remains the most searched crossover. Combining total comfort with a fantastic urban driving experience, this car is consistently versatile. With five trim levels, you can choose as little or as much tech as you like.
The top of the range, Tekna model features automatic lights, automatic wipers and intelligent park assist, and comes with enough in-car tech to keep the whole family entertained. This includes DAB digital radio and Smartphone App integration all built into the NissanConnect Touch-screen Navigation and Entertainment system.
View Nissan Qashqai Offers