Car manufacturers are responding to the increasing demand for Sports Utility Vehicles (SUVs), resulting in plenty of choice when looking for a used family SUV. In addition to practicality and comfort, SUVs are becoming more stylish and thanks to advancements in engine technology; they are now more affordable to run.
Whether you're looking for a 7-seater, an off-roader, the ability to tow or just simply a larger car for the school run we have narrowed down your search and listed 10 of the best used family SUVs to suit individual requirements.
Dacia Duster
Affordable, comfortable and robust; the Dacia Duster is the best car in this list in terms of value. Furthermore, there's an all-wheel drive system available for the Duster making it a bargain four-wheel drive SUV.
The entry-level Access version includes the bare minimum, in terms of equipment, but some people are content with a practical SUV, which the Duster is, without any modern, high-tech features. However, you can search for the Essential trim if you fear you'll miss features such as air-conditioning, radio, Bluetooth and split-folding rear seats.
Children can safely be secured in car seats thanks to the ISOFIX points on the two outer rear seats and there's plenty of space in the boot for a fold-up pushchair, a large family food shop or holiday luggage for the whole family.
Search Used Dacia Duster
SEAT Ateca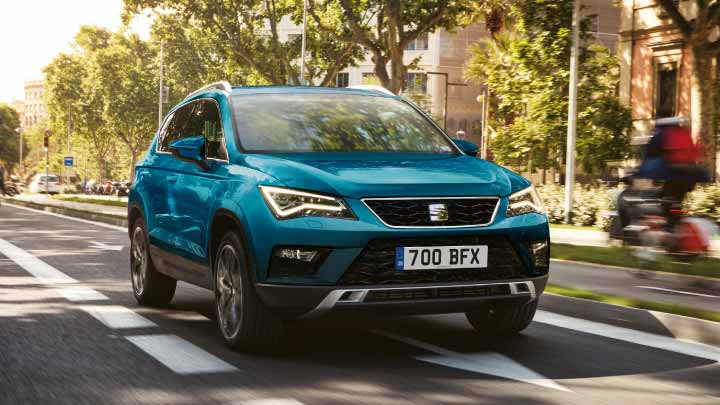 Sleek and distinctive exterior looks as well as a five star Euro NCAP safety rating, the SEAT Ateca is a great option when looking for a used family SUV.
Spacious, practical and versatile, the SEAT Ateca is the Spanish brand's first SUV and it meets all the requirements of an SUV suitable for families. With a high-quality interior, the Ateca ensures a comfortable journey for the whole family.
The Ateca may be considered most suitable for urban use, however, it is also very capable when it comes to off-roading due to the all-wheel drive option. Looking for a high-performance, sporty SUV? The Cupra Ateca was the first model to be released when Cupra formed as a sub-brand. With 300hp it certainly ticks the box for high-performance.
Search Used SEAT Ateca
Kia Sportage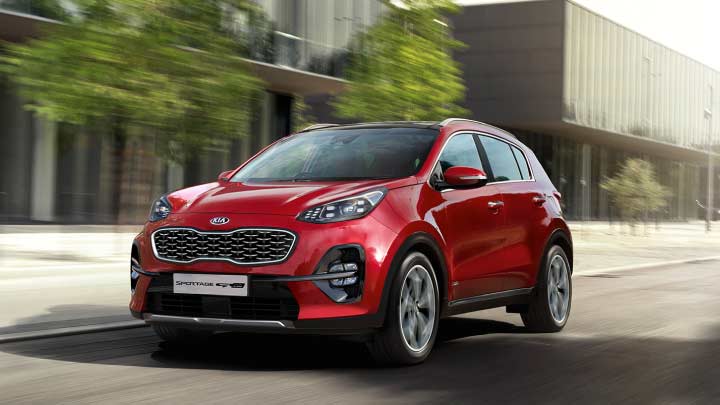 One of the most popular family cars, the Kia Sportage has built an enviable reputation as a reliable motor and therefore it is a great choice when looking for a used family SUV, especially considering it has a 7-year manufacturer warranty from new, providing confidence when buying a used car.
There is plenty of room in the rear for three children to sit comfortably, however, there are only two ISOFIX points. If you require three ISOFIX points, check out these excellent used cars that can fit three child seats in the back.
A reversing camera comes as standard, boosting visibility and making parking much simpler. Drivers also get full peace of mind when it comes to transporting the family safely, thanks to the five-star Euro NCAP safety rating.
Search Used Kia Sportage
Nissan Qashqai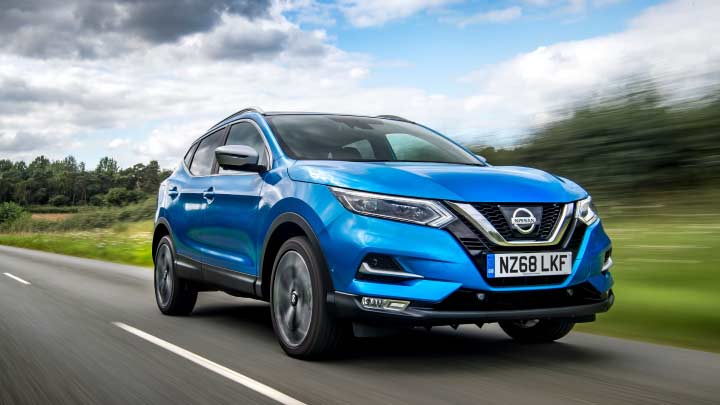 A key feature of the Nissan Qashqai is its raised driving position, improving visibility. Furthermore, sensible running costs and decent fuel economy is a huge advantage of the Nissan Qashqai.
An abundance of safety systems are available and therefore are likely to be included in many used examples. To assist with keeping the whole family safe, look out for used Qashqais that include Blind Spot Warning, Driver Attention Alert, Front Collision Avoidance and Forward Emergency Braking. You'll be pleased to know that the Qashqai scored the maximum five-star safety rating from Euro NCAP.
Do you own a family pet or regularly go for muddy walks with the children? If your answer is yes, you'll be pleased to know that the practical Qashqai has a reversible boot floor with carpet surface on one side and a wipe-clean surface on the other.
Search Used Nissan Qashqai
Renault Kadjar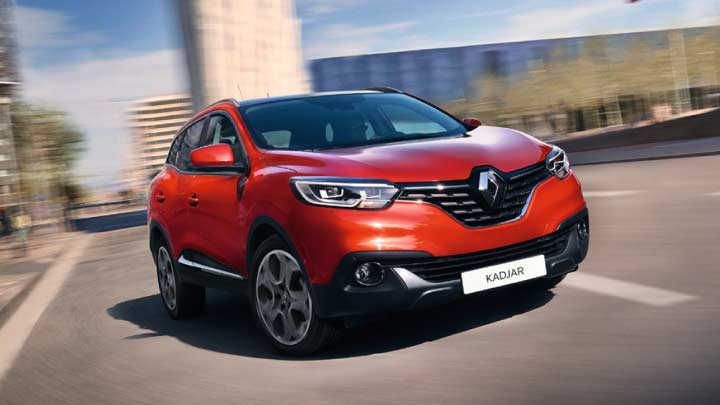 Impressive storage solutions, a large boot and a five-star Euro NCAP safety rating make the practical Renault Kadjar an excellent consideration when searching for a used family SUV.
The Kadjar has a spacious interior making journeys comfortable for both adult and child members of the family. Additionally, there are two ISOFIX points on the two outer-rear seats so you can secure child seats safely. Despite being one of the more affordable SUVs, compared to some of the luxury brands, the Renault Kadjar features refreshingly high-quality materials throughout the interior and therefore offers a pleasant driving experience.
Each of the models feature a range of beneficial equipment as standard including alloy wheels, tinted windows, LED daytime running lights, automatic lights and wipers, rear parking sensors, smartphone connectivity and cruise control.
Search Used Renault Kadjar
Hyundai Kona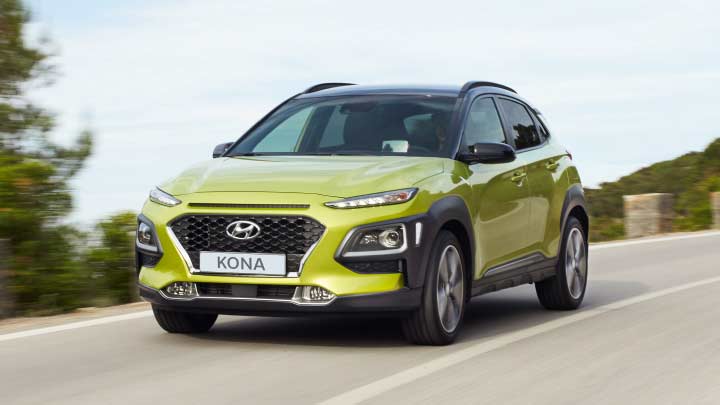 Is your carbon footprint important to you? Do you fancy an electric family SUV? Hyundai was the first manufacturer in the European market to offer the first fully-electric subcompact SUV. The Kona Electric 39kWh has a range of 180 miles, whilst the punchier 64kWh version boasts a more impressive range of 279 miles. You can of course get a conventional petrol or diesel version of the Hyundai Kona if you prefer.
The Kona is a slick, funky-looking car that will appeal to buyers who want a stylish car to accompany their desire to be on-trend. Plus, it features a five-year warranty so it is an attractive option to purchase as a used car.
Lane-keeping assist and a Driver Attention Alert system feature as standard whilst higher specification models are even better equipped and feature luxuries such as heated rear seats.
Search Used Hyundai Kona
Peugeot 3008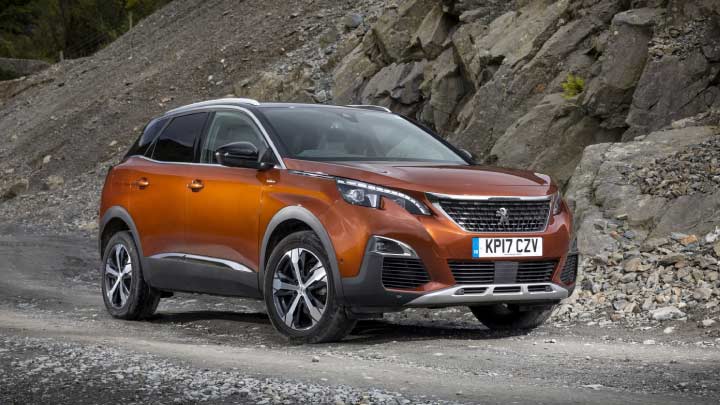 Strikingly stylish the Peugeot 3008 is a family SUV with a modern and unique aesthetic that appeals to a wide audience. If you're looking for a family SUV that stands out from the rest then this may just be the right car for you.
In addition to the Peugeot 3008's stylish exterior and upmarket interior, it has the ability to tow up to 2,000kg, if you pick the 2.0-litre BlueHDi diesel model, meaning this vehicle is fantastic if you're planning a caravan holiday with the family.
The Peugeot 3008 has an impressively sized boot of 520 litres or 591 litres if you lower the adjustable boot floor. So if you need adequate boot space for pushchairs or other family items, the 3008 is the best option compared to the Kia Sportage, Nissan Qashqai, Renault Kadjar and SEAT Ateca.
Search Used Peugeot 3008
Volvo XC60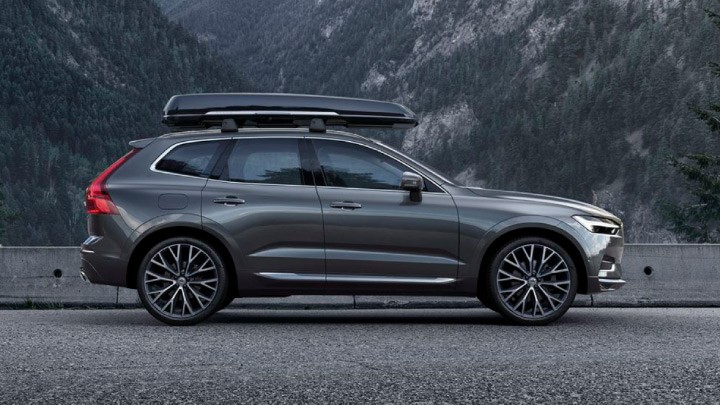 One of the Swedish manufacturer's most popular models, the Volvo XC60 is a medium-sized premium SUV. Comfort is a key feature in the classy and plush interior of the XC60. There is a lot of equipment included as standard across the XC60 range including: leather upholstery, heated front seats and a powered tailgate.
Are you ready for the best bit? The Volvo XC60 was built to be one of the safest cars ever! Volvo has a strong reputation as a safe manufacturer so parents will feel at ease transporting their children in this SUV, that scored the maximum of five-stars in the Euro NCAP safety rating.
The original XC60 was the first production car to feature autonomous emergency braking (AEB) technology and now the later models include the Volvo City Safety AEB system as standard. Volvo City Safety has the ability to recognise other vehicles, pedestrians, cyclists and large animals.
Search Used Volvo XC60
Skoda Kodiaq
The only vehicle with seven seats to feature in our list is the Skoda Kodiaq. It is a fantastic choice of SUV if you have a larger family. Also, if you need to seat three children in child seats you're in luck with the Kodiaq as there are three ISOFIX points across the middle row making this possible. Even with all seven seats in use, the boot is still large enough for luggage with a capacity of 270 litres.
There is plenty of safety equipment fitted as standard with optional kit available too. Furthermore, the spacious and practical seven-seater scored the maximum five-star Euro NCAP safety rating.
If you would like to explore more seven-seater vehicles, here are our best used 7 seater cars under £10,000.
Search Used Skoda Kodiaq
Ford Kuga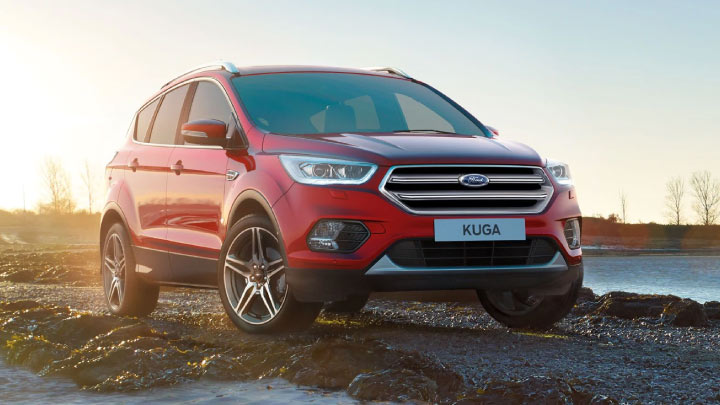 The Ford Kuga is one of Ford's most popular models and it is clear to see why. Providing a pleasurable drive that is safe and comfortable, the Kuga is definitely a strong choice when it comes to family SUVs.
Combining practicality and style, the interior of the Kuga is ideal for the whole family. Models from 2016 onwards include the Ford Sync3 infotainment system which offers modern technology such as voice control and Bluetooth music streaming.
There's a generous list of safety features, with the whole range including ISOFIX mounting points for child seats on the outer rear seats and Emergency Brake Assist as standard. All models also include manual child locks on the rear doors, however, some used examples may feature the Family Pack which upgrades the rear door child locks from manual to electrically-operated.
Search Used Ford Kuga


Hopefully this list will help you narrow down which SUV is the most suitable for you and your family. There are far more SUVs available that would be great for a family so have a browse through our stock of used cars.
Are you looking for a family car, but not an SUV? We have also written a blog highlighting 20 of the best used family cars, including hatchbacks, SUVs, MPVs, saloons and estates.
Search Used Cars