Cars with Big Boots
20th Jan 2021
Which cars have the biggest boots?
Regardless of the size of the car you're looking for, a key attribute often searched for is boot size. Boot loadspace capacity is often mentioned in terms of the amount of litres it will hold. Obviously to the majority of consumers, completing their research into buying a car, space in litres isn't always overly helpful.
This blog not only lists cars with a decent boot loadspace for the vehicle's size, it also describes the type of contents you would be able to fit in; whether that's a pram, the weekly shop, luggage or the family pets. Speaking of family pets, if you're purchasing a car based on the idea of regularly transporting dogs we've created a blog that focuses purely on cars suitable for dog owners.
Boot space is key for families as there is often the need to transport not only the children but pushchairs too. We have also created a blog on pushchair friendly cars if that is what you're specifically looking for.
Small cars with big boots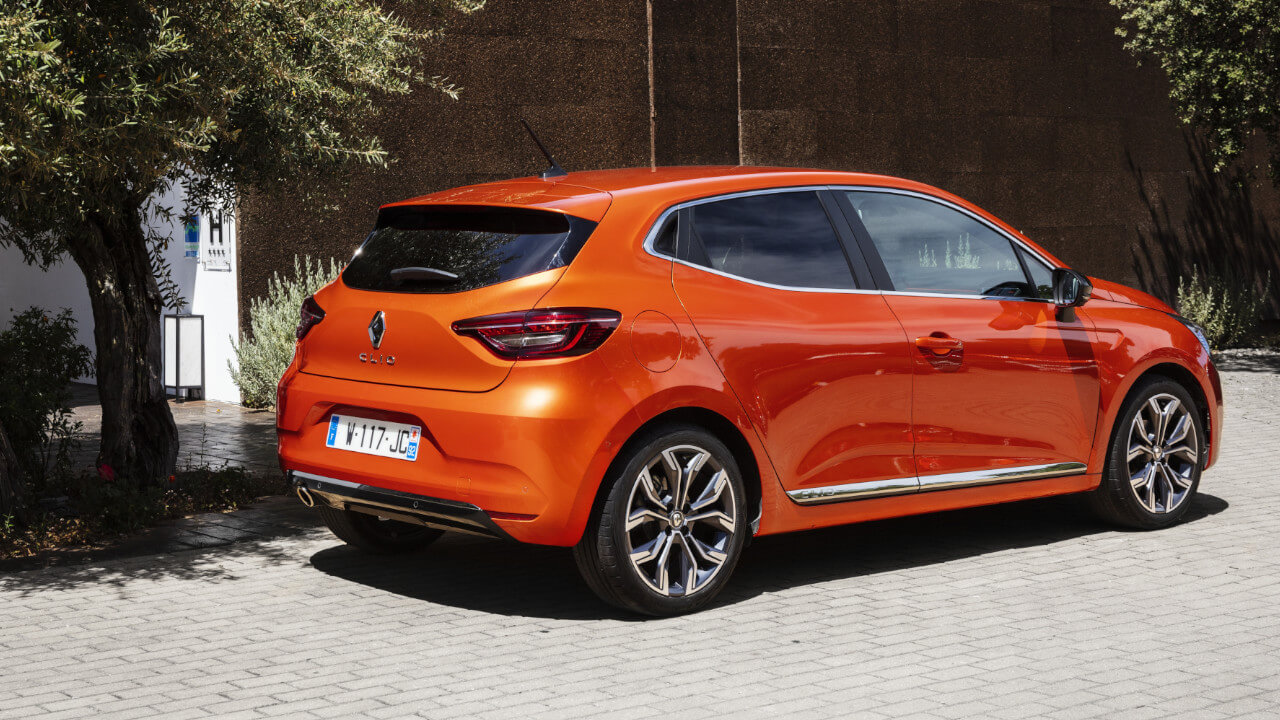 Small cars, also known as superminis, are ideal for drivers that aren't regularly transporting lots of passengers. They're often lower cost to purchase than larger cars and, due to their size, they tend to be powered by smaller engines which are efficient and affordable to run.
A huge advantage of a smaller car is the ability to manoeuvre with ease in busy cities or narrow country lanes. Need we mention how much easier it is to find a parking space to squeeze into?
It may come as a surprise that there are plenty of small cars out there with a big boot, here are just a few of the smallest with the biggest boot capacities.
Renault Clio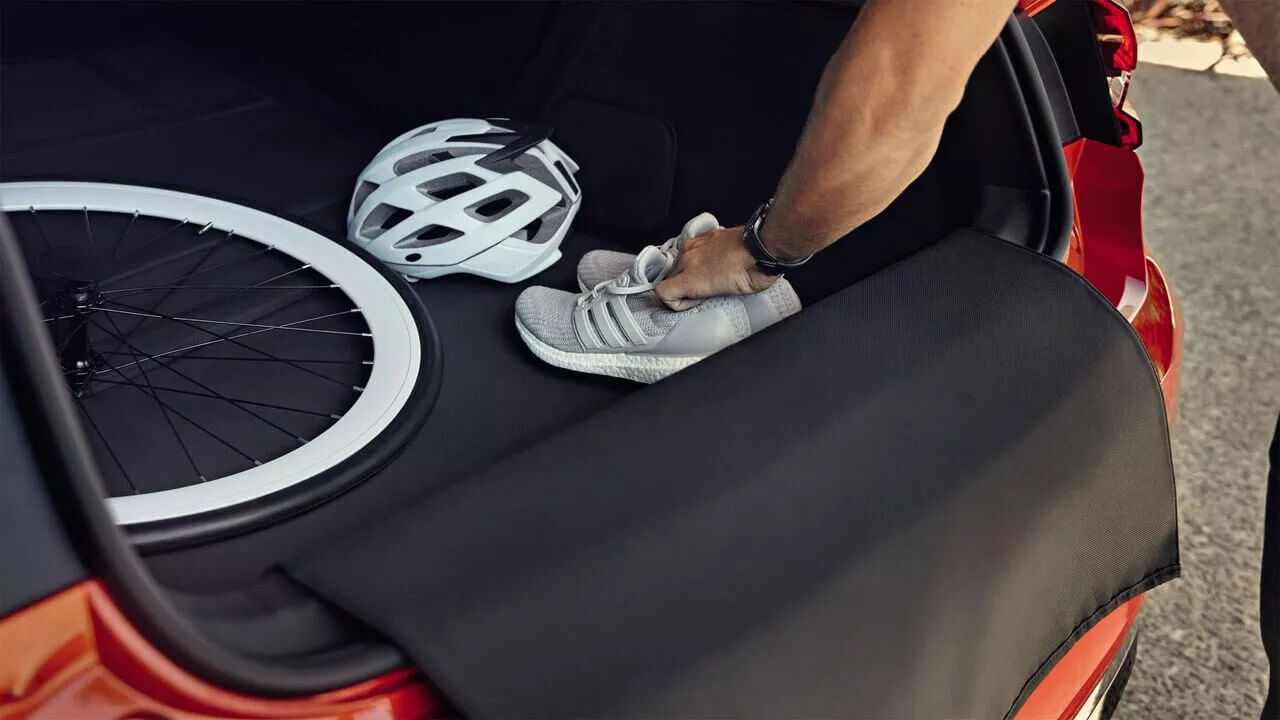 Boot capacity: 391 litres
Boasting one of the biggest boots out of all the superminis, the petrol powered Renault Clio has an outstanding boot capacity of 391 litres. This amount of space would usually be expected with medium sized family hatchbacks as opposed to a small car. The diesel and E-Tense hybrid variants still have decent capacities of 366 litres and 301 litres respectively.
So, what can you fit in a boot of this size? Having a boot that is bigger than some medium-sized family cars does mean you can fit a pram or two, a weekly food shop for the family or there's plenty of space for luggage.
Loading items into the boot is simplified thanks to a wide opening and double height floor. If you are wanting to transport larger items, you can fold the rear seats down to provide up to a tremendous 1,069 litres, as well as a flat loadspace.
Search Used Renault Clio
Volkswagen Polo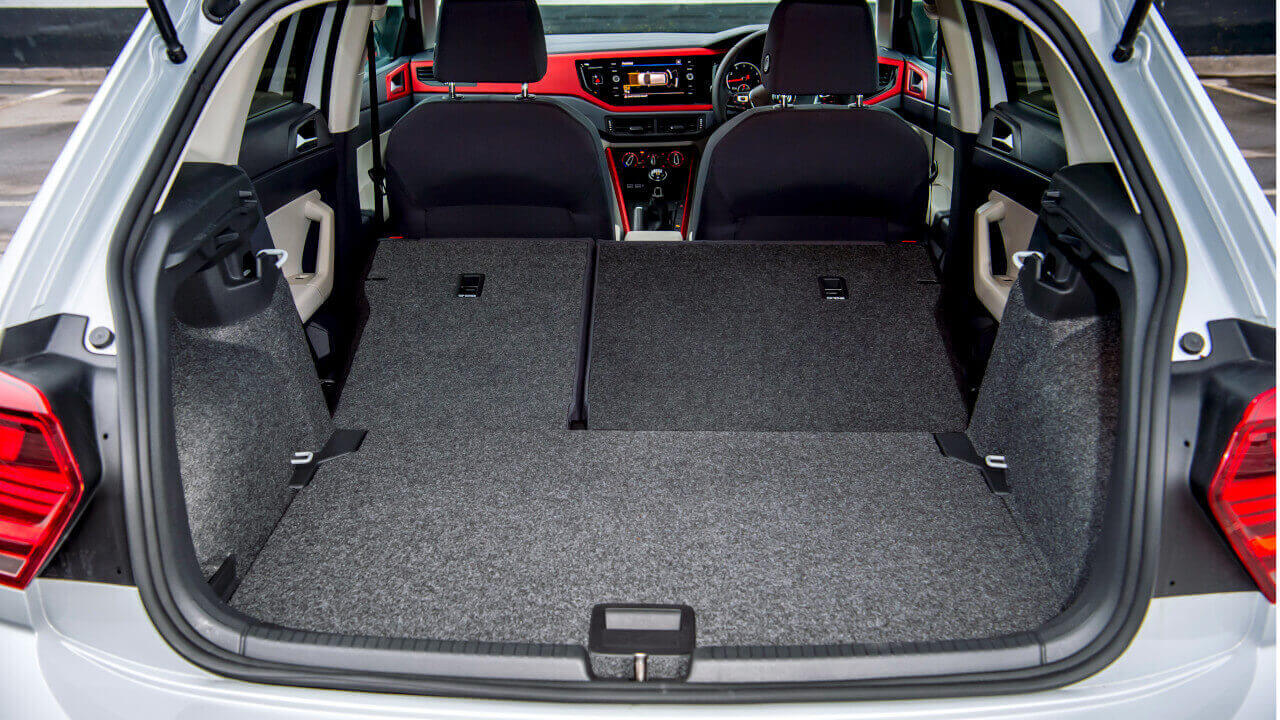 Boot capacity: 351 litres
Slightly smaller than the Renault Clio, the Volkswagen Polo still has a boot capacity of 351 litres, which is considered large for the supermini class. In fact, it isn't a great deal smaller than its larger sibling the Volkswagen Golf, which has a capacity of 380 litres.
The Polo's boot grants space for the weekly food shop, holiday luggage or a smaller pushchair.
Fold the rear seats down to reveal an even larger luggage capacity of 1,125 litres; perfect for when you need to transport larger items.
Be sure to pick the sixth generation, 2018 onwards Polo if it is the boot size you desire as the previous generation has a 25 percent smaller boot capacity.
Search Used Volkswagen Polo
Audi A1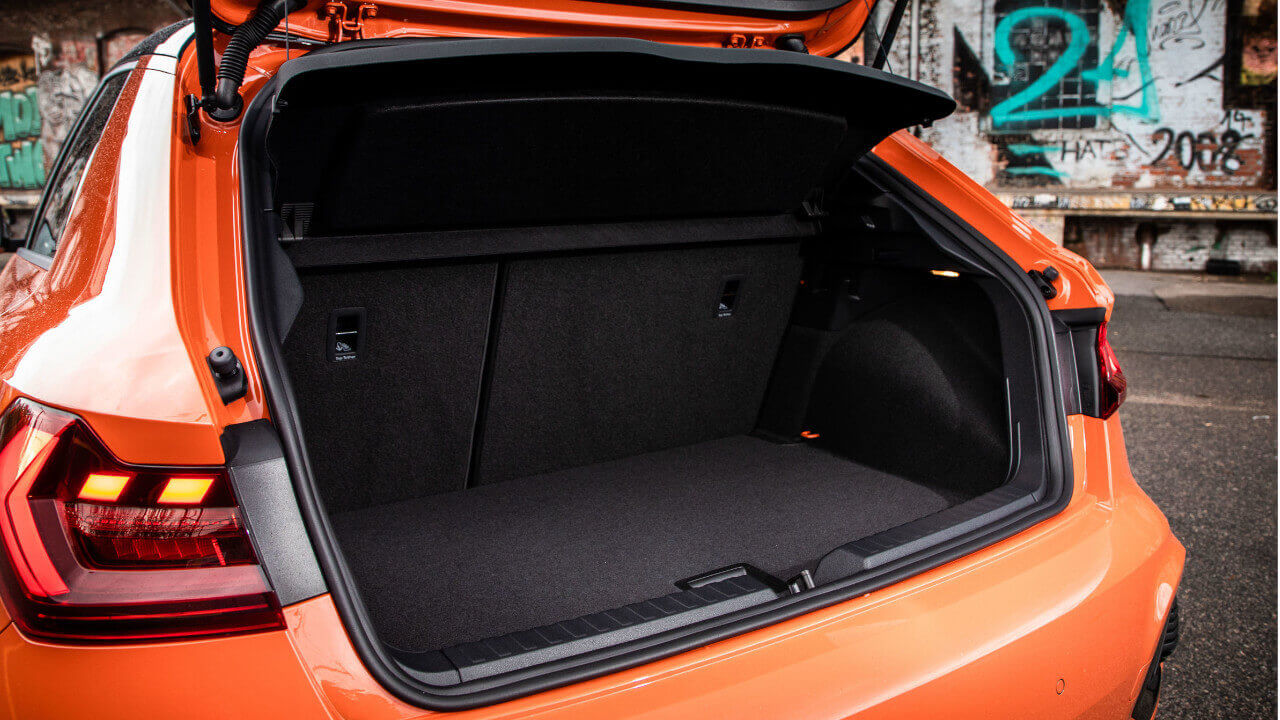 Boot capacity: 335 litres
It may be the smallest boot capacity on our list but the Audi A1's boot is anything but small. Like the Volkswagen Polo and the Renault Clio, the A1 is classed as a supermini and for a supermini the boot is pretty impressive with a capacity of 335 litres.
You'll have no trouble fitting in the weekly food shop or a pram. If you're going away, you'd be able to fit a few small suitcases or a couple of large cases with ease.
Fold down the 60:40 split rear seats to receive extra boot space, which has a capacity of 1,090 litres. Handy for flat pack furniture or other cumbersome items.
Search Used Audi A1
Medium cars with big boots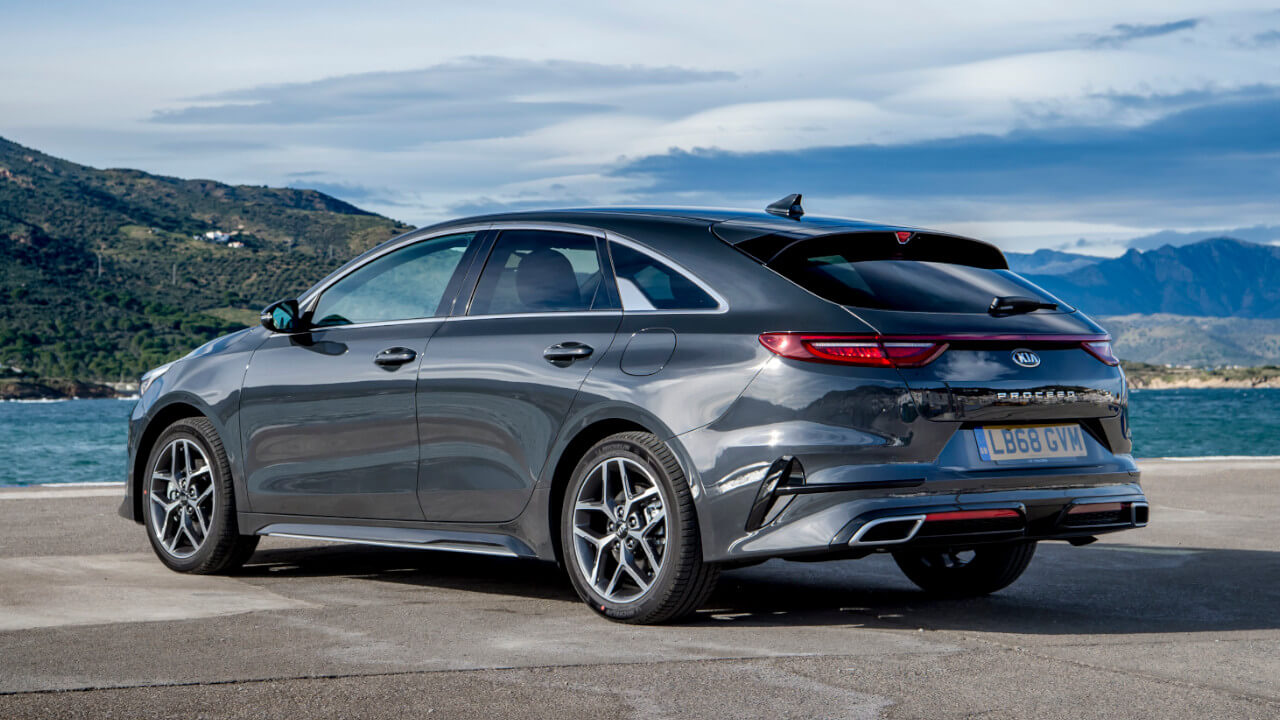 Suitable for a variety of purposes, medium cars make great family vehicles. They tend to fit small families in with ease, along with the essentials in the boot.
There's often a need to fit items, such as prams, in the boot so families often require a larger boot that doesn't compromise on interior space for passengers.
With this size car you get the benefits of more space and a larger boot but can still park and manoeuvre easily when going to fetch the weekly food shop, which can be a little trickier in a large SUV.
Peugeot 308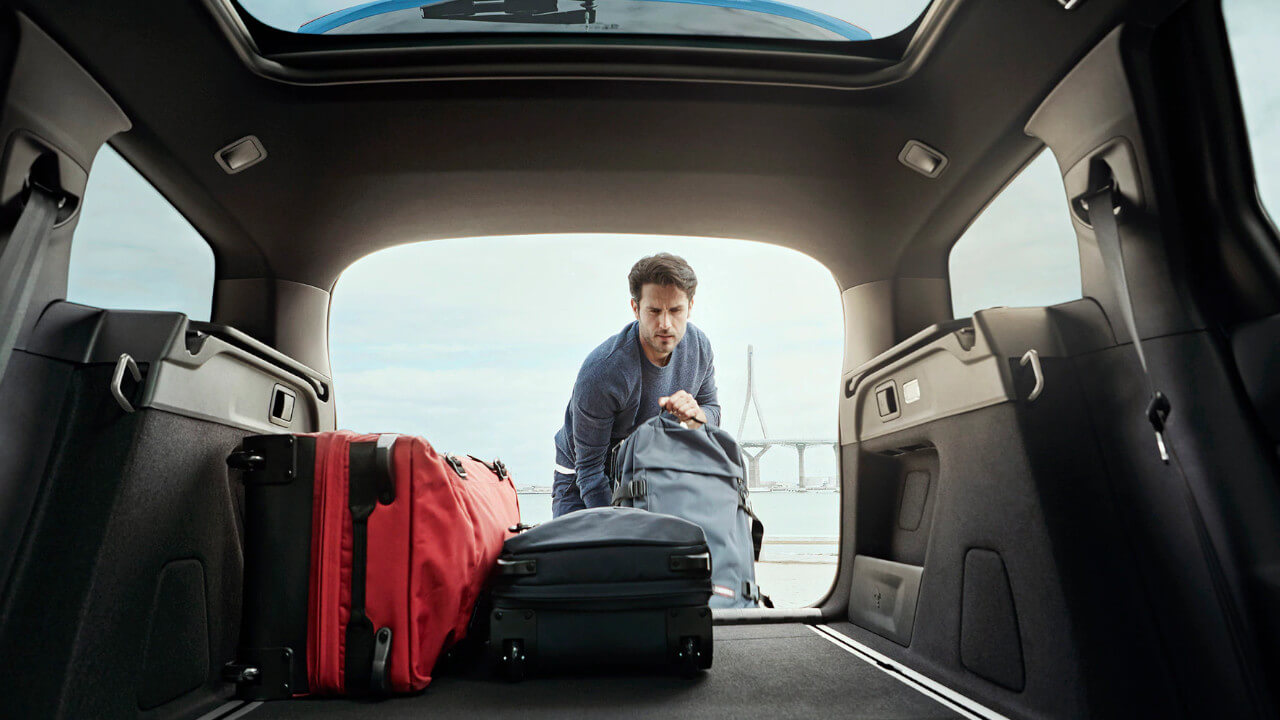 Boot capacity: 501 litres (Hatchback) or 660 litres (SW)
In terms of a medium-sized family hatchback, the Peugeot 308 offers a fantastically generous boot size with 501 litres at your disposal. There's even the option of folding down the rear seats to gain more space, and with 1,309 litres available there are plenty of larger items that would fit.
Although you'll have no trouble fitting in lots of shopping, pushchairs and luggage; there's also the 308 SW, which is the estate version with an enormous boot capacity of 660 litres.
The 308 SW's wide boot can be further enhanced by folding down the Magic Flat rear bench seat to create a flat load floor and truly optimise the space available. A low loading sill simplifies the loading experience.
Search Used Peugeot 308
Kia Proceed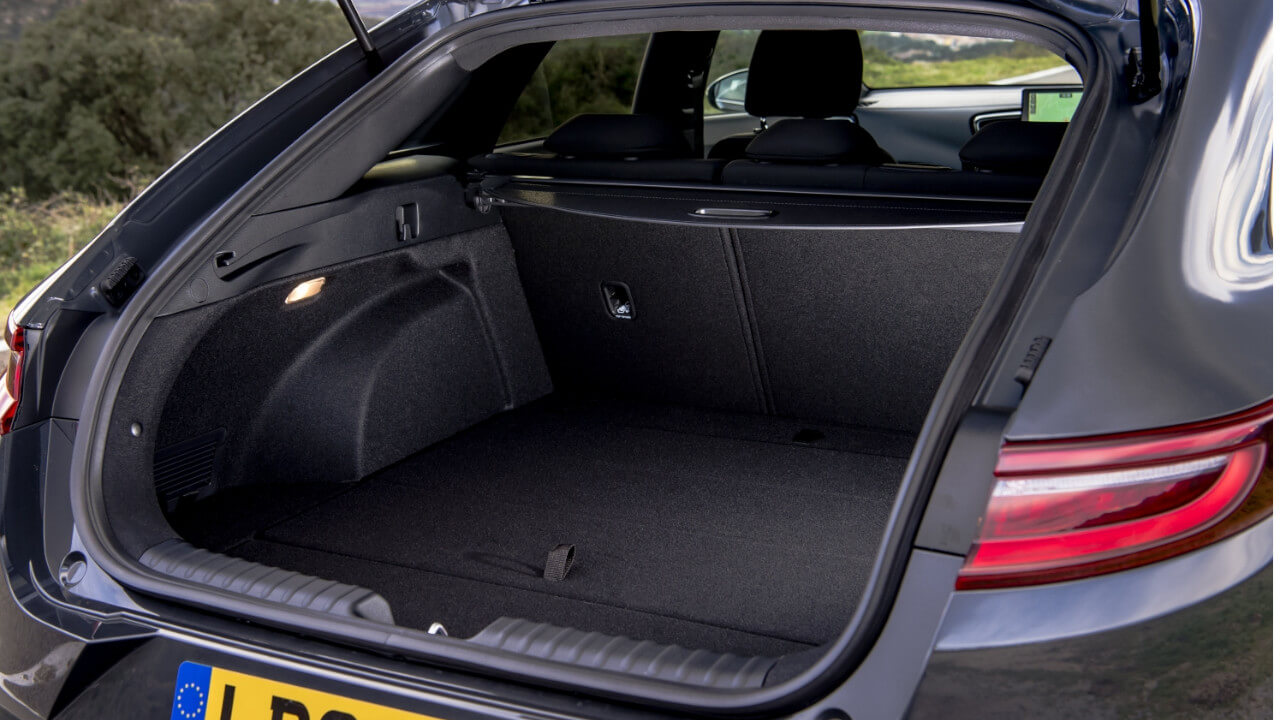 Boot capacity: 594 litres
If you're looking for a family car but are torn between a hatchback or an estate, the Kia Proceed will be perfect; blending the two bodystyles into an incredibly practical and spacious vehicle.
Known as a shooting brake, the Proceed has a massive boot with various storage compartments under the false floor. One of the compartments will even store the retractable parcel shelf for when you're filling the boot.
No boot lip and a low-height tailgate make the Proceed super easy to load or unload, whilst the 594 litres of space is plenty of room for prams, shopping or luggage.
Another perk of this vehicle, depending on the model you choose, is the smart power tailgate, which enables the boot lid to open automatically when the key is close to the car. A fantastic feature for when your hands are full.
Search Used Kia Proceed
Nissan Leaf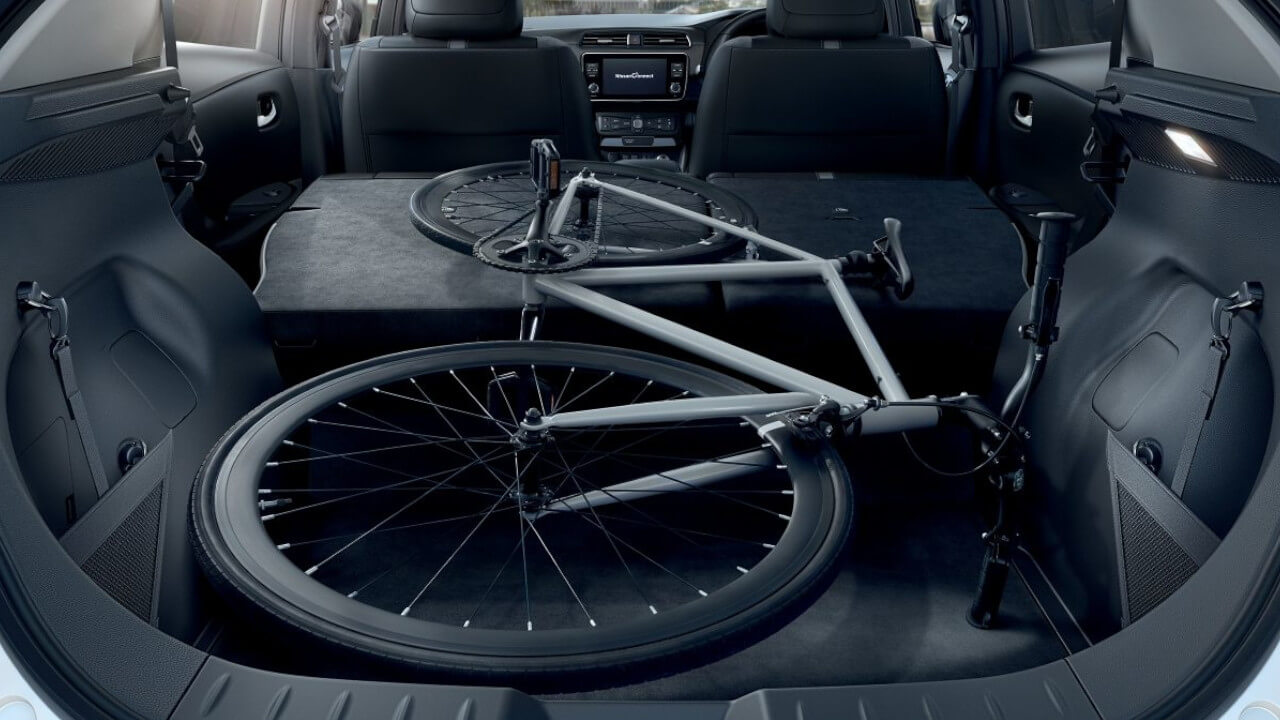 Boot capacity: 435 litres
When you look at the electric version of certain vehicles the boot is often compromised in size compared to its petrol or diesel counterparts. However, the Nissan Leaf happens to boast a boot that is not only considered big in the electric vehicle (EV) world but also in the family hatchbacks category.
With a capacity of 435 litres you'll easily be able to fit the weekly shopping in or the family's holiday luggage, along with the EV charging cable too.
Offering 60:40 split rear seats that fold to create an almost flat loadspace, the Leaf can even fit larger items such as a bike.
Search Used Nissan Leaf
Large cars with big boots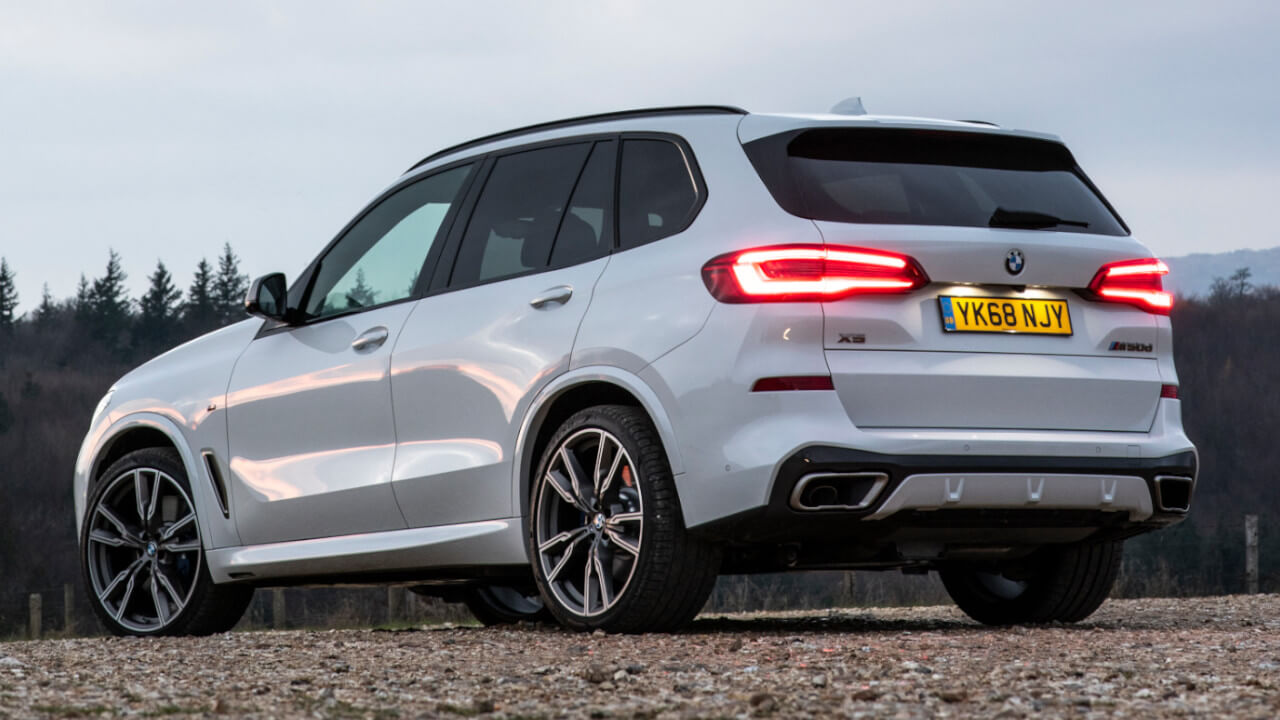 Excuse us for stating the obvious but large cars do tend to have the largest boot space. However, there are so many large cars out there to choose from. Do you pick an estate, a crossover, an SUV or even an MPV?
The answer depends on various factors but one common factor is, indeed, boot capacity. Large cars are fantastic for transporting multiple people around in comfort but they also fit in large items such as multiple pushchairs, the whole family's holiday luggage or the family pets.
We've provided a variety in our large cars section, to cater to personal preference but each of the chosen vehicles have one key feature in common; a massive boot.
Citroën C5 Aircross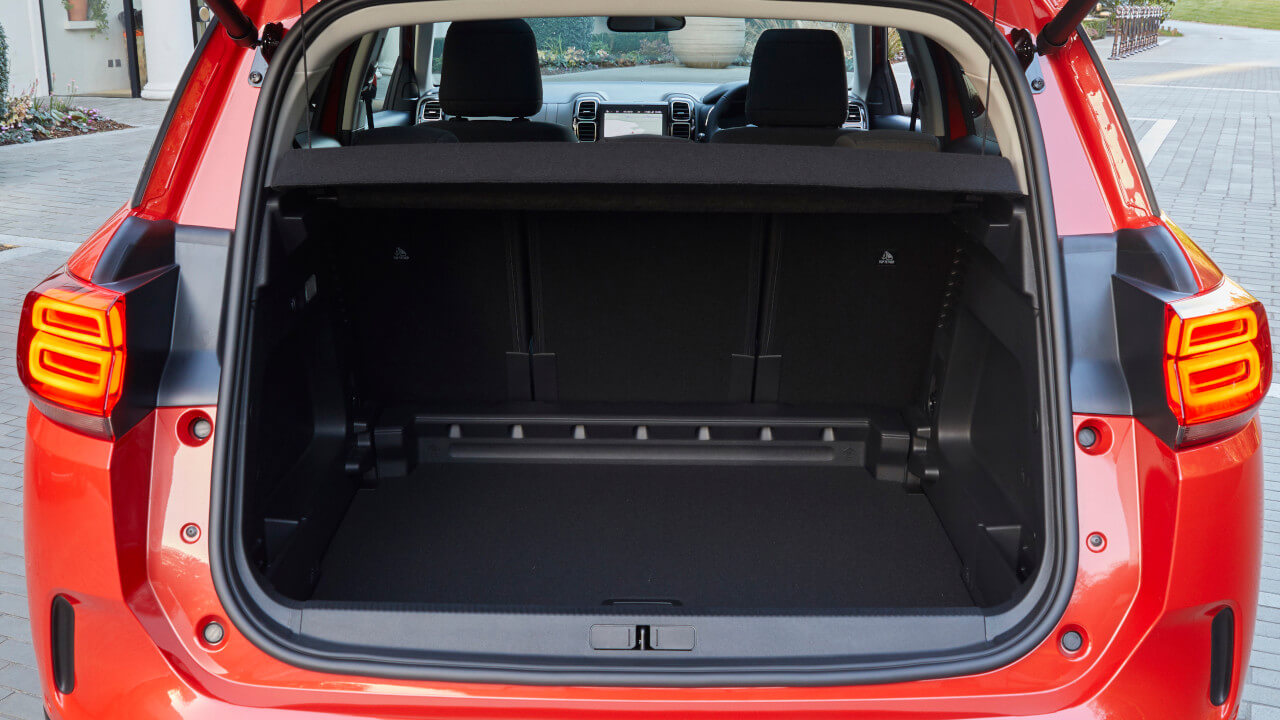 Boot capacity: 580 litres
Known for being not only one of the most comfortable SUVs but also the most modular and spacious, the Citroën C5 Aircross is a fantastic family car with incredible versatility.
The minimum boot capacity is 580 litres, which isn't humungous for an SUV but is still pretty decent. However, the rear individual seats can simply slide forward to transform the loadspace and increase the capacity to 720 litres.
To gain an even bigger boot, up to a maximum of 1,630 litres, the rear seats can be folded completely flat to create ample storage space for the whole family's luggage, shopping trips, pushchairs or the family pets.
Search Used Citroen C5 Aircross
BMW X5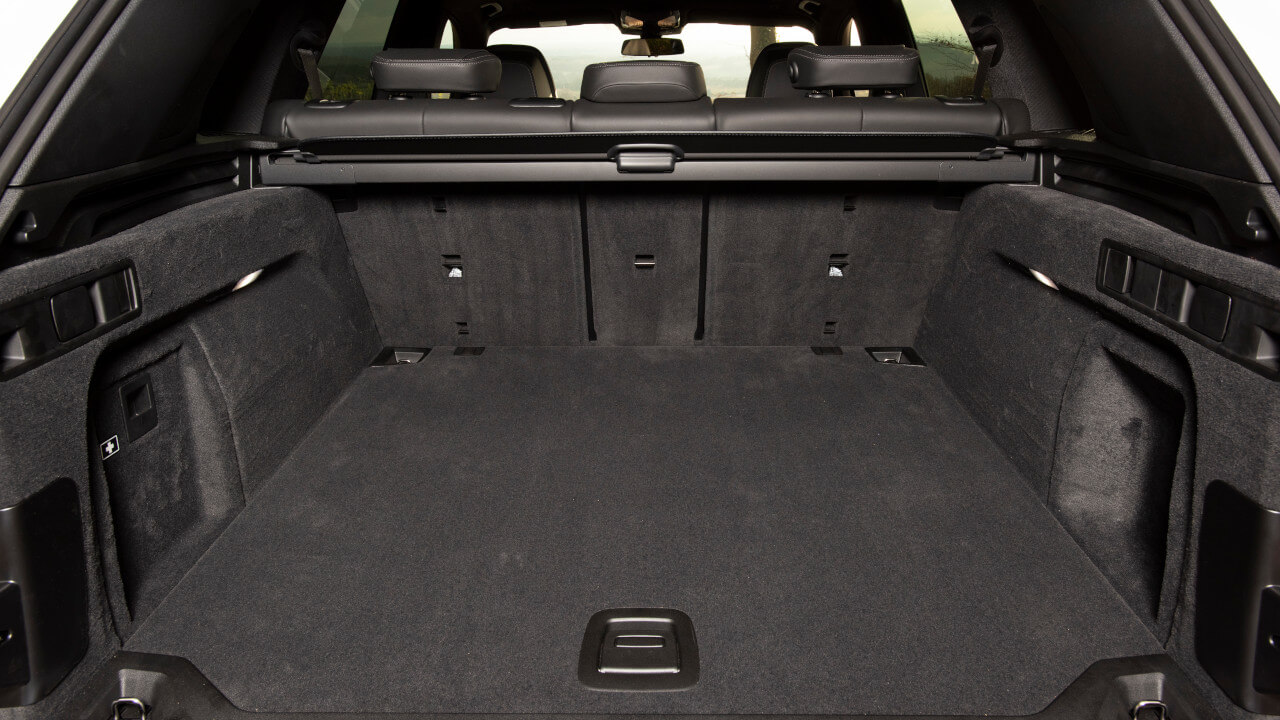 Boot capacity: 650 litres
Looking for a luxury SUV? The BMW X5 isn't only luxurious, it's also immensely practical.
Firstly, there's the option of five or seven seats. Then there's the large boot, with a capacity of 650 litres. You can also fold down the 40:20:40 split rear seats to increase the space to a maximum of 1,870 litres. Pushchairs, shopping and plenty of other items can easily fit in a boot this large.
Loading is simplified thanks to the two-section tailgate. Plus, if you look for an example with the optional Comfort Access, both sections can be opened and closed electronically and hands-free.
There's also anti-slip luggage rails to contain the cargo during transportation.
Search Used BMW X5
Hyundai Santa Fe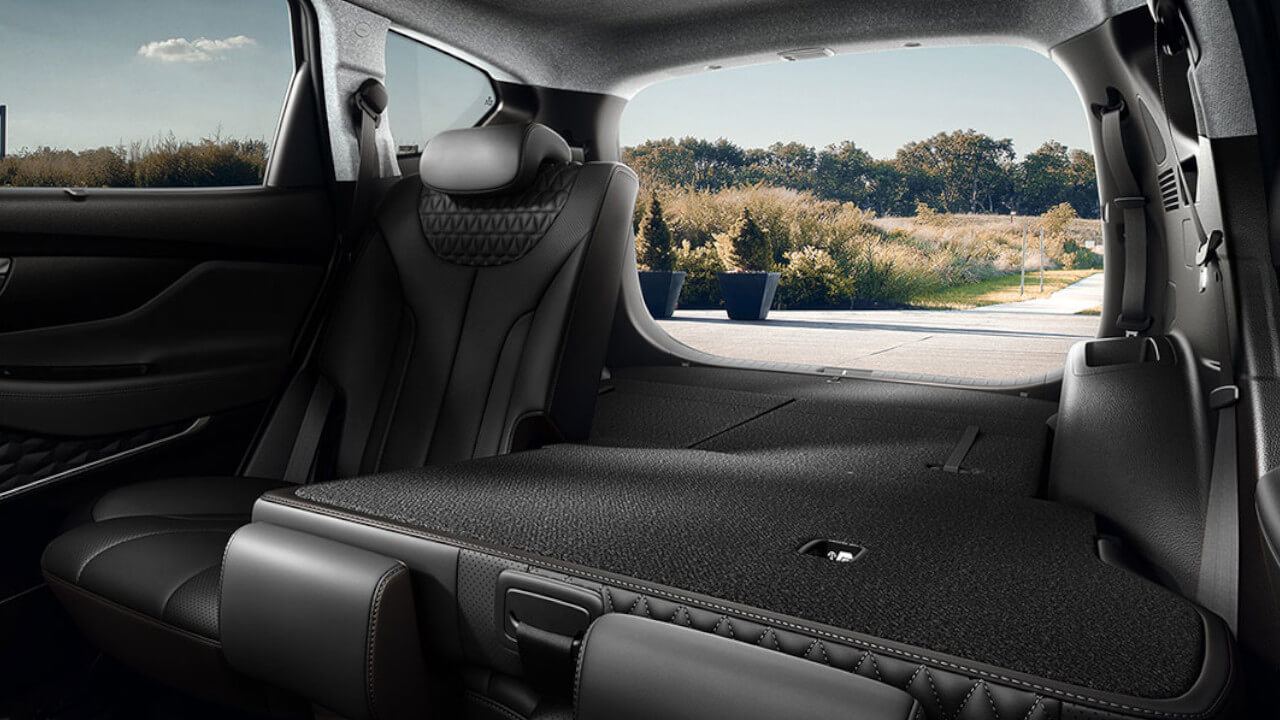 Boot capacity: 547 litres
Hyundai's large SUV, the Santa Fe, is a seven-seater vehicle but with only five seats in place it has a decent 547-litre boot capacity. This is more than enough to fit a pram or the family's holiday suitcases.
More space can be achieved, a maximum of 1,625 litres, by folding down the 60:40 middle row of seats. With the seats folded the Santa Fe has a flat loadspace, which is great for transporting large items such as a bike or flat-pack furniture.
Loading items into the boot is simplified thanks to the wide opening and it even features a 12V socket, perfect for when you need to hoover up after transporting muddy family pets.
Search Used Hyundai Santa Fe
Ford Galaxy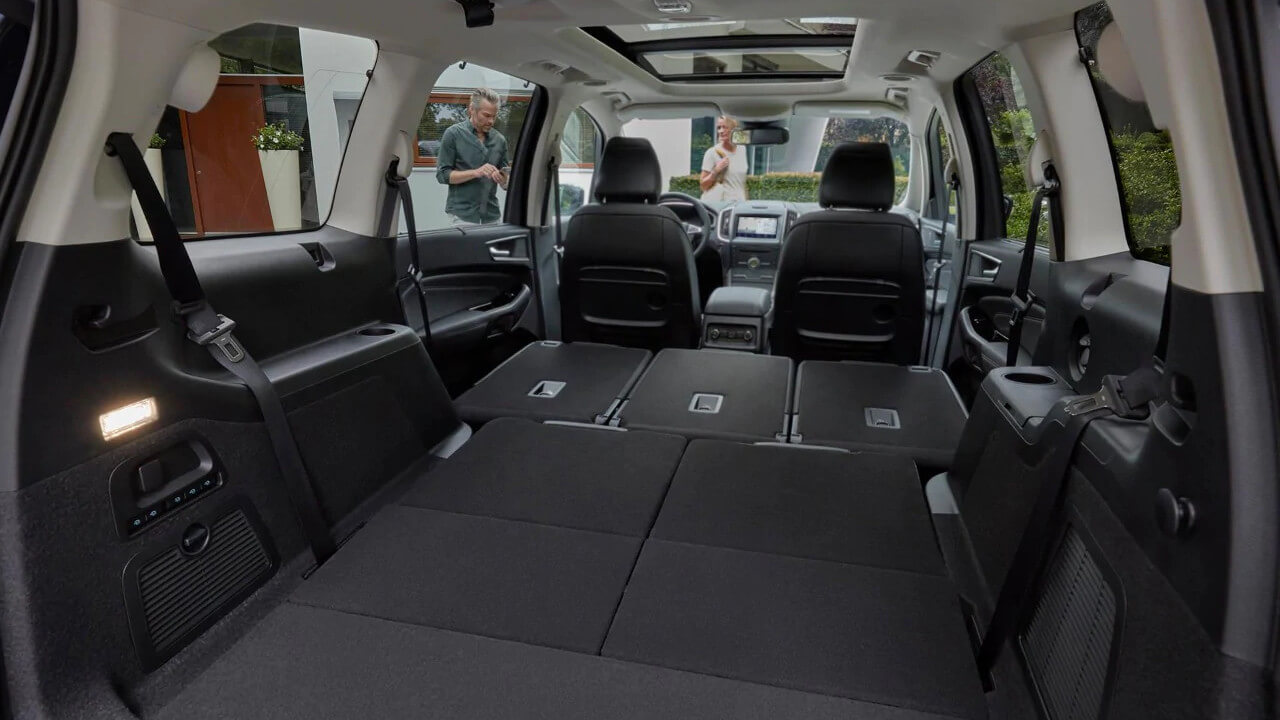 Boot capacity: 700 litres
Practicality is the Ford Galaxy's main priority and with a gargantuan boot space of 700 litres it's doing a pretty good job.
The seven-seater vehicle boasts an innovative EasyFold system, which folds the second row seat completely flat at just a touch of a button. There's also the press-button EasyFold and Power Raise feature, which lowers and raises the third row seating. With both rows folded flat the Galaxy has an enormous capacity of 2,339 litres.
It's clear that the Galaxy is not only a great people mover but also fantastic in terms of loadspace. You certainly wouldn't need to worry about fitting in a monthly food shop or a few prams.
Search Used Ford Galaxy
Find your perfect used car with a big boot
It doesn't matter whether you're looking for a small, medium or large car; a decent sized boot sits on the want list of many people searching for a car.
It can be difficult to determine how much you could actually fit in a boot of so many litres and also how that compares to other vehicles of a similar size.
This list only contains 10 cars with big boots, in reality there are so many more cars out there. If none of the above cars are to your taste, you can search through our extensive range of used cars available from manufacturers including Nissan, MINI, Mercedes-Benz, Vauxhall, Hyundai and more.