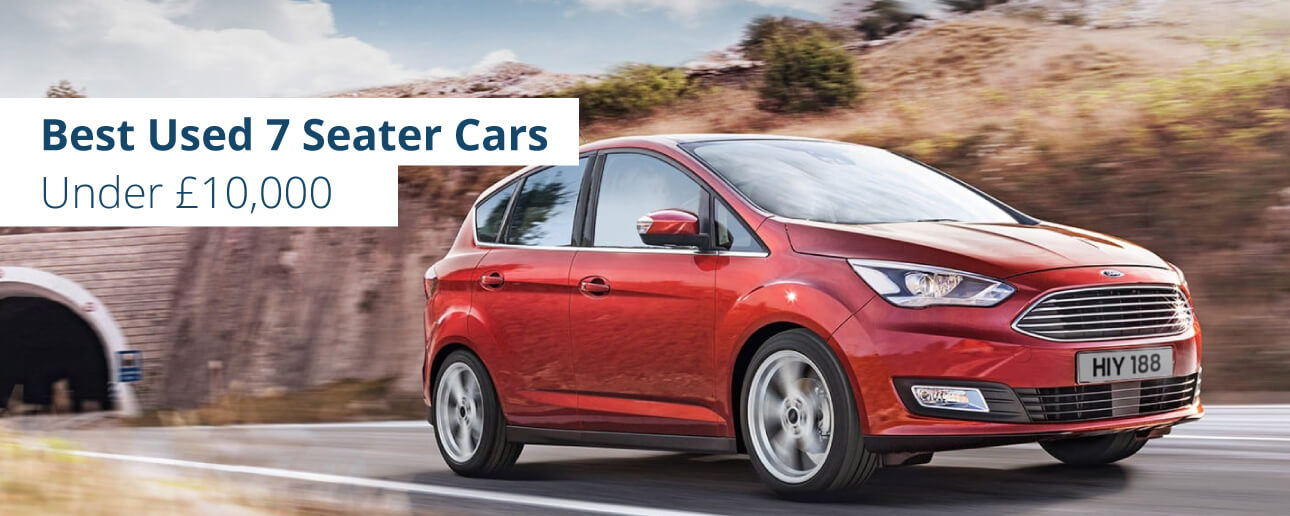 If you're a family with 3 or more children, it makes sense to consider a 7 seat MPV as your next family car. Usually they follow a 2-3-2 seat layout with the rearmost seats folding up and down easily for either extra passengers or extra luggage, depending on that day's requirements.
There are lots of great value used 7 seaters on the market from popular manufacturers such as Ford, Vauxhall and Citroën for under a £10,000 budget.
Vauxhall Zafira (2nd Generation)
The Vauxhall Zafira is considered by some in Britain to be the definitive 7 seat MPV. You certainly see a lot of them on British roads and they have been popular ever since the first generation came along in 1999.
Here we're looking at the 2nd generation Zafira 'B', which won plenty of fans amongst the British public because it's just so darn clever! The variety of interior storage solutions make the Zafira a genuinely useful vehicle.
The rearmost seats fold completely flat into the floor giving you a really good-sized boot, easily enough for a family shop or a couple of pushchairs.
Spec-wise the two most popular models are Exclusiv and Design, both of which air condition as standard. The Design models added alloy wheels and heated front seats for that extra little bit of luxury.
View Used Vauxhall Zafira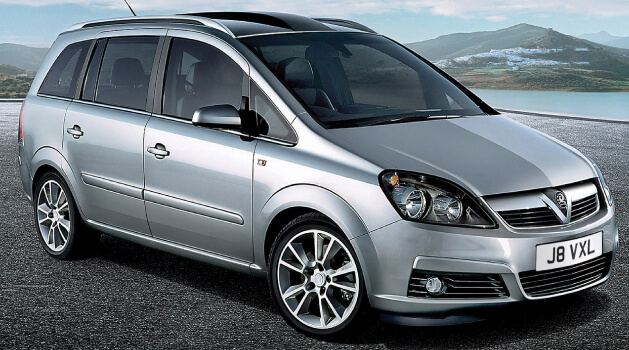 Citroën Grand C4 Picasso (1st Generation)
French manufacturers have long been at, or near, the top of the tree when it comes to affordable people movers, and the 1st generation Citroën Grand C4 Picasso was a hugely popular car throughout its 7 year lifespan.
Its interior was so incredibly roomy that families of 5 or more could go on trips with room to spare, and without ever feeling like they were really on top of each other, like they would in a regular hatchback.
Having three individual seats on the 2nd row means you can get 3 child seats in, with two more seats in the 3rd row for additional (small) passengers. The modular seating lets you fold every seat apart from the front two flat, allowing you to carry large items with ease.
It's classy looking from the outside and easy to drive - it's a real all rounder.
View Used Citroen Grand C4 Picasso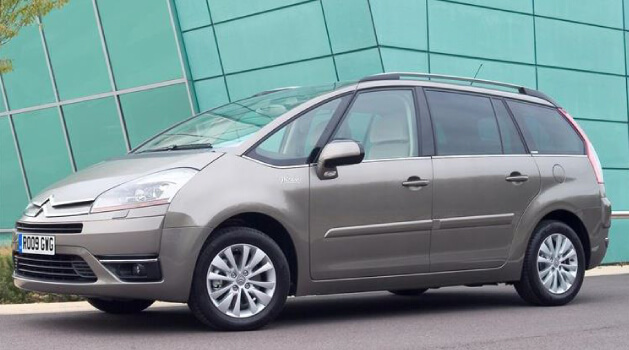 Nissan Qashqai+2
The first of two SUVs in the list, not many people know that Nissan made a 7 seat version of the Qashqai, imaginatively called the Qashqai+2. It was slightly longer than the immensely popular 5 seat Qashqai and had two extra seats where the boot normally would be.
The two extra seats could be folded flat into the floor for increased boot space, and the seats have enough room for occasional use only by small people, in reality.
All the great traits of the normal Qashqai remain, including car-like driving dynamics, a high driving position and a roomy interior. The longer wheelbase makes the Qashqai+2 ride better too.
Most examples are 1.5 or 1.6 dCi diesels, but there are petrol versions too. £10,000 will get you a much nicer facelifted car, as shown in the picture, making the Qashqai+2 a great value used 7 seater.
View Used Nissan Qashqai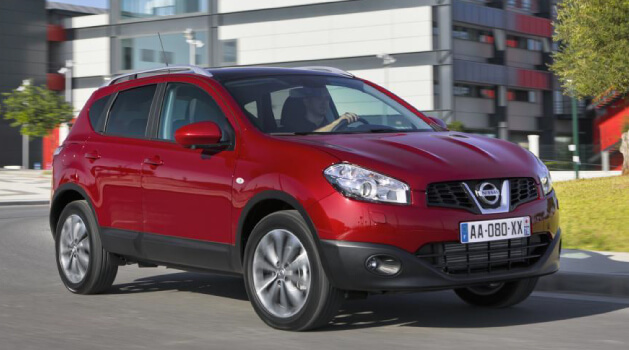 Ford Grand C-MAX
You may have been expecting to see the Ford Galaxy in this list, but we've chosen the more affordable Grand C-MAX as they're more readily available when working to a £10,000 budget.
The bigger brother of the regular Ford C-MAX, the Grand C-MAX was designed for Europe with some of the most popular USA Minivan-style features included. Ford are American, after all.
These features included sliding side doors for much easier access to the rear seats, and you should look out for versions with an electrically-powered automatic tailgate, which was an optional extra when the car was new.
Both pre-facelift and facelift (pictured) models are now available for under £10,000, with a range of petrol and diesel engine options as well as both manual and automatic versions too.
View Used Ford Grand C-MAX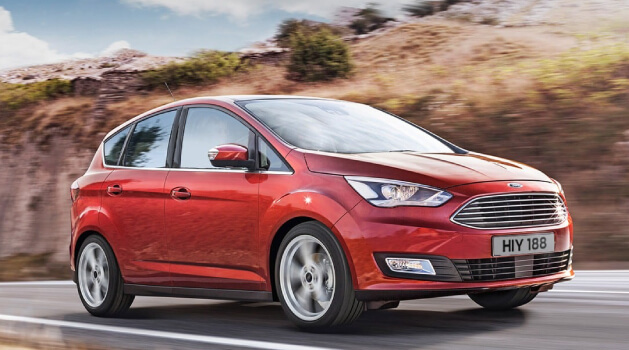 Peugeot 5008 (1st Generation)
As the sister car of the Citroën Grand C4 Picasso, the 5008 shares its core body structure and mechanicals with the model we mentioned earlier.
Because of this, all the traits are the same - it's still roomy, it's still extremely practical, and it's still easy to drive; all you have to do is decide which brand's styling you prefer, if you were going to pick between the two.
All models have fantastic standard specification, but Allure models are the ones to watch out for. Turbo petrol and diesel versions are available, and you have the choice between manual and automatic.
Radically updated in 2016, the 1st generation Peugeot 5008 is a great value used 7 seat family bus in the sub-£10,000 price bracket.
View Used Peugeot 5008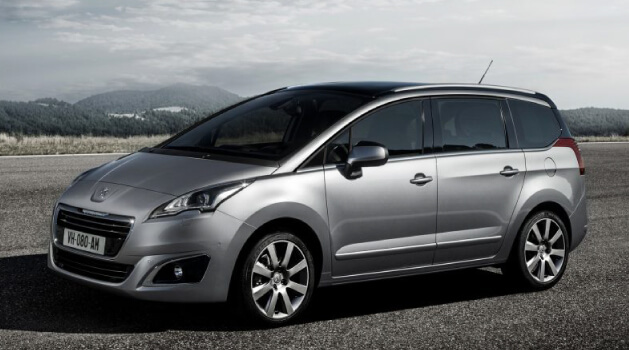 Citroën Grand C4 Picasso (2nd Generation)
In order to build on the success of the 1st generation Grand C4 Picasso, Citroën decided to take quirkiness and innovation to previously unseen levels in the family 7 seat MPV market.
With futuristic aesthetics on both the inside and outside, the 2nd gen Grand C4 Picasso remained popular right up until the point it was renamed the C4 SpaceTourer, which is still a great choice on the new market.
Back to the used market, and you can find lots of examples for well under £10,000, which is great value for what is an extremely practical and spacious MPV.
Most diesels are 1.6 litres in size, and they're incredibly economical to the point where you should regularly see 60+ mpg on the tripometer.
View Used Citroen Grand C4 Picasso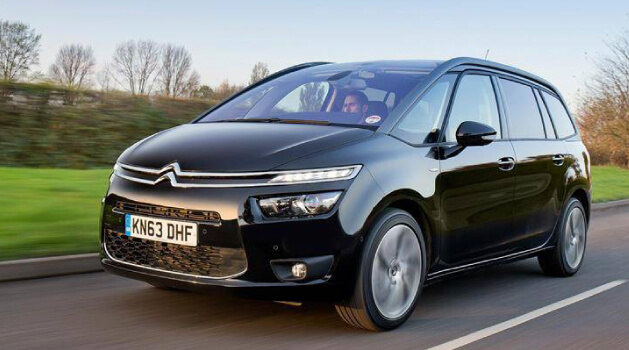 Vauxhall Zafira Tourer
Replacing the 2nd-gen Zafira was never going to be easy for Vauxhall as it was really, really popular.
However, in 2012, Vauxhall bit the bullet and launched the Zafira Tourer. It was larger, more spacious and had an even more ingenious seating system.
It had a more upmarket interior too, quality was much higher than on the regular 2nd-gen Zafira and spec was decent as well, with alloys, DAB radio, air con and cruise control all standard features on the Zafira Tourer.
There were a range of petrols and diesel versions - varying in size and economy - available when the car was new and you'll find a smattering of all of them on the used market. The most popular was the 1.6 CDTI diesel.
View Used Vauxhall Zafira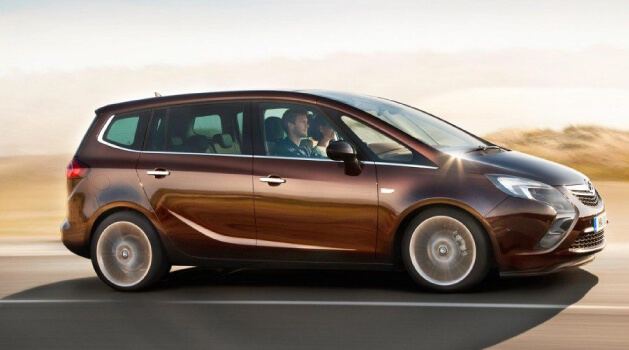 Renault Grand Scenic (3rd Generation)
Renault have always made stylish cars, and they carried that typical French design flair into the 3rd-gen Grand Scenic, easily making it one of the best-looking MPVs on the market.
It's not all style and no substance though, with excellent practicality typified by the 7-seat layout, super-spacious interior and a seemingly never-ending amount of storage spaces and cubby holes.
It came with a 5-star NCAP safety rating and the 1.5 dCi diesel models were brilliantly economical, especially on the facelifted versions from 2013 onwards (pictured).
Both manual and automatic versions were available, a Renault tie-up with TomTom means that most used Grand Scenics you'll find with have sat nav fitted as standard, which is a bonus.
View Used Renault Grand Scenic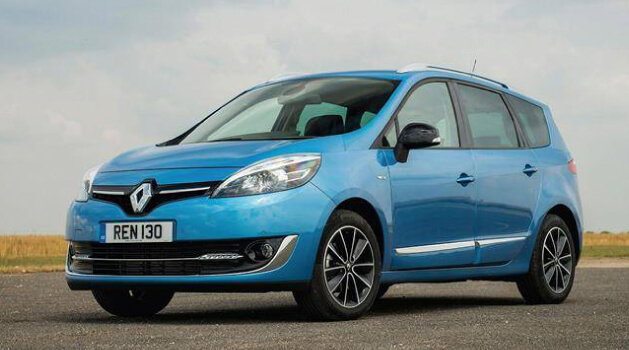 Volkswagen Touran (2nd Generation)
Volkswagen make some lovely cars and the Touran is no exception. The classy, unmistakable VW styling and solidly built German-quality interior made this a top competitor on the new market, and even more so in the used 7 seater arena.
All Tourans had a 7 seat arrangement as standard, and the high-up driving position gives drivers a commanding view of the road, and excellent all-round visibility is provided by the large glass windows.
Such is the build quality that the Touran is very quiet and comfortable, while the 1.6 and 2.0 TDI diesel engines give you great fuel economy and a lengthy amount of time between trips to the petrol station.
A choice of manual and DSG automatic gearboxes make this a great used 7-seat option.
View Used Volkswagen Touran
Kia Sorento (2nd Generation)
The only non-MPV in this list is the supremely handsome 2nd-gen Kia Sorento. It found favour amongst buyers as at the same time as its launch, Kia introduced their market-leading 7 year warranty, such was the confidence they had in the quality of their products - a confidence that remains today.
It's one of the most comfortable SUVs on the used market and space is plentiful. The majority of used Sorentos are 5-seat in configuration, but you should still be able to find plenty of 7-seat examples too. There's enough room in all three rows although accessing the rearmost seats is not as graceful as you would hope - it's fine for kids though.
The added benefit of the Sorento is that it's four-wheel drive, giving you increased stability and grip on the roads during the winter months.
View Used Kia Sorento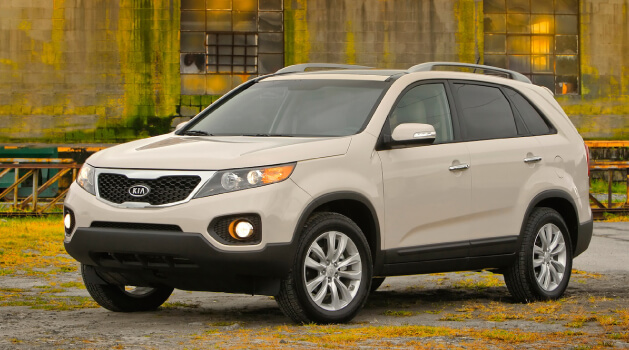 Most used 7-seaters you'll find for a £10,000 budget are MPVs, but even in this price range you'll be getting a modern vehicle with great safety tech and much improved driving characteristics over family buses from years gone by.
The SUVs in the list are more than a match for the MPVs and have the added benefit of optional four-wheel drive and the trendy SUV styling cues that are all the rage right now.