Oli Concept Shows Citroën's EV Thinking
29th Sep 2022
By Chris Russon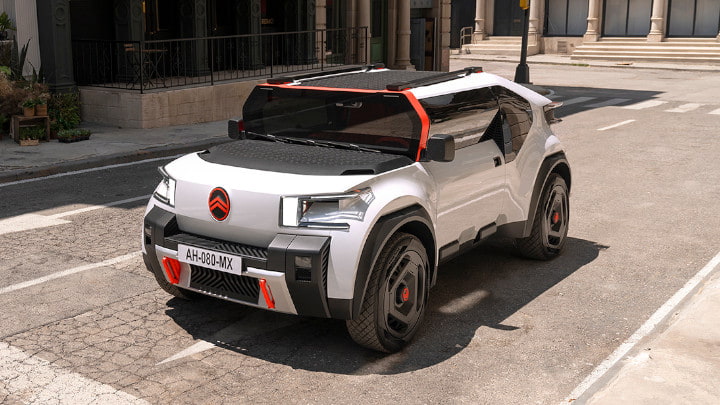 Citroën has revealed a radical take on electric motoring with the unveiling of its new Oli concept car.
With a range of up to 248 miles, the Oli is designed as a bigger brother to the Ami all-electric micro car.
The car maker's chief executive Vincent Cobee said: "We called this project 'Oli' as a nod to Ami, and because it sums up what the vehicle is all about – further proof that only Citroën can deliver no-nonsense, all-electric mobility to all kinds of people in unexpected, responsible and rewarding ways."
He said that the car – with its 4.3-metre footprint - proves that more is less and shows how eco-friendly materials can be used in cars of the future.
"Three societal conflicts are happening simultaneously - first is the value of and dependence on mobility, second is economic constraints and resource uncertainty, and third is our growing sense of desire for a responsible and optimistic future," added Cobee.
"A typical mid-70s family car weighed around 800kg and was 3.7m long and 1.6m wide. Today's equivalents have grown to more than 1200kg, at least 4.3m long and 1.8m wide. Some even weigh more than 2,500kg.
"Legal and safety requirements have driven some of this, but if the trend continues and we carry on parking these vehicles 95 percent of each day and driving 80 percent of journeys with a single occupant, the conflict between the need to protect our planet and the future promise of sustainable, electrified mobility will not easily be resolved.
"Citroën believes electrification should not mean extortion, and being eco-conscious should not be punitive by restricting our mobility or making vehicles less rewarding to live with. We need to reverse the trends by making them lighter and less expensive, and find inventive ways to maximise usage."
As an example of the Oli's eco credentials are the seats, which use 80 percent less parts than a conventional seat and are made of recycled materials with 'mesh' backrest designs that enhance the natural light inside the vehicle.
Citroën has limited the top speed of the Oli to 68mph to maximise efficiency, while rapid charging capability ensures a charge from 20 percent to 80 percent takes just 23 minutes.
Other 'out of the box' features that appear on the Oli include a roof capable of supporting a person's weight, a flat bonnet and a pick-up style arrangement for the cargo area.
Citroën's head of design, Pierre Leclercq, said: "We took a risk with Ami, and we are taking a risk with Oli because we need to push creativity for production. There's no sense in proposing cool materials or designs that will never influence future production vehicles."