Introducing the Citroën C5 Aircross SUV Hybrid
The Citroën C5 Aircross SUV Hybrid is a mid-size family vehicle with a plug-in hybrid drivetrain. Offering the combined virtues of both fully electric and combustion engine power, it allows you to transport the entire family safely, comfortably and of course efficiently.
Pairing a plug-in hybrid powertrain with the top-selling C5 Aircross SUV was a no brainer for the French manufacturer. With the choice of three driving modes - electric, hybrid and sport - drivers are placed firmly in control of their energy consumption at all times.
Delivering a relaxed, comfortable and enjoyable driving experience, the C5 Aircross SUV Hybrid serves up the best of both worlds in more ways than one.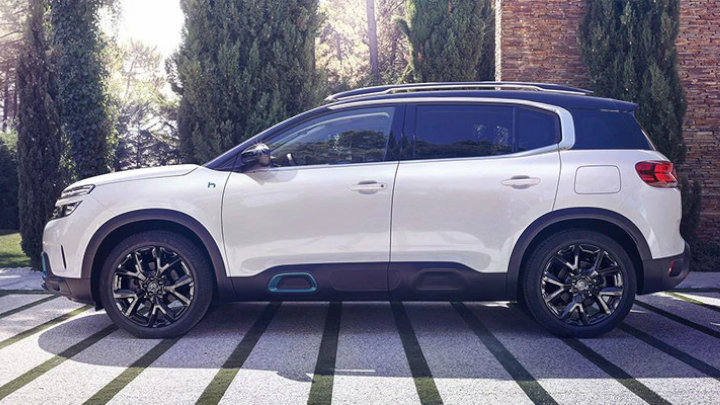 The C5 Aircross SUV Hybrid has an all-electric range of up to 31 miles, afterwhich the powerful but efficient petrol combustion engine will kick in to keep you moving.
This means you can complete shorter daily trips - like your commute, for example - with zero tailpipe emissions, but you have the freedom and flexibility of a petrol engine so if you wanted to trek to the other side of the country at the weekend, you can. There's no range anxiety whatsoever - when the electric range runs out, you simply drive it like a normal car.
With the electric motor and the combustion engine working together, power is an impressive 222bhp. Delivered through a silky-smooth 8-speed automatic gearbox, swift progress is both effortless and efficient.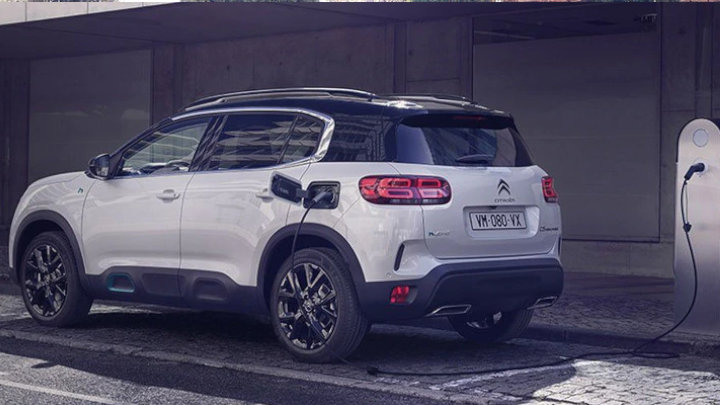 Charging the C5 Aircross SV Hybrid is fast, simple and easy to do. Using the on-board 7kW charger and a Wallbox (that can be installed at your home or workplace fairly simply in most cases), the hybrid batteries can be charged from empty to full in under two hours.
An innovative feature that helps reduce running costs and enhance convenience still further is the ë-Remote control service, found in the MyCitroën app. This gives you two main benefits:
Deferred charging -

set your C5 Aircross SUV Hybrid to charge during off-peak times, such as the middle of the night, when electricity costs less (tariff dependent).

Pre-conditioning - Providing the car has a certain level of charge, you can remotely activate the air conditioning to pre-warm or cool down the car's interior for you.
Test drive the Citroën C5 Aircross SUV Hybrid
The C5 Aircross SUV Hybrid offers all of the flexibility of a petrol or diesel-powered vehicle, but with a sizeable chunk of the benefits of owning an all-electric vehicle at the same time. Lower running costs, an enjoyable driving experience and a smaller carbon footprint are just some of the advantages to owning a plug-in hybrid vehicle like this one.
To experience all of these benefits first-hand, please book a test drive at your nearest Evans Halshaw Citroën dealership. For pricing information, please see our latest C5 Aircross Hybrid offers.