Introducing the new Citroën ë-C3
Introducing the new Citroën ë-C3, the first car to feature Citroën's brand-new design identity. What's more, this ground-breaking new ë-C3 is fully-electric.
Featuring typical bold design, a new interior ambiance and plenty of electric range, this is a car to get excited about and promises a more affordable way to get behind the way of a cutting-edge electric car.
Discover more about this attractive city car below.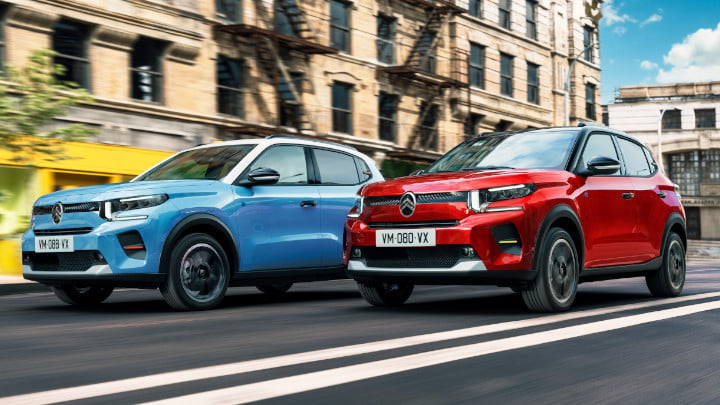 The fully-electric ë-C3 is Citroën's fourth generation of the brand's most popular car (Citroën C3) that has been ultra-popular since its first generation went on sale in 2002.
Evolving nicely with the times, this all-new model will be the first to showcase Citroën's all-new design and brand signature, the ë-C3 looks ready for the future, complemented by a new interpretation of the brand's iconic logo - the Citroën 'chevrons'.
It's also taller - offering decent practicality for a car of this size, and it's also bolder too, with distinct front and rear lights - with a nod to the Citroën Oli concept car.
The whole design ties together the flair and modernism of Citroën and promises to be an exciting city car bound to turn heads.
Citroën have always offered uncanny levels of comfort via their trick suspension systems, dating back to icons like the 2CV and DS. The ë-C3 carries on the tradition of setting standards in suspension and comfort technology by leading its class with Citroën's Advanced Comfort® Suspension, which includes Progressive Hydraulic Cushions® - giving a signature level of ride comfort to a wider audience.
Advanced Comfort® Seats feature in the cabin too, along with a new concept in interior design thanks to C-ZEN LOUNGE. This gives the car an innovative, spacious and well-equipped vibe that is sure to impress.
The instrument cluster has been reimagined too, with the ë-C3 being the first to use a new Citroën Head-Up Display that reflects vehicle information onto a glossy black section between the top of the dashboard and the bottom of the windscreen, ensuring vital information is in the field of view of the driver at all times.
This is joined by a central infotainment screen up to 10.25-inch depending on spec.
Being fully-electric, there is no engine in the all-new Citroën ë-C3, instead power is delivered via a 44kWh LFP (Lithium Ferro Phosphate) battery pack which can deliver up to 199 miles of WLTP range.
This is joined by a 114bhp (83kW) electric motor and a fully automatic transmission, which gives the car a 0 to 62mph time of around 11 seconds, with a top speed of 84mph.
This is a car built for darting around congested cities and offers more than enough performance for everyday city driving and coping with modern day traffic, perfect for urban and suburban environments.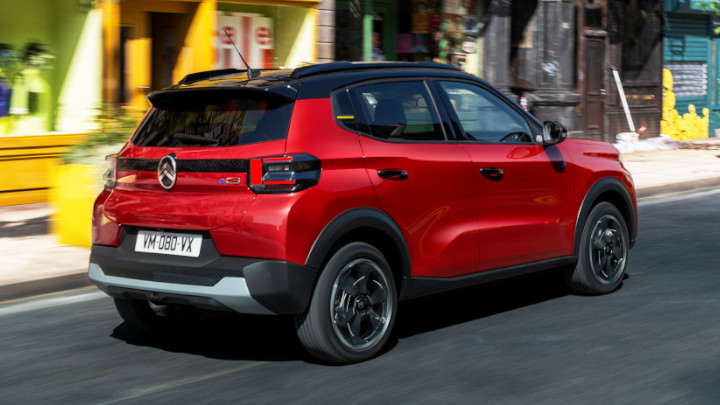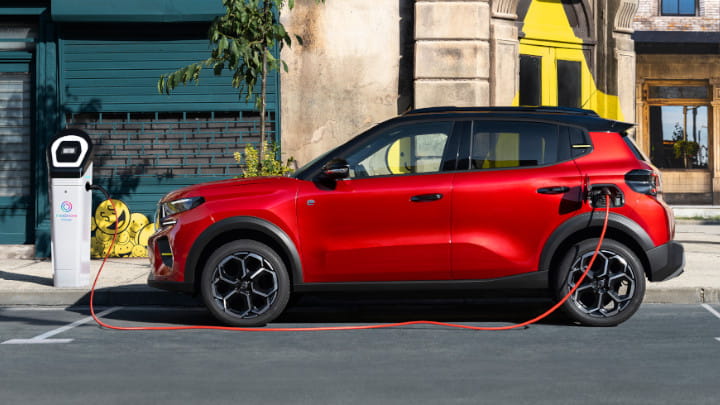 Being state-of-the-art, the Citroën ë-C3 will be at to cater for 100kW DC rapid charging, which will allow charging from 20 to 80 percent in as little as 26 minutes.
Meanwhile, standard AC charging will also be available with the car and ensure you can take range from 20 to 80 percent in around 4 hours and 10 minutes using 7kW power, or 2 hours and 50 minutes if 11kW is available (using the optional 11kW on-board charger).