Introducing the new Citroën ë-Berlingo Van
Say goodbye to extortionate inner-city charges as the new Citroën ë-Berlingo Van is 100 percent electric, producing zero tailpipe emissions.
As practical and as versatile as the conventionally-powered Berlingo Van, the electric version enables skilled professionals, traders and delivery drivers to avoid mobility challenges within congestion and emission zones in urban areas.
Not only is the ë-Berlingo cheaper to run than a petrol or diesel Berlingo Van, it's kinder to the environment when covering endless miles of road.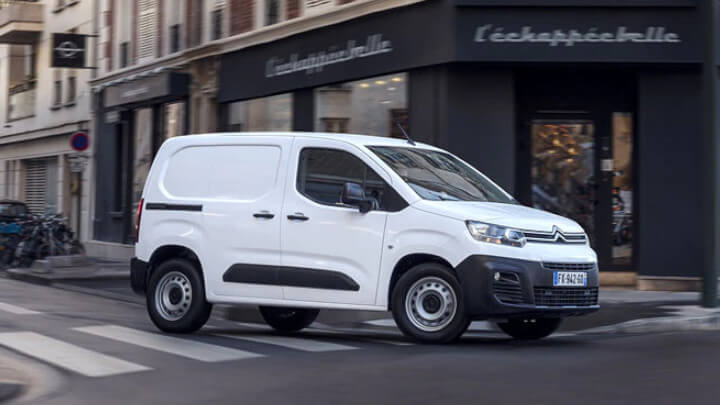 Removing the worry of entering different zones within urban areas, the ë-Berlingo Van produces zero tailpipe emissions, zero engine noise and ultimately; zero stress.
With an electric range of up to 171 miles, drivers can reach their destination with ease; whether they are heading across country or travelling within a city.
Equipped with the Extenso® cabin, which provides the ability to adjust accordingly; allowing the all-electric Berlingo Van to transport three people or to increase the load length up to 3.44m and therefore enhance overall load volume.
There's no compromise on loading capabilities, due to the battery being positioned in the chassis, and there's plenty of power too, with 134bhp.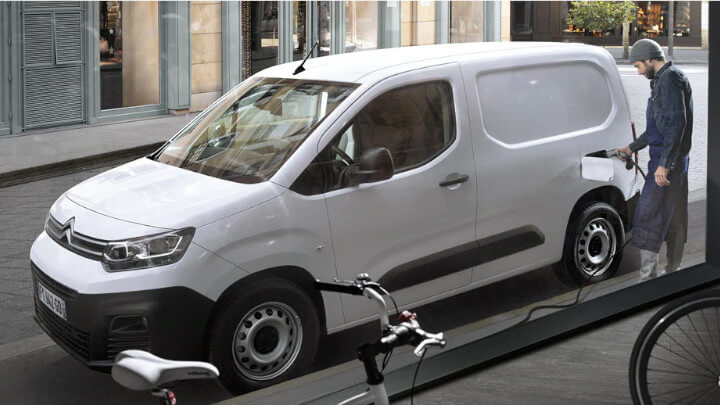 Several charging options are available, depending on individual circumstances and preferences.
The quickest method of charging is to visit one of the thousands of public charging stations, located around the UK. Using a 100kW public charging point can achieve an 80 percent charge, from empty, in just 30 minutes; perfect for if you're stopping at a motorway service station for refreshments.
If speed isn't your top priority but convenience is, then you can charge the ë-Berlingo Van at home or your workplace. A domestic 3-pin plug socket will take less than 15 hours to achieve a 100 percent charge or a faster option is to install either an 11kW or 7.4kW wall box at home or work as these can fully charge the electric van in either five hours or seven and a half hours respectively.
Test drive the Citroën ë-Berlingo Van
The Berlingo Van has always been a popular van with various professionals, traders and delivery drivers. It may be the smallest van in the Citroën commercial vehicle range but it sure is capable.
Building on the capability and practicality, the ë-Berlingo Van provides all the benefits expected with the petrol and diesel variants but offers a more environmentally-friendly option that's perfect for navigating inner-city emission zones.
Experience the new Citroën ë-Berlingo Van yourself by contacting your nearest Evans Halshaw Citroën dealership to arrange a test drive.