Introducing the Citroën ë-Dispatch
Take your business to the next environmentally-friendly level with the Citroën ë-Dispatch, a 100 percent electric van with an impressive driving range.
The ë-Dispatch makes no compromises when compared with its diesel-powered alternative, offering the same excellent load volume, load length and a more than usable payload.
Like the regular Dispatch, this version comes in three different body lengths, but because of its zero tailpipe emissions status you can access ultra-low emissions zones without any concerns about regulatory expenses.
On top of all the eco-friendly benefits, drivers will enjoy the smooth and near-silent drivetrain, with no vibrations or engine noise to get in the way of a peaceful (but busy) day.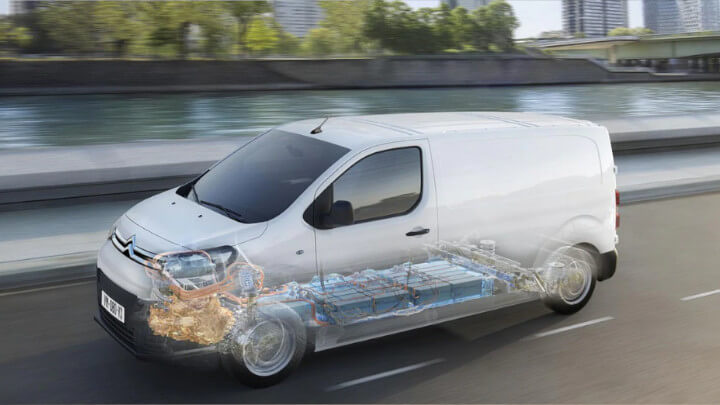 The Citroën ë-Dispatch has a 100 percent electric range of up to 205 miles, a figure proven in WLTP testing that better reflects the real world. This is only true of models fitted with the optional 75kWh battery; the standard 50kWh versions have a WLTP range of up to 143 miles, which is still a decent figure.
It's an impressive feat because the ë-Dispatch still offers a payload of over 1,200kg, up to 6.6m3 of load capacity and a useable load length of up to 4m (when fitted with the optional moduwork system). All this has been achieved by cleverly positioning the battery pack within the vehicle chassis.
Out on the road, the 134bhp electric motor serves up an enjoyable driving experience, with the 192 lb ft of torque instantly available at all speeds.
Introducing the all-electric Citroën ë-Berlingo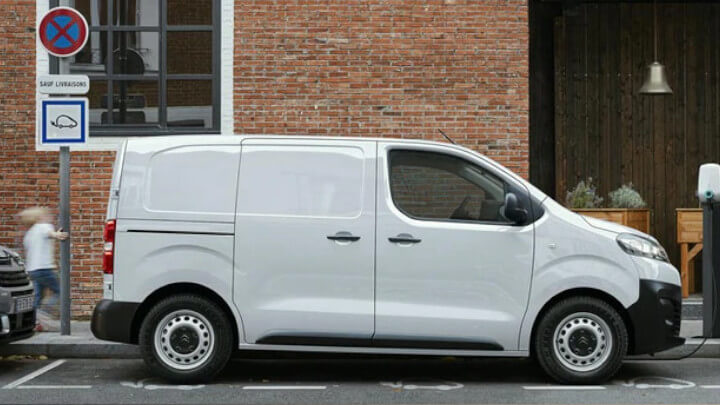 It takes as little as 30 minutes to charge the 50kWh ë-Dispatch by 80 percent, while the 75kWh model will take 45 minutes. This is thanks to the van's rapid charging facility, that enables it to make full use of 100kW public charging stations.
At home or in the workplace, there are two recommended charging options: an 11kW Wallbox and a 7.4kW Wallbox. Charging times using this system are:
11kW Wallbox
50kWh battery: 4 hours 45 minutes
75kWh battery: 7 hours 30 minutes
7.4kW Wallbox
50kWh battery: 7 hours
75kWh battery: 11 hours 20 minutes
Test drive the Citroën ë-Dispatch
The Citroën ë-Dispatch is the perfect commercial vehicle. It offers low running costs and an environmentally-friendly powertrain, but doesn't compromise on load volume or the distance you can travel in a day's work.
At Evans Halshaw, we're ready to help you take the next step towards reducing the carbon footprint of your business, with a broad range of excellent ë-Dispatch offers. To book a test drive, please contact your nearest Evans Halshaw Citroën retailer.