Looking to buy a hybrid or electric van?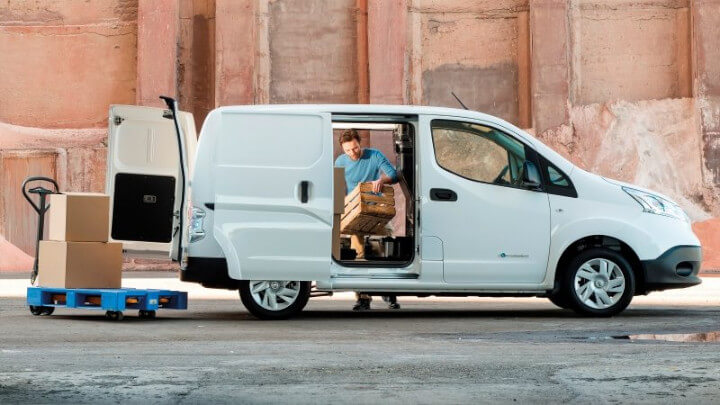 The costs of travelling between jobs in conventional internal combustion engine vans can be on the expensive side – this is where hybrid and electric vans shine.
There's a wide range of powertrains to choose from, with each offering impressive efficiency and cleaner means of travel. However, it's important for you to understand the differences and benefits of each so you can make an informed decision on which is right for you.
We've answered the most frequently asked questions and explained the different types of hybrid and electric vehicles available, as well as information regarding charging.
What are the different types of electric vehicles?
| | | | | | |
| --- | --- | --- | --- | --- | --- |
| | Internal Combustion Engine (ICE) | Mild Hybrid (MHEV) | Hybrid (HEV) | Plug-in Hybrid (PHEV) | Electric (BEV) |
| Powertrain | Internal Combustion Engine (ICE) | ICE + Electric Motor | ICE + Electric Motor | ICE + Electric Motor | Electric Motor |
| Charging | Not required | Not required | Self-charging | Plug-in to charge | Plug-in to charge |
| Tailpipe Emissions | approximately 130g/km + | approximately 100g/km + | approximately 40-100g/km | approximately 35-55g/km | Zero emissions |
| Road Tax* | £150 + | £150 + | £25-£150 | £10-£110 | Free |
| All-electric mode available | No | No | Yes | Yes | Yes |
*any vehicle (excluding BEVs) with a list price of £40,000 or above will occur an additional charge for five years, starting from the second time the vehicle is taxed.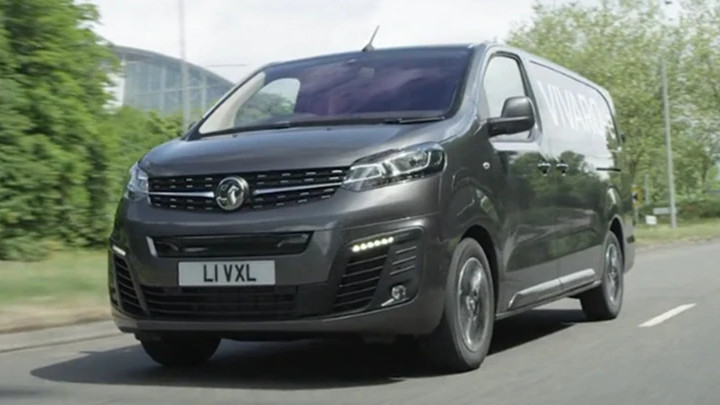 Hybrid vehicles are efficient in their own right and make the most of the fuel provided. However, to achieve the most miles per tank, you'll want to utilise the all-electric range that some vans offer.
Plug-in hybrid vans pair an electric motor with a traditional combustion engine to maximise efficiency. However, they may also offer a pure electric driving mode (approximately 20 to 50 miles) and, once the battery is depleted, the engine kicks in to assist.
Fully electric vans use nothing but electric power to complete your daily duties, offering impressive ranges. Examples include:
What are the advantages of hybrid and electric vehicles?
Cost Saving
Although initial purchase prices may be higher, you will reap the cost-saving benefits when it comes to fuel consumption, road tax, and often-cheaper maintenance.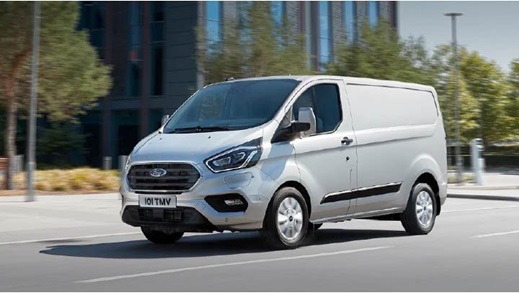 Greener Driving
Hybrid and electric vehicles are better for the environment as they release less or even no emissions, allowing you to enter low-emissions zones free of charge.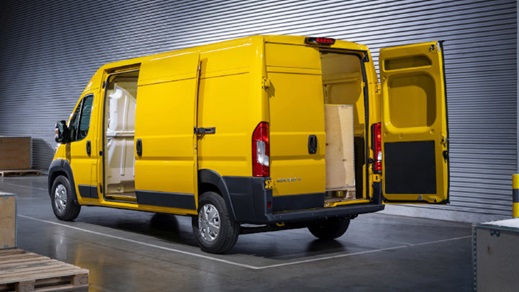 Practicality
Whilst gross payloads can be less due to the space taken up by the batteries, electric and hybrid vans are still more than capable of completing your daily duties with ease.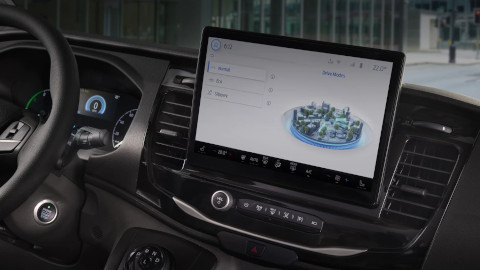 Intuitive Technology
Through use of cutting-edge gadgets and connected services, electric vans allow you to get the job done with minimal delay.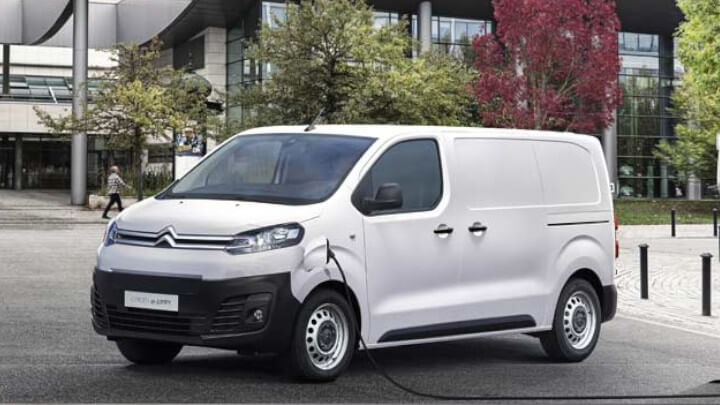 After a day of working hard, you'll probably want to relax and recharge your batteries, and so will your van. But don't worry, charging your plug-in hybrid or electric van is straightforward thanks to a network of public charging stations.
Public charging stations can offer rapid charging, meaning you can recharge whilst on a lunch break or doing the weekly shop at the end of the working day. If you don't fancy heading out to public charging stations, your vehicle can be recharged using a wallbox or a 3-pin domestic socket at home or back at base.
How long your van takes to charge depends on the size of the battery and what type of charging station you use.
Hybrid and electric van FAQs
How far can electric vans go?
All-electric range figures have significantly improved in electric vans, resulting in them becoming increasingly more capable of driving longer distances.
The answer varies depending on the vehicle, but the Citroën e-Disptach has a WLTP-approved driving range of up to 205 miles on a single charge, for example.
How long do batteries last in electric vans?
Van batteries are likely to last longer if you provide the right care, but it is anticipated they'll last around 10 to 20 years.
Overheating, overcharging, deep discharge and high discharge can all alter the life-expectancy of a battery in a van; just like with mobile phones.
For peace of mind, most manufacturers offer extensive warranties on their batteries.
Are electric vans boring to drive?
Surprisingly not. Electric vans are good fun to drive thanks to instant torque delivery from the electric motor, allowing you to get between jobs in a swift fashion.
The near-silent driving experience also allows you to relax in comfort after a hard day at work.
How much do electric vans cost to buy and run?
The initial purchase price of an electric van does tend to be higher when compared to an equivalent petrol or diesel vehicle. However, running and maintenance costs are noticeably less.
Especially if you charge your van at home or at work, the cost of electricity will be far less than the cost of fuel. Plus, you have the added convenience of not needing to visit a fuel station.
What's the payload like for electric vans?
Due to the added weight and space taken up by the electric equipment as well as the 3.5 tonne maximum gross vehicle weight (GVW) legal limit, electric vans usually offer less payload capabilities than their petrol or diesel counterparts.
However, the UK government allows category B (car) licence holders to drive a light commercial vehicle of up to 4.25 tonnes GVW in some circumstances if they're powered by alternative fuel. More information can be found here.
Why are electric vans better for the environment?
Due to the lack of an internal combustion engine in a fully-electric car, tailpipe emissions are non-existent. This also means you can benefit from the likes of free road tax and free access to emission zones in cities, all whilst being kinder to the environment.
How efficient are electric vans?
Electric and hybrid vans are often even more efficient than conventionally-powered alternatives.
Intelligent features such as regenerative braking, which captures and stores energy that's typically lost during braking, helps to enhance efficiency even further, which is ideal when travelling between jobs.
Are Government grants available for hybrid and electric vans?
Find your ideal hybrid or electric van with Evans Halshaw
Having a good understanding of the options available, as well as the benefits and costs of each, can make the decision-making process much easier when it comes to deciding whether to purchase an electrified van.
Our extensive range of new and used vans is home to a wide variety of excellent hybrid and electric vans, allowing you to find a vehicle that suits your daily tasks. If you fancy taking a test drive or would like more information, please contact your nearest Evans Halshaw dealership.