Best Van Lease Deals: September 2023
07th Sep 2023
New Van Leasing
Leasing a van through Business Contract Hire or Finance Lease can be a great option for businesses who want additional vehicular resources without large purchase invoices to deal with, or the hassle of selling the van when they're done with it. With a lease, all you have to do is hand it back to the finance company who you lease it from.
There are other benefits too, like guaranteed protection against van depreciation and the ability to customise your agreement to your exact requirements.
With manufacturers such as Citroën, Vauxhall and Renault offering commercial vehicles as part of their range, we've selected some of the best lease deals currently available.
The best vans available to lease include:
Ford Ranger Pick Up D/Cab Wildtrak 3.0 EcoBlue V6 240 Auto
£425.00 plus VAT per month with £14,875.00 plus VAT initial payment. 8,000 miles per annum, 60 Months Finance Lease.
When Ford announced the next-generation Ranger, plenty of ears perked up as it brought a fresh design and numerous new gadgets to the commercial vehicle world.
Improved off-road articulation, tougher materials, and a larger cargo area ensures the Ranger is ready for everything you have to throw at it. Ford has also acted on customer feedback and introduced clever touches such as an integrated ruler and clamp pockets, allowing you to turn the tailgate into a mobile workbench.
When travelling to and from jobs, the Ranger is as comfortable as they come, offering plenty of room and a variety of driver gadgets to make tricky manoeuvres easier. The 3.0-litre V6 engine is a potent performer too, offering plenty of grunt when times get more difficult.
Citroën Berlingo 1.5 BlueHDi M Enterprise Pro 100ps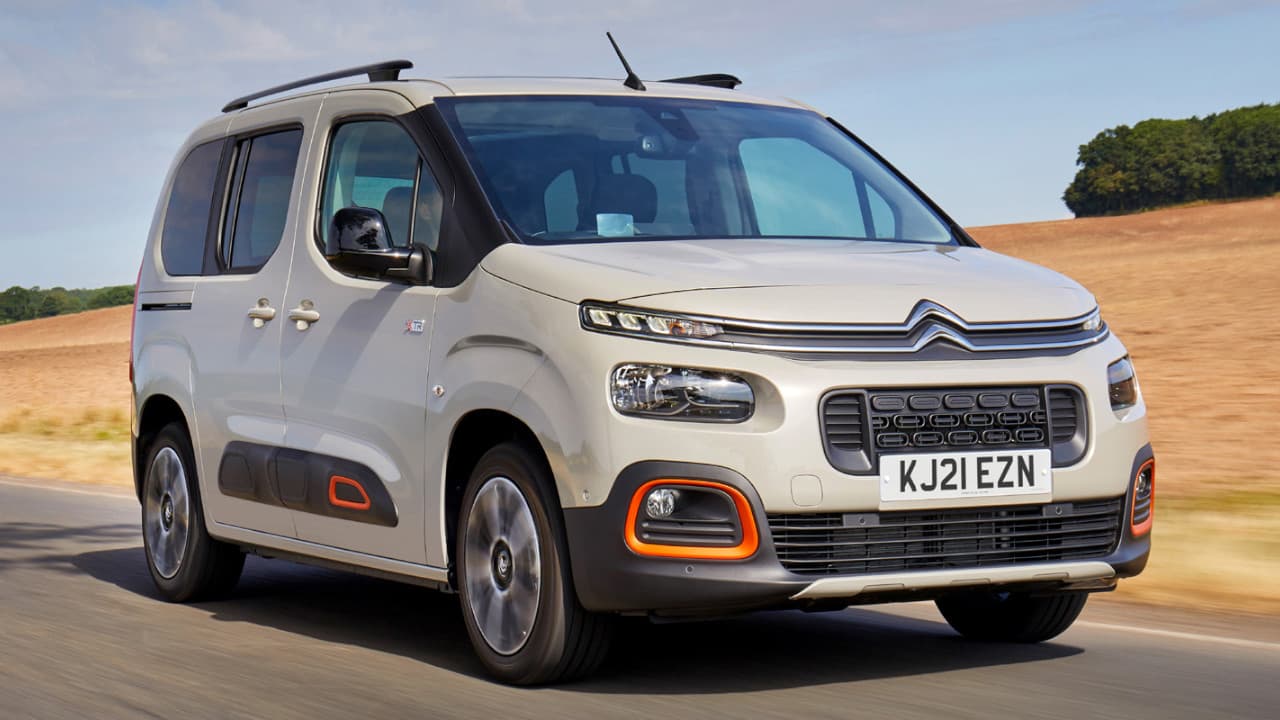 £305.00 plus VAT per month with £1,830.00 plus VAT initial payment. 8,000 miles per annum, 36 Months Business Contract Purchase.
Citroën is another brand that has been producing well-respected commercial vehicles for quite some time now, with its Berlingo van taking on popular rivals such as the Peugeot Partner and Vauxhall Combo.
The Enterprise Pro edition of the Citroën Berlingo van is available in this lease deal and offers plenty of features as standard, including cruise control, tyre pressure monitor, and Apple CarPlay and Android Auto.
Running costs are more than reasonable too, with the BlueHDI diesel engines offering best-in-class fuel efficiency figures as well as more than adequate levels of performance when moving heavy loads.
View Citroën Berlingo Lease Deal
Vauxhall Combo Cargo 2300 1.5 Turbo D 100ps H1 Pro Van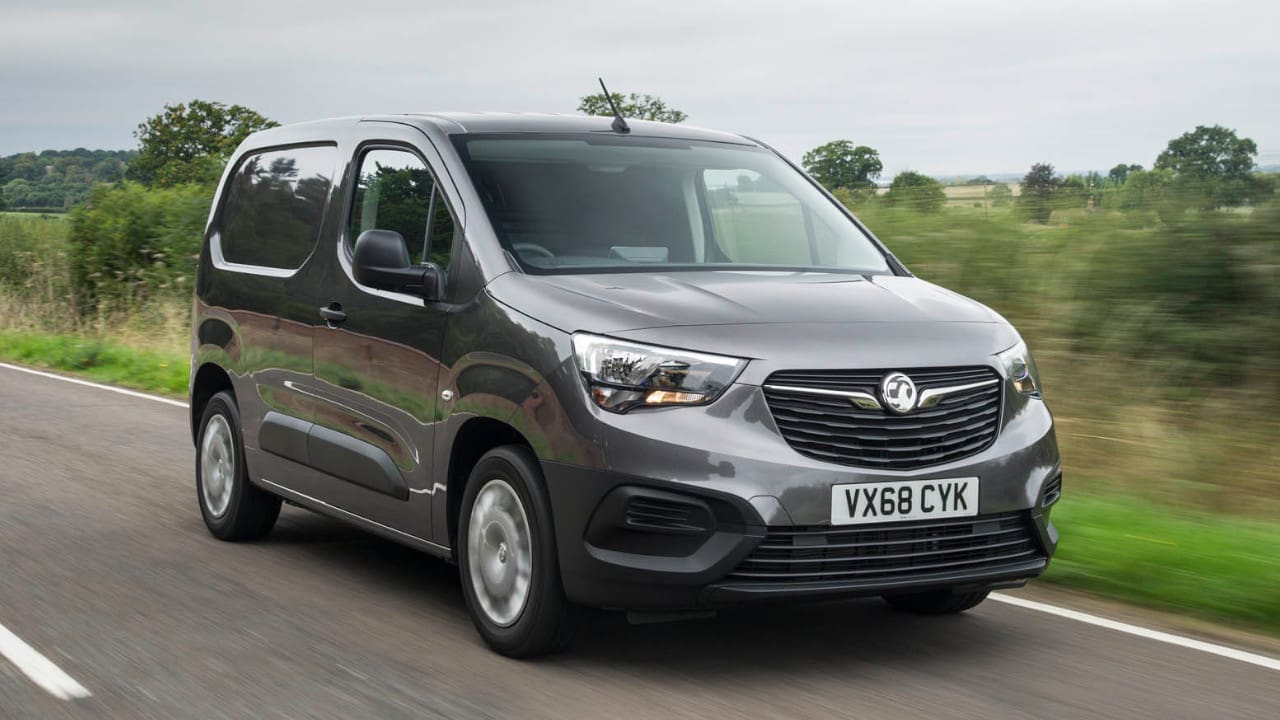 £349.00 plus VAT per month with £3,141.00 plus VAT initial payment. 8,000 miles per annum, 48 Months Business Contract Purchase.
If you're after a van that's not as cumbersome as others on this list, but still need something that's capable of transporting goods or equipment, then the Vauxhall Combo Cargo may appeal.
Rivalling the likes of the Ford Transit Courier is no easy feat, but the Combo Cargo does so thanks to class-leading fuel economy and a rigorous focus on additional equipment across the Combo range. Pro level vans offer the likes of an 8-inch colour touchscreen multimedia system and a FlexCargo Pack with Bench Seat to make your everyday working life easier.
1,000kg of payload, 15 storage compartments, and a large cargo space all ensure carrying gear is stress-free, allowing you to get between jobs in no time.
View Vauxhall Combo Cargo Lease Deal
Land Rover Defender 3.0 D250 Hard Top Auto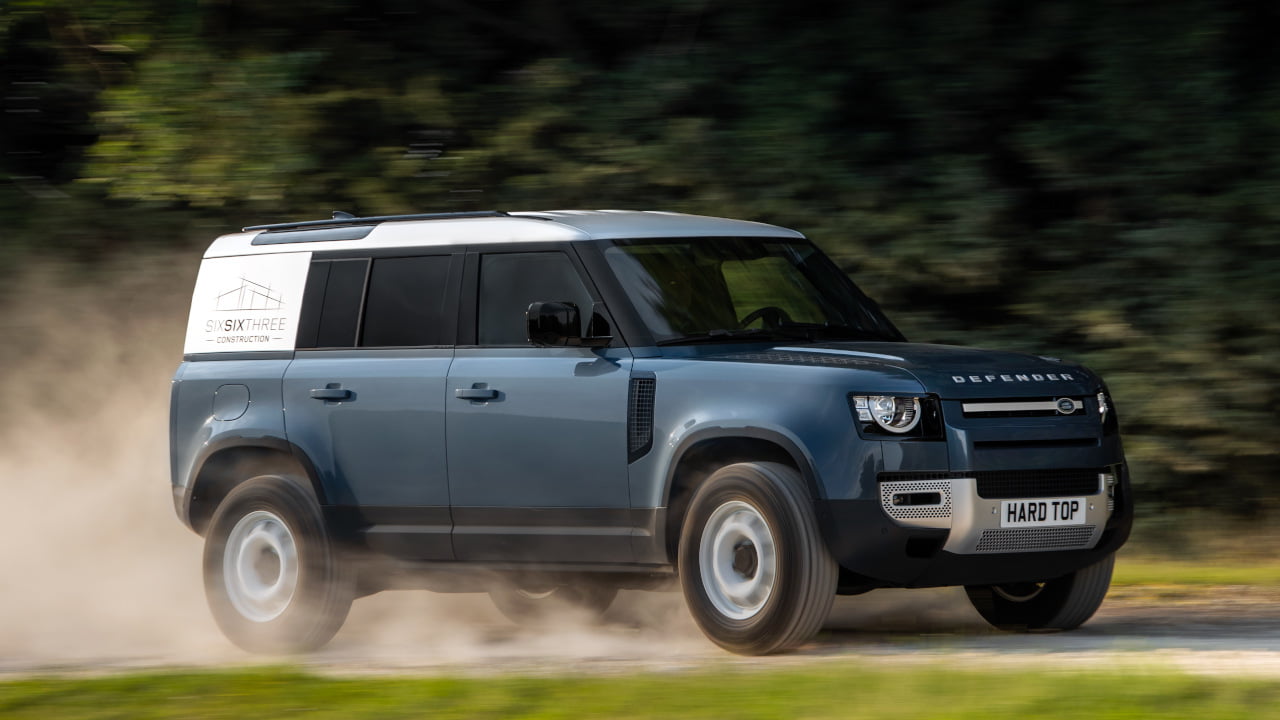 £695.00 plus VAT per month with £3,990.00 plus VAT initial payment. 10,000 miles per annum, 48 Months Business Contract Hire.
The new Land Rover Defender has been a huge hit with buyers not just in the UK, but all over the world thanks to a range of features such as the 3.0-litre mild hybrid powertrain.
Its distinctive styling, outrageously good off-road capability and refined driving experience all serve to make this one of the very best 4x4s money can buy.
The Hard Top variant is officially classed as a commercial vehicle, and because the backs seats have been removed completely, load capacity is more than decent with up to 2,059 litres of load space on this 5-door variant.
The cargo area has been lined with a hard-wearing rubber floor and is also equipped with lashing points, hooks and a full bulkhead partition for true van-like practicality.
View Land Rover Defender Lease Deal at Stratstone
Hybrid and electric lease deals
Ongoing development in powertrain technology means hybrid and electric vans are better than ever, allowing you to travel from job-to-job in an efficient manner.
Hybrid vans offer impressive fuel economy figures, meaning you'll spend less time at the pumps and more time working hard. If you're looking for the most eco-friendly means of travel, then an electric van may be of interest, offering practical all-electric ranges and short charging times.
We've selected our favourite electric van lease deals for this month below.
Ford E-Transit 135kW 68kWh H2 Leader Van Auto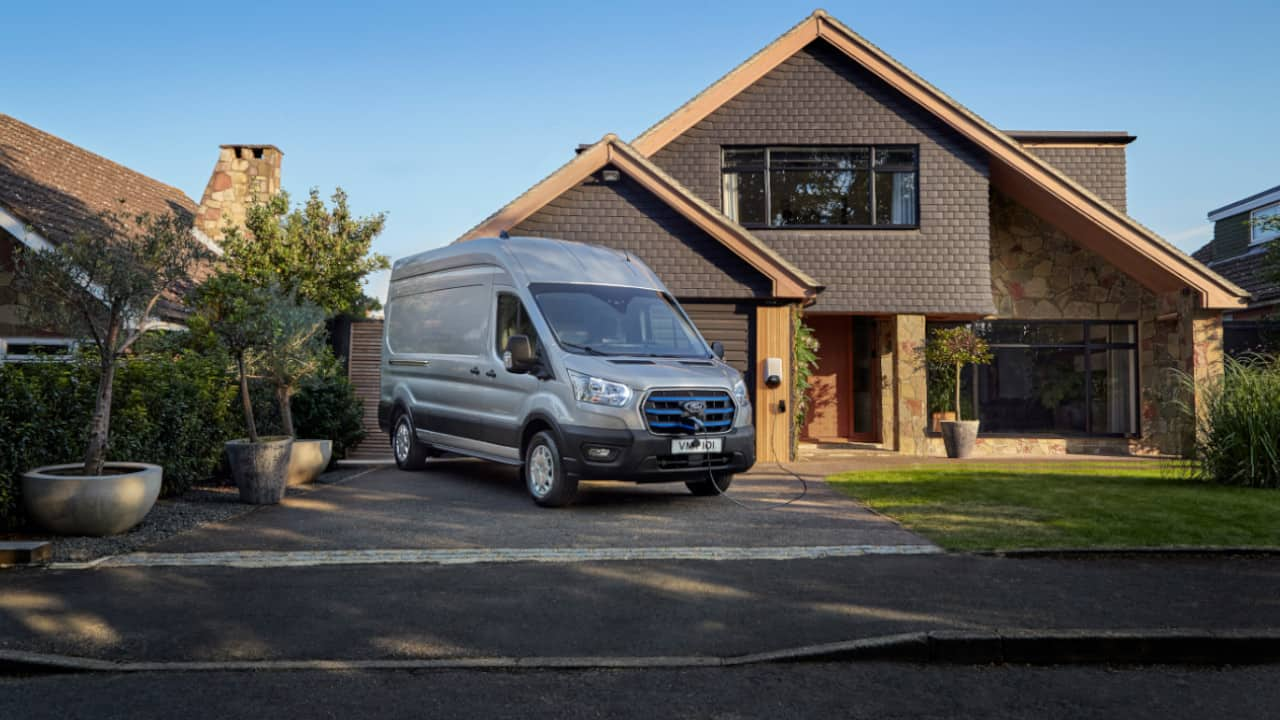 £299.00 plus VAT per month with £10,465.00 plus VAT initial payment. 8,000 miles per annum, 60 Months Finance Lease.
Arguably the most iconic van within Ford's ranks, the Ford Transit has long been a popular choice amongst many business users. However, the latest generation just got better, thanks to the introduction of an emissions-free all-electric E-Transit variant.
There are a plethora of configurations to choose from to suit differing business needs, but this particular lease deal includes the 'Leader' specification, which comes with additional equipment to get the job done. With a large 68kWh battery, all-electric range stands at around 200 miles, allowing your business to stay on the move.
When you do need to recharge, it can be done back at base or out and about. When using a Ford wallbox, a full charge takes around 8 hours, but visit a 115kW public charging station and charging times are significantly reduced to just 34 minutes for a 15 to 80 percent charge.
View Ford E-Transit Lease Deal
Vauxhall Vivaro 3100 100kW Prime 75kWh H1 Van Auto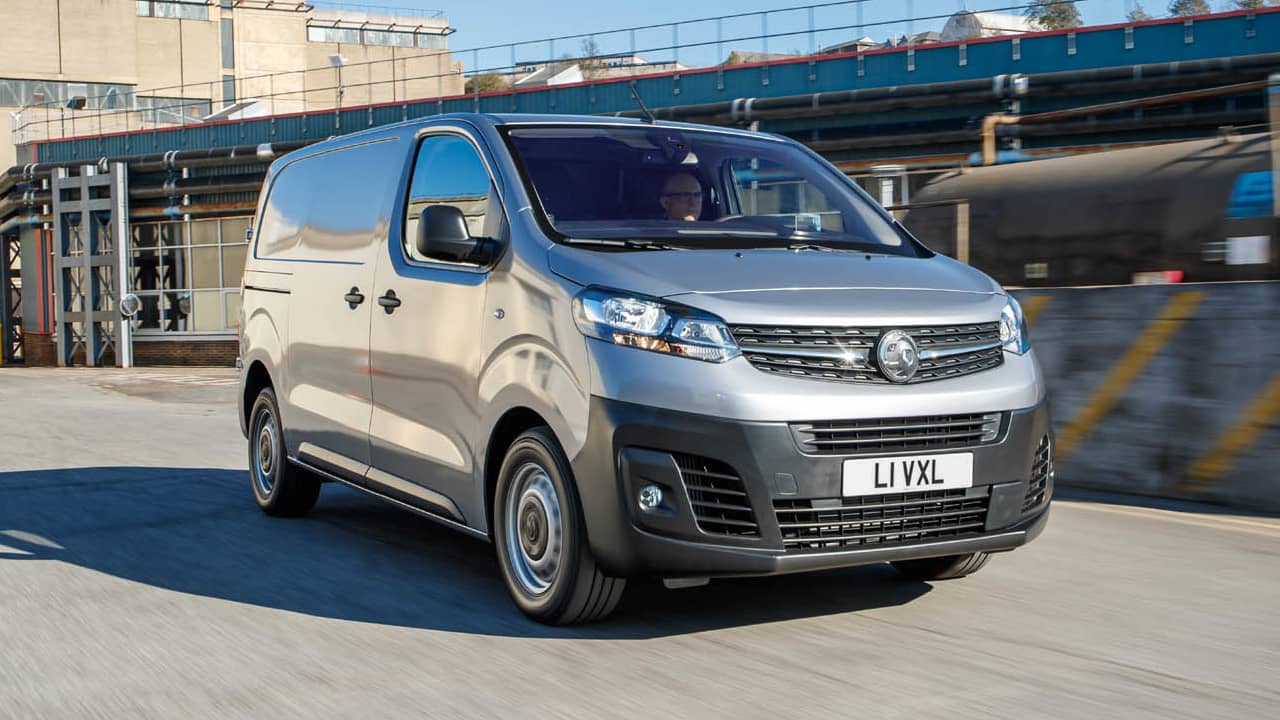 £609.00 plus VAT per month with £5,481.00 plus VAT initial payment. 8,000 miles per annum, 48 Months Business Contract Purchase.
The final addition to this list is another Vauxhall van, the Vivaro, which is available in this lease deal in the Prime trim, offering a wide array of features and equipment.
This includes a 3.5-inch digital instrument cluster, drive mode selector, daytime running lights, cab soundproofing, rear parking distance sensor, and electric front windows.
The Vivaro is an all-round great option for those that want a solid, dependable van to use on a daily basis. And with good fuel economy too, there are plenty of reasons to go for a Vauxhall Vivaro as your next van.
View Vauxhall Vivaro Lease Deal
Find your perfect van lease deal at Evans Halshaw
Representing the majority of Europe's most popular commercial vehicle brands, we have a wide range of van leasing offers for you to choose from.
Once you've chosen a vehicle and decided to make an enquiry, our dedicated commercial vehicle sales specialists will take you through the ordering process step-by-step with expert advice along the way.
Please be aware that all offers are subject to change and all photographs shown are for illustration purposes only. Terms and conditions apply, for further details please visit each individual offer.
More on vans from Evans Halshaw