Why buy a car-based van?
Car-based vans are useful if you only really need a car, but regularly carry tools, relatively small equipment or products that would otherwise damage the interior of a car quite easily.
These vans provide far more load space than a car too, with the absence of back seats opening up a significant amount of extra cargo capacity. Load volume of the Fiesta Van is more than 200% higher than the regular hatchback model.
You'll notice the driving experience is better than a ground-up commercial vehicle, with the car-like handling, comfort and interior features all designed with retail car buyers in mind. Fuel economy is another benefit; the lightweight size, compact dimensions and efficient engines saving you money with every trip compared to a mid-size or even a small van.
Who are car-based vans suitable for?
Car based vans are particularly useful for businesses that carry out their work in towns and cities or travelling between houses:
Pharmacists
Florists
Site managers
Bricklayers
Care workers
Farm dentists and vets
Cleaners
Delivery drivers
Sports therapists
Ford Fiesta Van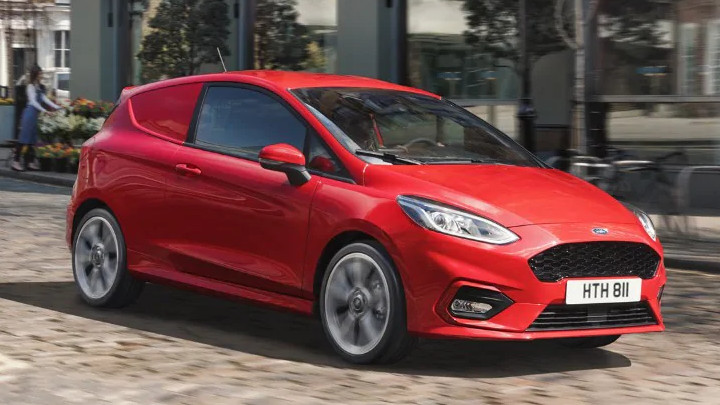 Available with both petrol and diesel engines, the Ford Fiesta Van offers you the choice dependant on your personal circumstance or preference. With the petrol engine producing 125 PS and the diesel 120 PS, the Fiesta Van has plenty of oomph. High power is at no detriment to the all-round cost of ownership however, with mpg high and Co2 emissions low.
The Ford Fiesta Van benefits from Ford SYNC 3 with voice control and an 8" touchscreen as standard. Additional standard features include air conditioning, a full-size spare wheel and 16" alloy wheels in 'Sparkle Silver' finish. The option to upgrade to the 18" 5x2-spoke alloy wheels in 'Rock Metallic' finish is also available.
Latest generation Ford technology includes cruise control that can adapt automatically thanks to the built-in RADAR sensor. A specialised Lane Keeping System teams up with the Blind Spot Information System (BLIS) to offer an additional level of safety on the motorway.
Search New and Used Fiesta Van
Renault ZOE Van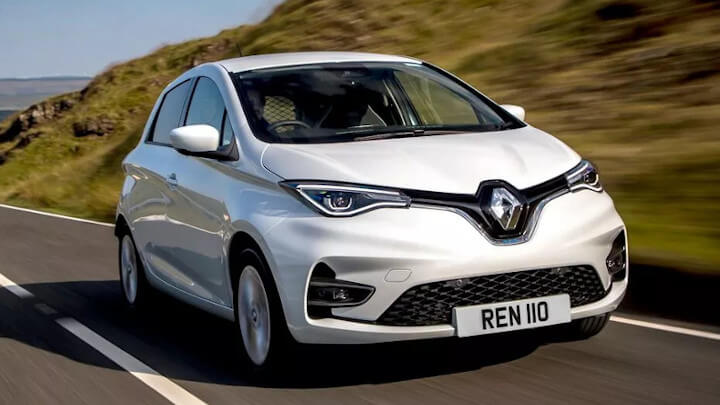 Derived from the brilliant and popular ZOE electric car, the ZOE Van is the first fully electric car-based van to go on sale in the UK. Renault know a thing or two about electric vans, with the Kangoo Z.E. already a firm zero-tailpipe-emission favourite among businesses who want to reduce their carbon footprint.
Fitted with a sizeable 50kWh battery, the ZOE Van is able to travel up to 245 miles on one charge according to WLTP testing. In the real world, that translates to around 233 miles in the summer and 150 miles in the winter, depending on how the van is used. Charging can be done at home or the workplace, with the battery going from empty to full overnight.
The battery isn't the only thing that's large, with the ZOE Van providing a full 1m3 of loading space under its load compartment cover. The maximum payload is a useful 457kg (depending on the specification) which means you can carry all the tools and equipment you need without using a single drop of diesel.
Search New and Used ZOE Vans
Vauxhall Corsavan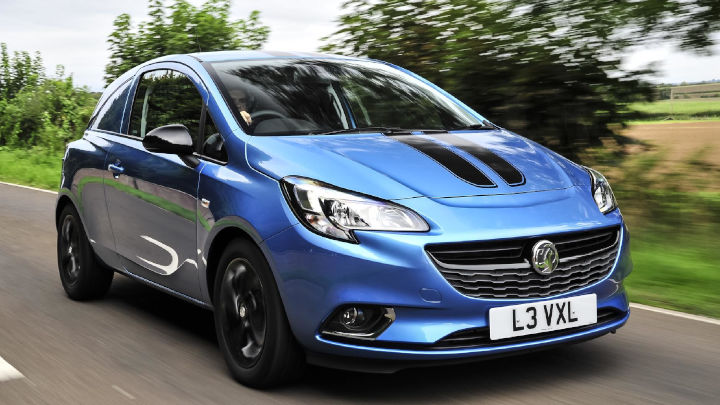 While you can no longer buy the Corsavan from new - it has been replaced by the fantastic Combo Cargo - there are still plenty of used examples around to snap up. You'll be able to find both petrol and diesel versions of what is still an excellent van, as well as both manual and automatic versions too - perfect if you envisage spending time in city centres.
The Corsavan is well-equipped with modern features including Bluetooth hands-free mobile phone connectivity with music streaming and USB connection. Standard tech also includes hill start assist, an anti-lock braking system and a full-size steel spare wheel.
It offers a greater payload than its long-term rival, the Fiesta Van, although load space is slightly lower at 0.92m3. Load length is slightly smaller, too.
Search Used Vauxhall Corsavan
Technical Comparison
Here's how all the car-based vans stack up against each other in a number of key areas:
| | | | |
| --- | --- | --- | --- |
| | Ford Fiesta Van | Renault ZOE Van | Vauxhall Corsavan |
| Payload (kg) | 507 | 457 | 581 |
| Load space (m3) | 0.96 | 1 | 0.92 |
| Load length (mm) | 1300 | 1220 | 1257 |
| Load width (mm) | 1004 | 1000 | 969 |
| Load height (mm) | 806 | 880 | 921 |
| Min/max mpg | 52.3/85.6 | Up to 245 miles range | 52.3/83.1 |
| Min/max Co2 (g/km) | 87/120 | 0 | 91/128 |
| Max tow weight (kg) | 1000 | n/a | 1720 |
Find your perfect new or used car-based van
With so many benefits on offer, the car-based van is an excellent half-way house if you prefer to drive a car but need the extra carrying capacity and practicality of a van, without the requirement to carry large items.
For many, the Fiesta Van is still the default choice, especially with the Corsavan not available as a new vehicle any more. However, the new kid on the block, the Renault ZOE Van, is just as practical as the Fiesta Van while offering a compelling, zero-emission and cost-effective ownership prospect.
At Evans Halshaw, we stock all of these car-based vans as used and new vehicles (where available). Start your search for a new or used van today.