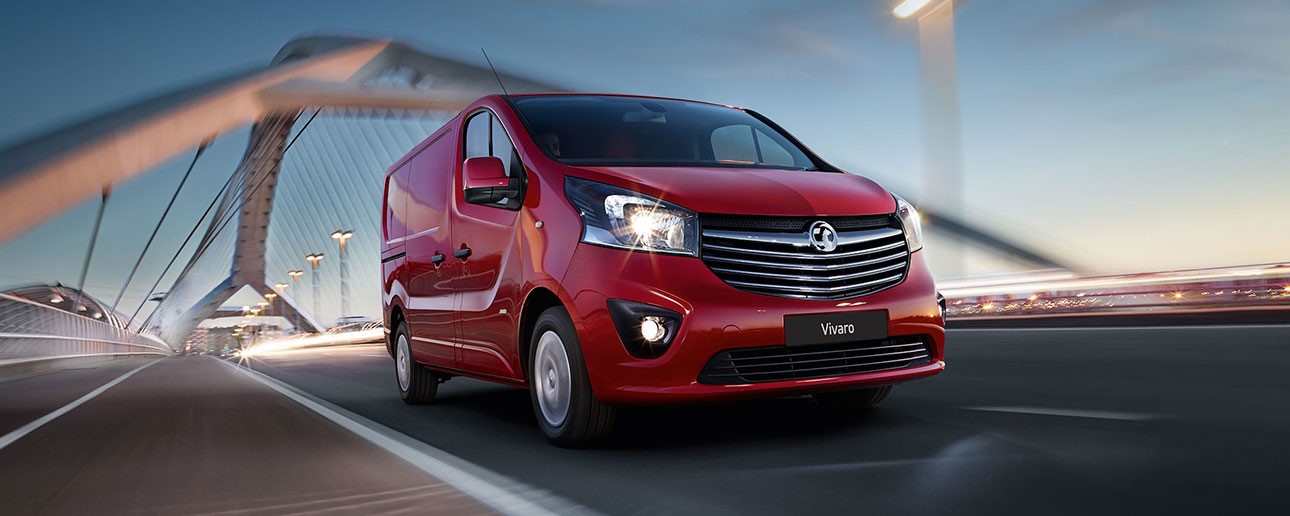 Some of the most popular vans are mid-size medium vans, mainly due to the extra load space which doesn't compromise fuel consumption, compared to a large van. These vans are more flexible, capable and adaptable than ever before, perfect assets to help your business move forward.
Citroen Dispatch
The Citroen Dispatch is available in three different body styles - the Dispatch Panel Van, the Dispatch Crew Van and the Dispatch Platform Cab. After choosing your body style, you'll choose your level of spec.

For the Dispatch Panel Van, you have the choice between three specs which offer various features including air conditioning, rear parking sensors, 17" alloys, cruise control and much more.

The Dispatch Crew Van offers two levels of specs including features such as front and rear parking sensors with a rear parking camera, Bluetooth®, USB, connect nav with connect box and 17" alloy wheels.

The Dispatch Platform Cab offers one level of spec including DAB, Bluetooth®, cruise control and much more.

The Citroen Dispatch comes in a whopping 27 versions of diesel BlueHDi engine specs, ranging between 95 and 180 bhp. The Dispatch includes a choice of gearbox types too including the state-of-the-art EAT6 automatic gearbox which combines an environmentally-friendly yet smooth driving experience. Of course, different engines are available dependant on the various load space which is categorised by S (small), M (medium) and XL (extra-large) abbreviations.
View New Citroën Dispatch
Search Used Citroën Dispatch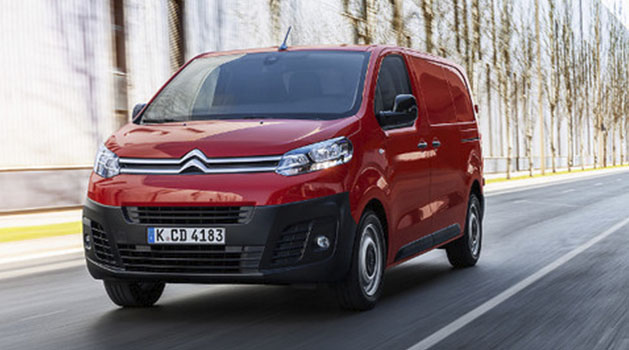 Peugeot Expert
The Peugeot Expert is available in two different body styles - the Expert Panel Van and the Expert Crew Van. The versions of your body range from compact, standard and long lengths at your preference.

After choosing your ideal body style, you'll choose your level of spec. For the Expert Panel Van, you have a choice of three different specs with various features including front and rear parking sensors with a rear parking camera, air conditioning, Bluetooth®, DAB and much more.

The Expert Crew Van body offers two levels of specification including 17" alloy wheels, Bluetooth®, USB, audio jack, rear parking camera and more.

The range of Peugeot Experts all come with BlueHDi diesel engines ranging from 95PS right up to 180PS. The length of the body along with all of these factors may affect your towing weight which ranges from 1000kg to 1400kg. In total there are 28 options of engine available with multiple choices of body and spec.
View New Peugeot Expert
Search Used Peugeot Expert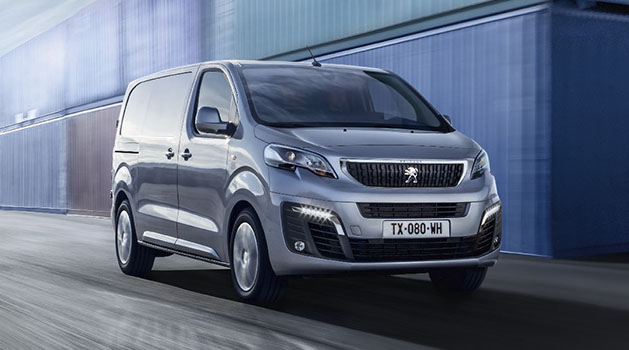 Ford Transit Custom
The Ford Transit Custom is the perfect companion for work on a daily basis thanks to its fantastic array of features. Available in three different body styles that all comfortably meet a number of requirements - the Custom also boasts a good number of trims to choose from, so you can tailor the van to meet your needs. Class leading load space of up to 6.8m3 on the long wheelbase version of the Custom make this van essential for those who need to transport large payloads on a daily basis.

The Transit Custom comes with a host of innovative technology as standard that really helps to take the stress out of daily driving. New SYNC 3 creates an effortless and hands-free experience by enabling you to stay connected while controlling your phone and satellite navigation system. A handy feature is the latest Trailer Sway Control technology that detects excessive movement from your trailer and gradually reduces your speed to avert the problem.

Thanks to the latest development in engine technology, the Transit Custom now produces more power while emitting lower emissions. The advanced 2.0-litre EcoBlue engines may be smaller than the 2.2-litre Duratorq engines, but they produce more power while meeting the new tough Euro Stage 6 emissions standards.
View New Ford Transit Custom
Search Used Ford Transit Custom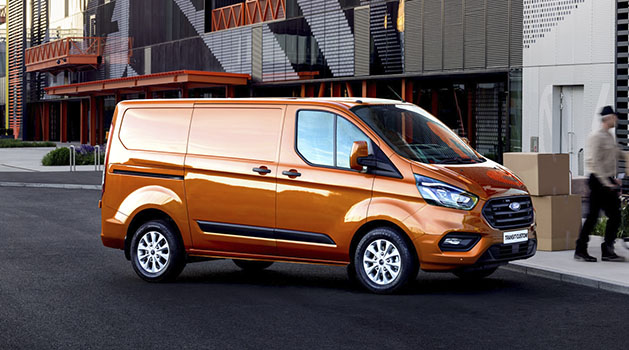 Vauxhall Vivaro
The Vauxhall Vivaro is the practical and efficient panel that is a fantastic office on wheels. There is guaranteed to be space in the back for everything you need thanks to the 1200kg maximum payload and 8.6m3 loading volume. The Vivaro is available in a variety of body styles and trims, meaning there is a Vivaro to suit every occasion and requirement.

A host of technology features throughout the Vivaro to make life easier and more convenient on a day to day basis. A Park Easy system makes reversing much safer and easier thanks to the rear-view camera that has been fitted at the top of the rear door. Maintaining a steady speed is easy work because of the cruise control with speed limiter; there is also a heated cabin setting that allows you to set a pre-timer on the heating inside the cab - essential for the winter months.
View New Vauxhall Vivaro 
Search Used Vauxhall Vivaro
Renault Trafic
The Renault Trafic is available in three different variants. The first variant is a standard 'Panel Van' that comes in either a short or long wheelbase with low or high roof - plain and simple, yet incredibly effective. The second variant is a 'Crew Van' that offers seating for six people alongside a generous amount of space to keep your tools - think of it as the perfect blend. The final variant is simply called the 'Passenger', which offers seating for up to nine people - essential for transporting a large of number of passengers at once. The Trafic comes in four different trims - allowing you to pick a spec list that best suits your needs.

Renault have borrowed expertise from their Formula 1 team to create the range of engines that sit under the bonnet of the Trafic. The efficient 1.6-litre dCi turbocharged engine has a range of variations that all offer excellent fuel economy and low emissions. The Trafic has been designed to be the perfect moving office, this can be seen through the technology Renault have opted for - cradles for smartphones and tablets are available, while the 14 storage compartments mean you'll have plenty of space for various pieces of paper work as well as bits and bobs.
View New Renault Trafic
Search Used Renault Trafic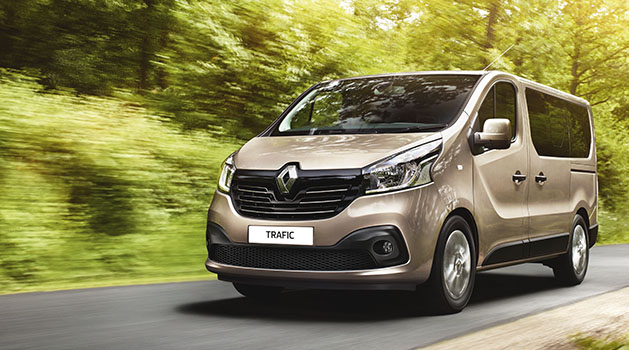 Nissan NV300
The Nissan NV300 is the medium sized van that is big on potential - it also benefits from a 5-year/100,000 miles manufacturer warranty. The NV300 is similar to the Renault Trafic as it comes available in three different body variants - a Panel Van, Crew Van and Combi Van respectively. Each variant is designed to offer excellent levels of practicality. There is plenty of storage under the seats for larger items, while there is plenty of flat space for your documents and laptop to sit.

The NV300 is packed with useful features that are designed to make each day easier than the last, NISSANCONNECT is the simple to use multimedia system that syncs with your smartphone - helping to keep you fully connected. A colour reversing camera is available, making maneuvering both safer and easier.

The efficient 1.6-litre turbocharged diesel engine is incredibly economical, and benefits from fuel saving features including start/stop technology and regenerative braking. A handy design feature of the Nissan diesel engine is the use of the two turbochargers - the first turbo produces a high level of torque at low speeds, while the second turbo ensures the power doesn't fall short before the red-line.
View New Nissan NV300
Search Used Nissan NV300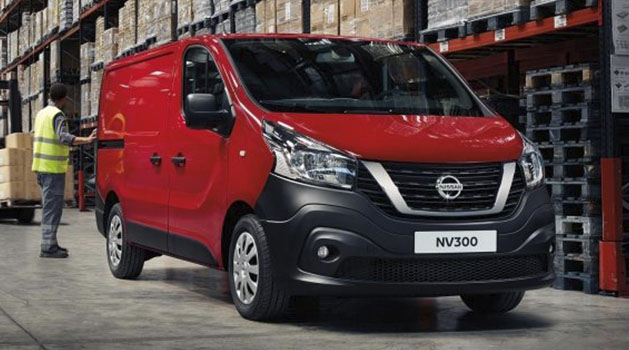 Compare the Best Medium Vans

| | Citroen Dispatch | Peugeot Expert | Transit Custom | Vauxhall Vivaro | Renault Trafic | Nissan NV300 |
| --- | --- | --- | --- | --- | --- | --- |
| Min/Max Payload (kg) | 1024/1400 | 1099/1617 | 595/967 | 989/1280 | 980/1459 | 963/1280 |
| Min/Max Load space (m3) | 5.1/6.6 | 3.2/6.6 | 1.2/4.4 | 1.8/8.6 | 3.2/8.6 | 5.2/8.6 |
| Max Load Length (mm) | 3324/4000 | 2162/2862 | 845/3400 | 1662/2937 | 1914/2937 | 2937 |
| Maximum Load Width (Between wheel arches, mm) | 1250 | 1258 | 1248 | 1662 | 1270 | 1270 |
| Min/Max Load Height (mm) | 1397 | 1397 | 1228 | 1387 | 1307 | 1898 |
| Combined Fuel economy (mpg) | 37.2/51.4 | 43.5/55.5 | 50.4/72.4 | 41.5/47.0 | 40.9/47.9 | 40.9/47.9 |
| Min/Max Towing Weight (kg) | 2500 | 1800/2500 | 1054/1300 | 750/2000 | 750/2000 | 750/2000 |
| Min/Max CO2 Emissions (g/km) | 139/155 | 133/176 | 103/133 | 155/175 | 155/175 | 155/175 |
Which medium sized van should you buy?
The Peugeot Expert has a substantially higher max payload compared to the other vans on this list. And with it being a strong performer in the other categories, it makes itself a worthy consideration.

However, despite having the highest payload, it is beaten to the punch by the Vauxhall, Renault and Nissan when it comes to sheer load space. It ultimately depends on what benefits you more as a professional.

The Nissan has a distinctive advantage when it comes maximum load height, essential for taller equipment. Although if you need the wider loading bay, then the Vivaro is the only place to look.

The Ford Transit is the most efficient, with better fuel economy and lower emissions that the other vans. However, it falls behind on towing capacity.

Ultimately, it depends on what your profession is. Each van brings a strength to the table and minimal cons.