Introducing the all-new Ford E-Transit Custom
Ford have embarked on the next phase of their electrification journey with the introduction of the all-new, all-electric Ford E-Transit Custom to their fleet of commercial vehicles.
As the emissions-free successor to one of the UK's best-selling small vans, the E-Transit Custom joins the E-Transit within Ford's range of hybrid and electric commercial vehicles.
The E-Transit Custom comes loaded with a variety of features that reduce the stress of day-to-day working life. With an all-electric range of up to 236 miles and convenient rapid charging solutions, new ground has been broken in the world of emissions-free commercial mobility.
Bold new styling and the latest in on-board technology complete the package, ensuring that the decision to go all-electric is as straightforward as ever.
Ford are yet to announce any official figures for the E-Transit Custom's carrying capabilities, but we can expect them to be similar to that of the existing internal combustion engine-powered Transit Custom.
It will definitely have full towing capabilities, however, allowing for additional pieces of equipment to be transported in a trailer if required.
The all-new E-Transit Custom has been designed and manufactured using the insight of existing customers and van users to ensure it fulfils the requirements of the widest variety of workplaces. Its dynamic, contemporary styling certainly looks the part, while features such as multiple access points make working life easier.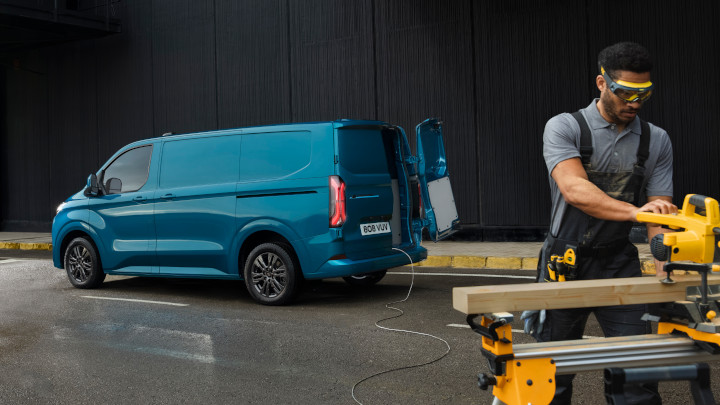 Using advanced technology to offer an unrivalled level of connectivity, the all-new E-Transit Custom allows the driver-van relationship to be 'always-on'. What you can expect is an immersive experience culminating in the highest levels of productivity and convenience.
Ford's ProPower Onboard Technology is a major talking point, allowing for tools, lights, and devices to be powered or charged while on site using the E-Transit Custom's power supply.
Furthermore, full LED lighting provides the greatest levels of visibility while out on the road, ensuring journeys are completed in the safest possible manner when light is reduced.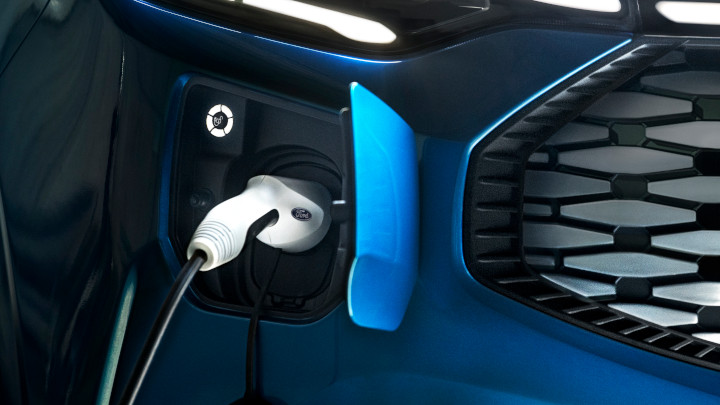 Designed to set a new benchmark within the one-tonne van segment, the new E-Transit Custom will offer an emissions-free powertrain and a near-silent driving experience, ensuring trips between jobs are relaxing and tranquil.
An extensive charging network and rapid charging solutions allow for recharging to be completed in insignificant times from a variety of locations, keeping your workforce ready and on the move.
Official performance figures are yet to be announced, but the all-new Ford E-Transit is expected to be able to travel up to 236 miles in one charge, which is highly impressive for an all-electric commercial vehicle.
The all-new Ford E-Transit Custom: coming soon to Evans Halshaw
The all-new Ford E-Transit Custom brings distinctive styling and a host of advanced features to the one-tonne van segment. With an impressive all-electric range and rapid charging solutions, all-electric commercial vehicle mobility just levelled up.
To keep up to date with the latest Ford E-Transit Custom updates as they're released, or to be first in line when orders open, please contact your nearest Evans Halshaw Ford retailer.