Best Large Vans to Buy
01st Dec 2021
Why buy a large van?
A large van offers a huge amount of practical space that's essential if you have heavy or cumbersome cargo that needs moving on a daily basis.
However, the best vans don't simply help you transport equipment from one place to the next, they also double up as a comfortable and efficient mobile office. It's also essential that they offer affordable running costs and won't set you back a great deal on servicing and maintenance.
To make life easier, we've highlighted the best large vans currently available, regardless of whether you want a new or used example.
Citroën Relay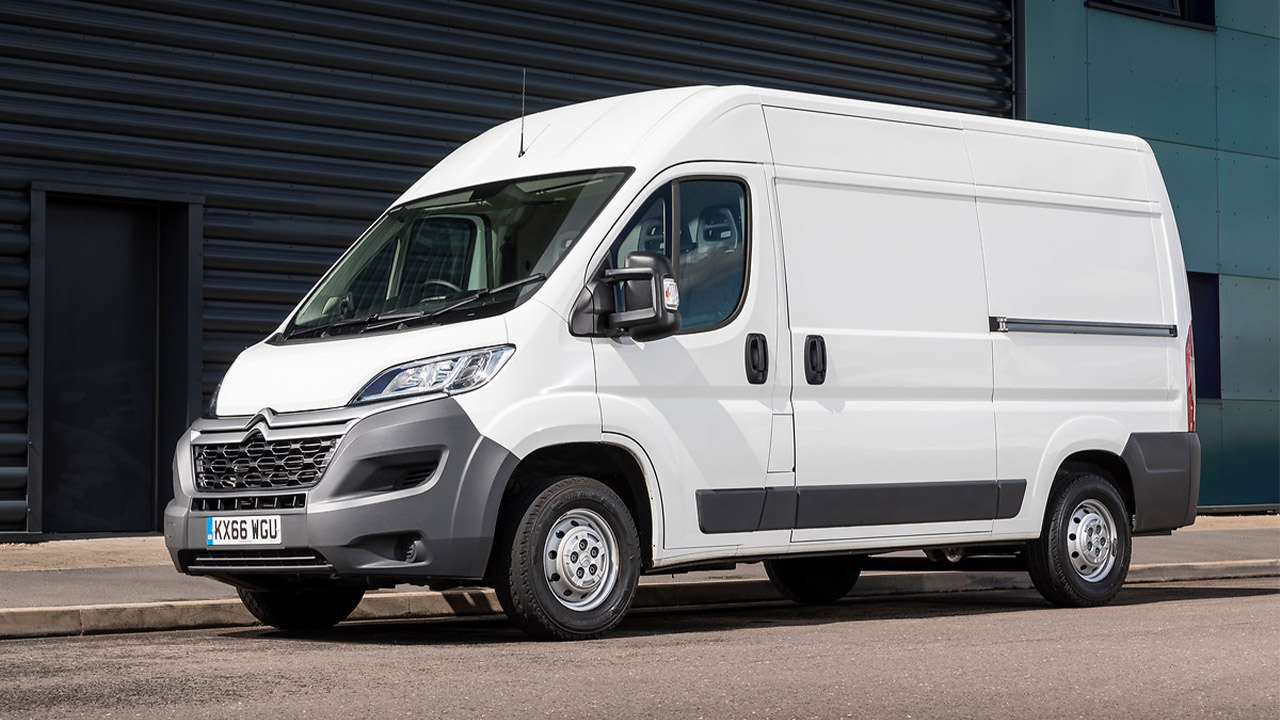 Offering a huge amount of versatility, the Citroën Relay is a great choice if a large loading bay and a comfortable cabin are top priorities.
In essence, there are four lengths and three heights for you to choose from when configuring a new Relay. If you're searching through the used van classifieds, you'll want to take this into account since it gives you more flexibility. The biggest version of the Relay has a 17 cubic metre load volume for reference.
True to the Citroën badge, the Relay is a comfortable van to drive thanks to its supportive seats and quiet cabin. Various storage comparts are dotted around the interior for maximum convenience, while a refrigerated glovebox is a welcome feature.
DAB radio and Bluetooth connectivity come as standard on the Relay, but it's worth seeking out higher-spec models as they get luxuries like cruise control, rear parking sensors and air conditioning. There's even an electric version, called the ë-Relay, should a greener van appeal.
View Citroën Relay Offers
Search Used Citroën Relay
Peugeot Boxer
The Peugeot Boxer shares a lot of similarities with the Citroën Relay above. It's available in a choice of four lengths and three heights, and features a comfortable cabin.
The driver's seat can be fully adjusted, while a lumbar adjustment function and armrest contribute to increased levels of comfort. The storage compartments that feature throughout the interior add up to a total of 73 litres; more than enough for general storage on a daily basis.
Peugeot have made strong efforts to ensure the Boxer range is incredibly easy to load and unload. The rear doors open at angles between 96 and 270 degrees, while the load sill sits noticeably low, which proves useful when loading heavier objects. With a host of safety features and some efficient engines to choose from, the Boxer is a fantastic companion for work duties.
In addition to the above, the Boxer is available with an all-electric drivetrain, and is aptly called the e-Boxer (pictured above).
View Peugeot Boxer Offers
Search Used Peugeot Boxer
Ford Transit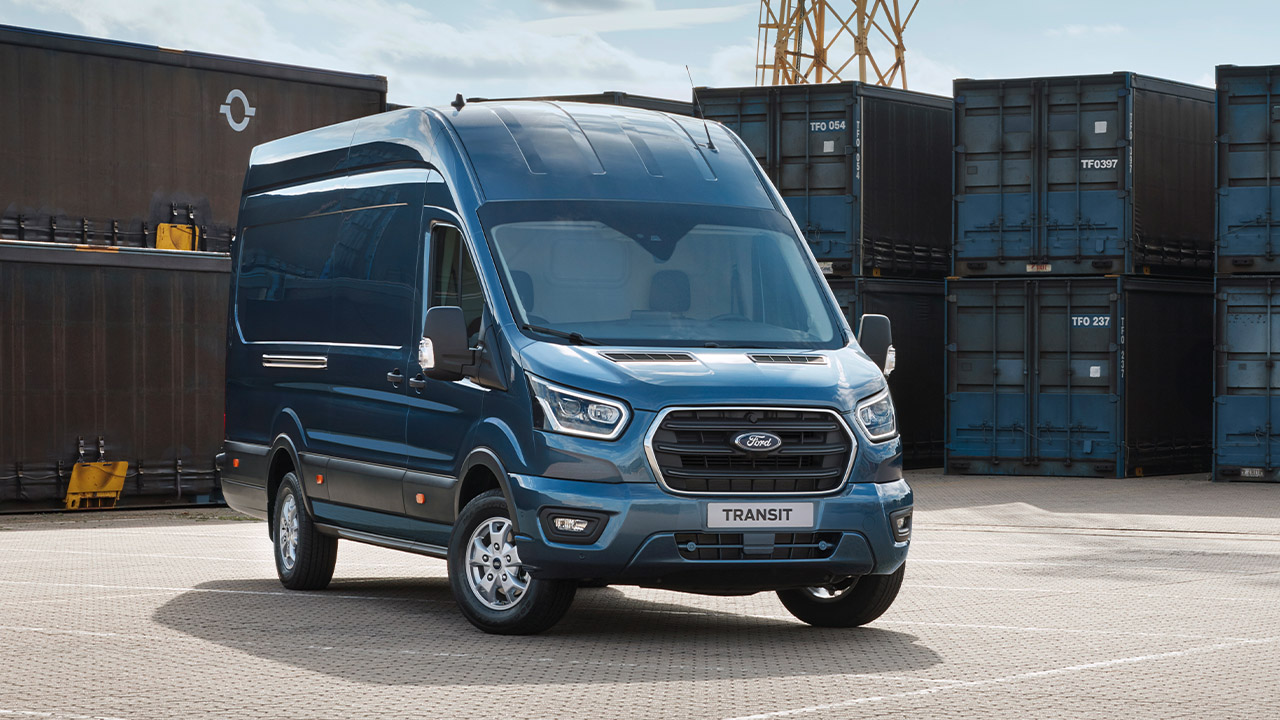 There's a reason the Ford Transit is one of the best selling vans of all time. Affordable running costs, dependability, practicality; those are just some of the Transit's best traits.
With a braked towing capacity of up to 3,500kg and 270-degree opening rear doors, the Transit is well-equipped for heavy work. If you need to transport even heftier cargo, then the 5T variant has a gross vehicle mass (GVM) of 5,000kg. As a result, it can carry a payload of up to 2,457kg.
Under the bonnet you'll find the latest in advanced diesel engines, the Ford EcoBlue 2.0-litre TDCi diesel engine comfortably complies with the stringent Euro 6.2 emissions standards. As you'd expect, Ford have developed an all-electric version of the Transit, which is called the E-Transit, and possesses a range of up to 217 miles.
Inside, you'll find the brand's excellent SYNC 3 infotainment system, which is joined by driver aids and safety features such as Roll Stability Control, Trailer Sway Control and Electronic Stability Control.
View Ford Transit Offers
Search Used Ford Transit
Vauxhall Movano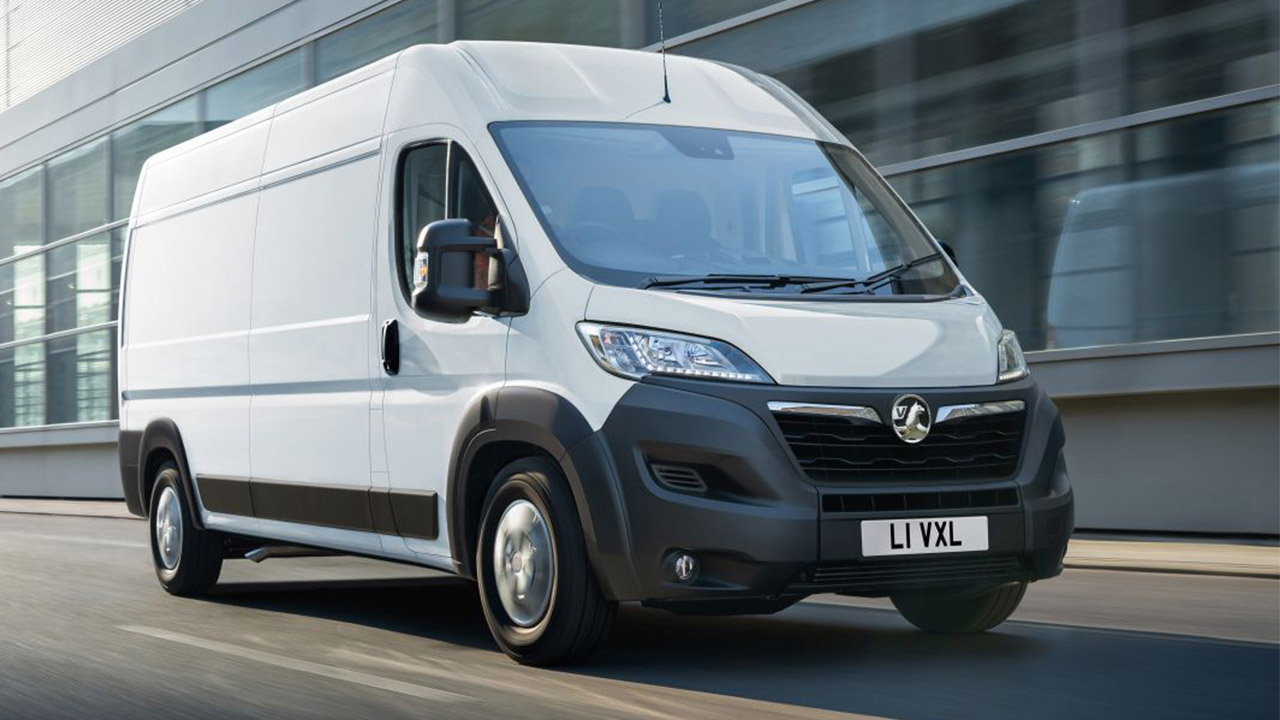 Offering a high payload capacity alongside a robust design and comfortable driving experience, there can be no denying the credentials of the Vauxhall Movano.
The Movano is available in three different lengths and three heights. For reference, the smallest configuration offers 7.8 cubic metres of space, while the largest specification gets a gargantuan loading volume of 17 cubic metres.
Power comes courtesy of a 2.2-litre diesel engine, with outputs ranging between 118bhp and 163bhp. Some models feature start/stop technology, which is worth going for if you spend a lot of time in heavy traffic.
With service intervals of 2-years/25,000 miles, you should find maintenance costs pretty reasonable. Go for an electric Movano-e and you'll save on fuel whilst enjoying a more eco-friendly experience.
Movano Edition models come with DAB radio and Vauxhall Connect as standard, whilst higher-spec Dynamic variants benefit from Bluetooth connectivity as well as a rotating tray for the passenger bench and a holder for your tablet.
View Vauxhall Movano Offers
Search Used Vauxhall Movano
Renault Master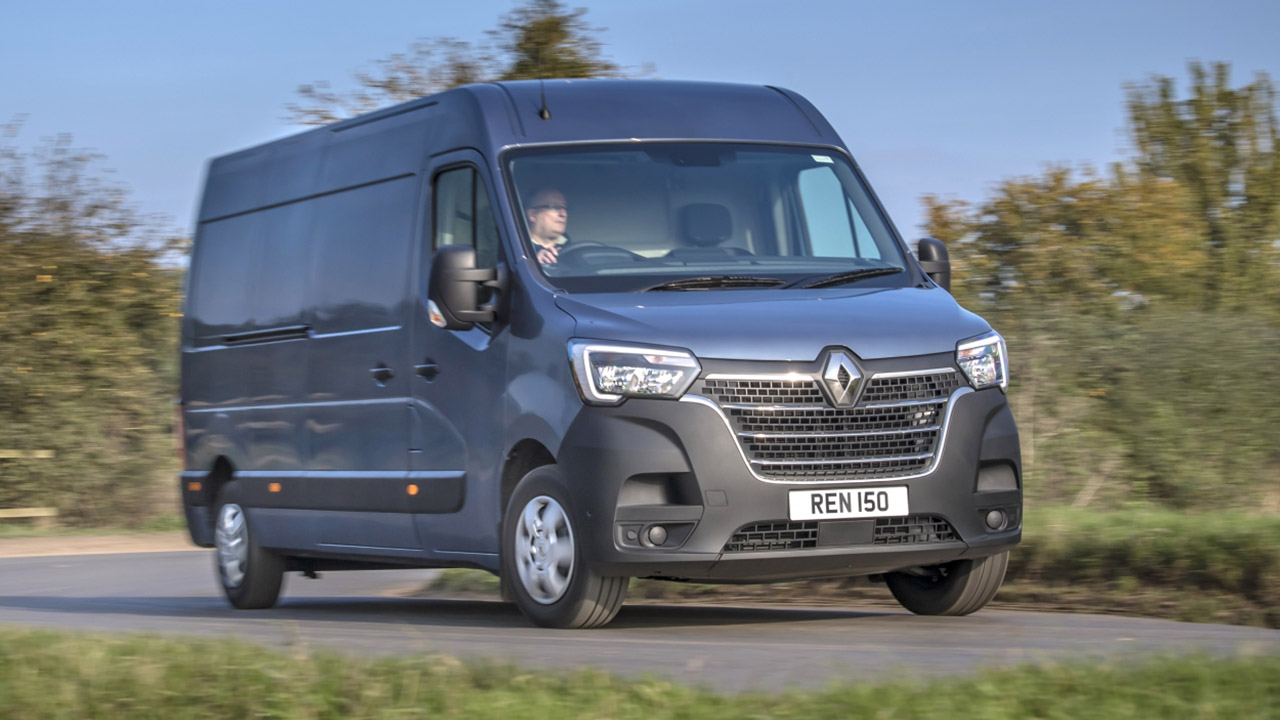 The Renault Master offers a great blend of practicality and versatility, while the efficient engines on offer ensure you are making less trips to the pumps, helping to save you money.
If you need a mobile office, then the Master will be able to accommodate you with no issue. A flat deck features in the dash that can be used to place documents and tablets in, while a pivoting seatback table provides the perfect place to have lunch whilst updating invoices.
Depending on the variant you go for, the Master has a payload capacity of between 1,110 and 2,061kg. Load volume ranges from 8.0 to 17.0 cubic metres, so it should be easy to find the right van to suit your needs and requirements.
To help make life easier when you're on the road, the Master comes with features such as Hill Start Assist, Trailer Swing Assist and Grip Xtend. Higher-spec versions come with desirable additions such as a permanent rear-view camera, a blind spot warning system, and front parking sensors.
If you want zero-emission driving, then take a look at the Master Z.E., which has a usable payload of up to 1,078kg.
View Renault Master Offers
Search Used Renault Master
Nissan NV400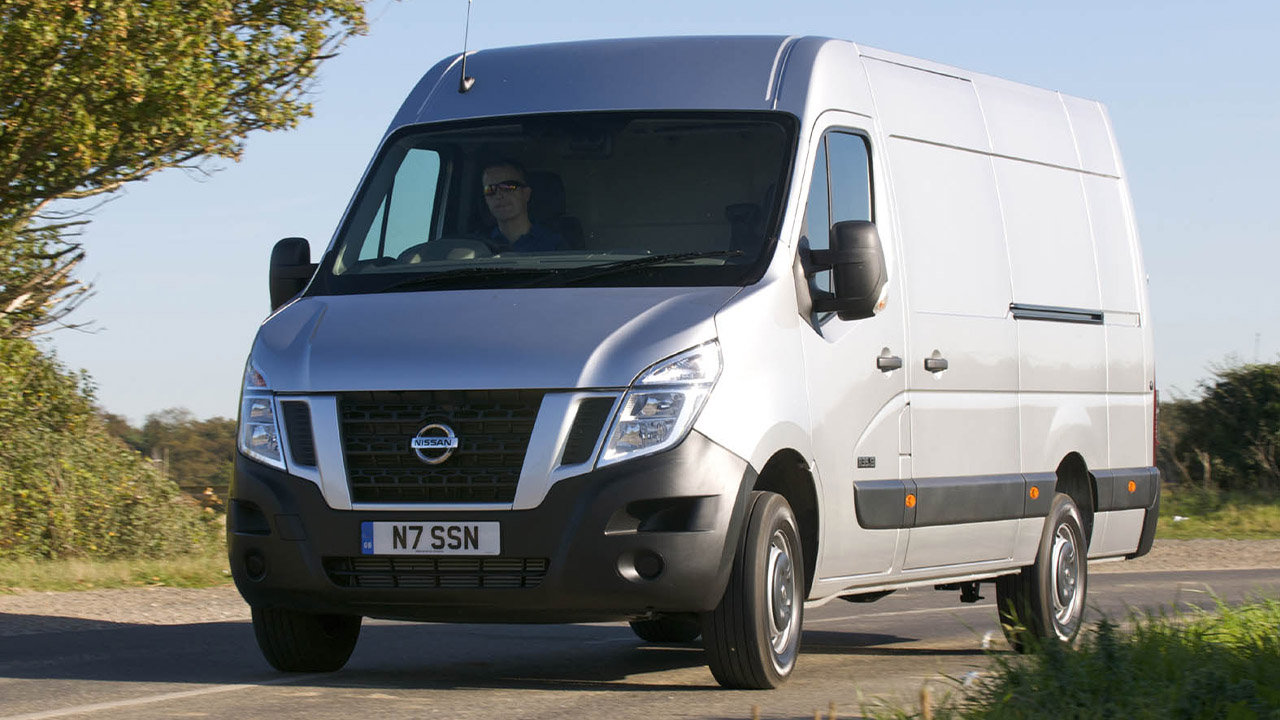 The Nissan NV400 is ideal for those wanting a robust and reliable commercial vehicle that offers affordable running costs.
With a range of conversion options and layouts, the NV400 can be tailored to your business requirements. The rear doors open up to 270 degrees, allowing you to make the most of the Nissan's width and height. The low sill height also means getting large and awkward items in the back is easier.
The NV400's 2.3-litre diesel engine comes in five different tunes, with between 135 and 180bhp available. Running costs are kept down thanks to the long service intervals of 2-years/25,000 miles.
Depending on your needs, you can choose between a front or rear-wheel drive version of the NV400. Front-wheel drive models mostly have a smaller cargo space compared to the rear-wheel drive vans, but have a higher max payload to make up for this.
View Nissan NV400 Offers
Search Used Nissan NV400
Discover your next van through Evans Halshaw
Picking the right van for you can be a tricky task since there are so many capable models available. This article has been written to give you a brief overview of each of the best large vans available, but if you want to compare specific dimensions that are important to you, then you can do that by looking at the table below.
For more buying advice, or general motoring tips, then please take a look at our blog section, which is updated with fresh content on a regular basis.
Van Specification Comparison

| | Citroen Relay | Peugeot Boxer | Ford Transit | Vauxhall Movano | Renault Master | Nissan NV400 |
| --- | --- | --- | --- | --- | --- | --- |
| Min/Max Payload (kg) | 1,125 - 1,870 | 1,155 - 1,575 | 1,172 - 2,457 | 1,455 - 1,910 | 1,110 - 2,061 | 901 - 1,623 |
| Min/Max Load space (m3) | 8.0 - 17.0 | 8.0 - 17.0 | 9.5 - 15.1 | 8.0 - 17.0 | 8.0 - 17.0 | 8.0 - 17.0 |
| Max Load Length (mm) | 2,670 - 4,070 | 2,464 - 4,070 | 3,044 - 4,217 | 2,583 - 4,383 | 2,530 - 4,330 | 2,530 - 3,680 |
| Maximum Load Width (Between wheel arches, mm) | 1,422 | 1,422 | 1,392 | 1,380 | 1,380 | 1,080 - 1,380 |
| Min/Max Load Height (mm) | 1,662 - 2,172 | 1,662 - 2,172 | 1,786 - 2,125 | 1,700 - 2,144 | 1,700 - 2,144 | 1,700 - 2,144 |
| Combined Fuel economy (mpg) | 31.7 - 42.8 | 25.6 - 40.1 | 28.3 - 43.5 | 25.4 - 34.4 | 30.4 - 40.4 | 37.7 - 48.7 |
| Max Towing Weight* (kg) | 2,500 - 3,000 | 2,000 - 3,000 | 1,650 - 3,500 | 2,500 - 3,000 | 2,500 - 3,000 | 2,500 - 3,000 |
| Min/Max CO2 Emissions (g/km) | 180 - 299 | 215 - 289 | 205 - 249 | 153 - 287 | 183 - 224 | 154 - 201 |
Note: Dimensions are for panels vans, and exclude tippers and dropsides.
*towing weights are for a braked trailer