Introducing the Renault Kangoo Z.E. 33
The Renault Kangoo Z.E. 33 is a fully electric van that makes no compromises over its load space or carry capacity. Based on the popular compact Kangoo Van, the Z.E. 33 model is available in two different sizes of panel van, as well as a crew-cab van bodystyle.
The load space varies between 3.5m3 for the standard Kangoo Z.E., while the Kangoo Z.E. Maxi with 2 seats has a load space of 4.6m3. Payload is a useful 625-640kg, depending on the bodystyle that you specify. All of these figures are directly comparable to the conventionally powered model.
Produced by the number 1 van manufacturer in Europe, the Kangoo Z.E. 33 is the 100% electric vehicle that suits a variety of uses.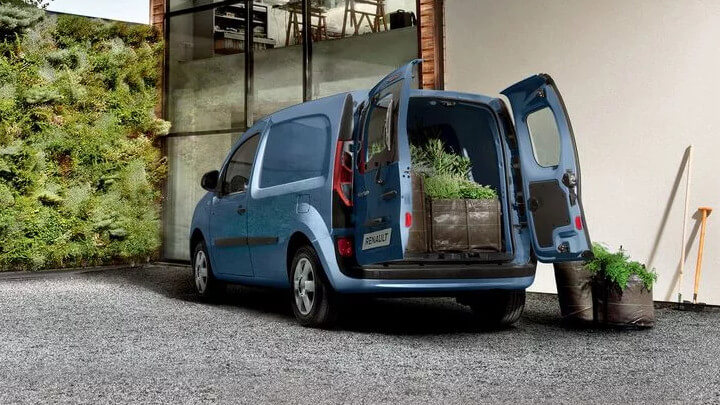 Renault Kangoo Z.E. 33 models have a driving range of up to 143 miles on a single charge. This is based on ideal driving conditions but also depends on your driving style and the outside temperature.
Performance is great, and the driving experience is enjoyable. This is thanks to the 1-speed transmission, meaning there are only two pedals with no gear shifting to worry about. Maximum torque of 225Nm is delivered instantaneously, which is ideal for linear, efficient and surprising acceleration.
Being a fully electric vehicle, the motor is almost silent, and provides a very serene cabin environment for you to enjoy.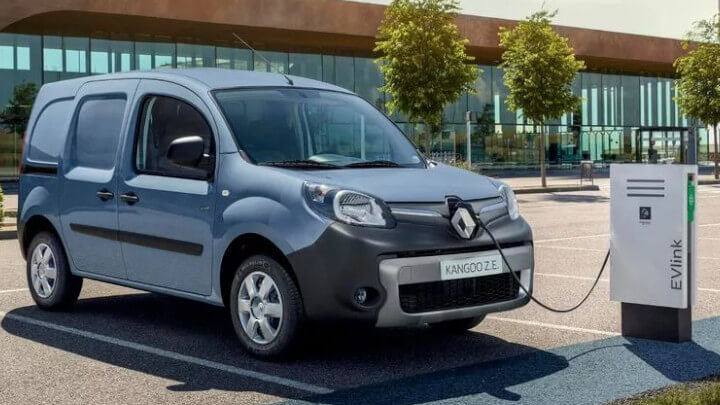 Charging the Kangoo Z.E. at home, work or at a public charge point is both easy and efficient. The charge point is accessed through the front grille. Lift up the logo and simply connect the charger to the van.
Charging from 0-100% from a wallbox with the new 7kW charger takes six hours, and you can top up 20 miles of range in just one hour. Alternatively, simply plug into a regular domestic household socket to achieve a full charge in 7-10 hours.
"Renting" the batteries is a thing of the past - all Kangoo Z.E. models come with the battery pack included in the purchase price of the vehicle.
Test Drive the Renault Kangoo Z.E.
The Kangoo has been a reliable companion for the working professionals of Britain for some time now. Adding in the benefits of all-electric power enhances the desirability of the Kangoo because it reduces overall running costs without compromising your work.
Available through your nearest Evans Halshaw Renault retailer, the Kangoo Z.E. 33 is the perfect way to take your business forward towards a greener future. Alternatively, check out our Kangoo offers.