Motability Monthly: Top 5 January Getaways
05th Jan 2018
Just because we're in the month of January, doesn't mean we need to stay indoors! There are some wonderful British cities to visit, which are easily accessible by car and boast delightful shops, cafes, restaurants and visitor attractions.

If you're looking for something cheery to do during the first month of the year, perhaps to get you through the post-Christmas lull, head to one of these gorgeous cities and towns which are guaranteed to put a smile on your face.
Bakewell, Derbyshire
Packed to the brim of quaint pubs and vintage tea rooms, Bakewell is home to the loved pudding and will provide you with a relaxing day trip or peaceful weekend away.

One of the most popular pubs - which is located a few minutes from the town centre - is The Manners. A traditional pub serving delicious food, there is ample parking directly behind as well as disabled access to the pub through each door.

If you'd rather find a café to enjoy some locally made pastries and cakes, try Wyes Waters on Granby Road. This charming little café is fantastic value for money and serves everything from homemade pies to a variety of heavenly cakes. Wyes Waters is also wheelchair accessible.

If you'd like to head out of town a little, Chatsworth House and Chatsworth Estate Farm Shop are a short drive away. Here, you can stock up on Derbyshire specialities including oatcakes and handmade chocolates. If you like beer, there's plenty of bottles ales for sale here which were brewed on the estate. There is lots of parking at Chatsworth House and it is completely wheelchair friendly.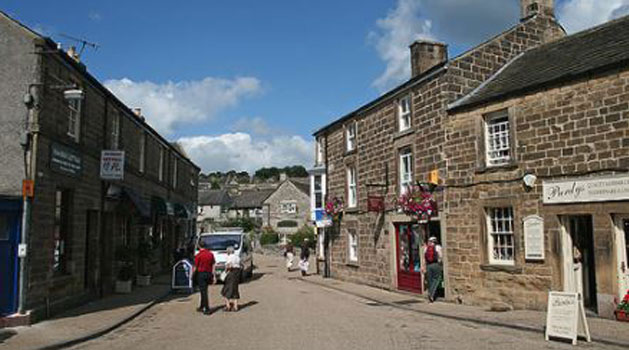 Shrewsbury, Shropshire
Not many people know that Shrewsbury is a super-cultural and dynamic city. With a vibrant music and arts scene and 650 listed buildings of which many are from the Tudor or Jacobean times.

If you're a real foodie, Shrewsbury will certainly tingle your taste-buds. The variety of cultural influences throughout the city will leave you spoilt for choice. From Japanese to Indian to classic British, there's something for everyone. You can also enjoy a pint of local real ale at The Golden Cross, which is the oldest pub in Shrewsbury and it is magical at winter - you can sit by the open fire and completely relax and it is totally wheelchair friendly.

For shopping, hit the main road - Wyle Cop - where you can enjoy a wide mixture of shops in overhanging Tudor buildings, from wine stores to clothing and accessories - they have it all! You can also immerse yourself in local culture by visiting the town's market hall, situated on Claremont Street. Both of these attractions are easily accessible for wheelchair users and there are plenty of car parks on nearby streets if needed.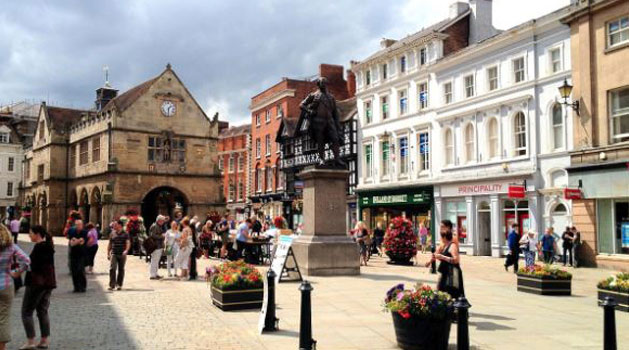 Corbridge, Northumberland
Although Corbridge is only a village, it is much like a town, as it used to be a crossroads on busy north-south and east-west routes. It is a beautiful and quaint place with plenty of spirit and as the River Tyne runs through it, there is a huge amount of beautiful scenery.

Whatever culinary desires you have during your trip, you'll definitely be satisfied by the restaurants in Corbridge. If you fancy Italian, take a trip to II Piccolo and enjoy pizzas and gelato or spaghetti and homemade meatballs! For something a little fancier, the Angel of Corbrige serves up sumptuous dishes like wood pigeon or venison ragu.

Corbridge also offers a very unique shopping experience as there are lots of independent stores selling delightful handmade ornaments such as tiny spoons and lampshades made from jelly moulds. If you're looking for a gift, you'll find something unlike anyone has ever received on Corbridge's shopping street!

Although the streets are cobbled, most shops and the river can be accessed by wheelchair users and there are plenty of benches along the way.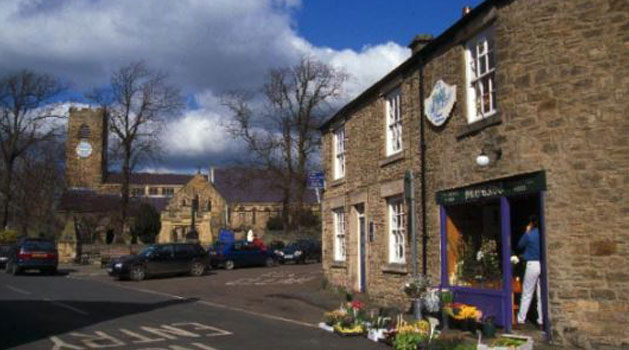 Totnes, Devon
Although Totnes isn't the biggest town for drinking and eating, it is most certainly more about quality than quantity. There are some fantastic independent shops and cafes to discover in Totnes, which run alongside the gorgeous river.

If you are looking for a good old pint, make sure you wander into the Totnes Brewing Company. Recently opened, this is the cosiest pub in town and is definitely worth a go for the wide variety of draught and bottled craft beers. For dinner, Totnes offers homemade Italian at Jano or Curator Kitchen, both in the centre of the town and very reasonably priced.

The high street, although it may not mirror the same offerings as city shopping, it will definitely allow you to buy unique gifts and souvenirs. Make sure to stop at the Little Blue Budgie to find something for your home that none of your friends or family will have!

The streets in Totnes can be tricky to navigate around for wheelchair users when busy, so perhaps choose a quieter time to visit - early mornings or early afternoons would be preferable. There are a couple of small car parks in the town, too.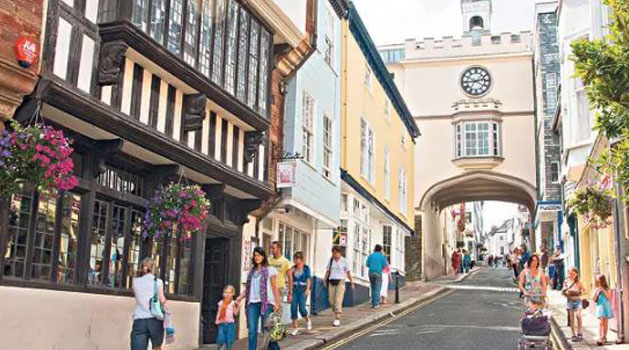 Holt, Norfolk
Although it's a cold month, the beach is always beautiful! In Holt, you can wrap up warm and take yourself to the seafront at a nearby town called Sheringham which has ample parking and ramps for disabled access.

You can also take a boat trip, which is wheelchair friendly, to see the seal pups at Blakeney National Nature Reserve - also an attraction that is easily accessible.

Enjoy lots of delicious food in Holt too, whether you fancy sandwiches and tea at the Folly Tea Room in Hoppers Yard or pub classics at the Kings Head - you have plenty of options.

Famous for its unique and independent shops and galleries, Holt is the perfect town to shop for unusual gifts, gourmet food or crafts. Most of these shops are situated in yards and alleys off the High Street - a real treat!

Similar to Totnes, the high street in Holt can be difficult to transport around for wheelchair users, but if you choose quieter days perhaps mid-week or Sunday, or slower shopping times on a Saturday, you will certainly get the best of the town.