Motability Monthly: Summer Escapes
20th Jun 2018
Summer is now official, where we will all be looking forward to having weekend trips to the seaside or the countryside.
Evans Halshaw Motability has some brilliant ideas for easily accessible days, weekends and activities to ensure you make the most of your summer!
Brighton
Brighton is well-equipped with easy access for all wheelchair users and mobility scooters, ensuring that there's something for everyone at this beautiful coastal city. This southern destination is perfect for these summer months thanks to its colourful assorted waters among its white sand and raspy pebble beaches.
The Bohemian cafe culture consists of many quirky boutiques and cocktail huts which sit against the curved white facades of the striking Regency architecture. Amongst the quirky architecture is the celebrated Royal Pavilion which sits at the heart of the city. The Royal Pavilion garden is where you will find the best attractions, including the Brighton Museum & Art Gallery, the Performance Gallery and the Willett Gallery. If art isn't really your thing, Sea Life Brighton is the world's oldest operating aquarium exhibiting over 3500 amazing creatures!
As the sun goes down you might want to indulge in Brighton's standing quota of cosmopolitan restaurants and bars. Though if you fancy something more casual, why not venture down to the seafront where many restaurants serve locally-caught sea food amid outstanding views of the beach and pier.
Accessibility:
Guided tours providing tactile and sign language
Wheelchair access to the museums, gardens and sea life centre
All-terrain beach wheelchairs
Disabled changing places upon the seafront
Shopmobility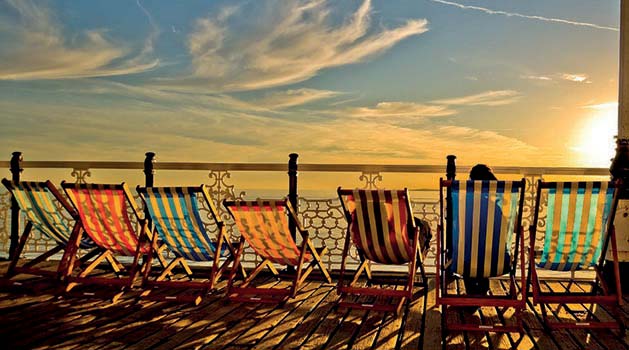 Pembrokeshire, Wales
Why not take a drive out to explore the stunning county of Pembrokeshire in Wales. Being the only National Park in the UK located on the coast, this destination is perfect for an easy-access summer vacation. The district inhabits South West Wales and has been described as one of the best locations for a beach holiday in the whole of the UK.
Beachfront cottages are highly recommended by us due to essential disabled-friendly and pet-friendly facilities that consider maximum comfort for all members on your mini-break. Ideally positioned in the peaceful countryside, Yellow Rose Cottage is one of the many hospitable accommodations that are just a few minutes' drive to golden sand seashore.
There are a range of destinations in the National Park that are suitable for wheelchair users. There are 15 scenic routes in total across the landscape which are intended for people with limited walking ability including mobility scooter and wheelchair users. Though if you would prefer to relax you'll never tire of gazing out at the sea which can be admired from the famous Wales Coast Path which stretches the length of the West Wales coastline.
Accessibility:
A wheel in shower and shower chair
Electric bed
Grab rails
Ground floor facilities
Accessible mobile routes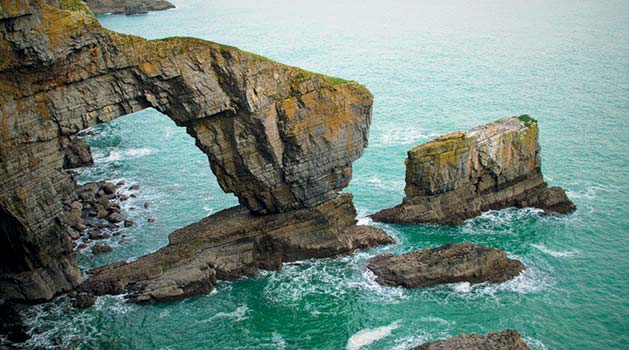 Blackpool
Blackpool is a UK destination buzzing with excitement especially between these summer months. This vibrant town is situated between the north and south piers in which there lies many celebrated attractions such as the Blackpool Pleasure Beach, Blackpool Central Pier, Blackpool Zoo and Blackpool Tower.
All tourist hotspots provide access for people with limited mobility, including wheelchair hire within the pleasure beach and zoo and lift access to the top of Blackpool tower. Popular attractions aside there's nothing like a day at the seaside, especially given the famous Golden Mile that stretches beyond Blackpool's award-winning blue flagged beaches amongst the three renowned piers. Indulge in a town that represents everything British with a stroll along the promenade with a good old-fashioned bag of chips.
If you're looking for a hassle-free long weekend, The Bond Hotel is an award-winning disability specialist hotel located just off Blackpool coast. With exclusive shows on every evening of the week, Blackpool's cabaret-themed nightlife is available right on your doorstep.
Accessibility
Mobility scooter and wheelchair hire at the zoo and pleasure beach
Accessible toilets
Blue badge accessible parking (in public car parks)
A range of free of charge disability items at The Bond Hotel
Wheelchair accessible holiday taxis
The Peak District, Bakewell
The Peak District is one of the best-loved National Parks in the UK located mostly in Northern Derbyshire. The diverse landscape is inhabited by rounded hills, characterised with beautiful limestone and gritstone formations which inflow into the Dark Peak.
Bakewell is one of four populated regions within the park occupying a visitor centre, where you will find an official welcome and an overview of the accessible places to visit. Be inspired by John Harris, a former Paralympian, who presents a series of ten short films using his own wheelchair, hand cranked bikes, a powered wheelchair and an abseil rope to experience the Peak District national park. The sky's your limit!
Although if you want to relax, the quaint town of Bakewell offers a beautiful setting. The River Rye also known as Love Bridge River runs directly through the town and is a haven for beautiful wildlife. It also accommodates bridges that feature the romantic trend involving 'love locks'. If you're feeling starry-eyed afterwards why not treat yourselves to a glass of red wine at the Peak District's hidden gem, Hassop Hall.
Accessibility:
Disabled toilets (sometimes you will require a RADAR key)
On-road disabled parking
Wheelchair hire available at the visitor's centre
Large print and audio information available pre-arrival
Disabled-friendly accommodation