First Time Truck MOT Pass Rates
13th Mar 2018
In this article we want to outline why it's so important for truck operators and their businesses that first time MOT pass rates are high on their agendas. In this case we are talking about commercial vehicles over 3.5 Tonne GVW.
Having an operator's licence means you need a competent vehicle technician
The transport industry in the UK is one of the safest in the world, partly due to the inspection regime agreed with truck operators when they apply and obtain an operator's licence (the "O" licence is another blog in itself!). In short to operate a commercial vehicle in the UK you must hold an operator's licence. One factor in obtaining a licence deciding how often your vehicle(s) need inspecting by a competent and professional technician, mechanic or fitter. The title is irrelevant - the key is competent. The main part of the operator's licence we are referring to is that an operator must ensure vehicle(s) are legal and roadworthy at all times.
Operator Compliance Risk Score
In order to focus its resources, the DVSA have a system called Operator Compliance Risk Score (OCRS) which is a risk-based measurement used to calculate the likelihood of operators being non-compliant.

OCRS is used at the roadside by DVSA examiners to identify which vehicles should be checked. It measures operators in two areas, roadworthiness and traffic enforcement. Roadworthiness includes the MOT test history as well as other data.

Traffic enforcement includes: Drivers' hours infringements, previous prohibitions, prosecutions and overloading offences etc.

All this data is taken into consideration, resulting in a risk score. Operators are categorised in general as either 'Green - lowest risk', meaning less likelihood of being pulled at the roadside. 'Amber - medium risk' and 'red-highest risk' for operators who are considered at high risk of rule infringement. In short, the higher the score, the higher the potential risk.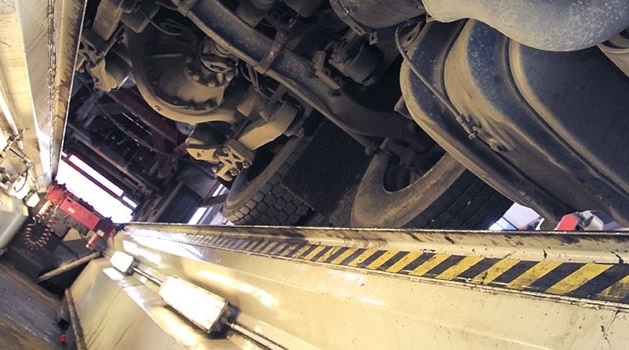 First time MOT pass rates
So, what has all this got to do with first time MOT pass rates? All commercial vehicles in the UK are MOT tested annually and the DVSA collates all the MOT data. All failures count towards (and can dramatically affect) an operator's OCRS score. For example, a vehicle presented for MOT and fails for brakes, steering or tyre problem resulting in an immediate prohibition (not roadworthy and cannot go back on the road until the defect is rectified and a full MOT completed) could score 200. At the other end of the scale, a vehicle which fails for a less serious issue such as a blown bulb would score 25 points.




Here's the 'rub': the possibility of a high roadworthiness OCRS score can be reduced if the vehicle's maintenance regime is strictly adhered to. There should be no need to prepare a vehicle for its annual MOT as it should operate at that level at all times. This level of compliance requires a high level of competence from the technician, mechanic or fitter and will almost certainly require detailed advanced planning, access to the latest test and diagnostic equipment that's provided at times most convenient to the operator. Above all else, compliance should be at the forefront of everyone's mind within the service provider's business, hence my fanaticism with MOT pass rates. There is no surer way of losing a customer if their vehicles continually fail MOT tests.
How you can ensure compliance
In our experience no operator wants to be none-complaint. One way of ensuring compliance is to ask your maintenance provider 'what is your current first time MOT pass rate?'. Any provider worth their salt will provide a percentage score confirmed independently almost immediately. If they can't or don't know, you should check the OCRS score on the DVSA portal and insist going forward you receive - as a minimum - the PG14 after every MOT test.
Franchise repairers like Evans Halshaw DAF are generally targeted by their manufacturers with regards to first time MOT rates, which is another compelling reason to use their services. We have invested heavily in training and equipment, have extended opening hours and above all our Team Members have a first time pass in their DNA.
To find out more about the expert services we provide, please visit
Evans Halshaw trucks
.