Study: Analysing Britain's dream car gap
17th Feb 2021
Overview of our findings
There's a £14,159 gap between the average spend on a used car and the three most obtainable dream cars
14% of Brits are willing to give up takeaways in order to secure their dream car
The average family would have to give up 287 takeaways to close the gap
Each age group selected a car from their child hood when choosing their top three dream cars
Average spend vs dream car cost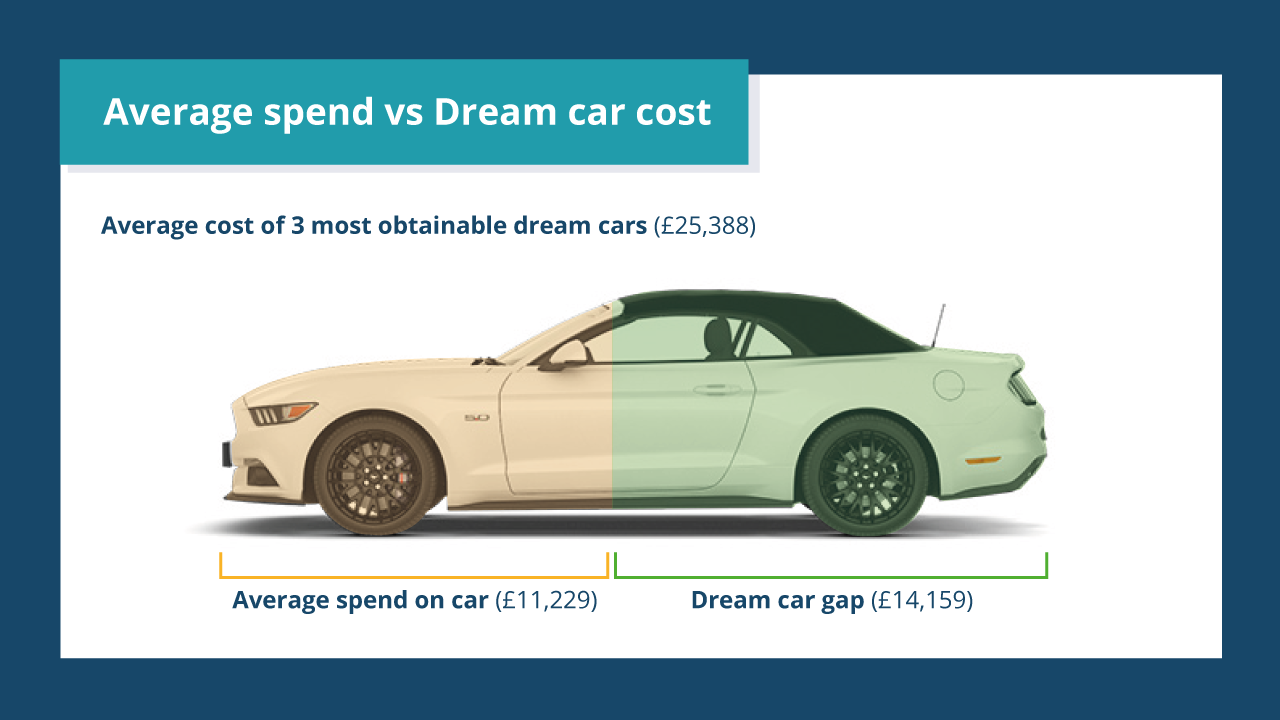 A family household would have to go without 287 takeaways in order to secure their dream car, according to results from a survey.
With participants spending an average of £11,229 on a car, the study suggests there is a £14,159 gap between what Brits spend and their three most obtainable dream cars, which cost £25,388 on average.
Top 3: Most obtainable dream cars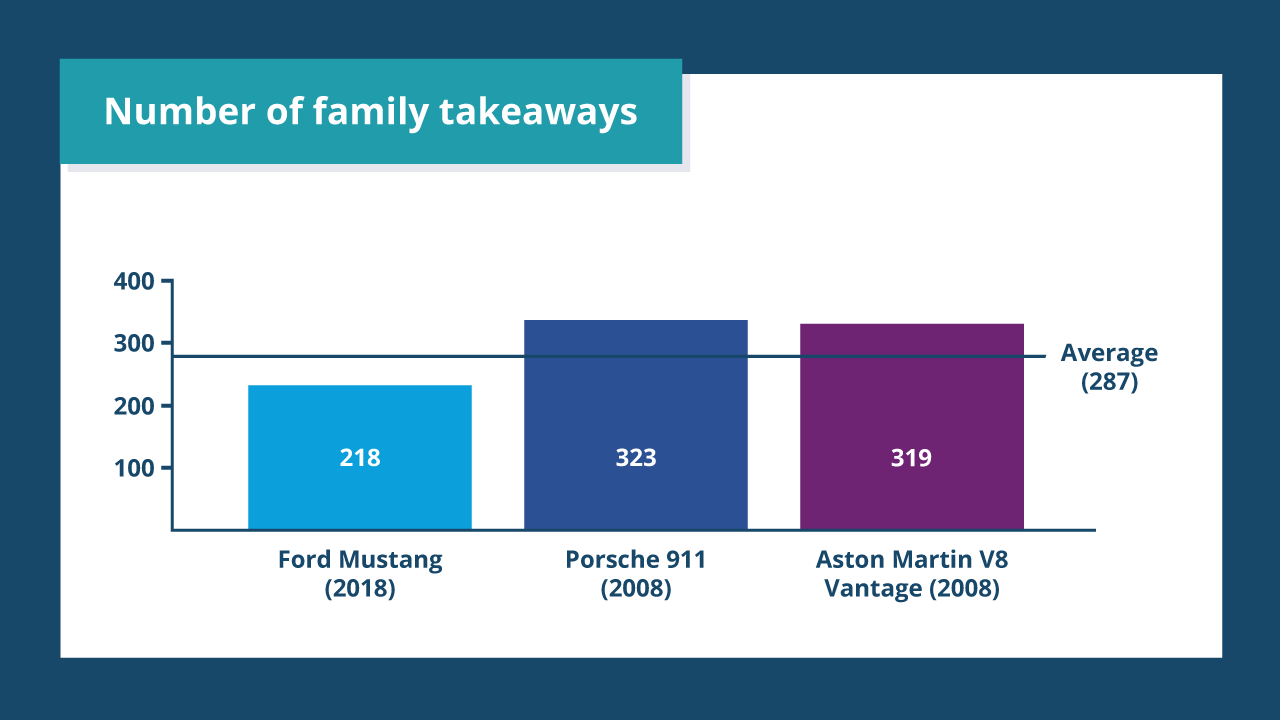 According to the survey, the three most affordable dream cars are the Ford Mustang, Porsche 911, and Aston Martin V8 Vantage. The prices for these cars were derived from the used car section on our website.
The most expensive dream cars opted for by participants include the Bugatti Veyron, which will set you back over £800,000; a Lamborghini Aventador, a supercar that represents better value at close to £150,000; and the classic Aston Martin DB5, a car that is famous for its appearance in the James Bond films that will cost over £700,000.
Although the average family household would have to go without 287 takeaways in order to secure their dream car, there are other alternatives that can be sacrificed.
What else could you give up?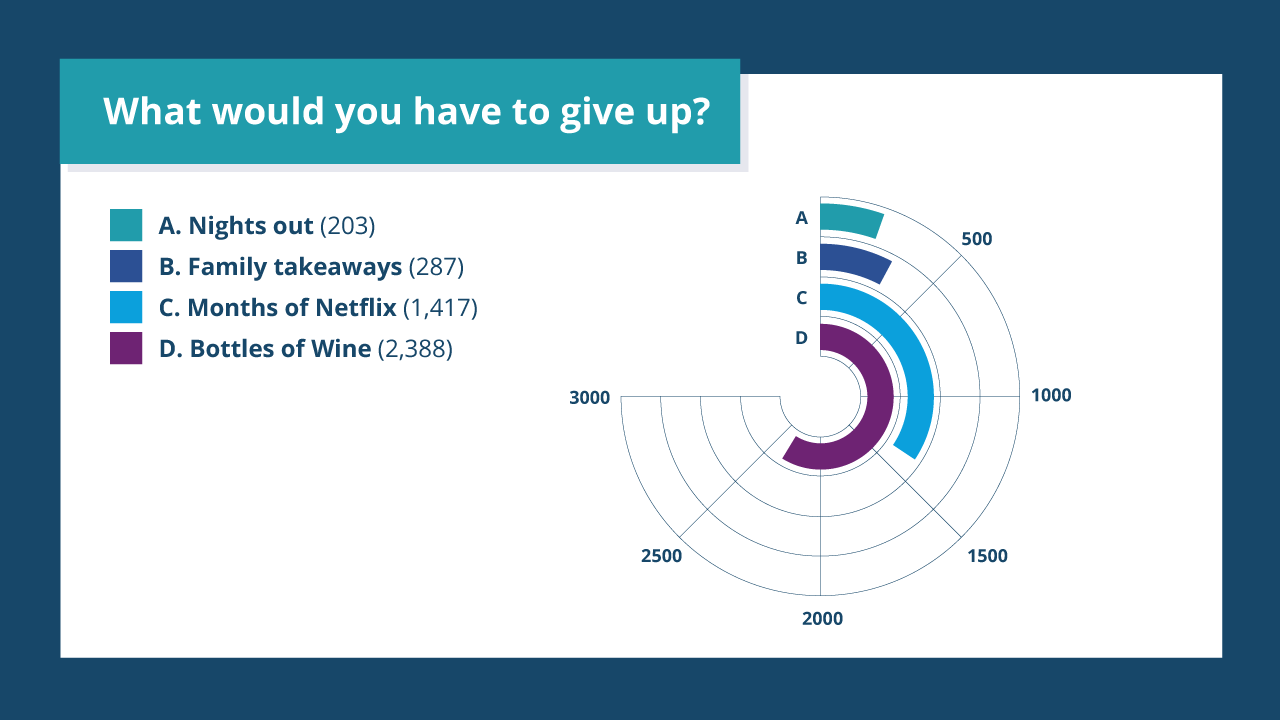 With a night out in the UK averaging £69 according to Rekom, Brits would be able to get behind the wheel of their dream car by skipping 203 of them. Those who enjoy wine would have to give up 2,388 bottles in order to close the gap, which nearly 11% of participants said they'd be happy to do.
This might be a harder one to pitch, but a household would have to give up 21 holidays to achieve their dream car.
Car choice based on age group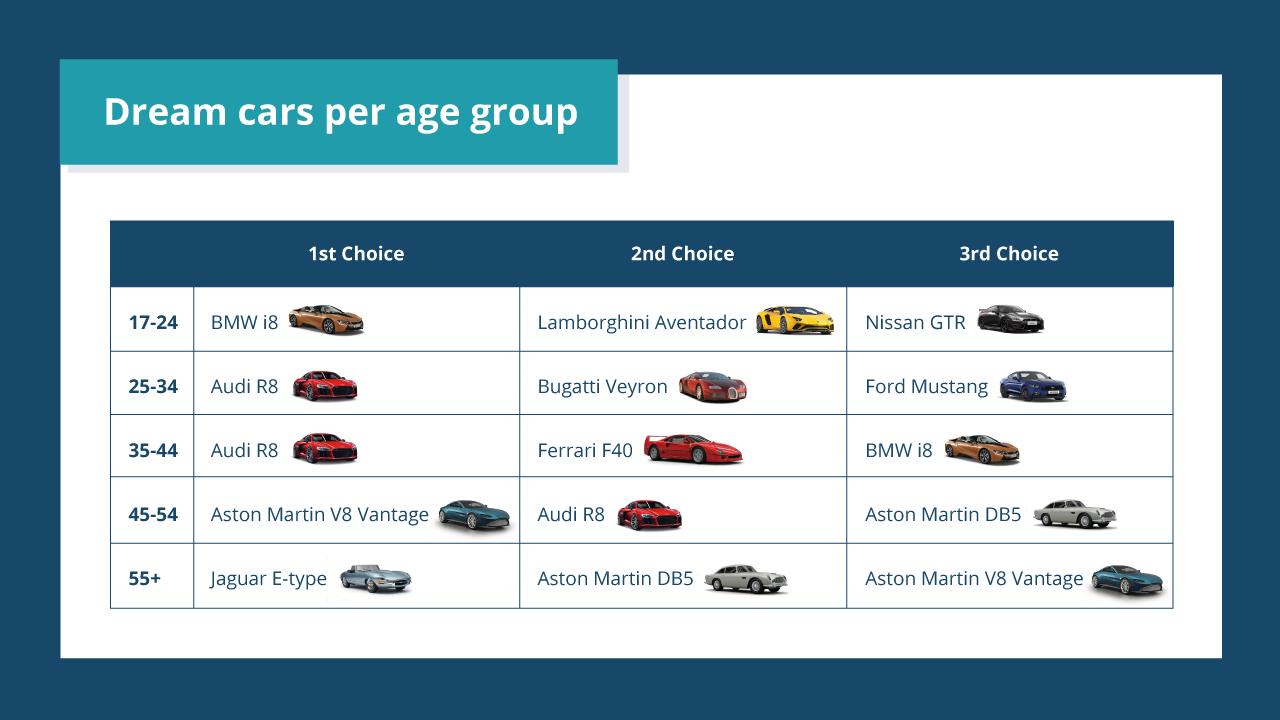 A notable trend from the survey results is that each age group featured at least one car in their top three that was prominent during their younger years.
Participants that were over 55 years old largely voted for the Jaguar E-type and the Aston Martin DB5, which are classic cars that were conceived in the early 1960s. In addition, the Ferrari F40, a supercar from the 1980s, was a popular choice among people between 35 and 44 years old.
The trend continues with the 25-34 and 17-24 age groups, where a Bugatti Veyron and Lamborghini Aventador featured in the top three. The 45-54 age group isn't as clear cut as the others, but the DB5 and the V8 Vantage suggest they have a hankering for both classic and modern cars.
Closer than you think
Kim Costello, Chief Marketing Officer for Pendragon, which owns Evans Halshaw, commented: "Our study has helped to highlight just how close the average UK resident could be to buying their dream car and for most it may not be as unachievable as they first thought.
"Many consumers are looking for ways to make their savings stretch further and our results help to highlight that by exploring the used car market customers can unlock their dream car for much less than they anticipated. We also know that customers are more prepared to sacrifice some of their everyday items to help in reaching the goal of owning their dream car. Whether that's turning your back on takeaways, foregoing a night out or even cutting out a mixture of a few different options, the public could be one step closer to getting behind the wheel of their dream car."