Spending the Week in a Ford Focus Active X
13th Jun 2019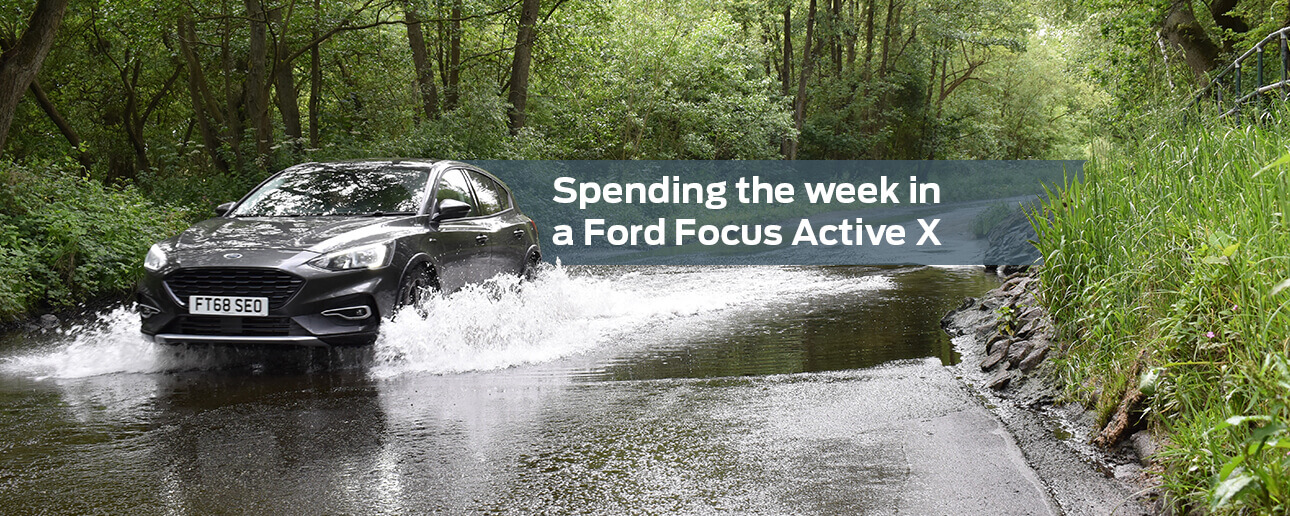 Truth be told, I've never been a massive advocate for crossovers or SUVs. There's a number of reasons for this, but they ultimately boil down to my unhealthy obsession with performance orientated vehicles; a circle rarely occupied by elevated family cars.

However, when Evans Halshaw Ford in Lincoln offered to throw me the keys to a new Ford Focus Active X for the week, I thought it represented an excellent opportunity to see if my outlook could be changed. I do consider myself an open-minded person, after all.

If you didn't know already, the 'Active' range is a new line from Ford that is aimed at customers with a more - yep, you guessed it - active lifestyle. In essence, you get more ground clearance, chunkier tyres and some additional driving modes that optimise grip on challenging road surfaces.
First impressions matter
First impressions were certainly encouraging. The Focus Active X may have been raised 30mm and given fatter tyres, but the 18" 'Painted Machined' alloy wheels and plastic body moldings give the Focus a subtle no-nonsense attitude. Pairing these features with the stunning metallic grey paintwork and tasteful privacy glass left me full of praise for the Active X's appearance.

Getting inside is a similarly gratifying experience. The layout is smart and well executed, while there are various soft touch materials and quality plastics covering every surface. The driver's seat has acres of adjustment at the flick of a switch, while the padded steering wheel adjusts for rake and reach. Some of the plastics around the centre console weren't on par with the rest of the cabin, but they felt substantial and didn't creak or flex when I applied some pressure with my hands.

Let there be light!
Considering I usually prefer the "claustrophobic" feeling when I sit in a car, there was something very refreshing about the panorama sunroof, which allows acres of light to enter the cockpit. I also thoroughly enjoyed having the sunroof open during the warm evenings, because it adds a different dimension to driving enjoyment that I hadn't experienced before. Simple, yet effective.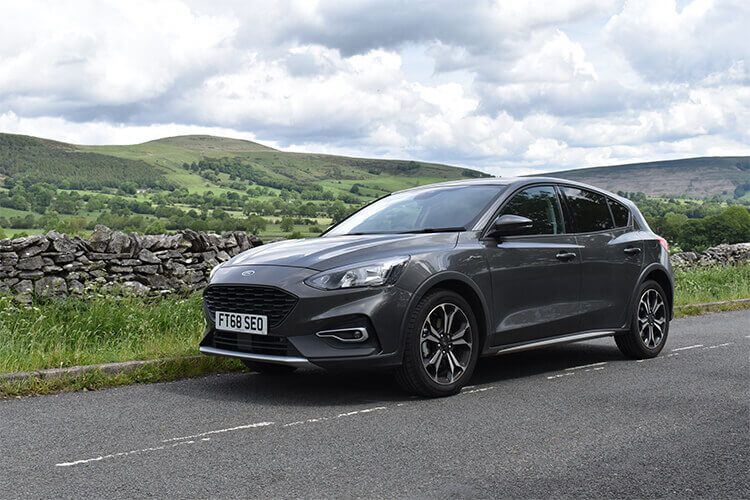 A trip to see The Three Musketeers
Recently, I was fortunate enough to secure a pair of tickets to feature in the audience of the BBC 2 motoring show, Top Gear. So, what better way to get acquainted with the Active X than by completing a 300 mile round trip down to Dunsfold Park?

I don't know where I'm going. No issue, because the Focus Active X comes with something called SYNC 3. In English, it's Ford's fancy infotainment system that gives you access to the DAB radio, satellite navigation and messages among other useful features. I'm a big fan of the system; it's easy to use, has a clean display and doesn't take a calendar month to process inputs.

Silence is golden
It didn't take long on the dual carriageway before I noticed just how refined the Focus is. Even at higher speeds, which was definitely well within the 70mph speed limit, I was pleasantly surprised by how quiet it was. Wind noise was hardly prominent, and the engine barely made itself known. The tyre noise was the most intrusive, but even then I didn't have to think about raising my voice to have a conversation.

Since I was sat on the motorway, I thought it made sense to test out the 'Lane Keep Assist' function that comes as standard on the Active X. Other systems I've come across will launch a full frontal assault if you inadvertently cross the lines on the motorway; I've never encountered anxiety quite like it. The Focus' system, once activated at the touch of a button, will simply vibrate the wheel if you start to drift. Why can't other cars grasp that simplicity?

On a side note; being in the audience of Top Gear is a riot, I would recommend it if you're a fan of the show.




A day in the life
Mini-adventure to Top Gear over, it was time to experience what the Active X was all about in daily life. My commute is a mixture of back roads and country lanes. Essentially, what this car was made for. The increased ground clearance is more liberating than I initially anticipated. Big Chelsea tractor not moving over down a single file country lane? No worries squire, I will climb this mountainous grass verge and allow you to pass.

Besides that, the Active X drives just like a regular Focus would. It's comfortable, without wallowing about over bumps or being too stiff. The car I was driving didn't have the optional Bang & Olufsen stereo system, but I never felt short-changed by the standard set-up, which had good clarity even with the volume turned up. Parking was also super easy because of the reasonable visibility, which was nicely complemented by the addition of the parking sensors.

Two boots and some groceries
Because I'm the perfect son, with no additional motives that definitely didn't include testing this car, I offered to pick up my mother on the weekend and take her food shopping since I needed to do some too. Two households worth of groceries, and only one boot; this could be an issue. It wasn't, the Active X has a generously sized boot, with plenty of width and depth, meaning there was a wealth of space for everyone's shopping.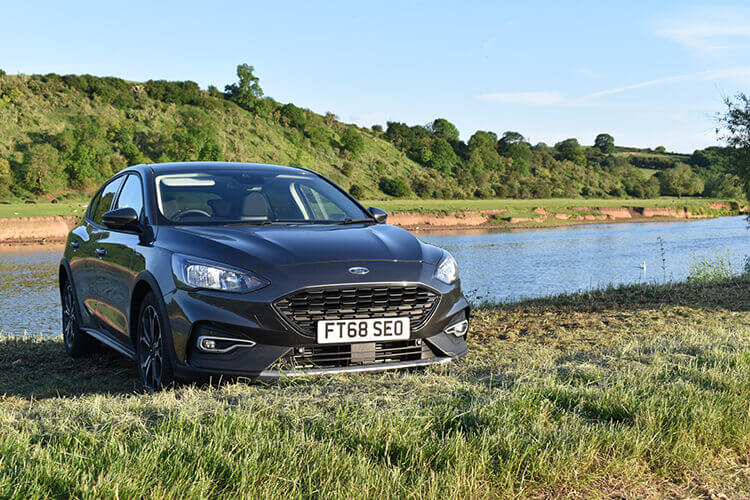 The peak of my week
The Peak District seemed like the perfect place to take the Active X. Twisty driving roads, challenging trails, and plenty of standing water. Environments such as this were the reason the Active range was created.

Before getting into the heart of the Peak District, I came across a couple of muddy trails and a ford; challenge accepted. I stuck the car in 'Trail' mode, and off I went. Apparently, this mode allows a little bit more slip, and therefore provides more grip. Either way, it worked, because the muddy trails were dispatched with ease.

This brought me to the next hurdle: the ford. Usually, I would wince at the sight of a large gathering of water. But the Active X's raised ride height and ability to deal with the challenging trails gave me confidence the ford would be another easy conquest. It was.

Good chassis; even better engine
Just like that, I found myself on a more established road that had plenty of twists and turns. It almost seemed rude not to test out 'Sport' mode. This setting added some reassuring weight to the steering and sharpened up the throttle response.

Considering the car has been raised up 30mm and wasn't wearing sticky sports tyres, I was astonished to discover that body roll was well controlled and there was plenty of grip. Hang about, this is a crossover, they aren't supposed to drive this well!

Under the bonnet is Ford's 1.5-litre turbocharged 'EcoBoost' engine, which produces 150bhp in this particular car. It felt punchy from low-down in the rev-range, which was satisfying because I never had to work the engine particularly hard to make good progress. A trait that was particularly appreciated when pulling out of junctions during rush hour.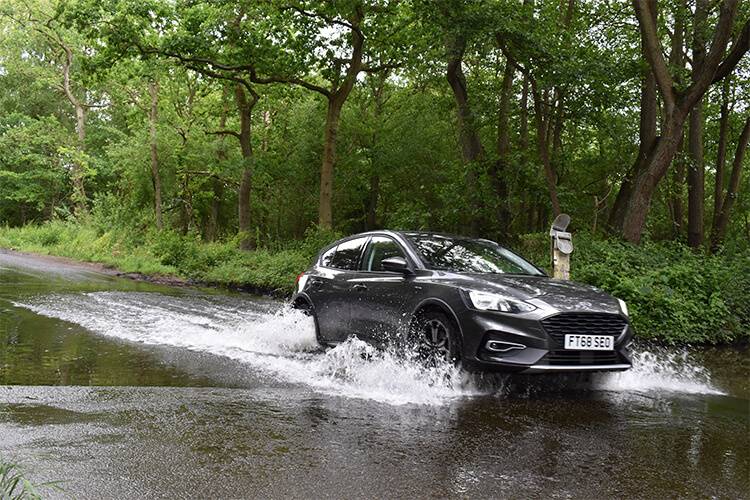 Reflecting on a week gone by
Just like that, the week with the car was over. And I have to say, I handed the keys back with a degree of sadness. This was, after all, an excellent car that had taken me on a couple of brilliant adventures in the space of seven days.
Ford have proven to me that you can have great deals of space, bags of equipment and reasonable running costs (I averaged 44mpg over 600 miles) in a crossover without completely butchering any hint of driving enjoyment.
Spending a week in a very good crossover, such as the Active X, also made me realise that these cars make a lot more sense than I originally anticipated. Britain's roads aren't exactly great, so having more ground clearance and tyres with larger sidewalls really helped soak up the imperfections in the roads. I really did admire the Active X's go-anywhere within reason attitude; it is a car you would never wince about getting mucky on a family staycation. Test drive one, I guarantee you won't be disappointed.