RS Swansong
The Mk3 Focus RS has been a roaring success for Ford. The launch colour 'Nitrous Blue' looks incredible and follows on the Mk1's Imperial Blue and Mk2's Ultimate Green stand-out colours.
The Focus RS Heritage Edition is the swansong for this sought-after model. Finished in a suitably bold Deep Orange, following on from other RS models, the final edition of the Mk3 Focus RS is certain to be popular with fast Ford fans and collectors alike.
We caught up with Ford RS Owners Club Chairman Paul Bury on the collection of his Mk3 Focus RS Heritage Edition and asked him why he chose this particular RS.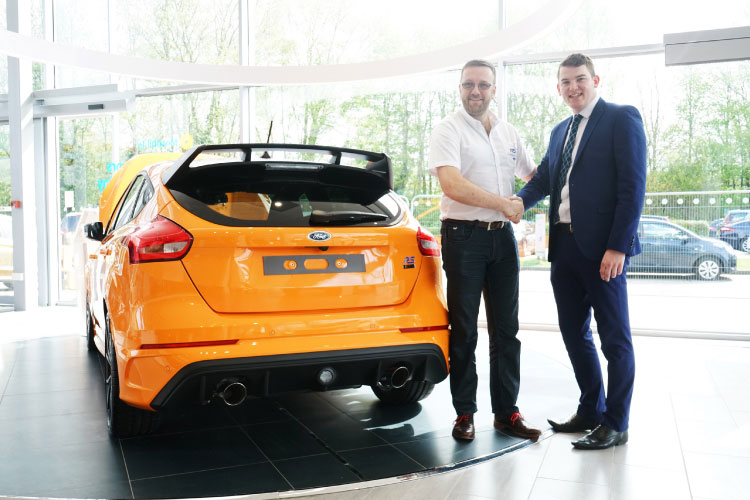 Q&A with Ford RS Owners Club Chairman Paul Bury
Q: What was your first Ford RS?
A: The first RS I owned was a Black 1989 Escort RS Turbo. Since then there have been a few RS', however I've kept my Sierra RS Cosworth the longest of them all.
Q: What ignited your passion for the Ford RS models?
A: I remember vividly wanting a Sierra Sapphire RS Cosworth after seeing the Rally Cars fly past in Grizedale Forest and then seeing the road going cars, they gave me that burning desire to own one.
Q: What is your favourite RS of all time?
A: There are many RS models that I class as favourites, from the Mk1 Escort RS1800 through to my all-time favourite RS is the Escort RS1700T. The styling and rally-based spec coupled with rear wheel drive and the uniqueness of this wonderful car makes it the one that I admire the most.
Q: What drew you to the Heritage Edition?
A: As Hero cars go, the Ford Focus RS Heritage Edition celebrates everything that preceded it. The combination of modern technology and driveability with the nod to the Heritage side of the Ford RS range with the stunning orange colour, a colour that despite being a solid colour appears to change shade in different lighting conditions.
Q: What RS model would you love to see, new Fiesta RS?
A: The Ford RS has always been the pinnacle of Ford's performance range of cars, they are true hero cars and loved regardless of which model the RS badge adorns. I'd be over the moon to see a new RS in our showrooms soon regardless of whether it is a Focus, Fiesta or other 'hot hatch' style performance Ford.
Q: Best thing about being a Chairman of Ford RS Owners Club?
A: Whilst the Chairman's role involves a lot of work that goes unseen, the one aspect that lifts me more than any other is that I get to meet and chat with enthusiasts throughout the world, all of whom share the same passion for the Ford RS range of cars.
To listen to their stories of how they came to own their car from initial aspiration to ownership never fails to put a smile on my face and impress me at the desire that is very much alive for the RS range.
Q: Why did you choose Evans Halshaw as the place to buy your RS?
A: Aside from being my nearest FordStore, Evans Halshaw have always been a part in my RS life from their time at Broughton and requesting parts through to their care and time spent with me as a customer at their current location. You can see the genuine enthusiasm for the cars within all of the team at Evans Halshaw Preston.
Q: Money no object, what car or cars would you buy?
A: Always a difficult question given the very impressive range of cars to choose from. I'm not a supercar fan, so that sets aside the Ferraris and Lamborghinis, it would have to be a few cars (and a big garage to keep them in).
Starting with a 1967 Shelby GT500 Mustang for the sunny weekends, it would have to be joined by A Corvette C7.R for the odd track day use. Day to day driving would probably be the brand-new Fiesta ST whilst cruising the European highways I'd opt for the Alpina B5S Biturbo. Lastly, we cannot close the garage doors until a 2018 Ford GT has taken its place.
Ford Focus RS Heritage Edition
So, what makes the Heritage Edition the ultimate Mk3 Focus RS? For starters, it will be the last variant of the Mk3 Focus RS, with only 50 examples being made. Amongst the exclusive Heritage Deep Orange colour, it also features black forged alloy wheels with contrasting black rear spoiler and door mirrors.
The Heritage Edition also comes with a dealer-fitted FPM375 Mountune upgrade, increasing power to 375PS, complemented with a Quaife limited-slip front differential. Other RS signature touches include an awesome pair of Recaro partial leather seats along with classic comforts associated with the Focus such as parking sensors, cruise control, heated steering wheel and privacy glass.
The Ford Focus RS Heritage Edition is set to be a fast Ford that is set to appreciate in value. With only 50 made, even the £7,000 plus premium over the standard RS will not put off serious RS enthusiasts, like Paul. Plus, Ford's chairman and managing director of Britain - Andy Barratt, has confirmed that 'this latest model is the best RS we've ever produced', meaning the RS swansong is a fitting end to the Mk3 RS, and will inevitably be much sought-after for years to come.
View New Ford Vehicles
View Used Ford Vehicles