Top 8: Best Used Cars Under £100 Per Month
19th Nov 2020
By Nathan Dale
What cars can I get for under £100 per month?
Owning a car doesn't have to cost the earth. It's quite simple to find a car that come with low road tax, insurance and fuel costs. The same goes for monthly finance payments too - there are lots of great used cars you can purchase for under £100 per month.
It's a common misconception that the only cars in this price bracket are high mileage, really old cars. The reality is that Personal Contract Purchase (PCP) finance means that newer cars can be financed for a much lower monthly payment than you might imagine.
With cars in this price bracket from popular manufacturers such as Ford, Vauxhall, Peugeot and Citroen all available at this price point, stylish and practical motoring can be achieved on a budget of just £100 per month.
Fiat 500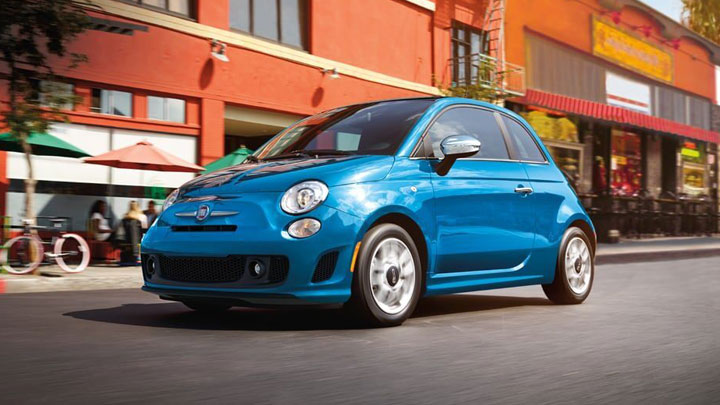 Retro styling and fun to drive
One of the best-selling city cars of all time not just in the UK, but in Europe as well, the Fiat 500 is super cheap and super cheerful.
People love its cute styling, retro interior and the large amount of colours and personalisation options that were available when the car was new, which means there are lots of different colour schemes to choose from on the used market.
The driving experience is fun too, with peppy little engines and handling that suits urban life down to the ground. Because Fiat sold so many from new and their low purchase price, you can get a pretty modern Fiat 500 for under £100 per month.
Search Used Fiat 500
Dacia Sandero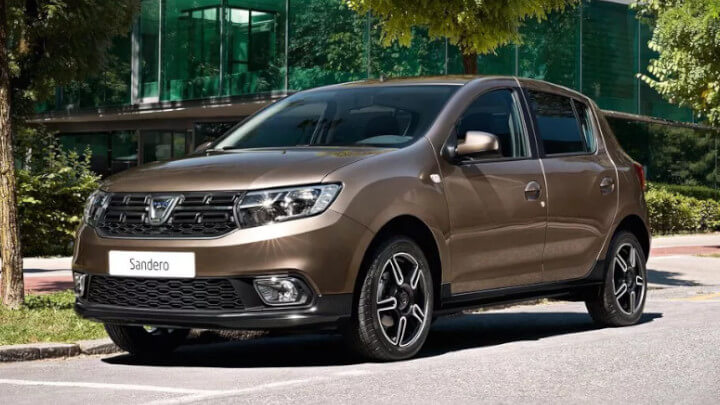 Affordable when new, even more affordable when used
Dacia are known for one thing and one thing only - being affordable. Affordable doesn't mean rubbish though, and used Dacias are built on time-proven parts from their parent company Renault, meaning they are robust and reliable for everyday use and abuse.
Sanderos are a fair size too, so you get a lot of metal for your £100 per month budget. The boot is bigger than the all-conquering Ford Fiesta and the rear seats have a decent amount of room too.
Access models are the least expensive Sanderos available, and you can pick them up for a very reasonable monthly cost.
Search Used Dacia Sandero
Vauxhall Viva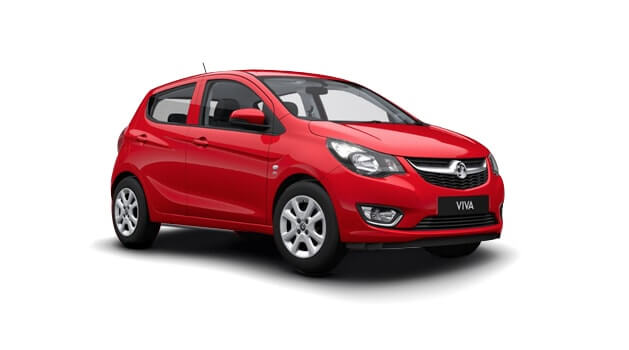 Surprisingly spacious city car
Vauxhall were onto a winner when they created the Viva, which is easy to find as a used car. Popular as new cars, there are plenty of great value used examples on the market.
The interior roominess of the Viva really has to be seen to be believed. Despite its extremely compact exterior dimensions, space for front and rear passengers is generous, and the boot is a decent size too.
Coupled with the incredibly economical 1.0-litre 3-cylinder that from which you'll struggle to get less than 60mpg, the Viva is an appealing prospect, especially at this price point.
Search Used Vauxhall Viva
Nissan Micra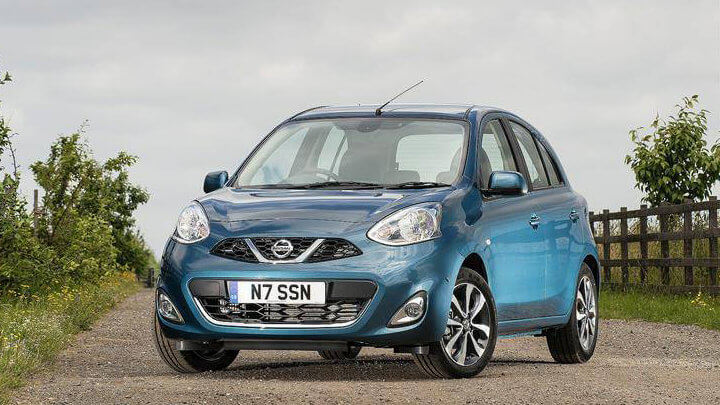 Super economical Japanese hatch
It's fairly easy to pick up a used Nissan Micra for less than £100 per month. The version that was sold in the UK between 2010 and 2017 was inexpensive as a new car, so it's no surprise to see it feature in this list.
What's it good at? Well, like with most small cars, it's really easy to park and the controls are all really simple to use, too. It's very, very economical and the robust build quality means that they're generally considered to be very reliable.
This generation looked a lot better than Micras of old (though not quite as good as the new one) and the interior is comfy enough for two adults and two kids.
Search Used Nissan Micra
Fiat Panda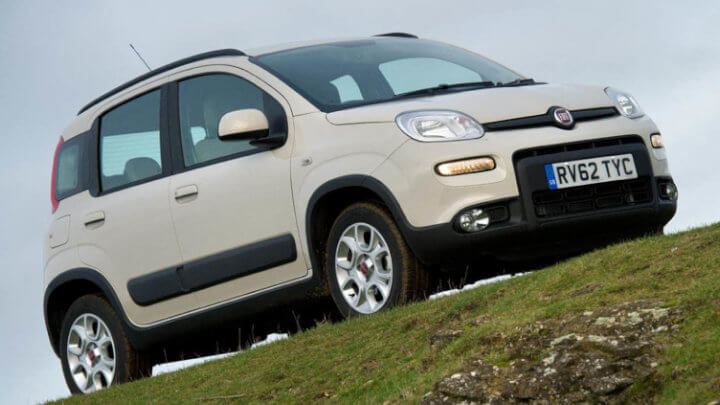 Practical and economical
Fiat really are the kings of inexpensive, small cars and that's why they've got not one but two cars in this list. Buying a used Fiat Panda for under £100 a month makes a lot of sense for those who want practical daily motoring on a limited budget.
Its boxy, sorry, "squircle", shape means that it has more head room than other cars in this sector, and with the rear seats down it can almost act like a miniature van - very useful for when you need to nip to the tip.
Motoring doesn't get much more economical than this, with engines that don't use much fuel, cheap road tax, low servicing costs and inexpensive replacement parts helping to keep the pounds in your pocket.
Search Used Fiat Panda
Peugeot 108/Citroën C1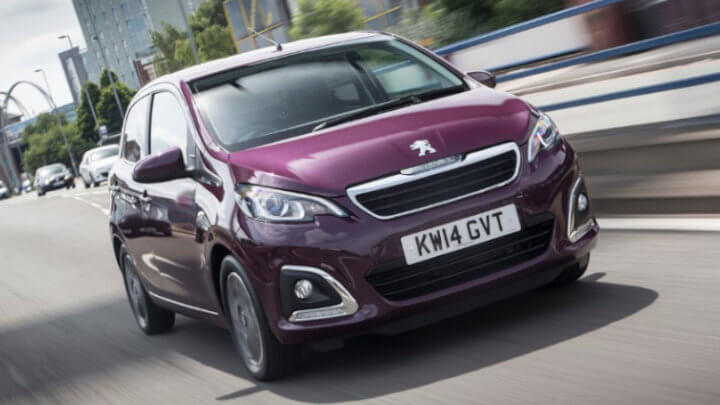 A dynamic duo
The cars that can do it all. In the context of urban motoring, anyway. Cheap monthly finance deals made both the 108 and C1 popular as new car purchases but they're perhaps even more attractive as used vehicles because the cost simply keeps getting less and less.
You can even get the most recent versions that are only a few years old for under a £100 per month budget, thanks to their ability to be financed through PCP, which keeps costs down.
Given their size, they are cheap to run too with low insurance and road tax costs, plus they have super-economical 1.0-litre and 1.2-litre engines that are really good on fuel.
Search Used Peugeot 108
Search Used Citroen C1
Vauxhall Corsa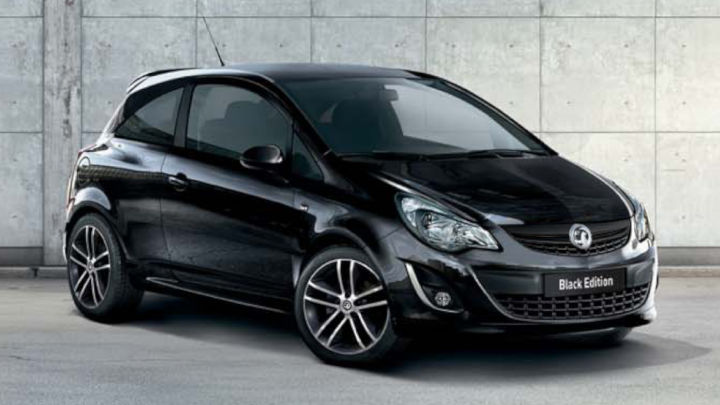 Popular, practical supermini
You'll be able to find an older, but still relatively new, used Vauxhall Corsa for less than £100 per month on finance. Its seemingly tireless popularity means there are thousands of used examples available at any one time.
They are popular with young people as first cars because they look decent, drive well and are pretty practical too. Both modern '14-19 and older '06-14 versions can be found at this price point, depending on the type of car finance you choose.
You can get some quite well-equipped versions for your budget, with air con, alloy wheels and even Bluetooth connectivity available for the money.
Search Used Vauxhall Corsa
Ford Fiesta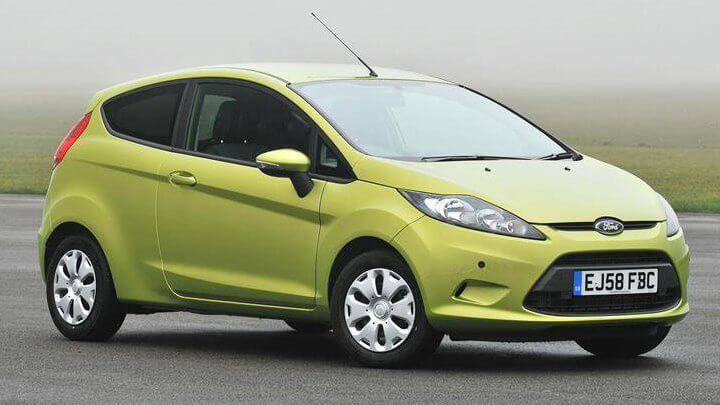 A great all-rounder
A used Fiesta is at the top of nearly every other list of everyday cars that you can think of, because it does so much so well. However, you won't find loads under £100 per month as they hold their value quite well.
The sub £100 a month Ford Fiestas are out there however, and if you manage to track one down then you'll be getting a very good car for not a lot of money.
They're Britain's best-selling new and used car and with good reason, its blend of great looks, brilliant handling, reasonable practicality and everyday comfort make it easy to see why they're so popular with UK buyers.
Search Used Ford Fiesta
Find your perfect used car for less than £100 per month
Above you've seen eight different ways you can get into a modern, practical and reliable used car for less than £100 per month on HP or PCP finance.
At Evans Halshaw, we stock all of the above cars from Fiat, Ford, Vauxhall and the rest. The best part is, you can use our smart search to filter by monthly payment when you're looking for your next used car.
Search all used cars under £100 per month.