Top 10: Best Self-Parking Cars in 2023
05th Jan 2023
By Edward Cook
Assisted Parking
It's a mandatory hurdle to overcome when we're learning to drive, but parking is one of the arts that many struggle with throughout their driving lifetime. Thankfully, plenty of today's car manufacturers have identified this issue and have implemented advanced self-parking technology into some of their models as part of a wider ADAS system.
But how do self-parking cars work? In simple terms, your car will scan its surrounding area using numerous sensors and cameras placed around the car's exterior, and determine whether it can park itself in the selected space. It will then take over the controls and safely assist in parking while you oversee the proceedings.
Capable of completing both parallel and bay parks, we've selected ten of the best cars that currently offer park assist technology.
Ford Fiesta
The humble Ford Fiesta has long been a bestseller in the UK, and for good reason. Its low running costs, sleek design, and well-equipped setup are all features that attract many, and the latest generation continues this trend.
Coming as part of the wider Ford Parking Pack, Active Park Assist is available on a wide variety of Fiesta models, including the adventurous 'Active' and sportier 'ST-Line'. To help out with parking even further, the parking pack can include rear parking sensors and a rearview camera, as well as door edge protectors for squeezing out of tight spaces.
When operating the system, the car will take care of steering itself into the parking space, all you'll have to do is brake, accelerate, and change gears where required.
Search Used Ford Fiesta
Peugeot 308
When Peugeot introduced the latest 308 to market, it grabbed the attention of many with its new, striking aesthetics and impressive build quality. Delve a little deeper, and you'll know that the French brand seriously mean business, having loaded the 308 with a raft of helpful driver assist technology.
Coming as standard on the top-of-the-range specification, or an optional extra on some other models, Visio Park 3 comes with a semi-automatic parking assistance system that helps to guide the car into parking spaces.
As well as the self-parking system, Visio Park 3 offers a 360-degree HD parking camera for ultimate visibility when completing trickier manoeuvres. An auto dipping mirror function, which automatically tilts the side mirrors for a better view of your surroundings, is also a welcome feature on the highest specification, while parking sensors come as standard on all models.
Search New Peugeot 308
Search Used Peugeot 308
BMW 5 Series
BMW are a brand that have built up a strong reputation for manufacturing cars that are of the highest standards, one of which is their popular 5 Series executive car.
The 5 Series is quite a long car, and this can prove to be quite the problem when attempting to slot your car into parking spaces. But BMW have this covered with their standard Parking Assistant – a system that finds a potential parking space and then takes over lateral and parallel parking manoeuvres to ensure you park your car without any collisions.
Reversing Assistant is also included, which records the previous 50 metres driven and allows the car to autonomously follow the same route in reverse, allowing the driver to have their full attention on potential hazards.
If that's not enough, then there's the option to upgrade to Parking Assistant Plus, which offers the additional benefits of 360-degree views, 3D visualisation, and Remote 3D View.
Search Used BMW 5 Series
Vauxhall Mokka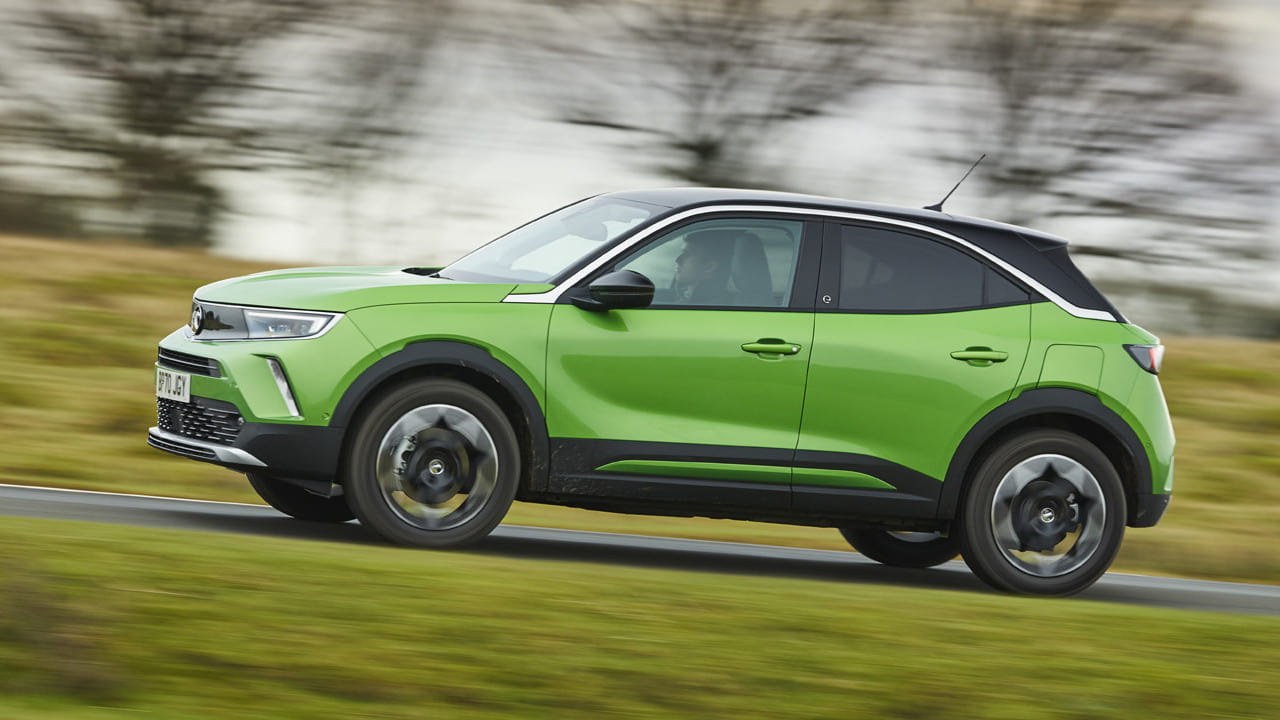 Vauxhall cars of yesteryear are probably best-known for their budget-friendly approach that sometimes led to a no-frills end product. However, in recent years, Vauxhall have managed to up their game and have somehow managed to squeeze bundles of tech into a still-budget-friendly package, and the Mokka, and its all-electric Mokka-e sibling, are great examples of this.
Coming as standard on 'Ultimate' models, Vauxhall's intelligent Advanced Park Assist makes both reverse and parallel parking a doddle, pairing autonomous parking with visibility aids such as a panoramic rearview camera and a blind spot alert system.
If you're not looking to splash out on a top-line model but still want to take the stress out of parking, then you can rest assured knowing that all Mokka models come with parking aids such as a front camera system and automatic emergency city braking.
Search New Vauxhall Mokka
Search Used Vauxhall Mokka
DS 7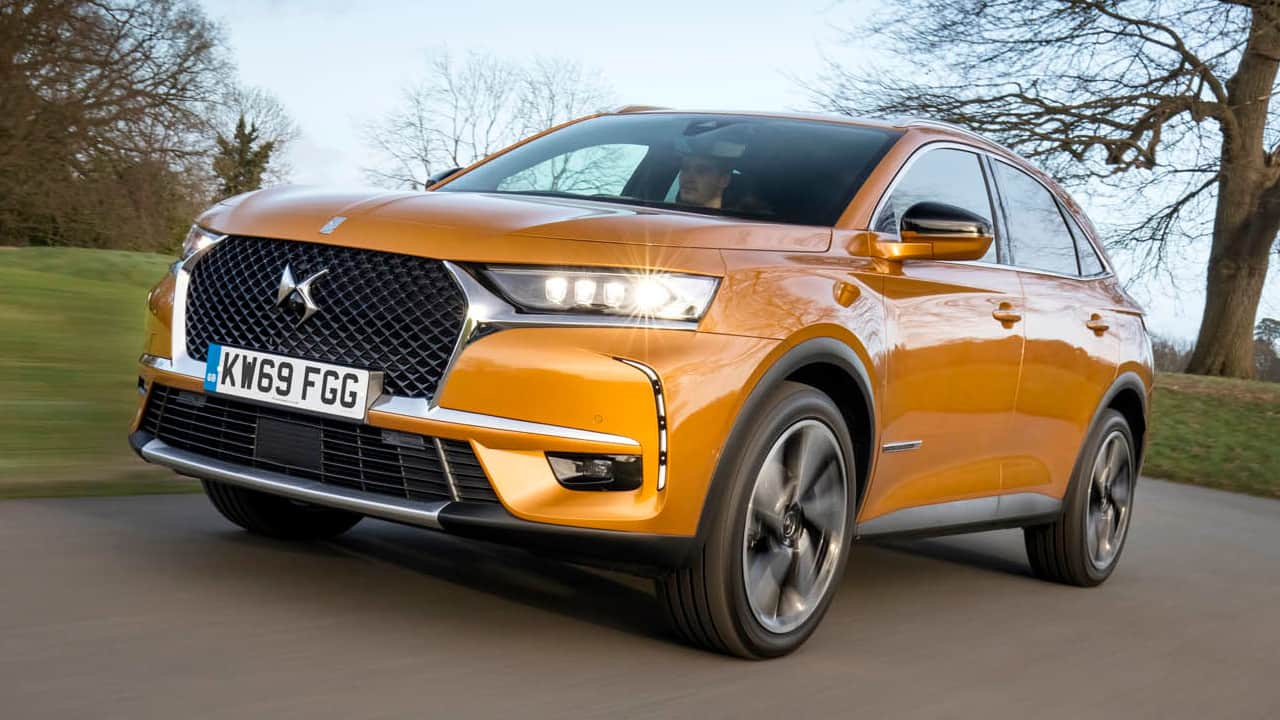 The large DS 7 SUV is part of an expanding range of impressive DS models that have disrupted the automotive world since their breakaway from the Citroën brand. With super sophisticated looks and a better-than-most build quality, the DS 7 is a popular choice within its very competitive segment.
With such large dimensions, comes great parking pressure, so squeezing the DS 7 into tight supermarket parking bays can be quite the challenge. Thankfully, that pressure is alleviated when DS' Park Pilot is activated.
The DS 7 is able to scan and detect parking spaces when driving of speeds up to 18mph, and once you give the self-parking system the green light, it will take over the controls of both the steering wheel and pedals, allowing you to fully concentrate on any potential hazards.
Search New DS 7
Search Used DS 7
Volkswagen Golf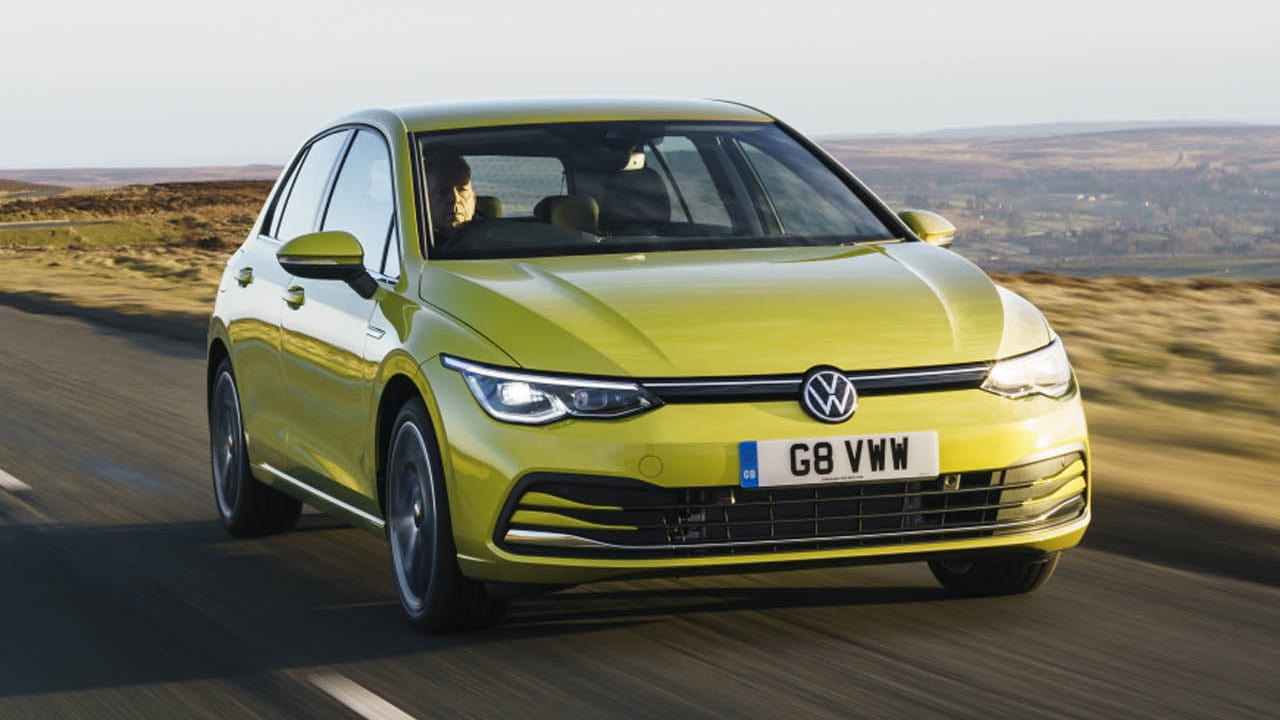 The Volkswagen Golf seems to appear on a wide variety of our 'best car' articles, and that's because it's still one of the best all-round hatchbacks you'll find.
The Golf comes packed with features, but one of the most impressive is its interior space and comfortable ride, making it particularly popular amongst families. However, parking a car that's fully loaded with children isn't the easiest of tasks, to say the least.
Volkswagen's Park Assist can put your mind at ease when completing trickier parking moves, as it takes control of the car's steering to seamlessly put your car where it needs to be. The system will give you various prompts through the infotainment system in order to park itself, but for the most part, it's a straightforward system to use.
The only downside is that it comes as an optional extra on all Golf models, meaning you'll have to search for an example with it fitted if buying used.
Search Used Volkswagen Golf
Mercedes-Benz C-Class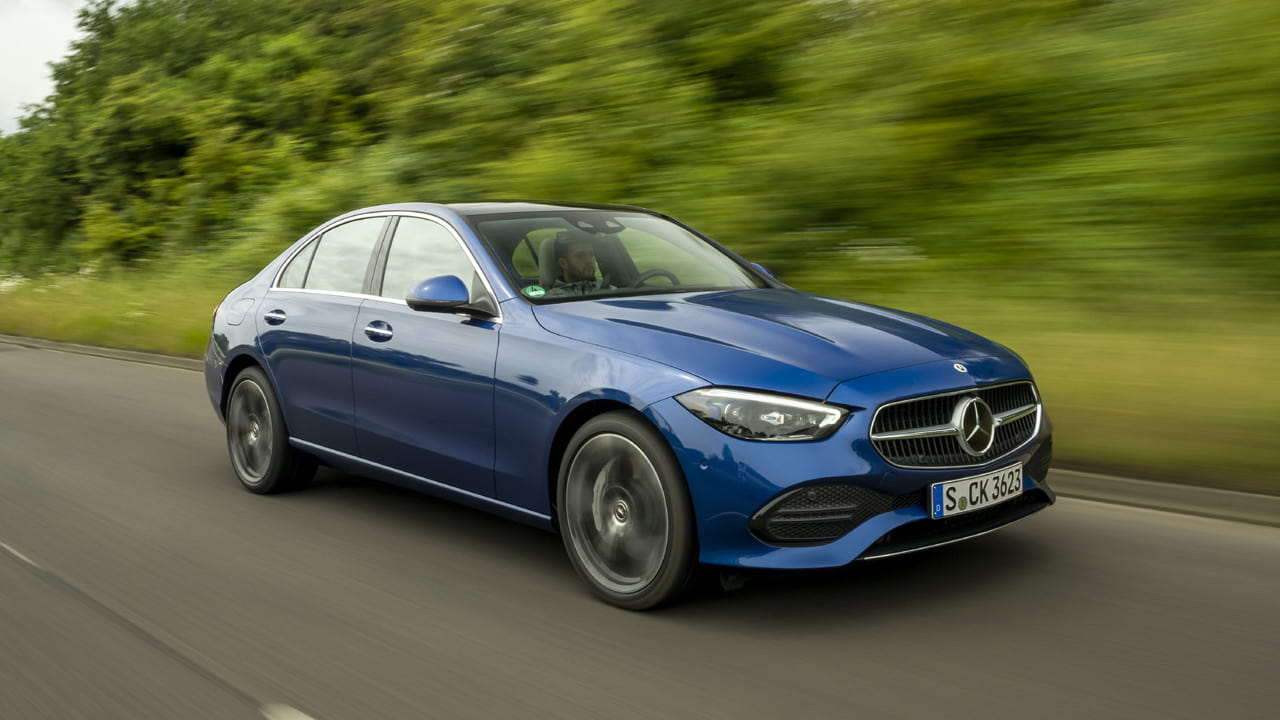 Direct competition to the likes of Audi and BMW, Mercedes-Benz have developed a reputation for equipping their cars with a raft of safety equipment and aids. The Mercedes-Benz C-Class executive car is a great example of this, but much of the Mercedes-Benz range offers self-parking technology.
Available as standard on AMG Premium and AMG Premium Plus models, Mercedes-Benz' auto-parking system comes as part of the Parking Package with 360-degree camera. Once your parking place has been selected, the car can manoeuvre itself into position, or it can provide audible feedback and dynamic visualisation if you fancy parking yourself.
Sport and AMG Line models don't have a self-parking system on offer, but they do provide the driver with assistance through use of a reversing camera and ultrasonic sensors to reduce stress.
Search Used Mercedes-Benz C-Class
Kia EV6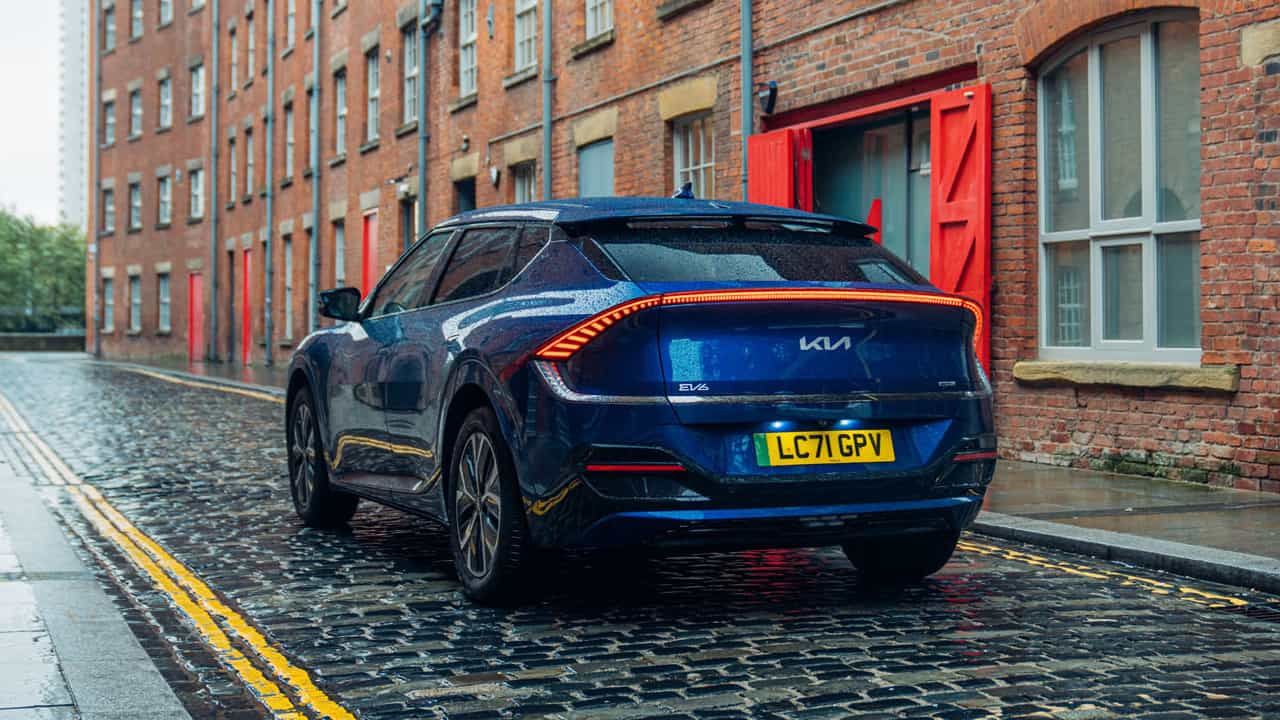 The EV6 was the first car to be built on Kia's purpose-built EV platform, and they pulled out all the stops, delivering an impressive 316-mile electric range, a sharp design, and ultra-fast charging.
Unlike most other options on this list, the EV6 offers the driver the option of parking the car without them even being inside. Available on GT-Line S and GT models, Kia's advanced Remote Smart Park Assist offers a variety of methods of self-parking.
When parking in extra tight spaces, the driver and passengers are able to exit the car and 'drive' it forwards and backwards into the parking space using controls embedded within the key. You're also able to select a parking space, exit the vehicle, and watch it autonomously park itself.
Of course, you can also stay in the car and let it park itself too, or make the most of the other parking aids for when you fancy parking the EV6 yourself, the choice is yours.
Search New Kia EV6
Search Used Kia EV6
Hyundai IONIQ 5
The IONIQ 5 is what Hyundai calls a Crossover Utility Vehicle (CUV) and what that means is a blend of hatchback styling and SUV levels of practicality. And despite it looking like a family hatchback, the IONIQ 5 is a surprisingly large car, making it rather difficult to park at times – this is where Hyundai's Remote Smart Parking Assist (RSPA) comes into its own.
Similar to the aforementioned Kia EV6, the IONIQ 5 has the capabilities to be parked whilst the driver is outside of the car, meaning you won't have to worry about knocking your doors into walls and other objects when things are a little tight.
Like most automatic parking systems, Hyundai's RSPA operates in a calculated manner, and this can take a bit of extra time, so it may not be the most suitable to use during busy times. If that's the case, then don't fear, as the IONIQ 5 comes loaded with a variety of other parking aids to help you park the car safely.
Search New Hyundai IONIQ 5
Search Used Hyundai IONIQ 5
Renault Arkana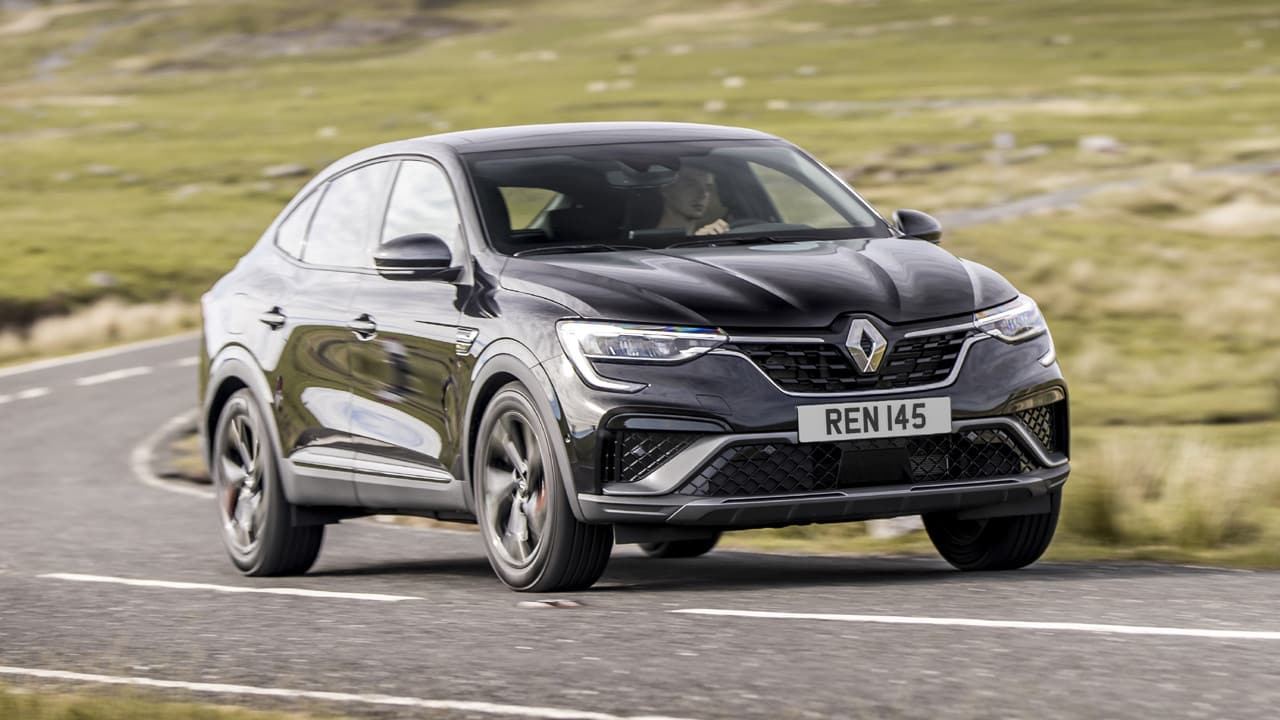 As Renault's first coupé-SUV, the Arkana had big expectations to meet, and it did so with great aplomb. Its elegant exterior design caught the eyes of many, while its comfortable ride, pleasing practicality, and long list of equipment ensured its place as a premium car with plenty of appeal.
However, a car of this size will always be tricky to park, so the Arkana's hands-free parking system is a much-welcomed feature when behind the wheel of this sporty SUV. EasyPark Assist is a semi-autonomous parking aid that can perform a parking manoeuvre with ease, after scanning potential parking places.
It comes as standard on top-of-the-range R.S. Line models, or as part of the Parking Pack on mid-range S Edition variants. A rear parking camera and 360-degree aerial view are also available gadgets that can make bay and parallel parking a breeze.
Search New Renault Arkana
Search Used Renault Arkana
Find your own self-parking car with Evans Halshaw
Experiencing autonomous parking for the first time is quite the experience, but once you're used to watching your car automatically park itself, it's one of the handiest features available on modern vehicles.
There are plenty of new and used options available if you're searching for a car that can give you a hand when it comes to parking. Your nearest Evans Halshaw dealership can assist in finding you a vehicle that meets your needs, and allow you to try out the various park assist systems for yourself before making a decision.