Introducing the Nissan Juke Hybrid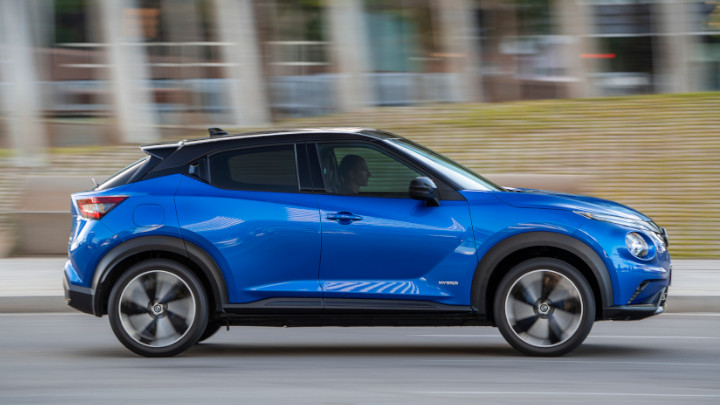 Nissan Juke Hybrid is a fine addition to the already popular and successful Juke SUV range.
A brand-new advanced hybrid powertrain allows owners to get a taste of sought-after EV benefits. This is done without having to worry about plugging-in this stylish SUV, or straying too far away from the conventional engine and the welcome familiarities that come with it.
Transitioning between the internal combustion engine (ICE) and electric modes automatically and seamlessly allows for smooth and economical driving, which only enhances the appeal even further of this compact SUV. Enjoy quieter driving and enhanced economy whilst still enjoying the quirks, style, and charm this small SUV offers.
Bespoke hybrid detailing on both the interior and exterior ensure the Juke Hybrid model can be easily identified.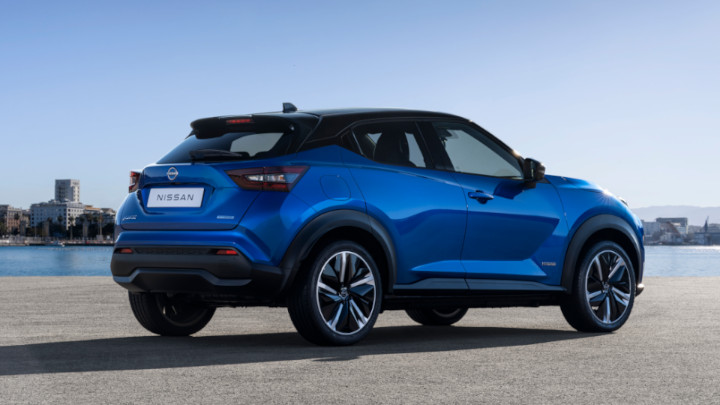 The most noticeable feature of the advanced hybrid Juke is the fitment of Nissan's intelligent e-Pedal Step. When activated, the e-Pedal allows the car to be controlled through just one pedal. Simply, lift your foot off the accelerator and the e-Pedal will automatically apply moderate braking to slow you down to a crawl of 3mph.
Pairing a 93bhp 1.6-litre petrol engine with a 48bhp electric motor, the Juke Hybrid has a total power output of 140bhp. Elsewhere in the Juke range, engines are 1.0-litre in size. Therefore, this new hybrid version is set to be the most powerful Juke in the range. This is further enhanced by the instant torque and sensation you get with electrical input.
Nissan state the end result in the Juke Hybrid is a powertrain that's 25 percent more powerful and 40 percent more efficient than that of a regular Juke in urban driving, and 20 percent combined.
What's more, the Juke Hybrid will toggle effortlessly between its electric motor and ICE, without the need for plugging-in. This is because the Juke Hybrid is a full-hybrid (HEV).
The hybrid system generates and stores electricity using the energy captured through regenerative braking. This allows often-wasted energy to be saved and reused, boosting economy.
The Juke Hybrid is capable of achieving up to 56.5mpg WLTP, and puts out as little as 114g/km in CO2 emissions.
Test drive the Nissan Juke Hybrid
Benefiting from a full-electric driving mode with no range-anxiety or need for plug-in charging, the Nissan Juke Hybrid includes all the usual features found in a conventional Juke, with the additional bonus of fuel savings and reduced emissions.
The ultra-popular compact SUV has some unique exterior and interior updates too, expressing its hybrid nature.
If you'd like to test drive the new Nissan Juke Hybrid, then please contact your nearest Evans Halshaw Nissan retailer for the latest news and updates.