Take the E-Transit Challenge with the fully electric E-Transit extended test drive.
Discover electric by booking an extended test drive at your local Evans Halshaw Ford Transit Centre†. If you are considering making the switch it's the ultimate way to try before you buy!
Challenge the range*
Challenge the drive
Challenge the load
Challenge the Experience
What's more, if you purchase an All-Electric E-Transit before the 31st March 2023 you may be eligible for a £500 customer upgrade saving~ as part of our Driving Productivity promotion and a free Ford Connected Wallbox with standard installation‡ subject to criteria below.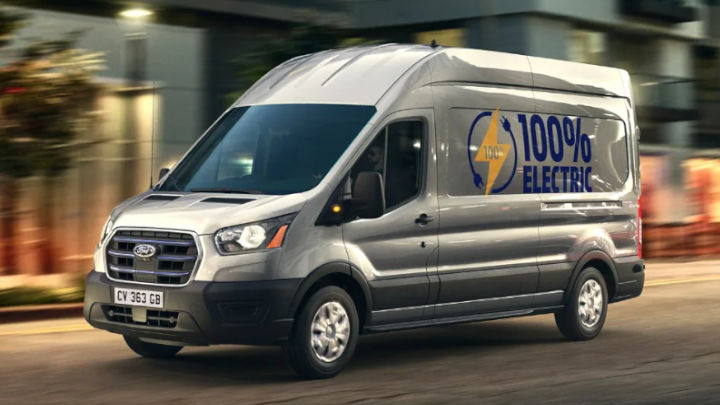 Terms and Conditions
Available to eligible retail and small business customers.
†At participating Ford Transit Centre Dealers. Test Drives subject to availability. Other dealer restrictions and exclusions apply.
~£500 Upgrade Saving (exc. VAT) off a selected new Ford Commercial Vehicle. Current Ranger Raptor and All-New Ranger Raptor Upgrade Saving £500 (inc. VAT). Your current vehicle must be [1] a Ford vehicle that's over 4 years old from date of first registration or [2] a non-Ford vehicle of any age which you must have owned for a minimum of 4 months or [3] a used Ford vehicle which you must have owned for a minimum of 4 months. Eligible retail and small business customers only. Excludes Privilege, Advantage, D-Plan and Ambassador programmes. Excludes Base and Leader series, Transit, and All-New Transit Custom including the E-Transit Custom. Upgrade Saving applies to all series of All-Electric New Ford E-Transit including Leader.
‡Available to retail and small business customers when purchasing an E-Transit that is contracted between 17th January and 31st March and registered by 30th September 2023. Includes standard installation. Further charges may apply if the survey reveals any additional work required.
*The E-Transit battery delivers an impressive range of up to 166-196 miles (WLTP test result) on a full charge. 196-miles WLTP Overall Range reflects a combined driving cycle and 166-miles WLTP Extra High range reflects motorway driving. Based on full charge. Range quoted for best performing variant, Medium Wheel Base, Medium Roof Cargo Van, 390 Series, Speed Limited to 90kph. Targeted estimate range applies to an available configuration (and is based on CAE modeling using WLTP test procedure). Actual range varies with conditions such as external elements, driving behaviours, route profile, vehicle maintenance, lithium ion battery age and state of health.