Introducing the All-New Ford Tourneo Custom
Transporting a large number of people can be quite the challenge, but Ford has had this ability as part of its arsenal for many years, courtesy of the Tourneo Custom. But now it's time for an update, step forth an all-new generation.
Sporting bold new looks and a new degree of technology, the latest iteration is ready to take on the challenges of you, your family, and your friends, all-day, every day. Whether it's a business commute or family adventure on the cards, the Tourneo Custom's flexible nature has your back covered.
With a variety of powertrains to choose from, including plug-in hybrid and all-electric options, the vehicle keeps emissions low but economy high. There's also plenty of equipment for you to choose from, allowing for the perfect configuration to be found.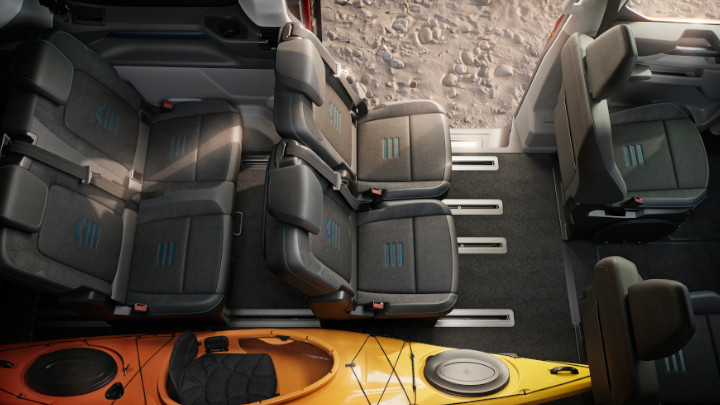 The obvious change with the new generation comes in the department of looks, with a striking, expressive design that appeals to a wide audience. Distinct LED headlights and a redesigned front end are just a few highlights from a vehicle that's received a full makeover.
Practicality and comfort were at the forefront during the redevelopment process, resulting in a multipurpose vehicle that goes beyond previous generations. With a reconfigurable seat setup with space for up to nine and an interior that boasts plenty of space for all, this is truly versatility nailed.
A multitude of more refined features have been implemented into the design too, including the likes of hands-free power-operated sliding doors and a panoramic sunroof to give all passengers the greatest view. The All-New Tourneo Custom can also double up as a mobile work or living space, complete with features such as a foldaway laptop stand that was first introduced on the E-Transit Custom.
There's little left to desire in the way of technology and gadgets, with features such as tri-zone air temperature control, wireless device charging, and a 14-speaker Bang and Olufsen speaker system all available to enhance comfort and refinement.
As always, Ford's applauded SYNC infotainment system heads up a driver-orientated interior that offers a collection of tech including Apple CarPlay/Android Auto connectivity and a new digital instrument cluster.
Take connectivity to the next level by pairing the Tourneo Custom with the innovative Ford Pro suite, and you will benefit from a range of digital services that can help with route planning, routine maintenance, and recharging, to make life much easier.
The Tourneo Custom is yet to be tested for an official safety rating, but based on its superior technology compared to previous generations, we can expect it to score strongly.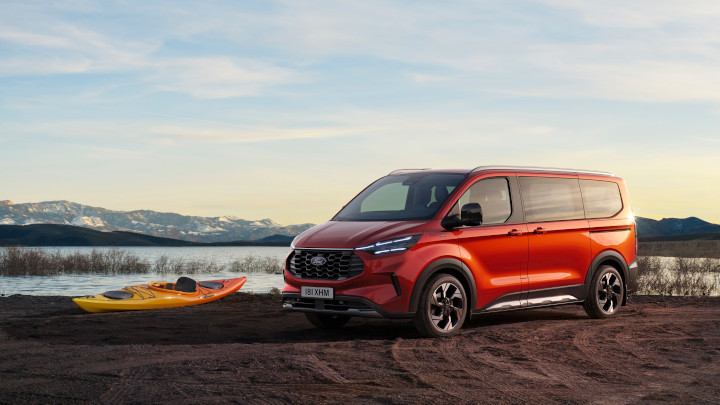 Ford's push towards electrification is easy to see across its range, and the Tourneo Custom is no different. Offering a range of traditionally-fuelled and hybrid-electric powertrains to suit differing needs, it's a vehicle that knows no bounds, especially when combined with its versatile all-wheel drive option.
Powertrain options include:
2.0-litre EcoBlue Diesel with either 134, 148, or 168bhp
2.5-litre plug-in hybrid with up to 35 miles all-electric driving range
All-electric variant with up to 236 miles all-electric driving range
On top of its supreme practicality inside, the All-New Tourneo Custom can tow varying amounts dependent on which powertrain you choose. Towing capacities top out at 2,500kg braked, allowing you to take everything you need on your adventures.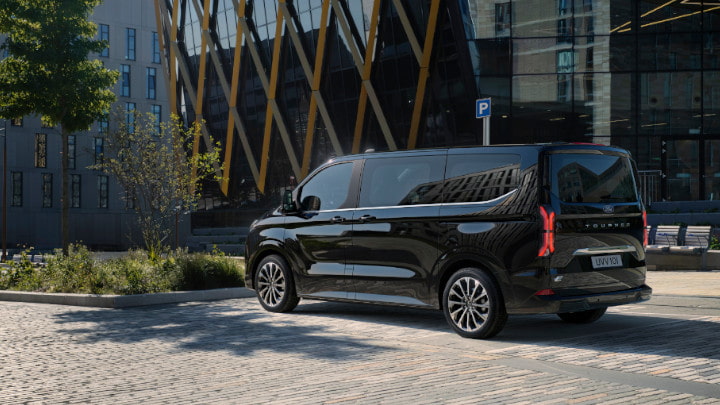 If you were to opt for an all-electric variant of the All-New Tourneo Custom, then you can rest assured knowing that recharging the vehicle is as straightforward as it comes.
When using the onboard 11kW 3-phase charger, a full recharge takes less than eight hours, allowing you to plug it in overnight, and wake up ready to go. For quicker charging times when on the move, head to a 125kW DC fast charger, and you can see battery charge go from 15 to 80 percent in just 41 minutes.
The All-New Tourneo Custom is designed with efficiency in mind and comes equipped with a one-pedal drive mode, in order to enhance economy and comfort. You can also put some of your vehicle's energy to use for other gadgets too, using the intelligent Ford Pro Power Onboard system, which delivers 2.3kW of power through sockets placed around the cabin.
The All-New Ford Tourneo Custom: coming soon to Evans Halshaw
Whether you like a relaxed or active lifestyle, or fancy a bit of both, the All-New Ford Tourneo Custom is ready to take you, your friends, and your family wherever you desire. Offering a bold new design that puts it right at home within Ford's all-electrified range, it makes quite the statement.
If you'd like to find out further information on the All-New Ford Tourneo Custom, or would like to be first in line when it's available, please contact your nearest Evans Halshaw Ford dealership.