A Better Way of Maintaining Your Fleet
Ford Motor Company have developed an app for your smartphone called FordPass Pro, which allows you to look after up to five business vehicles, leaving you to focus primarily on your day-to-day work.
There's a number of benefits that are included with the FordPass Pro app, which range from alerting you to any potential issues that need addressing or booking your van in for some regular maintenance to be completed. It can also be linked to
FORDLiive
, a connected uptime system that ensures your van or pickup always gets the service it needs.
Below, we have outlined the key benefits of FordPass Pro and how it could aid your business on a daily basis.
FordPass Pro Key Features:
Mobile Alerts
Plain and simply, if an issue arises on one of your vans, FordPass Pro will alert you so that surprise costs can be avoided later on. It'll even let you know when you're due a service and help you book in advance.
Check In
Keeping an eye on your tyre pressures and AdBlue levels has never been so easy thanks to FordPass Pro, which helps you keep on top of basic maintenance.
Keep Track
Want to keep tabs on where your vehicles are? With FordPass Pro you can check your fleet's most recent location on one map and ensure they are safe and sound at the end of the day.
Take Control
You can lock/unlock your vehicle wherever you are with FordPass Pro. And if you own an automatic van, you can start the vehicle engine from the app, perfect for those cold winter mornings!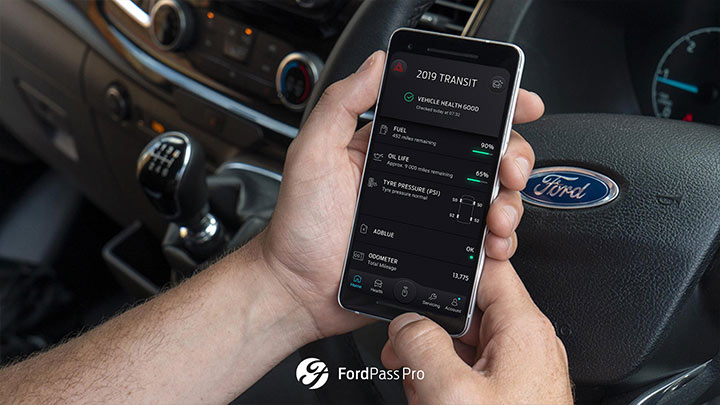 FordPass Pro app is available on the following models:
FordPass Pro is available on the following vehicles:
Fiesta Van (2019MY) – Optional: Van/Sport. Fiesta Van (2020.25MY) – As standard: Van/Sport. Transit Connect (18.75MY) – Optional on all variants. New Ranger - As standard: Wildtrak, Limited, Raptor. Optional: XLT. Not available on XL. Tourneo Custom – As standard on all variants. Transit Custom – As standard on all variants. Transit – As standard on all variants.