Introducing the Ford Transit One Stop Shop Range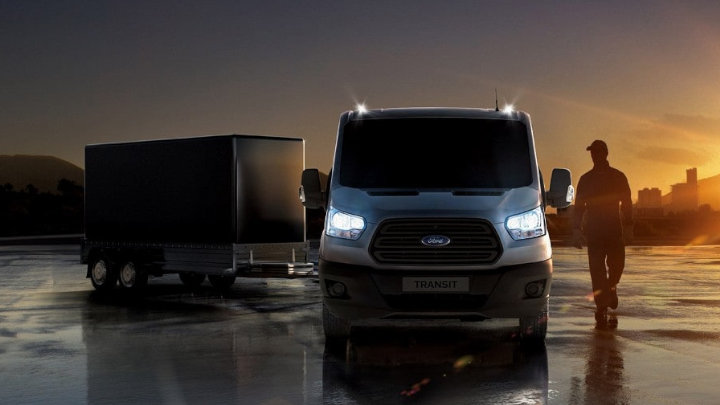 Our One Stop Shop is the place to go for specialist Ford Transit Conversions. Evans Halshaw Ford Transit Centres are able to supply the finished product to your exact specifications, without the need to take your new vehicle elsewhere. We can arrange for your Transit to be converted, liveried and ply-lined before you take delivery.
The Transit Conversion range includes the 1-Way Tipper, 3-Way Tipper, Dropside, Chassis Cab and of course the removal person's favourites, the Luton and Box vans.
With stock of readily-converted Ford Transits available for immediate delivery, you won't have to wait to get behind the wheel of your work-ready van. We can also tailor a finance package around you and your business - search our latest offers to see which one suits you.
Transit 1-Way Tipper
The Ford Transit Tipper is designed and engineered to make your job easier. Strong but versatile, the 1-Way Tipper offers improved functionality and design with a large payload plus a supremely reliable and durable tipper mechanism.
Features of the 1-Way Tipper include:
Sequenced hydraulic body hold down system - automatically secures the body in its lowered position
Dual mode hinged tailboard - the side-mounted remote lever allows the operator to easily control the top-hinged and 'tip-thru' functions
Tipper controls - located next to the driver's seat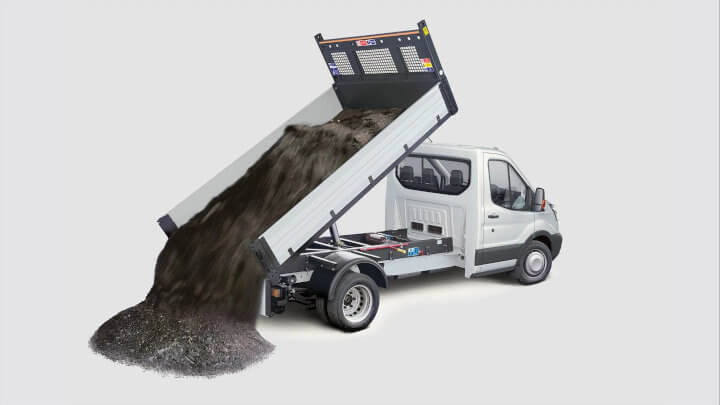 Transit 3-Way Tipper
The 3-Way Tipper does exactly what it says. It can tip left, right and rear which is super useful when you need to get the job done in tight spaces. Its versatility, reliability and robustness are all welcome traits.
Key features of the 3-Way Tipper include:
Remote wander lead handset - allows you to control the side-tipper
5-stage chromium plated ram - includes electrical limit switches and shock absorbers for easy, controlled tipping
Dual mode hinged tailboard - a side-mounted remote lever for activating the top or bottom hinges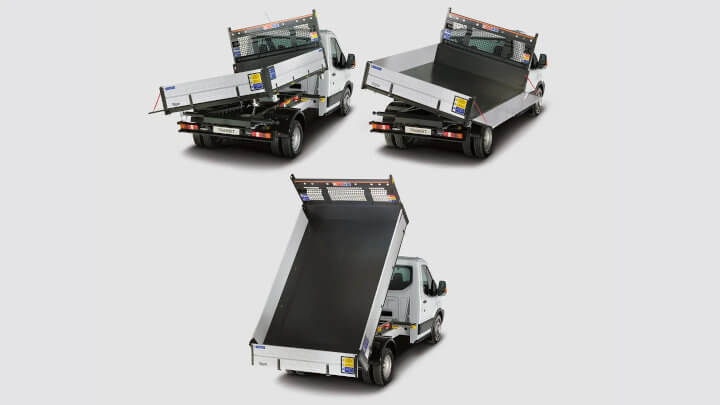 Transit Luton and Box Van
For when you need even more room than even a full-size Transit can provide, there's the Transit Luton and Box Vans. Strong but lightweight, both the Box Van and the Luton are ideal for multi-drop operations, thanks to their excellent payload and cargo capacity.
Key features of these vans include:
Load anchors - allow you to secure your precious cargo
Load retention poles - robust and strong, these telescopic poles allow near infinite adjustability when securing your load
Rear shutter - rolls upwards easily to make sure it's out of the way when you're loading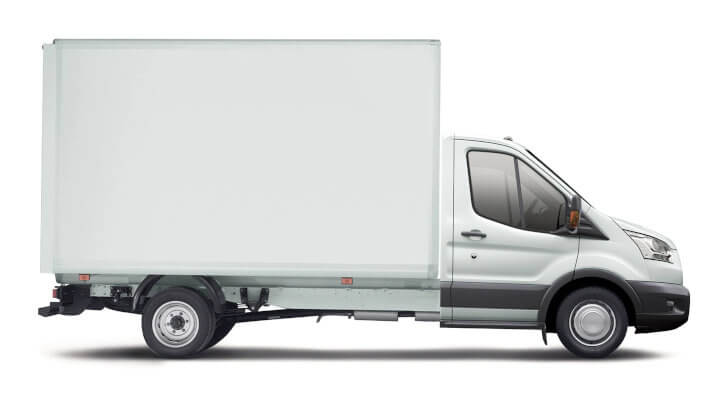 Transit Dropside
The Dropside is an ideal vehicle for multi-purpose trades, offering a single or double cab option with 2-wheel and 4-wheel drive models that make drop-offs a breeze. Both manual and automatic gearboxes are available too.
Key features of the Transit Dropside include:
Tubular steel headboard - protects the cabin and is sturdy enough to secure longer items to
Load anchors - handy retention rings slide out of the way when not in use
Fold-out steps - make it easier and safer to access the load area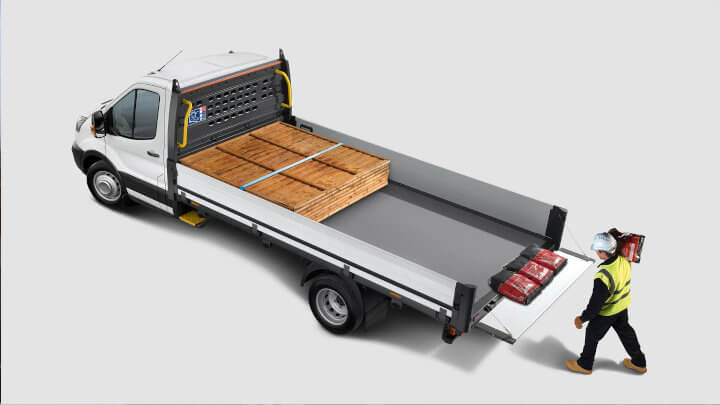 Transit Chassis Cab
The Transit Skeletal Chassis Cab offers body converters the ability to mount the conversion on the lowest possible chassis, and allows for walk-through access for the cab.
Key features of the Skeletal Chassis Cab include:
Low chassis floor - removes the need for a tail lift by allowing easy entry to the rear
Heavy payload - the rigid ladder frame chassis is strong enough to take a payload of up to 2,390kg
Open-back cab - allows for easy walk-through access to the converted rear load space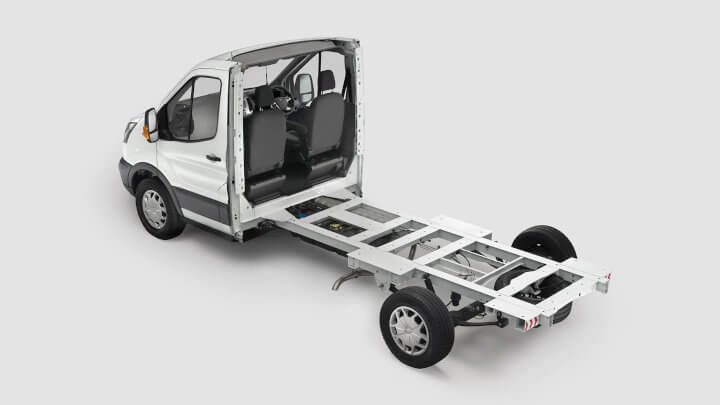 Refrigerated Conversions
Transit, Transit Custom and Transit Connect vans are able to be converted into chillers, fridges and freezer vans. These vehicles can be suitable for a number of different industries including pharmaceutical, seafood, live animal carriers and fine artworks.
We work with a number of different refrigerated vehicle conversion specialists to ensure you get the right vehicle for you.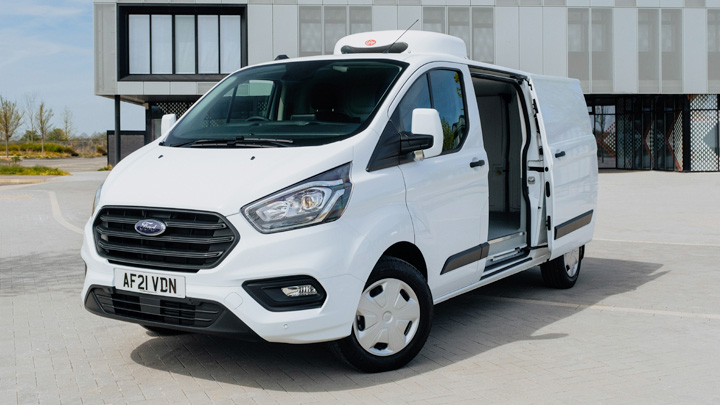 Welfare Conversions
Welfare vehicles typically feature places to eat, sinks and toilets in addition to the ability to transport passengers. These vans provide fully mobile, on-site relief and rest areas for workforces, and are particularly useful in areas where facilities aren't in the locale.
We work with a number of different welfare vehicle conversion specialists, all of whom are approved by Ford's Qualified Vehicle Modifier programme.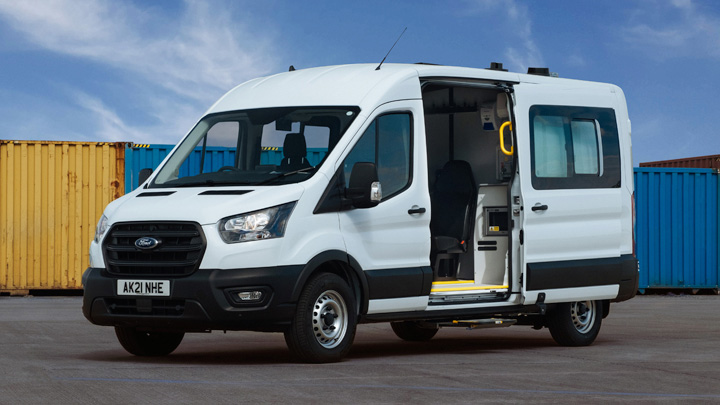 Order your new Ford Transit Conversion
With so many specifications available, as well as a wide range of pre-converted, ready-to-work models in stock ready to drive away, our specials commercial vehicle sales teams can help you find the right vehicle for your business.
To arrange a viewing of any of the above vehicles, take a test drive or simply find out more, please contact your nearest Evans Halshaw Ford Transit Centre.