Used Renault Twizy for sale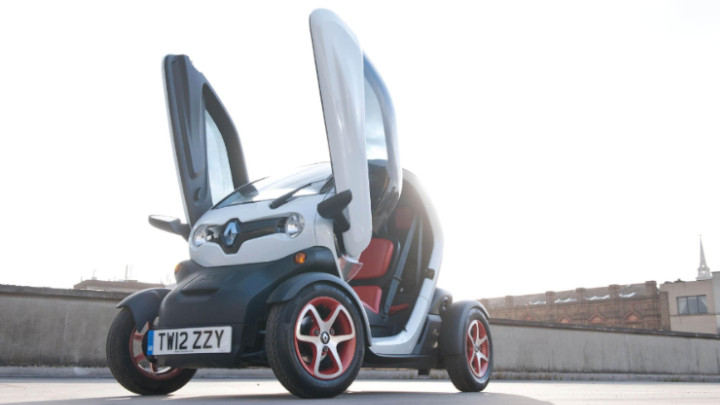 Want to turn heads in your next used car, but can't quite stretch to a supercar? The Renault Twizy could well be the answer for you!
Don't get your hopes up too high though, as the Twizy isn't a cut-price supercar, although it does have funky doors like a certain Italian one. Instead, it's technically a quadricycle - which is basically a microcar, and therefore doesn't have to follow the usual stringent requirements of a normal car.
Either way, the Twizy offers:
Incredibly low running costs
Head-turning looks
Ridiculously easy to drive and manoeuvre
100% electric power
Discover in more detail the quirks and features of the Twizy below.
Engines and Driving Experience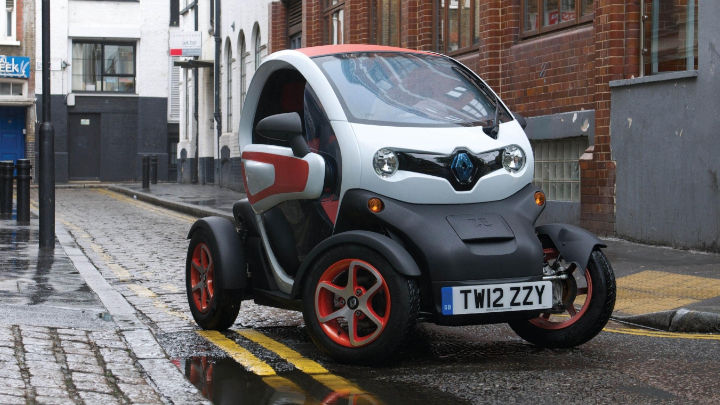 Being fully-electric means you don't have to worry about an engine in the Twizy. Instead, you get a 17bhp electric motor, powered by a lithium-ion battery.
It's by no means a rapid vehicle, as the top speed is 50mph, but as with most electric cars, it's pretty nippy off the line and zippy around town thanks to its miniscule size. Plus, it doesn't weigh a lot either; tipping the scales at 450kg, further playing into its playful character.
To drive, the Twizy doesn't have power-steering, but the micro size and weight ensure you don't really miss it, as it's still relatively composed, although it's happiest around town. You'll be turning heads either way.
If you were wondering at just how micro the Twizy is, at only 2,338 mm long , 1,381 mm wide and 1,454mm tall. It's basically a 'Hot Wheels' toy of the real car world.
To put that into perspective, a Smart ForTwo measures 2,695mm long, 1,663mm wide (excluding mirrors) and 1,555mm tall.
Practicality and Running Costs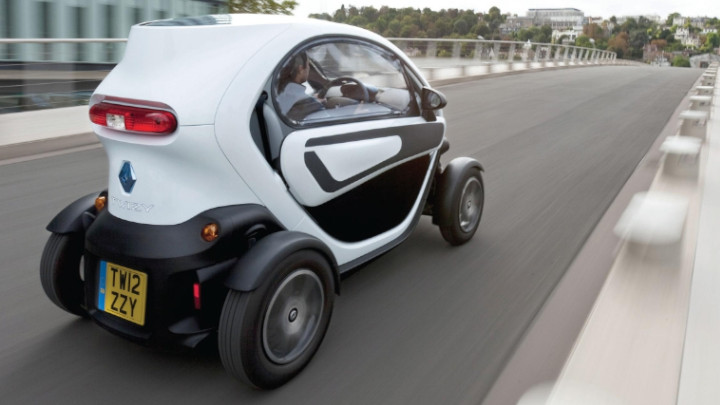 Don't expect a conventional boot in the Twizy. There are two seats though, so a passenger can sit behind the driver, but you wouldn't want to be back there for ages, with your legs straddling the driver's seat.
Shopping bags therefore can be placed in the passenger seat, if you are driving alone, or down by the passengers legs, or wherever is possible, in all honestly. But then if you're looking at a Twizy, chances are you aren't really expecting Fiesta-like practicality.
However, running costs are where the Twizy are comically cheap. A 3-hour charge off a household 3-pin plug may well only give circa 60 miles of range, but it will cost under £1 in electricity. So, say you plan to drive 240 miles a week (a possible commute) it will cost less than £4. Can't argue with that.
Interior, Technology and Safety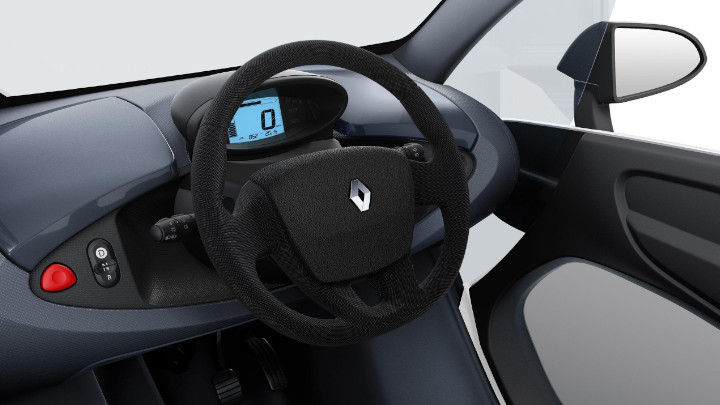 A small electronic instrument cluster, a steering wheel and some plastic trim. The Twizy interior isn't exactly plush or revolutionary, but it's charmingly simplistic.
The handbrake is under the dash, and there are some funky storage nets to keep bits and pieces in. Oh, and you don't get full doors, more half doors with plastic wind deflectors to keep rain out on occasion. If we're honest, it's a summer vehicle, and you're bound to see these whizzing, or should that be 'Twizing', around places such as Monaco and Spain.
As for technology and safety, the Twizy gets gets disc brakes, an engine immobiliser, driver's airbag and day-time-running lights.
Due to the car's half doors, probably best you don't leave valuables in the car either...
Is the Renault Twizy right for me?
If you want a car that will attract looks and people pointing at you, a Twizy will fit the bill well.
It may not be a conventional car, but the world is more fun when manufacturers throw caution to the wind. And besides, the Twizy makes a great city car.
Ideal for congested places like London, or hot Mediterranean locations, the Twizy will attract a certain type of buyer. They make great motorsport pit vehicles too.
A Smart is perhaps a more normal alternative, but you won't turn heads. The Twizy is a toy in reality, but one that can be had for not much money.
Why buy a used Renault Twizy through Evans Halshaw?
Popular Used Renault Models
At Evans Halshaw, we have a wide variety of quality used vehicles for you to choose from. Each car is carefully selected by our expert teams before making its way through the rigorous preparation process, where it is inspected by a qualified technician and then fully valeted throughout.
All of our vehicles are fully HPI checked, giving you peace of mind when making a decision. In addition, we're able to offer same-day delivery on a selection of used cars, meaning you never have to wait for the car you want.
If you'd like some advice on picking the right car for you, or you've spotted a vehicle and want more information, please contact your nearest Evans Halshaw dealership, where one of our friendly associates will be more than happy to help.