Introducing the Hyundai TUCSON Hybrid and Plug-in Hybrid
The fourth generation of Hyundai's best-selling SUV, the TUCSON, is not only available with conventional internal combustion engines, you can also choose between mild hybrid (MHEV), hybrid (HEV) or plug-in hybrid (PHEV) variants.
Electrified powertrains in the TUCSON deliver reduced emissions, however, there's absolutely no compromise on the responsiveness of the compact SUV.
Whether you decide to go for the self-charging hybrid or the plug-in hybrid, you're guaranteed an enjoyable driving experience, which is more efficient, cost-effective and kinder to the environment.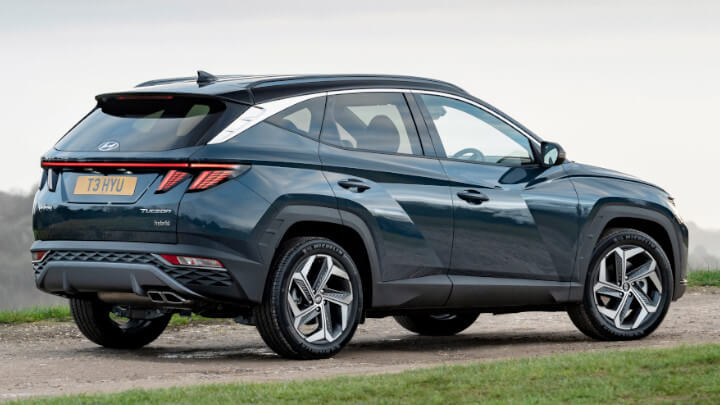 Powered by a combination of a 1.6-litre T-GDi Smartstream petrol engine and an electric motor, the new TUCSON Hybrid delivers a total power output of 227bhp.
The hybrid model is available with a 6-speed automatic transmission and as either two-wheel or four-wheel drive.
Pairing the third-generation 1.6-litre T-GDi Smartstream petrol engine with a powerful 66.9kWh electric motor, the TUCSON Plug-in Hybrid is incredibly efficient and can still deliver an impressive total power output of 261bhp.
Four-wheel drive is standard in the plug-in hybrid variant, which can be driven in full electric mode with zero tailpipe emissions for up to 34 miles; thanks to a decent all-electric range. One the range is depleted, the SUV can continue as the petrol engine kicks in and works simultaneously with the electric motor.
The key factor that differentiates the Hybrid and Plug-in Hybrid Hyundai TUCSON is whether or not the vehicle needs charging.
As the name suggests, the PHEV model does require plugging-in to charge the 13.8kWh lithium polymer battery. Charging can be completed at home, work or at a one of the thousands of public charging stations located around the UK. If you're charging at home or work you can either use a standard 3-pin socket or a dedicated wall box, the wall box will charge the SUV significantly quicker.
Intelligently, the HEV variant is able to self-charge its 1.49kWh battery thanks to regenerative braking. Basically, when you decelerate the electric motor acts as a generator by regenerating kinetic energy into electric energy and then storing it in the battery.
Test drive the TUCSON Hybrid or Plug-in Hybrid
Jam-packed with all the design cues, technology and safety you'd expect from the best-selling SUV in Hyundai's new car range; the hybrid and plug-in hybrid versions of the Hyundai TUCSON simply deliver enhanced efficiency and performance compared to the conventionally-powered SUV.
To experience the benefits and enjoyment from either the Hybrid or Plug-in Hybrid TUCSON you can arrange a test drive at your nearest Evans Halshaw Hyundai retailer.