What is Citroen Simply Drive?
Citroen Simply Drive was created to offer our customers another option when buying a brand-new Citroen. Providing 3 years motor insurance, servicing, roadside assistance, warranty and road fund licence all in one fixed monthly payment allows you to keep on top of your finances while enjoying a brand-new car.

Citroen Simply Drive is available to you in one finance package - Personal Contract Purchase.
Whether you're a new driver or simply looking for an affordable and simple method of buying a new car, Citroen Simply Drive could well be the ideal finance package.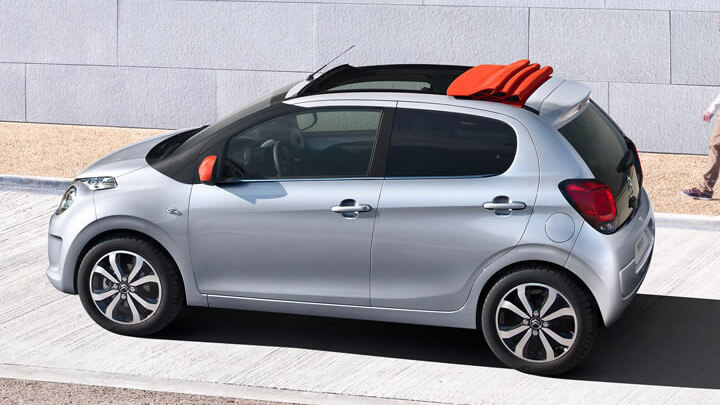 To be eligible for Citroen Simply Drive, you must:
Be aged between 21-75
Have two years motor insurance no claims discount to use on the vehicle
Held a full UK driver's licence for a minimum of two years
Simply Drive from 18 years old
If you are aged between 18-20, or have less than two years no claims discount, you can still finance a vehicle through Citroen Simply Drive by agreeing to the installation of a telematics into your car. This scheme is only available with selected models from the Citroen new car range, please speak to your nearest dealer for details.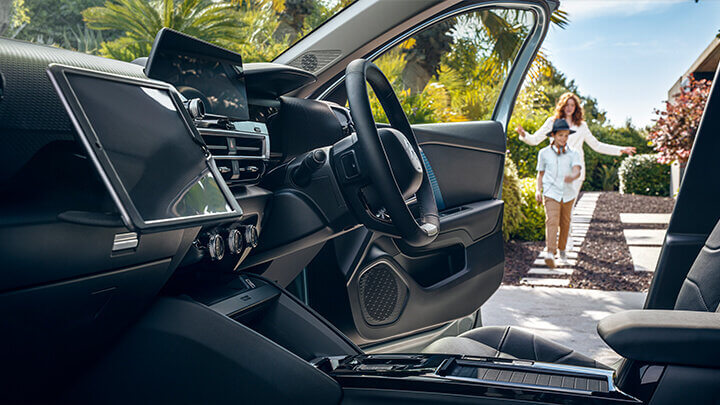 All the running costs associated with motoring are included with Citroen Simply Drive including:
3 Years Car Insurance
Your car insurance policy will be automatically renewed to ensure you benefit from three years continuous cover.
3 Years Manufacturer Warranty
Every new Peugeot comes with 3 years manufacturer warranty - including those on the Just Add Fuel scheme.
3 Years Servicing
Routine servicing will be carried out on your car by Peugeot specialists at your local Evans Halshaw Peugeot service centre (does not include wear and tear parts such as tyres).
3 Years Road Tax
Your first year's road fund licence is included and your Evans Halshaw Peugeot dealership will give you a cheque to cover the costs for the second and third years' (based on current duty rates at time of purchase).
3 Years Roadside Assistance
Roadside Assistance is also part of the deal, meaning if you do an experience an issue when out and about, a friendly mechanic will be on hand to help.
What documents will I receive when I take delivery of my car?
Roadside assistance T&Cs
Motor insurance policy documentation
Just Add Fuel welcome letter
Just Add Fuel membership card
Finance documents
What happens at the end of my Simply Drive contract?
At the end of your three-year agreement, you will have three options to choose from:
Part-exchange your vehicle with us
Own the vehicle by paying the optional GFV payment
Hand the car back, subject to mileage and condition
What happens to my insurance if the delivery of my car is delayed?
If this is the case, we will contact Citroen insurance for you to amend the insurance policy before its start date.
Can additional drivers be included in the Just Add Fuel Insurance policy?
A maximum of three named drivers are able to be included in addition to the policy holder and each must meet the eligibility criteria.
What is the insurance excess?
Depending on the vehicle per fault claim, the insurance excess will be £300-£350. If you are under the age of 25, you will have an excess of £500.
Can I take my car abroad?
You can take your car abroad, but just make sure to contact Citroen insurance before you leave as there may be an additional premium payable.
Will I earn a no claims discount?
You can earn a no claim discount provided you don't make any fault or theft claims.
What Roadside Assistance services are provided?
Onward travel Assistance from home
European cover
Recovery Roadside assistance
How does the second and third year car tax element of the programme work?
You will receive a cheque which covers the cost of your second and third year tax when you pick up/have your car delivered to you.
What happens if car tax increases in price for the second and third year?
If car tax increases, you will have to pay the addition costs. On the other hand, if it decreases, you will benefit!
What information do I need to set up my Citroen insurance?
Our dealer code (ask your salesperson)
The full vehicle details (with registration and chassis number)
Details of no claim discount held Names, ages and occupations of all drivers
Approved Finance Application Number
Any motoring convictions or point on licence in the last five years for all drivers
Accidents or claims including glass damage in the last three years for all drivers
Agreed collection date for the vehicle
What documentation do I need to provide as proof of my no claim discount?
The following information must be sent to us on headed paper from your previous insurer or broker confirming your no claim discount:
Number of years of no claim discount
Previous insurer's name Your name
Policy expiry date
Previous insurer's policy number
On the other hand, you could send us your current renewal notice and please remember to always include your Citroen policy number. You must have a no claim discount from a valid UK insurer, earned no more than 2 years ago.
Will my policy cover me when driving other cars?
You may be covered on a third-party basis for emergency use. All you need to do is have permission of the owner and it is not a leased or hired car. This benefit does not apply to policyholders under 25.
What is Simply Drive Telematics?
Telematics allows us to add drivers from the age of 18 to the Simply Drive Scheme. They must have zero no claims discount but can receive all the benefits of this scheme by just having a Telematics Black Box fitted to the vehicle. This is often a much cheaper way to insure a vehicle for drivers under 25.
Order your brand-new Citroen through Simply Drive at Evans Halshaw
With Citroen Simply Drive, you're in the driver's seat. With one monthly payment covering all of your major motoring costs, it's easier than ever to get behind the wheel of a brand-new car.
If you'd like to find out more, or a Simply Drive quote on any of the Citroen range, please contact your nearest Evans Halshaw Citroen dealership.
Terms and Conditions
Citroën SimplyDrive applies to qualifying new until such time as they may be withdrawn by Citroën at its complete discretion. Citroën Insurance are trading styles of PSA Finance UK Ltd, a company registered in England and Wales under company registration number 01024322 having its registered office at Quadrant House, Princess Way, Redhill, Surrey, RH1 1QA. PSA Finance UK Ltd is authorised and regulated by the Financial Conduct Authority. A guarantee may be required. Excesses apply. A deposit may be required.
*Citroën SimplyDrive, minimum age 21, 25 or 30 on selected models, maximum age 75. Policyholder must have a minimum of 2 years NCD to use on the vehicle. All drivers must meet eligibility criteria including minimum 2 years' full UK licence (non-telematics), driving convictions/claims limits. Excesses apply. For Citroën SimplyDrive Telematics minimum age 18, maximum age 75. Drivers are required to install the Telematics Box & consent to Data capture & transmission to qualify for insurance. All drivers must hold a full UK licence & meet eligibility criteria including limits on driving convictions & claims. Insurance subject to cancellation if you receive four warnings for poor driving. Excesses apply. The costs of insurance, servicing and Roadside Assistance are included within the monthly payment.
Citroën SimplyDrive is provided on a monthly pay-as-you-go basis and can be cancelled at any time without penalty or affecting the remainder of the Citroën SimplyDrive contract. Excesses apply. 3 years motor insurance is provided and underwritten by U K Insurance Limited, which is authorised by the Prudential Regulation Authority and regulated by the Financial Conduct Authority and the Prudential Regulation Authority.
Bramall Quicks Dealerships Limited trading as Evans Halshaw is acting as a credit broker and is not a lender. To finance your purchase we will only introduce you to PSA Finance UK Ltd, the exclusive provider of Citroën SimplyDrive.