Introducing the Peugeot 508 Hybrid
Peugeot have already done a stellar job of re-imagining the Peugeot 508; the incredible exterior design has been beautifully complemented by a futuristic and luxurious interior, while the features and driving technology merely enhance an already impressive driving experience.
As part of the futuristic design, Peugeot are also offering customers the opportunity to spec their 508 with a plug-in hybrid drivetrain. The versatility of the on-board electric motor means the driver gets more pulling-power to play with, while enjoying significantly reduced emissions.
Available as a Fastback or SW (an estate), the Peugeot 508 Hybrid is the perfect companion for those who value style and substance when they are going green.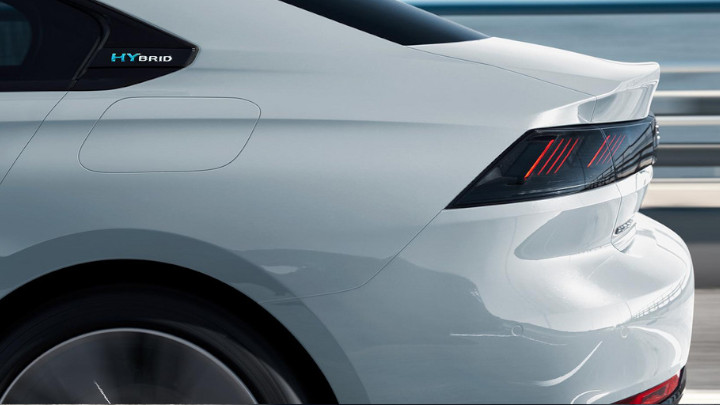 The Peugeot 508 Hybrid has a full electric, zero emission range of 39 miles, travelling at speeds up to 84mph. When the electric batteries are depleted, the car automatically switches into hybrid mode, firing up the on-board petrol engine to keep you moving.
The benefits of a plug-in hybrid car are clear. You can complete short journeys on electric power alone, with 39 miles enough for the majority of commuting distances in the UK. When you want to go further afield, the petrol engine works in tandem with the electric motors to reduce fuel consumption, meaning there's no range anxiety whatsoever.
Performance is impressive, with 180bhp on tap from the petrol engine and 110bhp from the electric motor. The transmission is an e-EAT8 8-speed automatic, offering smooth gear changes and remarkable efficiency.
For a truly exciting driving experience, consider the high-performance 508 Sport Engineered variant.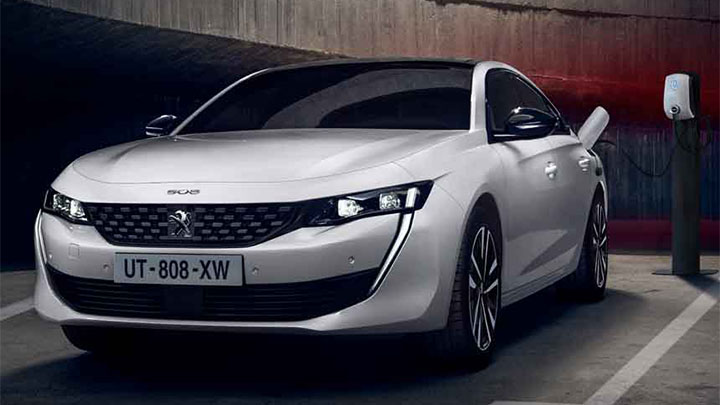 Charging the 508 Hybrid is simple and easy. The charging flap is located symmetrically to the fuel cap on the side of the car, and the cable can be neatly stowed away under the boot floor, meaning there's no impact on cargo capacity.
The best way to charge the 508 Hybrid is at a dedicated charge point, which you can have installed at your home or work place. You'll also find them dotted around the UK - there's currently more than 26,000 public charging points, a figure that's growing all the time.
Here you can reach a full charge in under four hours with the standard on board charger, or upgrade to the optional uprated on board charger to reach full battery in less than two hours.
Test drive the Peugeot 508 Hybrid
Combining the best of what both petrol and electric cars have to offer, the 508 Hybrid manages to blend incredibly low everyday emissions with the flexibility of a comfortable cross-country cruiser.
To experience the 508 Hybrid for yourself, please book a test drive at your nearest Evans Halshaw Peugeot retailer.