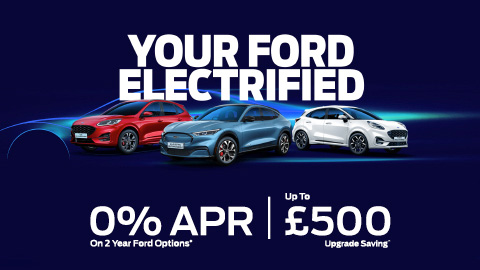 0% APR Representative and £500 upgrade saving available across selected new Ford electric and hybrid electric models.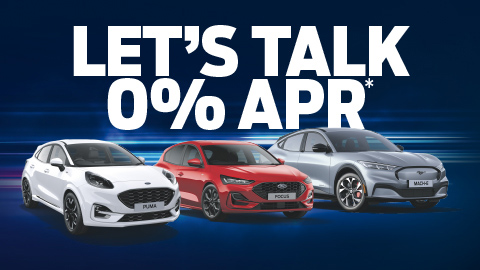 Take advantage of 0% APR across a range of Ford models, plus low monthly payments starting from £99!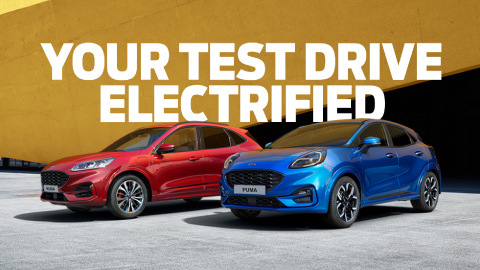 Take your senses for a spin with a 24hr test drive in one of Ford's forward-thinking electrified models.
Introducing the Ford Mustang Mach-E
The Mustang Mach-E represents a landmark moment for the automotive giant that is the Ford Motor Company. After all, this is their first fully-fledged all-electric vehicle, and it wears the moniker of one of the most iconic vehicles ever made.
In essence, the Mustang Mach-E is a practical everyday SUV that has been engineered to offer the driving thrills of a regular Mustang, but through the use of battery power. That's no mean feat when you consider Ford hadn't expanded the Mustang line-up for 55 years prior to the Mustang Mach-E.
Although some have questioned using the Mustang name for the Mustang Mach-E, there can be no question that the same DNA lies underneath. Everything down to the Mustang Mach-E's silhouette and exhilarating performance make it unmistakably Mustang.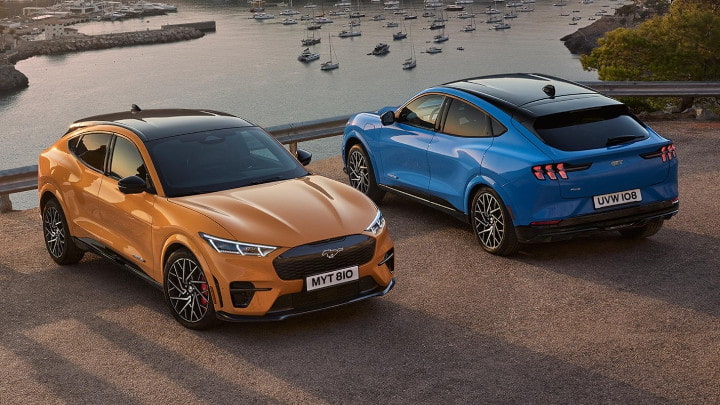 The Mustang Mach-E may boast performance and a silhouette inspired by the legendary Mustang, but the designers have also placed emphasis on everyday practicality. All-wheel drive is available to buyers, which will prove to be a welcome addition for those who live in more rural areas of the country.
Because the Mustang Mach-E is all-electric, there's no engine sitting underneath the bonnet. Instead, there's 100 litres of drainable storage space; ideal for carry-on luggage. The vehicle's charging cables are stored neatly underneath the boot floor for convenience.
Look to the rear and owners will find a 402-litre boot, which grows to a welcome 1,420 litres once the rear seats have been folded down. With the seats up, Mustang Mach-E will be able to seat five adults in complete comfort thanks to the generous levels of head room and flat floor.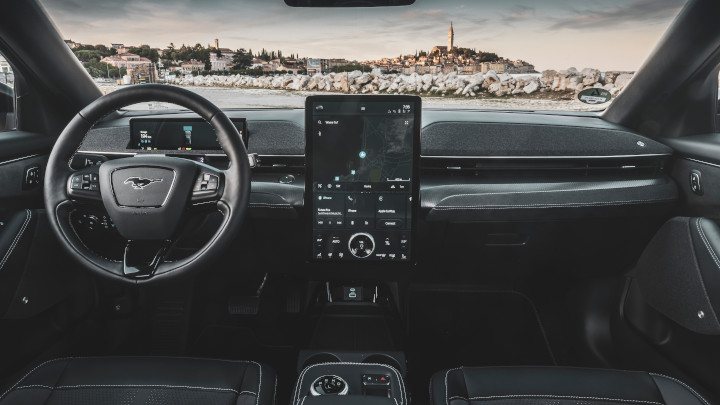 Mustang Mach-E has been purposefully designed to combine its performance with a range of advanced technologies that create a relaxing drive and increase safety. A sleek 15.5-inch display has been incorporated into the centre console of the Mustang Mach-E and boasts Ford's next generation SYNC system with cloud-connected navigation and available Wi-Fi.
An innovative car such as this requires deft touches, that's why Mustang Mach-E doesn't utilise traditional car keys or door handles. Instead, E-latch and FordPass connectivity features grant quick and convenient access to the vehicle.
Mustang Mach-E is completely aware of its surroundings, four separate cameras are positioned around the vehicle and then displays the pictures on the Ford SYNC screen. Combine this technology with features such as Adaptive Cruise Control and Intelligent Active Park Assist, and you have an effortless drive guaranteed.
We decided to explore the Mustang Mach-E's interior and technology, so have a look if you wish to learn more.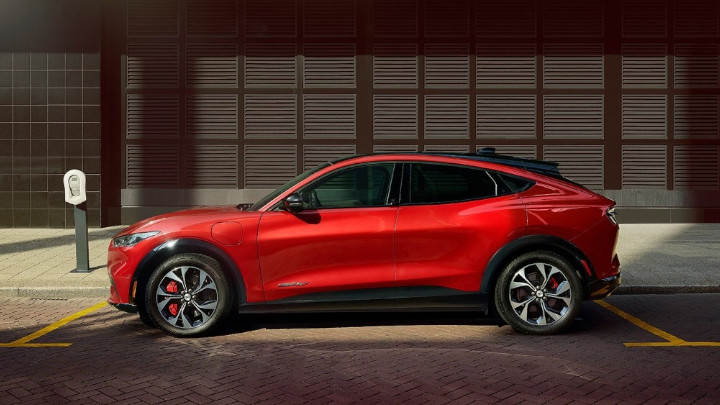 Ford promise exhilarating performance and with up to 273 - 372 usable real-world mileage range*, the Mustang Mach-E delivers. The Mach-E is available as standard with a 70kWh lithium-ion battery or alternatively, there's an optional 91Wh battery that offers extended range.
True to the Mustang heritage, Mustang Mach-E produces flexible performance. The top-spec model produces 332bhp and will achieve 0 to 62mph in 5.1 seconds, which is Mustang coupé territory.
It's worth noting that the entry-level model Mustang Mach-E is hardly a slouch. Producing a healthy 254bhp, it can sprint to 62mph from a standstill in just 6.9 seconds.
Sitting at the top of the range is the GT model, which is the fastest accelerating member of the Mustang family, with the 0 to 62mph dash taking just 3.7 seconds. In addition, the GT is capable of an impressive 304 miles all-electric range, which when paired with the available home charging solutions and fast-growing public charging infrastructure, makes it a great alternative for those with longer commutes.
*Figures intended for comparison between vehicles and may not reflect real life driving results. WLTP Extra Hight (Motorway) - WLTP Overall figures shown.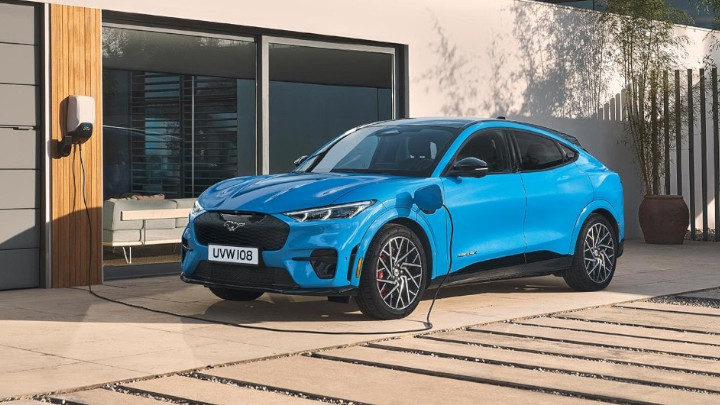 Charging the Mustang Mach-E is as simple as charging your smartphone or tablet. Ford supplies a Universal Charge Cable with the vehicle, so you can either use a high-power or regular wall socket. Expect between 7 and 25 miles of range every hour using this method.
An optional Ford Connected Wallbox home charging point is also available and is able to complete a full charge overnight for maximum convenience.
Equipped for both AC and DC charging, the Mustang Mach-E is delivered with 5 years' complimentary access to the FordPass Charging network, where owners will be able to make use of over 150,000 charging points across the UK and Europe.
Owners will only need 10 minutes to gain 73 miles when using a 150kW DC charger, with up to 80 percent capacity achievable in just 90 minutes. AC chargers will take just over seven hours to deliver 10 to 80 percent capacity.
The charging status and progress of the Mustang Mach-E can be monitored through the FordPass Connect smartphone app, which is available on Android or iOS.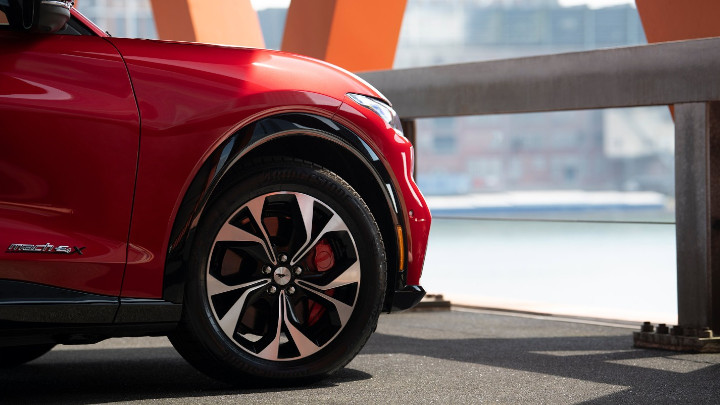 Courtesy of the all-electric drivetrain fitted within the Mustang Mach-E, you can expect lower running costs compared to cars that are fitted with a petrol or diesel engine.
For starters, the Mustang Mach-E will cost up to 50 percent less to service over the course of 5 years/60,000 miles when compared to a traditional car; this is because there are less moving parts that require regular maintenance. In addition, the Mustang Mach-E's battery is covered by a substantial 8 years/100,000 miles warranty.
Charging a Mustang Mach-E is cheaper than brimming the fuel tank on a traditional car, which translates to lower running costs on an annual basis.
Select
Key features:
18" Alloy Wheels
LED Mustang Signature Taillights
Black Onyx Full Sensico Trim with Grey Stitching
Smartphone Integration, FordPass
Connect and Connected Navigation
15.5" Touchscreen with Wireless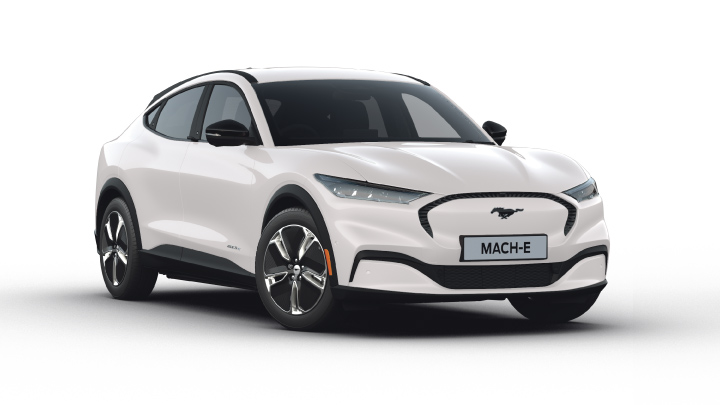 Premium
Key features:
19" Black Machined Alloy Wheels
Red Brake Calipers
Adaptive LED Mustang Signature Headlamps
Black Perforated Full Sensico Trim with Red Stitching
8-Way Power Driver and Passenger Seats
Dual Motor Permanent All Wheel Drive
Black Powerfold Mirrors with Puddle Light Mustang Logo Projection
Side Cladding and Wheel Arches Piano Black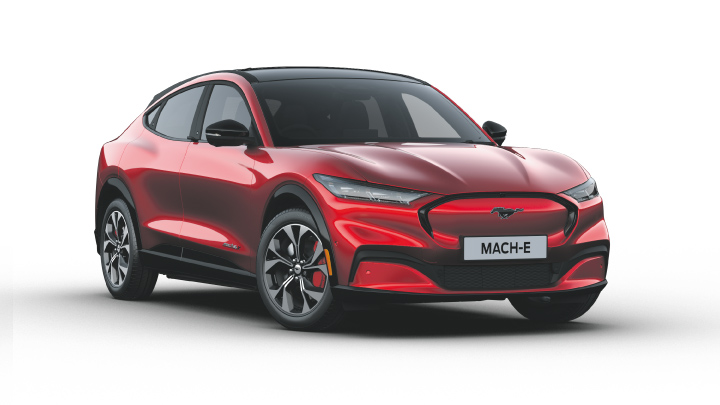 GT
Key features:
20" GT Exclusive Alloy Wheels with Brembo Brakes
Wheel Lip Moldings - Body Color and Door Cladding - Painted Black
GT Performance Seats
MagneRide Suspension
GT Scuff plates
Test Drive the Ford Mustang Mach-E
There can be no denying the credentials of the Mustang Mach-E, which is an all-electric SUV that not only wears the name badge of one of history's automotive icons, but instils a futuristic sense of occasion.
In short, if you want the thrill of driving, yet want to take a step towards a greener future, then the Mustang Mach-E is nothing short of sensational.
Speak to one of our friendly associates at your local FordStore retailer for more information or order now.