Using award-winning technology, the new Vauxhall SUV range is extremely practical and versatile, and really stands out with striking style. This exciting new range is bursting with new technology to make your drive easier and safer. Options such as cruise control and rear parking camera are supplied as standard on several models at an affordable price.
Features of a Vauxhall SUV
Wifi hotspot
Striking sport styling
Ultra-connectivity
Auto Start/Stop
IntelliGrip traction control
Interactive infotainment system
Upgraded safety features
Incredible fuel efficiency
Adaptive forward lighting
Speed-sensitive power steering
Vauxhall SUV Cars
The New Mokka X was one of the first of a new generation of small, funky SUVs. If you're looking for a mini monster with serious attitude, with its dynamic wide stance it is perfect.
View Offers
The New Crossland X is built in the same vein as the Mokka X. Giving a larger car option for growing families. Robust body armour clads the wheel arches and bumper to give the Crossland X a rugged, adventurous look.
View Offers
The New Grandland X is a Vauxhall's biggest ever SUV. The New Grandland X expands upon the big car feel of the New Crossland X providing incredible comfort.
View Offers
Features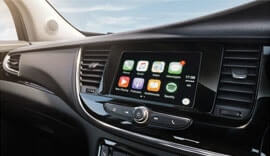 IntelliLink Infotainment
IntelliLink combined with the award-winning Vauxhall OnStar concierge service provides touchscreen interactivity. Hosting your favourite music streaming apps and navigation systems to give you hands-free interactivity with the outside world.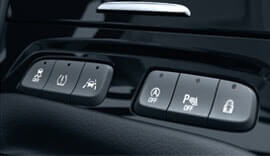 IntelliGrip Traction Control
IntelliGrip automatically alters the power being supplied to give extra traction where it's needed most. Supplied with five driving modes including mud or snow, IntelliGrip gives you all of the control you need to manage slippery conditions.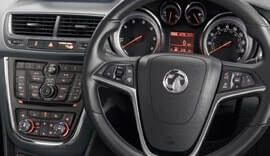 Speed-Sensitive Power Steering
Designed to automatically detect when you are driving at lower speeds, this system provides extra-light power steering. This makes maneuvering into a parking space less stressful and more convenient when you're in a rush.
Whatever you're looking for in an SUV, Vauxhall has a car to match your needs. Whether it be the nippy, manoeuvrability, stylish Mokka X, the mid-sized Crossland X, ideal for growing families. The Grandland X completes the family with a big personality to match its dimensions and capacity. Book a test drive in one of our versatile SUVs today.
View Vauxhall Offers