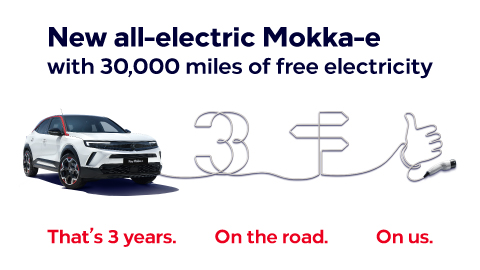 Drive around the world. And then some. New all-electric Mokka & Corsa-e, with 30,000 miles of free electricity.
It's time to switch it up. The Vauxhall Corsa-e is here, and it's ready to convince the nation that now is the time to seriously consider an electric car as your next primary mode of transport.
This all-new model has been designed from the beginning to incorporate an electric powertrain, so there are no compromises in terms of design or practicality when compared with the petrol or diesel powered Corsa - it looks the same and has the same amount of boot space.
It gets excellent levels of standard equipment, and because electric cars only cost around 3p per mile to run, it has significantly cheaper running costs compared to a petrol car (around 8p per mile). Are you convinced yet?
The first thing everybody wonders about an electric car is its range. The Vauxhall Corsa-e has a maximum range of 209 miles, and you can make the most of this by using the two-stage regenerative braking as well as the 'Eco' drive mode which reduces energy consumption significantly.
Performance-wise, this is the fastest accelerating Corsa you can buy. 0 to 60mph is dealt with in just 7.6 seconds - a fair bit faster than both the petrol and diesel models.
The reason for such excellent performance is that electric motors can produce 100 percent of their maximum torque at any given moment, compared with a combustion engine that needs to increase its rpm before it can generate its maximum pulling power, and even then it only does it for a moment or two.
Keeping your Corsa-e topped up with juice is really simple. For most people, the best way to do it is charge it up overnight at home, like your smartphone.
All you need to do is get a wallbox installed in a convenient position at your home, then plug it in overnight - a full charge takes 7.5 hours. We can help arrange this for you.
When you're out on the road, you can make use of one of the 26,000 public electric vehicle charging points in the UK - a number that is continuously growing. Rapid 100kw charging stations can boost the battery by 80 percent in just 30 minutes - just enough time for a coffee and a slice of cake while you wait.
SE Nav Premium
Key features:
7" colour touchscreen with Apple CarPlay™/Android Auto™
16" alloy wheels
Lane departure warning with lane assist
Cruise control with speed limiter
Rear parking distance sensors
SRi Nav Premium
Key features in addition to SE Nav Premium:
17" alloy wheels
Black roof and dark-tinted rear windows
Sports-style front seats
LED taillights
Front and rear sports body styling
Elite Nav Premium
Key features in addition to SE Nav Premium:
10" colour touchscreen with satellite navigation and Apple CarPlay™/Android Auto™
17" alloy wheels
Black roof and dark-tinted rear windows
Keyless entry and start
Panoramic rear-view camera
Test drive the Vauxhall Corsa-e
Electric cars have just become mainstream with the 100 percent electric Corsa-e. With this car, Vauxhall have managed to blend desirable, modern styling and excellent levels of standard equipment with all of the benefits that come from owning an electric car, such as reduced fuel costs and excellent tax benefits.
To experience what it's like to own and drive the Corsa-e, book a test drive at your nearest Evans Halshaw Vauxhall dealership, where one of our friendly associates will talk you through all that this excellent little car has to offer.