Discover the joy of driving an electric vehicle by booking your extended test drive with Evans Halshaw Nissan.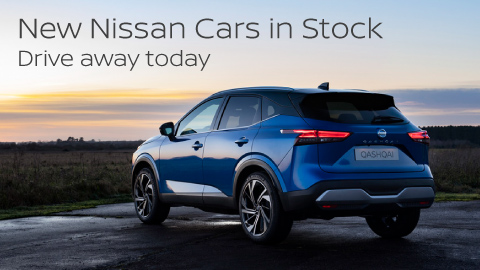 We have a range of New Nissan vehicles in stock. Beat the wait times, drive away today...
Introducing the Nissan LEAF
The Nissan LEAF is Britain's best-selling 100 percent electric vehicle and with good reason. Not only does it produce zero emissions whilst driving, it's a fun car to drive and its running costs are considerably lower than an equivalent petrol-powered car.
Fewer moving engine components and no engine oil requirement massively reduces maintenance costs and the price of electricity is cheaper than petrol or diesel. Therefore, the Nissan LEAF is a sound investment with no compromise on performance or driver satisfaction.
Being fun to drive and a practical hatchback means the sleek, all-electric LEAF fits perfectly into family life; especially with the decent range of up to 239 miles.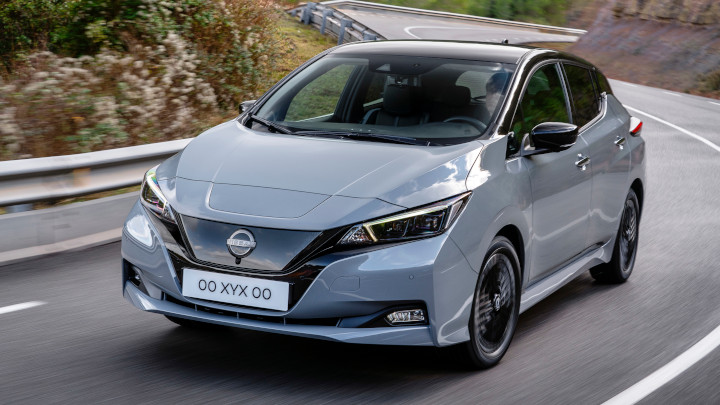 Cutting-edge in terms of electric powertrain, technology and looks. Starting with the sharp, aerodynamic lines and the signature V-Motion grille, the Nissan LEAF looks as advanced as the technology that powers the efficient electrified car.
The new Nissan LEAF has you covered with range of dynamic styling refinements available, ranging from 16 and 17-inch alloy wheel options to new sleek, bold, and lively colours to express your personality.
Step inside and the understated, yet tasteful, look and feel has been achieved by using high quality materials to express an enhanced premium feel. A signature vibrant blue stitching features throughout the interior in the seats, dashboard and steering wheel, resulting in a relaxed ambience and a clean quality feel.
Comfortably seating the whole family, with five seats and up to 435 litres boot capacity, the interior of the Nissan LEAF is in keeping with the sleek and stylish exterior, whilst proving practical for family life.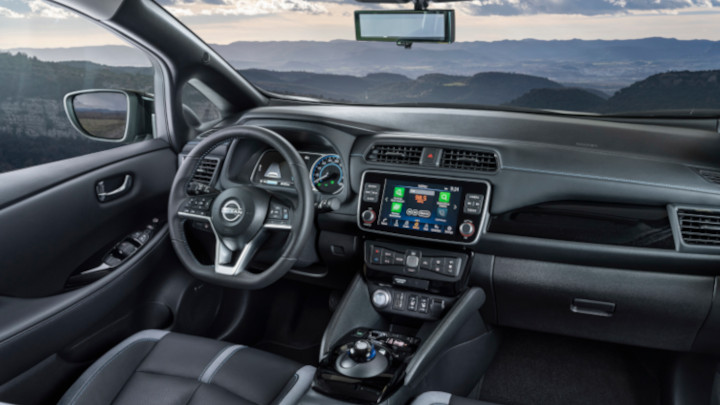 An abundance of advanced safety technology is available, including Intelligent Blind Spot Intervention (IBSI), available as standard, and Intelligent Rear View Mirror (IRVM), which is available as an option on N-Connecta and Tekna grades.
Named 'Canto' the new Acoustic Vehicle Alerting System (AVAS) features on the LEAF, alerting road users of the presence of an all-electric vehicle by transmitting artificially simulated driving sounds.
The 8-inch Touchscreen Display is the heart of the LEAF's Infotainment system and all trims are kitted out with DAB radio as well as Apple CarPlay and Android Auto smartphone mirroring.
The advanced ProPILOT technology enables the LEAF to automatically stop, start, and maintain a safe distance to the vehicle in front. An innovative feature to maximise comfort, the e-Pedal allows user's to accelerate, decelerate, and stop with only one pedal.
The Nissan LEAF adds a welcome touch of convenience with new remote features such as climate control - available through the NissanConnect Services app, and the ability for users to connect the LEAF to their Amazon Alexa smart home device.
The free NissanConnect Services smartphone App allows the battery level to be checked from a phone, and you can even start charging the LEAF from the app, so it's charged and ready for its next journey.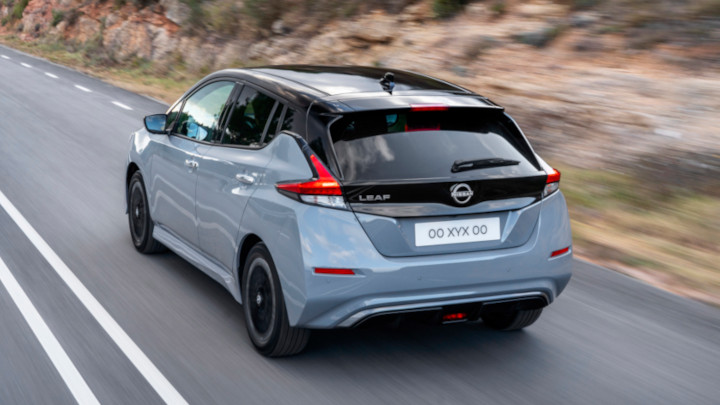 Driving the Nissan LEAF is an incredible, surprisingly quiet, experience. And thanks to the instant torque, drivers can really appreciate the 100 percent electric ride.
The LEAF is the definition of effortless driving, with the Nissan e-Pedal™ enabling acceleration and deceleration all from a single pedal. Simply releasing the accelerator results in automatic regenerative braking, however, a brake pedal is still available for when an immediate stop is required.
When electric cars were first introduced to the car market, range anxiety was a huge issue. However, the Nissan LEAF has up to 168 miles of range with 147bhp of power output, or select the Nissan LEAF E+ for an extended range of up to 239 miles and an increased power output of 213bhp.
Charging the Nissan LEAF is simple due to the large choice of charging methods.
Using either the E.ON Drive or Pod Point electric vehicle charges, which can be installed at your home, the LEAF will receive a full battery charge in seven and a half hours. The LEAF e+ will need to be charged for longer, due to the extended range, but will take under 12 hours to fully charge.
Without a dedicated charging point you can still charge from any standard domestic wall socket, however, you should expect this to take longer to charge the LEAF.
If you're out and about you can visit a CHAdeMO rapid public charging station to charge the LEAF from 20 to 80 percent charge in about one hour. The battery in the LEAF e+ will take around 90 minutes to go from 20 to 80 percent capacity.
Shiro
Key features:
ProPILOT Assist
Intelligent Lane Keep Assist
Android Auto and Apple CarPlay

Electronic Parking Brake

Arctic White paint
Optional Spare Wheel Pack
3-year Zapmap Premium subscription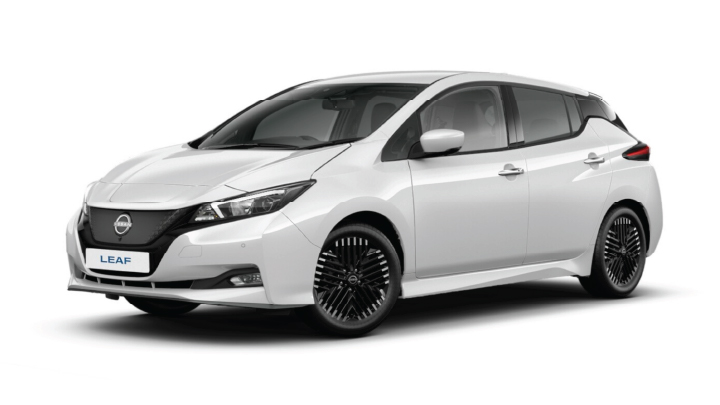 Acenta
Key features:
e-Pedal
Lane Departure Warning
Intelligent Emergency Braking with Pedestrian Recognition
Intelligent Lane Intervention
Intelligent Cruise Control
Rear Cross Traffic Alert
High-Beam Assist
8" Touchscreen Navigation and Entertainment System
Rear View Camera
Apple CarPlay® and Android Auto® Smartphone App Integration
16" Alloy Wheels
6.6kW On-Board Charger and 50kW ChaDeMo Rapid Charge Port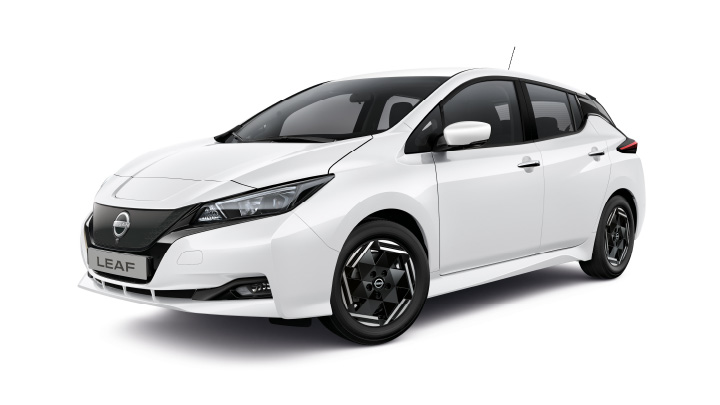 N-Connecta
Key features in addition to Acenta:
17" Alloy Wheels
Intelligent around view monitor with moving object detection
Front and rear parking sensors
Heat pack, including heated seats and heated steering wheel
NissanConnect Services
Tekna
Key features in addition to N-Connecta:
ProPILOT Advanced Driver Assistance System
BOSE Premium Audio System with 7 Speakers
Part Leather Seats with Ultrasuede® trim
LED Foglights with cornering function
Electronic parking brake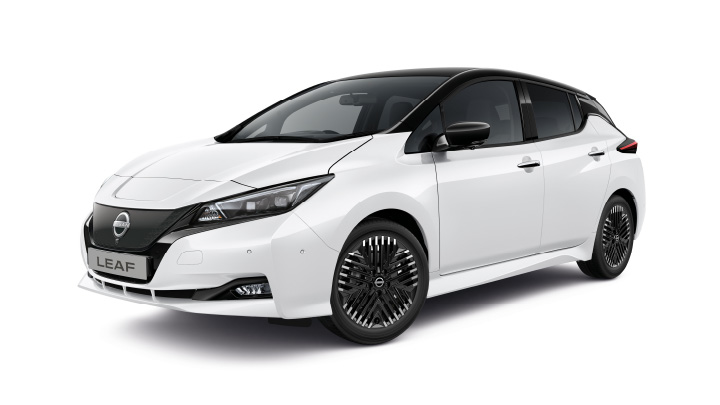 e+ N-Connecta
Key features in addition to N-Connecta:
239 miles of range
217PS and 340Nm of torque
0 to 62mph acceleration time of 6.9 seconds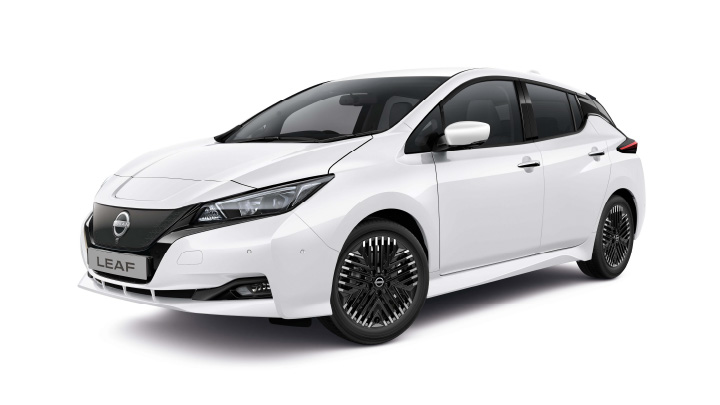 e+ Tekna
Key features in addition to Tekna:
239 miles of range
217PS and 340Nm of torque
0 to 62mph acceleration time of 6.9 seconds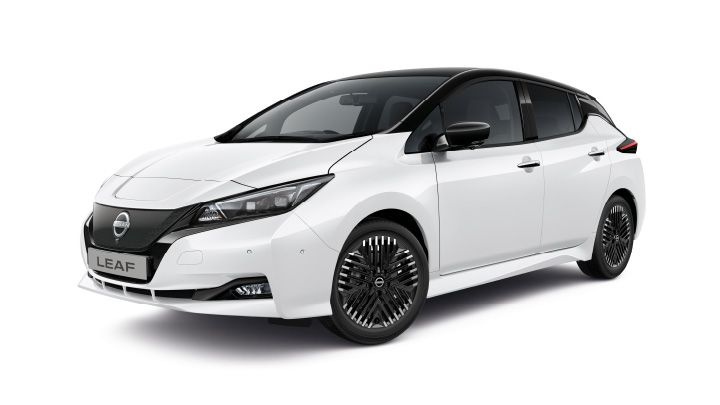 Test drive the Nissan LEAF
The Nissan LEAF is equipped with many innovative features and is the ideal car to introduce drivers into the world of electric driving.
Zero emissions while driving is a step in the right direction of protecting the planet and the all-electric LEAF delivers an impressive range and a fun driving experience.
To experience the LEAF for yourself, please book a test drive at your preferred Evans Halshaw Nissan dealership.