New Look for Hyundai i10 and N Line: 2023 Prices and Specifications
27th Feb 2023
By Chris Russon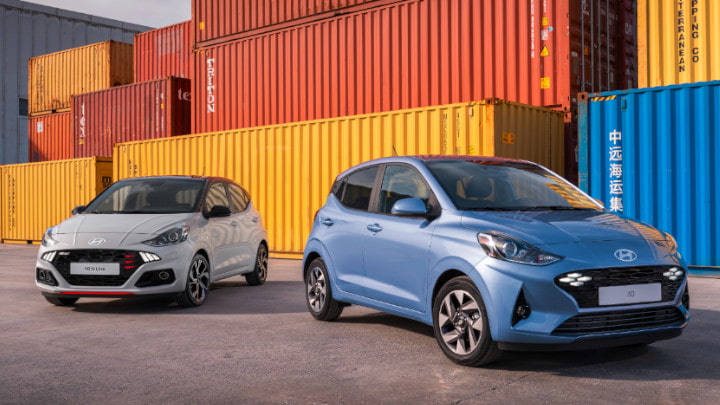 An updated Hyundai i10 supermini has been announced, and the car comes with a refreshed design and more connectivity features.
The current car – first launched in 2019 – has been given new-look headlights and the LED daytime running lights are now integrated into the grille, which now features a honeycomb design.
The rear LED lights now display an 'H' on the horizontal tailgate line, while the 15-inch alloy wheels have also been given a fresh look.
Inside, the model is now fitted with blue mood lamps in the front seats and a new colour package, the Purple Package, which features tartan fabric seats with vertical purple lines, as well as purple touches in the stitching and air vents. There are also grey touchpoints with a purple sheen in the crash pad and lower central console.
There are also changes to the sportier i10 N Line which comes with bespoke bumpers, inserts, and red touches. The backs of the seats feature triple red line fabric and the model comes with new 16‑inch alloy wheels.
New technologies include a standard 4.2-inch LCD cluster, USB type-C in the front and rear, second-generation eCall based on the 4G network, and Over The Air (OTA) map updates.
The new i10 has an 8‑inch display screen, Audio Video Navigation (AVN), wireless Apple CarPlay and Android Auto, wireless charger, and the latest update to Bluelink telematics.
The car also comes as standard with more Hyundai Smart Sense safety features, which include the addition of cyclist detection to the forward collision-avoidance assist system as well as rear occupant alerts.
Boot capacity is unchanged at 252 litres, extending to a maximum of 1,050 litres with the rear seats folded.
The new car is slated to arrive in the second half of 2023. Prices are still to be announced, with the current line up priced from £14,995.
Prices correct as of 27/02/23 and are subject to change.